Reflective Journal: A Guide on Writing Reflection-On-Action with Few Examples
10 Oct 2022
1223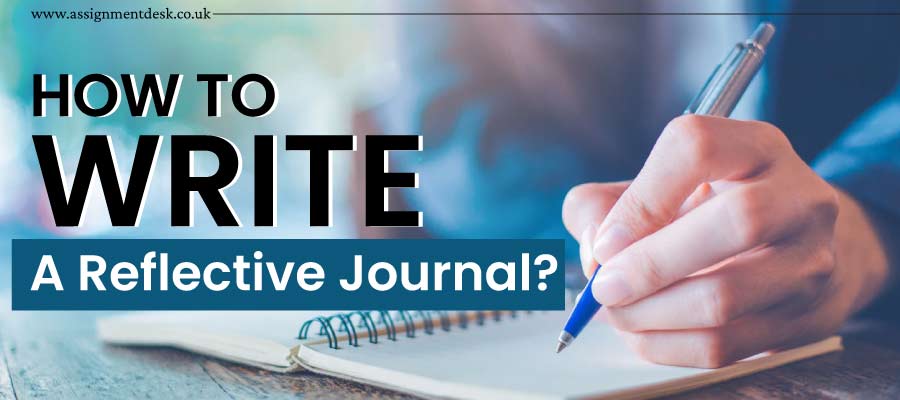 Table Of Contents
Do you keep a reflective journal? If No, Then start today! It is because it is one of the most common ways of writing a diary. Many people use it for writing about their experiences, impressions, feelings or doubts. It can help them to know precisely what reflecting is all about. It also provides insight into the inner life of the person. Writing is one of the things that can help to combat stress, and well-expressive writing has many other benefits. It can benefit students in many ways if they write about their life events, feelings, insights and relationship. In addition, reflective journals have a tremendous positive impact on mental and physical health. So start your reflective journal today by following all the procedures discussed in this blog.
What Is a Reflective Journal?
Do you want to know what is a reflective journal is? In simple words, we can describe it as a reflective diary. It is the perfect place to jot down some of the most significant thoughts about anything, whether life, adventure or something else. In this journal, you can write about anything, whether it is a negative or positive event that you may have experienced. You can also jot down what it means or means to you. Also, mention what you have learned from the things you have shared.
If the journal is well written, it can be an essential tool for the writer. As a result, it has many benefits, but writers need practice. To report a reflective journal, a student can experience forcing themselves to write in the beginning, but after some time, it becomes like second nature. If you are thinking about how to write a reflective journal, then write down the entry as soon as possible after anything that you may have experienced. It is helpful because the details will still be fresh in your mind, which can help you to analyse later about something. There are many students who think that why they should write a reflective journal to know how it can help them and how to write a reflective journal.
Also Read: How to Write a Reflective Essay Which Reflects Your Life Experience?
Why you Should Write Reflective Journal?
Below mentioned are some of the most common reasons why students should write a reflective journal:
It can help students write down the views that can come from their thoughts. Then, you can describe the way why it can be a beneficial thing in reasoning or something else.
After posting your interpretation, you can continue to observe the subject of your speculation to decide whether you want to stick to the original views or want to make some changes to it.
If students write down their thoughts, it can relieve their pressure or help them solve problems and also assist them in focusing on the tasks that need to be done.
You can get opinions from others on what you want to write and clarify your feelings for a deeper understanding of the expressions and things you are writing.
4 Tips To Get Your Reflective Journaling
If you want to write the same but are stuck, that is how to write a reflective journal. Below are some pointers that show how you can start writing the reflective journal.
Tip 1: Keep Journal Nearby
The first step in learning to write a reflective notebook is to be ready to jot down your thoughts and views on whatever you're studying whenever the mood strikes. For example, having your diary with you is beneficial if you have an insightful comment on a book you're reading while on the bus.
Tip 2: Make Ongoing Entries
While you can write in any form and manner you like, writing regularly is crucial, even if inspiration doesn't strike.
This guarantees that you study material and actively consider what you have learnt. This can help you improve your writing and critical thinking abilities while keeping you organised.
Tip 3: Contemplate and Summarise
While reflecting is the essential aspect of maintaining a reflective journal, you must also engage in a learning activity, make observations, and summarise information and experiences. For example, if you're writing a lab report for a science class, be sure to detail what you performed and what the purpose and conclusion of the experiment were before expanding on your views and opinions about what was discovered.
Tip 4: Review Regularly
Read past journal entries to observe how fresh experiences, new information, and time have changed your thoughts and feelings regarding the stuff you've been examining and thinking. This will make the notebook more beneficial to you because it will throw light on how you've progressed.
Understand Reflective Journal with Examples
Here we are providing reflective journal examples that will help you to give the overall perspective on the various situations by considering the things to help with your thought process.
If you are a beginner, you can write about your classmates or the people who have the most meaning. Also, describe the reason why it is so. Finally, mention the different ways that had help you in maintaining.
Mention the academic tasks assigned to you in university and college.
Write about someone who provides you with assignment help to complete your academic tasks within a short period.
Write about someone in your life who has had a positive transformation and how you may learn from their experience.
Write about what you want to achieve in the next five years of your life and what you can do to get there.
Also Read: How to Write an Assignment: Planning to Submitting Explained at One Place
Start Your Write-Up with 10 Writing Prompts
What distinguishes you?
Name someone who matters a lot to you and explain why.
Write a letter to yourself when you were younger.
What can you do to focus more on your health and well-being?
What causes you to feel at ease?
Make a list of ten things that make you happy.
What does it mean to lead a genuine life?
Which animal is your favourite, and why?
How do you keep your physical and mental health in check? What can you do to boost recuperation methods?
Make a list of the goals you wish to attain this week.
Facing Issues in Beginning Reflective Journal?
So you start expressing your experiences in a journal by following our guide. If you have any doubts about how to begin writing the reflective journal, then get a consultation with experienced writers. Assignment Desk is one of the best academic writing service providers. They help several students in completing their academic tasks and apart from it. Students seek assistance from them to get help regarding the reflective journal. So what are you waiting for? Get instant consultation regarding any doubts and also you can ask them for Driscoll's reflective model explanation.
Hire our expert
FREE Tools
To Make Your Work Original
FREE Features
Topic Creation

Outline

Unlimited Revisions

Editing/Proofreading

Formatting

Bibliography
Get all these features for
USD 84.3FREE