Resume vs CV - How To Know The Difference? [9 Variations with Example]
27 Sep 2021
1501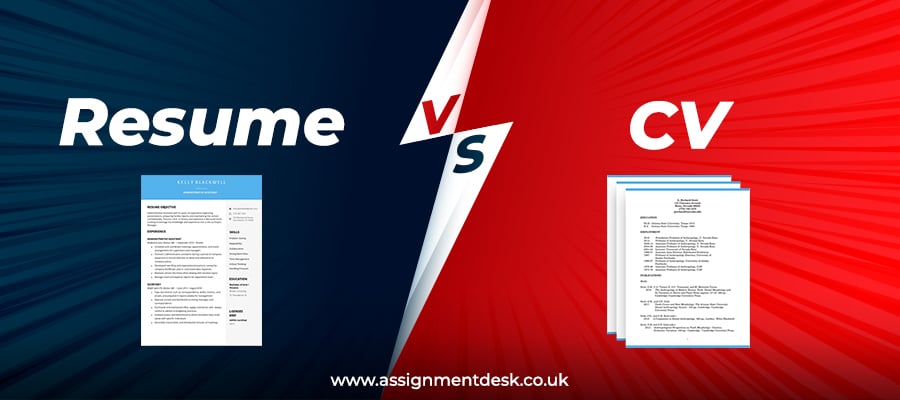 CV vs Resume: 9 Differences to Understand Format & Content Better!
Whenever a candidate finds a job, the first thing that comes to mind is 'resume & CV' The resume is a mandatory document. Many times, it is used as a synonym of CV. But still, they are completely different from each other. That's why understanding the resume vs CV comparison is necessary to know what preferably can be valuable for you.
We should start with knowing more about the resume first to understand the differentiation between resume & CV. That's why here are the online CV writers of the Assignment Desk with a complete guide for the candidates who are seeking help with resumes & CVs. Candidates may have questions like:
a)What is a resume, anyway?
b)How to write it and what to insert in a resume?
c)What is a CV?
d)How are resumes and CVs different?
All the questions related to CV vs resume UK have been answered below:
What Is a Resume?
Many candidates ask, 'how to know what's for us in the fight of resume vs CV, hence here is a complete guide, starting with an introduction to a resume.
The resume is a document created for the job purpose with straight-to-the-point text and information related to qualifications & achievements.
The resume is a short document, unlike a CV. It can only be 1-2 pages. It only highlights the work experience and skills relevant to the applied job. The online resume writers suggest specifying all the contributions you have made in your previous work, whether related to school academic tasks or professional tasks. Also, showcase your different skills, defining how they are beneficial for the job profile you are applying to.
A cover letter completes a resume and is required by almost 80% of companies. It helps to explain how your skills can be helpful for the applied job profile.
So, you can add a cover letter with your resume to make it perfect.
As you know what a resume is in the fight of CV vs resume, now, let's have a quick overview of the points that your resume must include.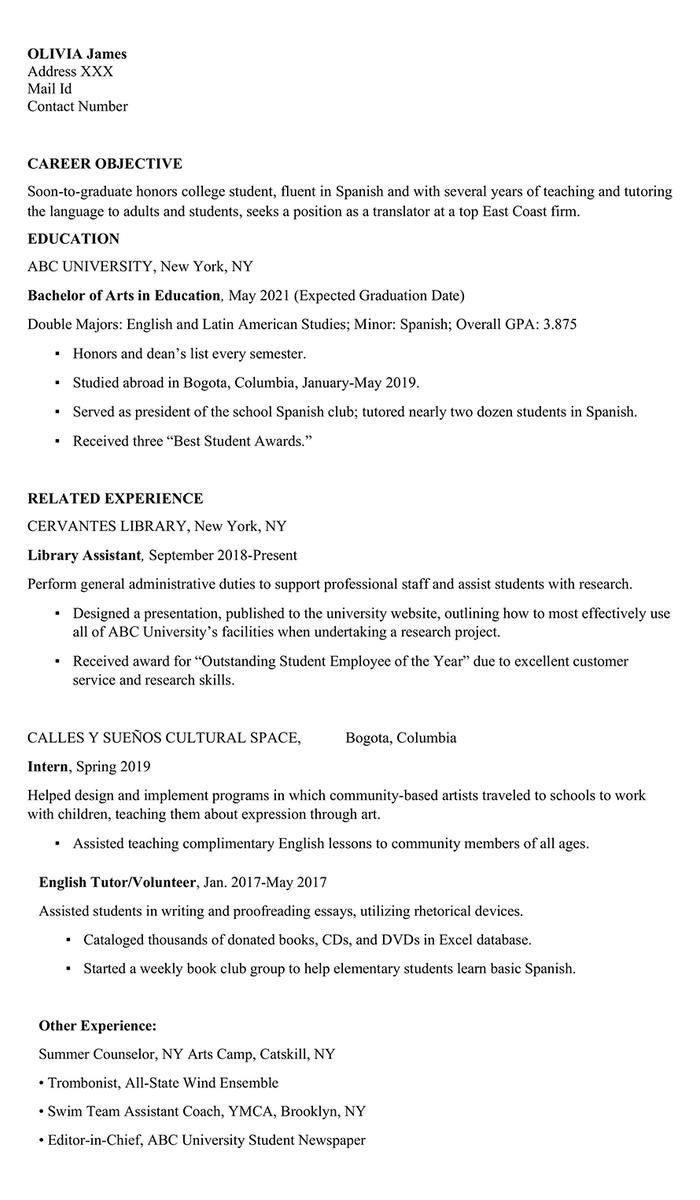 What to Include in a Resume?
Some elements are the most important to add to your resume. But how do know what is right & what is not? So, as per the, 'CV vs resume UK' observation, to answer these questions, the resume writers are here with a list of points that you should not forget to create an impressive resume.
Applicant's Full Name
Full Job Title or Position Name
Personal Contact Information
Resume Summary or Objective
Applicant's Work Experience
Applicant's Educational Qualification
Applicant's Skills Relevant to the Position
Applicant's Languages and Proficiency
Applicant's Certifications & Interests Relevant to Profile
As of now, you have complete knowledge about a resume and the points required to include in it. Let's move on to the CV writing and the required information to add to it. So, let us start with an overview of Curriculum Vitae to lead further with CV vs. resume differences.
What Is a Curriculum Vitae?
Curriculum Vitae is the full form of CV, a Latin word that means "course of your life". Your CV describes your attained skills and journey from start to now step-by-step along with personal information. Include all the academic journals, achievements, and publications that include your name in them.
Whenever you get a new job, accomplish something new, like a certificate or anything, you need to update it in your CV. The length of your CV completely depends on the amount of experience you have. As now you know what a CV is, it is necessary to understand what information you need to include in your CV.
Below is a complete list of data you need to add to your CV, after which we will discuss the resume vs CV UK key differences.
What to Include in a CV?
No matter what job profile you are creating, some aspects are mandatory to add to your CV. That's why the online CV writing experts are here with a list of points to highlight the CV vs resume differences. You should not forget to include the following points in your CV.
Applicant's Full Name
Applicant's Contact Information
Professional title
Resume Summary or Objective
Applicant's Research Interests
Applicant's Educational Qualification
Both Academic Papers & Books Publications
Applicant's Experience As Per the Job Profile
Applicant's Work experience
Applicant's Attended Conferences & Courses
Applicant's Various Skills
Applicant's Achieved Certificates
Applicant's Known Languages
Applicant's Fellowships & Grants
Applicant's Work References
Above is the information that you require to add to your CV. Now, we will focus on the key differences, focusing on the CV vs resume that can be helpful to understand what you should choose for yours. So, let us have a look.
9 Differences Between Resume & CV
It can be hard to know the difference between CV and resume as they both look similar to many people. But the employers know what they want and how it should be. That's why the online resume writing helpers always suggest candidates create a perfect document with valuable information in it.
In the above section, you already got the information needed to include in your CV and resume. Now, let's focus on the key differences that everyone should know to decide what they want.
1. What Type of Information to Include in a CV & Resume?
The data included in the CV and resume are the biggest differences that separate them from each other. CV is a comprehensive type of document that contain all the achievements and skills a person have. Whereas the resume is a document that contains concise information relevant to the job profile applied for.
2. What Is the Etymology of the Word Resume & CV?
The etymology means the origin of the word CV is from Latin that means course of work, and resume is a french expression that means summary. They are referred to as per the requirement of the information in these documents.
3. How Long Is a UK CV or Resume?
A resume in the UK should not be more than 2 pages of an A4 size sheet, and a CV can be lengthier than that. Your CV can take as much space as required to elaborate complete information about you. Sometimes, candidates write more than 2-20 pages of CV as per their achievements.
4. When to Use a CV and Resume?
Whenever you apply for something related to an academic position, advanced research, fellowship, etc., you must prefer a CV. It includes complete information on all your achievements and skills in broad writing. Whereas when you apply for a job, an internship or taking part in the job fair, etc., you must prefer to develop a resume to present your relevant skills with concise writing.
5. Should You Include References in Your CV or Resume?
A CV should include a list of references from your previous work so that the recruiters can take your feedback for previous academic tasks.So, it requires you to present all your previous work in your CV. But in a resume, you don't have to include references as if your employer will require any, they will ask you themselves.
6. What Are They Oriented Towards?
When a student or a candidate requires to orient an academic qualification, they want to write a CV to present it better. Whereas when it comes to non-academic qualifications, the applicants need to develop a resume to get a job as per their dream.
7. Do They Require Modifications for Different Job Profiles?
You don't have to modify your CV unless you have achieved a degree or any other accomplishment as it requires adding all the skills a person have. Whereas, in a resume, you have to modify it every time you apply for a new job as it requires adding specific and relevant skills for every job profile.
8. What Do They Stress on?
A CV focuses on expertise. You need to include the skills that make you an expert in a particular field of work. Whereas a resume focuseson contribution. You need to share how your work made a difference to your work.
9. Where to Write the Educational Qualifications?
In a CV, you need to add your qualification at the top, whereas, in the resume, you have to insert the education after the experience section.
So, these are the resume vs CVdifferences that can be helpful for you to know what to write when and how you can use it in your required field of work. Now, you understand both the CV & resume very well. So, let's create the best piece of writing without any delay.
Still, if you need assistance from experts, you can come to the academic writers of the Assignment Desk without hassle. They will provide you with an exceptional document for your job search and other academic applications.
Where to Get a Professional Resume Or CV?
You can reach the Assignment Desk website whenever you need help with resumes from experts as they have highly experienced and skilled professionals. These writers create every resume and CV with proper information & required details. Our online resume writing help providers will deliver you an excellent CV or resume by the time you need it, which will be helpful to get a call back from employers easily. Our expert's writing includes what a recruiter really wants.
They attain knowledge towards various types of resumes, like the chronological, functional, combination and targeted. You can ask for any type as per the job profile you are applying for. Choosing and following a proper type will add on some perfection and impressiveness in your CV. So, why wait for longer?
To Get the Best CV and Resume Writing Service, Reach Us Now!
FREE Tools
To Make Your Work Original
FREE Features
Topic Creation

Outline

Unlimited Revisions

Editing/Proofreading

Formatting

Bibliography
Get all these features for
USD 84.3FREE