SWOT Analysis Ryanair : Everything You Need to Know
31 Aug 2022
1680
Table Of Contents
Ryanair is one of the designated activity organisations in Ireland. It is the low-cost carriers that reduce the operating costs for the passengers. While talking about the headquarters, it is situated in Dublin swords. Also, it is operational based are London and Dublin airports. So let's learn about Ryanair's past, founding and market competitors. We will learn through Ryanair swot analysis.
Introduction: See the Airline's Potential
Well! In 2016, Ryanair was one of the largest European budget airlines passengers scheduled. It has the flown record of carrying more international passengers than any other airline service. Ryanair runs almost 400 Boeing 737-800 planes, with a single 737-700 charter plane serving as a backup and for pilot training.
Liam Lonergan and Christopher Ryan launched it in 1984 as "Darren enterprises." After only a brief time as "Ryanair ". Its first flight and aircraft were between Waterford and Gatwick airports in 1985. The business established a second route, flying from Dublin to Luton, in 1986.
| | |
| --- | --- |
| Founder | Christopher Ryan, Liam Lonergan |
| Year Founded | 1984 |
| Origin | Dublin, Ireland |
| No. of Employees | 17,500 |
| Company Type | Public |
| Market Cap | €22.94 Billion (2021) |
| Annual Revenue | €1.636 billion (2021) |
| Net Profit | €-1.145 billion (2021) |
SWOT Analysis of Ryanair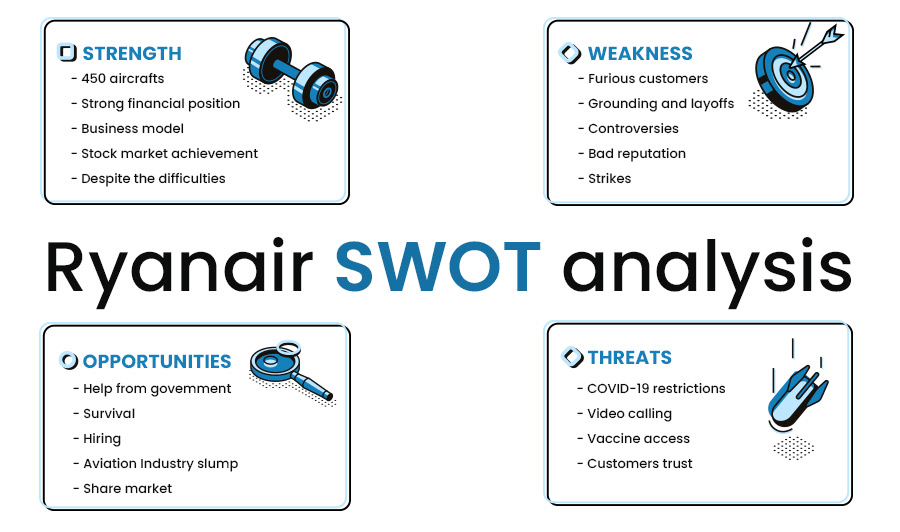 What Are Ryanair's Major Strengths?
According to ryanair swot analysis, Ryanair began operations with a 15-seater plane 35 years ago. Then, only flight attendants less than 5′′2′ could operate in the cramped cabin. Ryanair and its subsidiaries now own 470 aircraft. Here are the primary drivers driving this expansion.
Ryanair has a fleet of around 450 aircraft. However, CEO Michael O'Leary is eager to expand the fleet to 600 planes. While other airlines are shrinking their fleets, Ryanair is negotiating with Boeing for a 737 MAX, according to Forbes.
Ryanair reported 3.8 billion Euros in cash after the fiscal year in a statement to the Irish Stock Exchange. Ryanair, in a separate release, forecasts a profit of 1 billion Euros for the fiscal year.
While other airlines urgently cut expenses during the epidemic, Ryanair's business strategy is based on keeping costs as low as possible. Ryanair, in particular, keeps prices low by selling non-essential services as add-ons.
Investor's Business Daily raised Ryanair's RS Rating to 83 from 82. The RS Rating compares a company's stock performance over 52 weeks to the rest of the market. Ryanair is the safest stock to purchase in the airline industry, with a rating of 83.
As per the SWOT analysis on Ryanair has the most airline routes worldwide, with 1831. American Airlines comes in second with 1106. The differential gives Ryanair a commanding advantage of about 65% over its nearest competitor.
Stuck with your Assignment?
Hire our PROFESSIONAL ASSIGNMENT WRITERS and
Get 100% Original Document on any Topic to Secure A+ Grade
Get Assignment Help
What Are Some of Ryanair's Weaknesses?
The main rival of ryanair swot analysisis EasyJet. However, EasyJet has also been severely impacted by the economic crisis. According to the Financial Times, EasyJet is on track to post an annual loss for the first time in 25 years. However, Ryanair's conflict is more related to internal problems than rival ones. Refunds: Ryanair's refund policy has customers in a frenzy.
Ryanair has fulfilled only 5% of the refund requests following the law. Customers are also dissatisfied with Ryanair for providing them with time-limited coupons rather than a cash refund.
Ryanair grounded 99% of its aircraft in June. Due to restructuring, the corporation also made 3,000 job cuts. With 15% of its staff laid off, Ryanair will face a difficult battle in exceeding its performance in 2019.
Michael O'Leary, CEO of Ryanair, stated it is dumb to run an airline while socially distant. Unfortunately, the CEO has frequently deviated from the norm, and the statement is only one of them.
Ryanair came at the bottom in a survey of 7901 respondents, with a customer score of 40%. And for the past six years, Ryanair has been in this situation. The confusing pricing structure of Ryanair, which makes customers suspicious of additional expenditures, is the cause of the poor customer score.
After the pilot union called for a 48-hour strike, Ryanair could not obtain a favourable High Court decision to end it. 80% of the union's members voiced their unhappiness over continuing salary and working conditions conflicts.
What Are Some Opportunities for Ryanair?
According to survey, pre-COVID levels of passenger volume won't be reached until 2024. However, not all is bleak. The downturn presents some unexpected possibilities.
By conducting swot analysis for ryanair it is examined that it is one of 53 businesses eligible for the COVID Corporate Financing Facility offered by the Bank of England. Ryanair has accepted a loan for 800 million euros under the plan.
Living Off the Strongest like CNN reports that 20 airlines have closed their doors or filed for bankruptcy. However, Ryanair has demonstrated its resiliency during two Gulf Wars, the 9/11 disaster, the financial crisis of 2008, and rapidly rising fuel prices.
In a way, this crisis may benefit Ryanair by wiping off its rivals.
Talent Availability shows with thousands of qualified workers, including pilots, ground personnel, cabin crew, and engineers, vying for a chance to return to work, Ryanair has the chance to hire the top candidates. Airbus, the largest airliner manufacturer in the world, plans to cut 15,000 jobs as the aviation industry struggles.
The COVID travel restrictions had a significant impact on airline manufacturers. But this may be an opportunity for Ryanair to buy planes for less.
Market forecast: Morgan Stanley expects that if travel restrictions are lifted, and air traffic resumes regular levels, shares of Southwest Airlines will climb.
Southwest's European equivalent, Ryanair, may see a comparable increase in stock price.
Also Read: Zara Brand Analysis -Swot Analysis
What Is the Biggest Threat to Ryanair?
According to a study published, the airline industry's recovery is not entirely under its control. To get back on its feet, the sector must rely on assistance from the government and other organisations. We'll examine a few of these dependencies now.
Governmental Rules are that Ryanair does not influence governmental rules. For instance, in response to Ryanair's contravention of the nation's COVID standards, the Italian government threatened to suspend all aerial operations in Italy's primary airports.
COVID-19 limitations that the primary features of how various countries respond to the COVID problem are confusion and inconsistent policy.
The aviation sector may move backwards rather than forwards without a comprehensive and consistent recovery plan.
Video conferencing: According to an article, businesses hold half of their client meetings using video conferencing. This would put the corporate travel industry's revenue source in jeopardy.
Air traffic won't resume normal operations until vaccination is readily accessible, according to the CEO of United Airlines. He hopes that by the end of 2021, we will have accomplished the goal. Additionally, individuals in a crowd must feel secure. The delay in returning to normalcy.
At a discussion, the brightest brains in the Middle East's aviation industry addressed strategies to increase passengers' trust in flying. Although they concluded that confidence would return to normal, they also stated that it would require a vast, concerted.
The above-stated is the complete SWOT analysis of Ryanair. If you still have doubts and cannot conduct the swot analysis on any brand or organisation, then at that time, you can take experts to help deal with the academic issue. Experts will help you in conducting the swot analysis.
Also Read: SWOT Analysis of Apple Inc.
Trouble in Conducting SWOT Analysis on Ryanair? Pros are Here
The only area in starting the SWOT analysis on Ryanair is understanding the criteria for working in Ryanair. As seen in this blog, we conducted a SWOT analysis on Ryanair. It is one of the most popular companies around the globe. During swot analysis, we gathered various information regarding factors affecting Ryanair. If you're still stumped on how to write a swot analysis, don't worry. Our experts are here to help you. With the help of experts, you can write the SWOT analysis on Ryanair effortlessly and get assistance with all the issues. Our experts will help you with a complete writeup process worthy of securing A+ grades in your academic task. If you encounter any difficulty or want to conduct PESTEL Analysis, reach out to our experts at the Assignment Desk. They will solve all your doubts.
FREE Tools
To Make Your Work Original
FREE Features
Topic Creation

Outline

Unlimited Revisions

Editing/Proofreading

Formatting

Bibliography
Get all these features for
USD 84.3FREE