How to Have a Safe Halloween | Social Distancing Guidelines and Creative Ideas
24 Oct, 2020
3451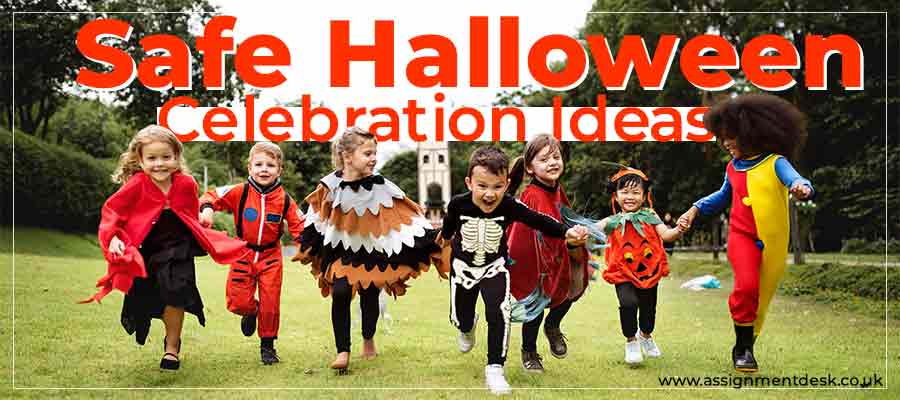 Something is better than nothing! Well, we've decided to keep this Halloween 2020, a low-key holiday to be safe, healthy and protected from COVID-19. Therefore to keep this Halloween going, we've come with some creative ideas that will give you tips on how to have a safe Halloween.
Considering the guidelines for events and gatherings, we were able to churn out some fun and safe Halloween celebration ideas for you.
We all know what Halloween is about and when it is celebrated but do you really care about knowing the back story of its spooky costumes? So without wasting much of the time, let's dig into the details.
Halloween Holiday- Relation of Ghostly Appearance and 31st October
It's Halloween!! A night before the resurrection of the saints, this day is celebrated on 31stOctober. Ominous and Gothic Halloween is going to show a special appearance as it will be a full moon on this day, this year.
People wonder what the origin of Halloween is and what makes it all about Gothic appearances. By linking Halloween to Samhain, mythologists had revealed that on this day, the bridge between the dead and the living gets thinner that makes it easier for spirits and ghosts to travel to the living world.
This is the belief between Halloween and its dark history. It's enough about the history and origins, now it's time to into the core of this blog.
Holiday Guidelines- Social Distancing During Holiday Gatherings
While the government is making all the efforts ensuring a safe environment, there are some factors that can lead us to the risk of getting infected or infecting others.
Let us contribute our bit to society and try to follow the below steps.
Number & Rate of Community Cases-The rising number of Covid cases needs our immediate attention. Thus, while attending any event or a gathering, gauge the number of family members or friends attending a particular event. See if it's the situation of you hosting an event in your community or attending someplace else.
Venue and Duration of the Event- It is really important to keep indoor ventilation in check as poor ventilators are at greater risk than outdoor events. Also, ensure the duration of your party is not too long as it increases the chances of getting the infection.
Size of the Gathering- It is recommended to have a limited or small size of gathering. Try to make the minimum or limited contact with the attendees.
Travelers Information- Friends and family traveling from outside have a higher number of cases in their areas. It can lead to community spread at your venue and can increase the risk amongst the people attending your event.
If you're thinking if this is important or if this can help you have a safe Halloween party during Covid, then yes, it definitely can!
We still have a lot to talk about and by that we mean, let's talk about ideas on how to celebrate Halloween safely.
Have a Safe Halloween- Tips to Enjoy & Celebrate Halloween 2020
There is something special about Halloween 2020 as it's falling on the weekend i.e Saturday and it's a full moon on 31st October.
Don't underestimate the power of Halloween 2020 in covid, as these happenings are rare to see. We have seen how to take social distancing measures while involving in gatherings o attending any event, now let's see how to rock this Halloween 2020 in Corona times.
If or not, this has come to your notice that Halloween 2020 and Covid-19 have one thing in common that is wearing masks. Let us dive into real fun.
Treasure Hunt in Pumpkins – It sounds like a very fun game where you can hide some candies and bars into the pumpkin-shaped carved boxes at various places of your house. This way, the little munchkins in your family can enjoy this evening by hunting candies, while others can enjoy baking, making pizzas or sitting near the fireplace.
Dark and Glowy Outdoor Party- Don't think of a big size gathering yet. You can enjoy this holiday by setting up a dark and scary theme in your society's indoor stadium or auditorium. This will help you to keep minimal contact with the limited number of people.
Halloween Movie Night: Bring a ghostly appearance in your living room by putting those hanging dim lights, choosing your favorite horror movie and a bowl full of candies and popcorn. Simple yet Halloween-ey!
Wonka Candies and Jack-o-Lantern- Where have you seen Halloween without the nuances of Jack-o-Lantern pumpkins? Nowhere, because they simply cannot exist without each other. Let your family enjoy carving out the orange pumpkins and you can bring them the treats of Wonka candies like Nerds and Laffy taffy.
Now you have all the ideas on how to have a safe Halloween during covid and we hope that we have answered all your queries too.
Wait right here! We have some other delights as well that can certainly give you the holiday feels. Is it hard to believe?? Hop on to the next section.
Happy Hours and Exciting Deals- Halloween 2020 Assignment Help Offers
Now that you know how to stay safe and enjoy your Halloween holiday, let us take you to the world of offers and treats.
You're about to know the blockbuster deals that Assignment Desk is giving to you to make your Halloween stress free.
This Halloween, we suggest you load off your assignments on us and set yourself free from meeting the deadlines. We are providing our star-rated assignment help services at pocket-friendly prices. Excited enough?? Let's see what we have for you.
Avail of up to 50% discount on assignmentsand buy as many as you like.
Get our mobile app and avail an additional 5% off on all your assignments.
We want to welcome you with our open arms by giving a flat 25% off on our assignment writing help services to the students who are placing the order for the first time.
This is awesome, right?! But hey, we still have something left for you. Check our website, go to the Offers section and see for yourself. Some little surprises are always saved for the dessert.
Happy Halloween!!
FREE Features
Topic Creation

Outline

Unlimited Revisions

Editing/Proofreading

Formatting

Bibliography
Get all these features for
£ 121FREE