Safe Halloween Tips & Amazing Assignment Deals to Reduce Your Writing Fear
27 Oct 2021
4033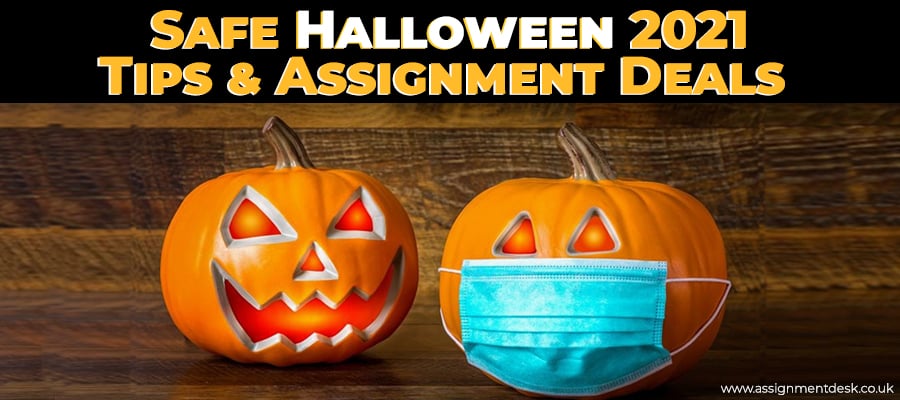 Horror Story 2021-
" Once upon a time a student had piles of assignments. He was trying to write them at the night, but he was getting stuck every time. Why? Is there something stopping him? What was that, which interrupted him? Due to the problems caused that night he got failed. Do you want to know what was that?"
The answer can be many, some students have improper writing styles, while some can't handle the stress of writing. But what if you have assignments to write on the night of Halloween and you have to leave the party? No student would want this to happen with him.
But do you think celebrating Halloween would be safe after so many uncertainties and health issues caused by pandemic COVID-19?
Confused? Don't worry; you can't only celebrate Halloween 2021 but also can complete your assignments on time. This blog includes all the information that will prove beneficial to you.
Let's start reading the dark facts about Halloween first, after this, you will know how to celebrate the holiday safely & find exciting offers to get assignments at a low price.
Students also like to read: Quoting or Paraphrasing? Which One is Better for Academics?
So, are you ready? Let's move ahead to know the dark facts!


5 Dark Facts About Halloween to Make Your Nights Spooky

1. Celtic Origin: Some people believe that the day started 2000 years back. The European people used to celebrate the day during harvesting. They also believed during this time, they can communicate with dead people.
2. A Batty History: Many people associate bats with Halloween. If you believe in Nova Scotian mythology, if a bat is set on the house, it means someone is going to die.
3. Spiritual History: According to Celts, one can communicate with the dead. One has to use a Bonfire to appease their Gods. For this, the people sacrifice crops and animals and celebrate the day as Halloween.
4. Roman Intervention: It is believed that the Roman conquered Celtic during 43 AD. During the battle, so many people died. Since then, people started to celebrate the day to commemorate the passed people.
5. Mumming: It means to feed the dead. People used to feed and offer gifts to the dead who like to wander here and there. The people often wear scary costumes while doing the same. It is called 'mumming'.


It is all about 5 scary facts for Halloween. You must have found them terrifying! Don't you?
Now move to the next section that will make you aware of the safe Halloween make-up ideas.
You may also like to read: Research Onion to Investigate Like a Pro & Write Flawless Methodology!


Safe Halloween Make-Up Ideas for Students!


Natural Colors for Face Paints: If you are going to celebrate the Halloween party, you should use natural colors for face paint. Don't go with colors that have chemical contents because they can damage your skin. You will have to keep the make-up on the face for the entire night so artificial colors can prove dangerous.


Scary Design Face Masks: You can check some pictures of the scary face masks. Now paint your face accordingly. If you paint your jawline and its upper part till nose to make it look like a scary mask, you will not have to paint your entire face, and you can get ready fast to celebrate the day.


Avoid Water Proof Make-Up: You should not use waterproof make-up because it is generally harmful to the skin. These types of colors take more time to take off when you wash your face.
These all points were related to the safe make-up. Now move to the next section to know the other things that you should focus on to celebrate safe Halloween 2021.


5 Tips on How to Have a Safe Halloween 2021

1. Keep Paper Soap in Your Bag: You should keep the paper soap in your bag. If you have to eat and then wash your hands, you will not have to use the soap that is used by other people at the party. You can use your paper soap.
2. Wear Gloves Throughout the Party: Gloves will help you to keep the germs away, and you will not get ill after enjoying the party. Also, you will not have to wash your hands again and again, if you wear gloves.
3. Keep Extra Face Masks in Bag: You should keep an extra face mask in the bag so that if you miss one, you can take out another and stay safe from COVID-19. You can also offer the extra face maskto the people who have forgotten their mask.
4. Wear Full Clothes: Try to wear full clothes so that you can be safe from germs. Select or make your clothes in a way that you can look scary with full clothes.
5. Have Virtual Games: If you can't go to the party due to safety issues, you can play virtual games with your friends. It will keep you safe, and you can enjoy it as well.


You know that safety has become more important after the advent of COVID-19, so you should take the above ways seriously while celebrating Halloween. Apart from safety, you must stay stress-free while celebrating the day. If you have incomplete assignments, you can't stay stress-free.
But you will not have to worry as we at the Assignment Desk have covered you all. By availing of an exciting offer up to 30% off, you can get the paper at the lowest price. Our writers will offer you all the assignments on the time and you can feel relaxed while enjoying Halloween day.
Students also like to read: Best Font for CV: Develop a Perfect Resume to Crack the Interviews Smoothly?
Let's know about the offer in detail below.


Exciting Deals on Assignments for Students | Grab Now!

Assignment Desk has come up with an offer of up to 30% off. By using it, you can get the paper at the lowest price. Our team always tries to bring something interesting for students and work to reduce the writing stress of the students.
Many students have to leave the Halloween party due to assignment writing stress, but this time they will not.
If you want to order and avail of this exciting offer, you will only have to follow the below steps.

1. Register on the website
2. Select your service
3. Apply the Coupon code 'Halloween 2021'
4. And submit the details


Don't forget to apply the Coupon code otherwise, you will not be able to get up to 30% off. If you order using our app,you can get an extra 5% off as well.
If you are worried about whether the academic papers provided by us are qualitative or not, you should know about us below.


Why Choose Assignment Desk for Writing Help? | 3 Reasons

Assignment Desk is known to offer high-quality papers at low prices. And it has a team of professional writers who make sure all the points in the paper are accurate before handing over the documents to the students. You can read the below 3 points to know why we are the assignment help provider.

1. Experienced Team
2. Timely Delivery
3. Freebies for the Academic Papers
FREE Tools
To Make Your Work Original
FREE Features
Topic Creation

Outline

Unlimited Revisions

Editing/Proofreading

Formatting

Bibliography
Get all these features for
USD 84.3FREE