Best Marketing Strategy 2020: Evoke the 5 Senses in Your Audience in These Easy Steps
15 Oct 2019
2641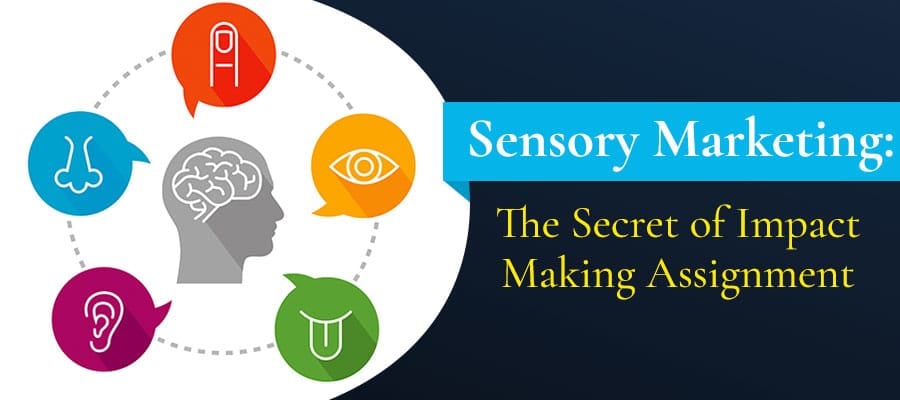 Table of Contents
Marketing is one subject that depends on public thinking more than the theories. We as humans do not stick to any theory or set standards. The subject is ever-evolving and growing. No matter if talk about marketing strategies, planning, or tactics every other day there is something new in the business. The latest development in the field is sensory marketing. Yes, it could be covered under psychological marketing and can be a good topic to write about. The marketing assignment help providers at Assignment Desk see this as an interesting and engaging topic to talk about.
Sensory Marketing:
It is an easy advertising tactic that intends to evoke the human senses of sight, hearing, smell, taste, and touch to develop the emotional association with some product or brand. Coming up with a successful sensory branding trick in your marketing assignment may seem tough when you begin, but once you have researched for the topic trust us you are going to love it.
Our digital marketing assignment help experts throw some light on the topic. The term and the concept dates back to the early 1940s when the world realized the importance of sight in the field of marketing.
And since then, it has come a long way.

Now, that you know where it all began from, let's see how is it different from the traditional marketing tactics.

Traditional Marketing:
It considers that the customers would systematically consider concrete products like price, feature and utility. This is more of a logical and rational approach to market a product instead of creating a need for the product, or a story that lets the customer feel the need.

Sensory Marketing:
Here instead of considering the systemic elements, the marketer's would develop a strategy that may include a real-life experience of the customer, evoke emotions in them and compel them to relate to the product. One of the industries that makes the best use of sensory marketing is the tourism industry. Tourism marketing has helped countries boost their economies several folds. This is where one makes use of the emotional nature of humans.

To sum up, sensory marketing marks products success in the following ways,
Identify, measure and understand the consumer's emotion.
Expanding and exploring new market set-ups.
Professing brand loyalty.
Now that we have explored all the aspects of sensory marketing, in brief, let's dive into the ways of adding different senses to your work. You may have read a few marketing assignment samples pdfs that reflect on how to write a marketing assignment, now read further to know how to go beyond these.
Sense#1: Sight
The Right Color Combination to Mark an Impression
With almost two-thirds of your sensory cells involved with the sense of vision, it is the most important sense to convince your customers to at least stay at the brand. There have been different studies on colour combination impact of a particular logo on the audience.
Other than the psychological impact, something that is eye-pleasing will definitely hold your attention for a while.

When you work on your marketing assignments, make sure they too are structured in a way that the professor finds them easy to read. This would help you earn an A+ in a snap of fingers.
Sense#2: Sound
Music Can Turn to Noise in Wrong Set-up
Sound accounts to almost 99% brand information that is shared with the customer.
Almost every brand has a jingle that comes along or a celebrity stating the brand tag line aloud. This impacts the popularity of the brand. With something that audience can relate to, selling some product becomes quite easy. It is seen that the brands that have loud music as a part of their marketing strategy often influence the younger generation to buy a specific product. It is the blend of the sound and sight that would leave an everlasting impact on the target customers' mind.
Thinking how to add this element in your marketing assignment? Well, the business management assignment help experts suggest read your work aloud and make sure the punctuation and formatting reflect what you want to say.
Sense#3: Smell
If the Nose Can Relate to It, So Can the Customers
It is reflected that over 75% of marketers rely on the smell market. Your brand must have a fragrance of its own. Confused? It need not be some physical fragrance but some element that stirs this. Let your customers enjoy the fragrance that you relate your product to and get an urge to at least visit your page. Once the customers are at the store, it is your product quality that would compel them to make a purchase. With the competition in the market growing at such a rapid pace, so is the evolution of the marketing strategies. The simplest example is home paints. The home paint ads always make use of the smell of fresh paint to add to the usp. Automobile brands use the fragrance of petrol. These are some very small aspects of marketing that many don't pay attention to. When students take economics assignment help from us, the experts often add the olfactory impact of a product in their work to make it unique.
Definitely, you need not spray anything on your assignment. All you need to do is if having space site examples that reflect the power of smell in the marketing domain. It may seem, tough, but if you attempt something that is out of the box you would definitely be rewarded with something better.
Sense#4: Touch
If They Can Feel It, They'll Buy It
The first rule of retail sales is, "Get the customer to hold the product."

Your customer must get to feel the product. The physical interaction would give a sense of ownership and may trigger "I want to have it" hormones in your customer. It is no big secret that most of the customers who love to shop prefer being physically at the store to enjoy the feel. If the feel of the product doesn't generate a sense of belonging in them, they prefer not to own it.
Let your customer connect with the product believing it is theirs and thus see your sales skyrocketing.
When writing your assignment, make it impressive. Add elements like diagrams and graphs. Use interesting phrases and language that the reader can connect to. This would make it easier for the professor to stay engaged in the reading and fetch you an A+ too. If you think, this trick works only on marketing you can also check diploma assignment help provided by us.
Sense#5: Taste
It Impresses Their Tongue, They Are Buying It
This is one sense that is difficult to evoke and if you can fight this difficulty you are a star. It is important that the product that you are selling triggers the taste buds in your customers. This would be specific for food joints as they need to ensure that the customers taste buds are charged once the advertisement reaches them. If you can make them like your product from the distance you have ruled their minds and hearts already.
No, your professor doesn't want to taste your work. For your assignments make sure the way you have written the information is compelling enough and plays a bait to the professor.
Woah...5 Senses Never Seemed So Important!
This would have been an interesting read. Marketing is not and will never be only selling. It is attracting the customer to your business and holding them there forever. There are more aspects of marketing that need to be taken care of, and these senses are the most important of them. Did you ever think that the senses can help you curate an assignment that would earn you an A+ and help you impress your professor? No. But see here is the trick. You need to go an extra mile to ensure that the assignments that you are working on earn nothing less than an A+.
Don't let the learning stop:
FREE Tools
To Make Your Work Original
FREE Features
Topic Creation

Outline

Unlimited Revisions

Editing/Proofreading

Formatting

Bibliography
Get all these features for
USD 84.3FREE