How to Write Valid Arguments in Your Assignment
09 Oct 2018
3882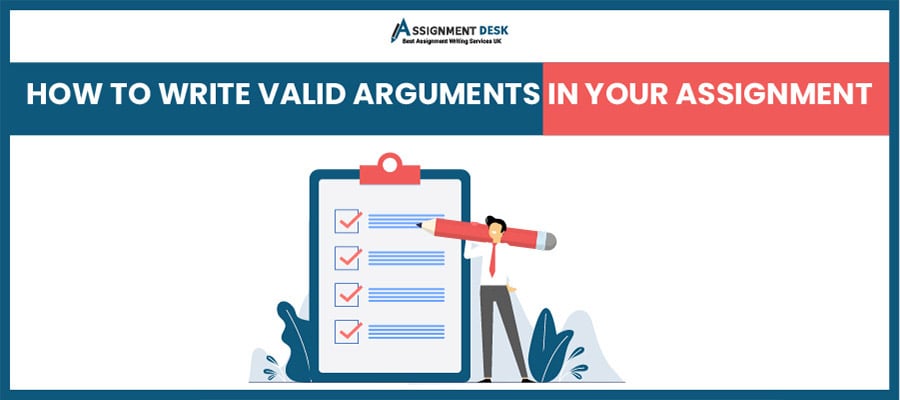 An argument can be defined as the set of statements that can be helpful in authenticating your point of view. A strong argument can make your answers more effective. So, basically by writing suitable arguments in your assignment, you can impress your professor and can get good grades in it. However, making a valid point is not as easy as it sounds since you are required to have a firm grip on the basic concepts of a subject.
What Makes an Argument Perfect?
You should have the clear idea of what is asked in the assignment and how you should answer it, as your way of explaining decides the validity of the arguments. So, when you assume something while writing an answer, you should provide strong statements in its support.
How to Make Your Argument Perfect?
Once you understand the question, you should be able to know how you should answer it. A clear understanding of the topic can help you build valid arguments, but if you are facing trouble in understanding the meaning of a question, then you should first gain the basic knowledge of the subject. Also, by learning the concepts of the subjects, you will be able to craft your answers logically.
5 Basic Principles of Writing Arguments
1. Be Clear About the Point
An argument builds on a single point of view that you are assuming to be true. So, before you conclude a point and start explaining it in your assignment, you should first understand it. You should also know how it can be helpful in proving your assumption correct.
2. Write Important Facts
When you are sure about the point of your argument, you should write essential facts that are true and difficult to deny. By doing so, your professor can understand that you have an in-depth knowledge of the subject assessing your document. In addition, by writing relevant facts in the statement, you can make your assignment informative and high scoring.
3. Be Logical
You should write logical statements, and your arguments should sound convincing and sensible so that your professor can understand that you have done proper research on the topic. However, there are two ways of writing an argument - inductive and deductive. You can choose to write an answer inductively if you can predict the conclusion of the argument before writing it. On the other hand, writing deductive arguments means that you should first write a series of statements that provide a conclusion to the statement.
4. Check the Validity of Your Arguments
Every statement that you are making cannot be universally true. So, you should check the domain of the argument, and if it is relevant to what is asked. In case, there are some scenarios in which your idea is not fitting in, you should try to explain them to defend your statement.
5. Put Your Emotions in Them
If your arguments fail to convince your readers, then all your efforts that you put in writing them can go in vain. So, to make an impact on the reader's mind, you should write believable statements. You should make sure to write them as per the tone of the question. Moreover, you can depict your emotion through writing, so that your answers can make a good impression on your professors.
A logical argument is a foundation on which your answers rely, and if you fail to support them with valid points, then it can be a factor in degrading the overall quality of the document. Being a student, you should understand the value of a well-written assignment, and how it can affect your academic score. There are some tips to help you build reasonable arguments, that will eventually make your answers convincing and impressive.
Why Should You Avail Assignment Help From Assignment Desk?
Assignment Desk is a renowned writing service provider in the UK. The academic writers associated with us have assisted thousands of students in getting top-notch grades in their assignments. They are well versed with all the concepts of their subject specializations and compose each document from scratch. You can contact them any time to seek humanities assignment help or any other at affordable prices. So, hurry up and avail exceptional benefits on your first order.
FREE Tools
To Make Your Work Original
FREE Features
Topic Creation

Outline

Unlimited Revisions

Editing/Proofreading

Formatting

Bibliography
Get all these features for
USD 84.3FREE