15 Traditional Dishes to Celebrate Your St. Patrick's Day Like an Irish
14 Mar 2019
2287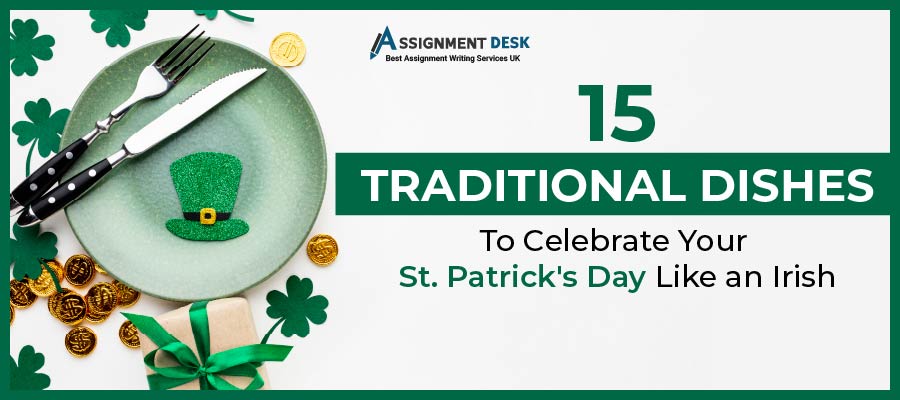 There are discounts in the corner store. Suddenly everything is turning green, indicating it's Saint Patrick's Day. The day that was once observed the death of St. Patrick has transformed to the day of celebration. The day has gradually become synonymous to parades, special foods, music, dance, and what not. Although, the festival has its origin back in Ireland, but the world celebrates the festival with full pompous. To add cherry on your cake this year its a Sunday. The festival may not find its way in the official holiday calendar in other countries, but it definitely found its way in the celebration and discount charts.
No matter in what part of the world you are, with the world turning to a global village it is important you celebrate the festival as Irish do. The best part about these celebrations is FOOD. (Yeah, it makes everyone happy) So why not ditch your favorite dishes this Feast Day and enjoy the traditional Irish food and St. Patrick's Day recipes that are associated with the celebrations.
15 Traditional Irish Food to Celebrate Your St. Patrick's Day Like an Irish
1. Spinach Pancakes and Corned Beef Hash
The dish offers incredibly moist, and thick textured green savory pancakes that has a fresh feel of onion in each bite. This traditional Irish food has a blend of authentic flavors and aroma to impress your taste buds.
2. Irish Soda Bread
The orange zest and currants add sweetness to the bread. It is quite popular among people for the blend of flavors it offers.
3. Shepherd's Pie Potato Balls
Not just simply baked potatoes, but a mouth watering dish that adds extra flavors to our ordinary vegetable. It is golden mashed potato with rich beef and filled with vegetables.
4. Colcannon
Another traditional Irish dish that is made with cabbage and mashed potatoes. Enjoy the delicacy with corned beef or lamb.
5. Fried Cabbage
To all the health conscious people out there, ditch your diet for a day. Not really fried, the cabbage is flavored with butter and bacon drippings. The sauce from Worcester, Worcestershire makes it a favorite among all the gluttons busy with celebrations.
6. Irish Grilled Cheese
The perfect dish to munch on for those who love their breads a little flavored. Enjoy the herb-studded butter on the outside and cheesy flavors inside the sandwich.
7. Potpie with Cheddar Stout
The cheddar covered stouts have potpie filings. Let the fillings cool, refrigerate and then heat it just before eating. Let the dish leave its flavor in your mouth and the aroma fill your room.
8. Irish Potato Cakes
In a rush and don't have enough time to prepare for the dinner. No worries. Get your dinner table ready with these easy potato cakes and enjoy your St. Patrick's Day holiday lazily.
9. Vegetable Shepherd's Pie
This is one holds an important place among popular St. Patrick's Day vegan recipes. So, ditch the meat and go vegan with the dish. Instead of regular meat stuffing, stuff your pie with turnips, carrots and celery.
10. Rum Raisin Rice Pudding
Revamp your classic rice pudding by traditional Irish food and St. Patrick's Day recipes. Just add a little Irish beer to it and turn it special for the day. Chill and enjoy gobbling it the whole time.
11. Mint Schnapps Shake
The pale green milk shake is a perfect treat for mid-day or after dinner. With the ice-cream enjoy the splurge of the chilly dish until you feel happy about it.
12. Irish Coffee
The cocktail has its origin almost a century back. It is a perfect blend of hot coffee, Irish whisky and sugar presented with whipped cream at the top. Enjoy your St. Patrick's Day with sips coffee through the cream.
13. Lime Poke Cake
Yeah, the first dessert in the list, for those with a sweet tooth. The dish is not very sweet but who would say no to sweet buttermilk cake with slightly sweetened whipped cream to add flavors.
14. Chocolate Stout Cupcakes
Let the flavors of Guinness blend with chocolates to make tender cupcakes. For the icing on your cupcake is the cream that looks like Guinness's renowned foam.
15. Irish Cream Jelly Shots
These boozy coffee jelly shots are a perfect dish to ornate your dinner table with. It has everything you can enjoy. A perfect blend of coffee, Baileys and whipped cream, what more to ask for celebrations other than these.
Burp!!! That Was Quite a List to Munch On...
Enjoy these St Patrick's day food dishes without worrying about the assignment writing task that are due for the week. Assignment Desk is offering exciting discounts to help you in your writing task, without harming your budget or spoiling your celebration mood. You can place an order to get your assignments written by our experts at lightning fast speed.
Interesting Discounts to Help You Save!!! Festive Discount
Get the festive discounts up to 40% off and save for your celebrations. These are limited time discounts so reach to the website and place your order TODAY.
New User Discount
If you are placing your order for the first time on Assignment Desk, you get an exciting discount of 25%. We make it a point you save a little of your pocket money, each time you place an order with us.
Refer and Earn Points
If you refer us to your friends, and they place an order via your referral code, you earn discounts too. Get upto 5% off on all the orders after your referral is verified.
Membership Discounts
We have membership discounts for students who have been taking our help for long. We make it a point that if you have been associated with us for long, we do give you rewards.
If you have placed 10 orders with us, get an additional 5% discount on all the orders after that.
If you have placed 15 orders with us, get an additional 10% discount on all the orders after that.
If you have placed 25 orders with us, get an additional 15% discount on all the orders that you place after this.
Discount on Mobile App
Away from home and don't have your system? No worries. You can reach to us via mobile app and get interesting discounts of 5% on your orders.
Yay... That's a Lot of Saving NOW!!!So this Saint Patrick's Day, let your assignments be our task and you relish the interesting traditional Irish cuisines and enjoy your day.
FREE Tools
To Make Your Work Original
FREE Features
Topic Creation

Outline

Unlimited Revisions

Editing/Proofreading

Formatting

Bibliography
Get all these features for
USD 84.3FREE