Uncommon Words That You Can Learn from Disney Songs
01 Aug 2018
4438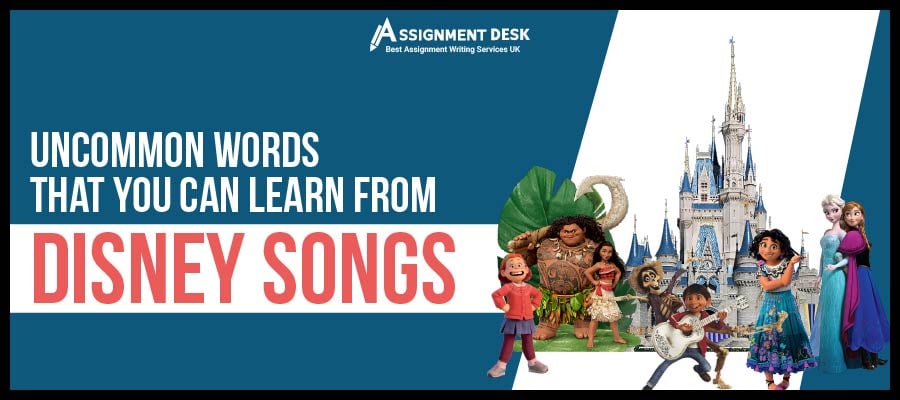 Disney has always been a part of our childhood. It's no exaggeration to say that we've learned a lot from Disney movies and will continue to do so in the future as well. Be it Aladdin, Rapunzel, Alice, Ariel, Hercules, or Dory, every famous character has made us learn something or other that will always remain in our minds, and forever in our hearts. But this time, the source of learning is different. It's not the storyline, and definitely not any particular Disney character. It is the songs of Disney movies that will teach us some of the most impressive words you probably haven't heard before. Let's take a read through this write-up and get ready to welcome new additions to your vocabulary:
Genuflect (Aladdin, "Prince Ali")
The meaning of this word is lowering one's body by bending one knee to the ground, especially in worship or out of respect. Prince Ali! Fabulous he! Ali Ababwa · Genuflect, show some respect, down on one knee! This is the song written and composed by Robbin Williams which you can't stop listening to. As we strongly believe in the quote, 'Knowledge grows when shared,' we would suggest you teach this word to your friends without much ado.
Paragon (Beauty and The Beast, "Gaston")
It is a person or a thing that is the perfect example or a model of excellence. "Gaston" song appeared twice in the movie Beauty and the Beast and was written by Alan Menken and Howard Ashman. The lyrics are as wonderful as the movie itself. It goes as, "No one's slick as Gaston. No one's quick as Gaston. No one's neck's as incredibly thick as Gaston's. For there's no man in town half as manly. Perfect, a pure paragon! You can ask any Tom, Dick or Stanley and they'll tell you whose team they prefer to be on." Enough to make you croon it over and over again, isn't it?
Beguine (The Little Mermaid, "Under The Sea")
It is a popular dance form of Caribbean origin which is akin to foxtrot. 'Under the Sea' was composed by Alan Menken with lyrics by Howard Ashman. The song is enough to make you tap your feet and sing-
Under the sea
When the sardine
Begin the beguine
It's music to me
Did you ever think of learning such an impressive word from these lines? Thank us later!
Calumny/Consternation (The Hunchback of Notre Dame, "Out There")
Why invite their calumny
And consternation?
Stay in here
Be faithful to me
The word Calumny means slandering someone or making false statements to smirch their reputation. And, Consternation is used as a noun to express the feeling of anxiety or dismay at the untoward or unexpected situation. To remember these words, teach them to your friends and family members today!
Quid Pro Quo (The Lion King, "Be Prepared")
It came in the mid 16th century and is a Latin word which means 'something for something' Quid Pro Quo is used to denote an exchange of a favor for a favor. These lines hold a treasure for those who love to learn new words every day.
Of course, quid pro quo, you're expected
To take certain duties on board
If you haven't watched this flick which is one of Disney's biggest hits, then get cracking and seek life lessons from "the Lion King." It is the eighth highest-grossing animated film of all time. We understand your love for Disney and how much you want to binge watch its movies to get the hang of many useful learnings. But if you have a pending assignment that needs to be done on an urgent basis, then quickly get in touch with us and take assignment help online from our expert writers. They are exceptionally good at working on any type of academic paper you're finding it tough to deal with.
With us, having by your side, don't worry about grades. We will write a top-notch write-up for you in exact accordance with your university guidelines that will surely let you score no less than an A grade. So, Hire us today! Put your feet up and relax by watching Disney movies and listening to its inspiring songs.
FREE Tools
To Make Your Work Original
FREE Features
Topic Creation

Outline

Unlimited Revisions

Editing/Proofreading

Formatting

Bibliography
Get all these features for
USD 84.3FREE