How Online Writing Services Make Your Assignment Look Presentable
06 Jul 2023
304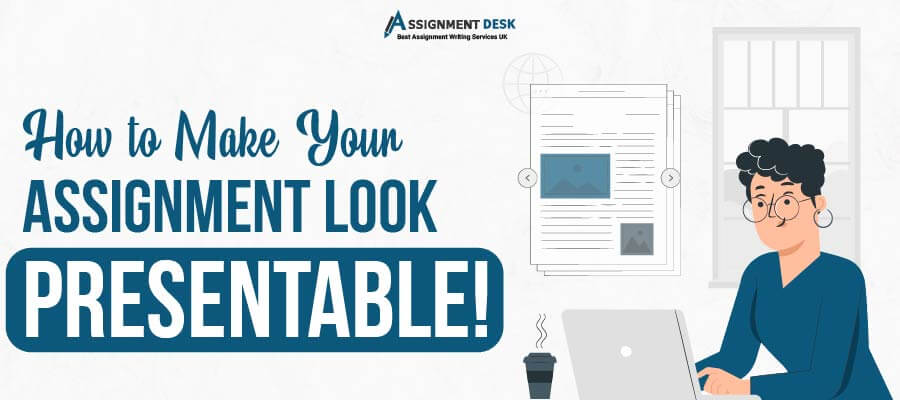 Table Of Contents
Have you ever wondered why a well-made paper is essential? Are you searching for tricks to write an attractive project? This blog will answer all these queries and tell you the secret about how online experts write a perfect paper. Before that, you must know that assignments are essential academic tasks you have to do to complete your course. If there are any mistakes and the form is not nice, you will lose your marks. Therefore, use online services to make your assignment look presentable. Some students don't know how to make a presentable paper and often lose marks for it. But online experts know certain tricks and make an attractive paper. Are you curious about those? Below are the formulas for your assignment help. But, before knowing these, get the idea of why you have to make an assignment presentable.
Need Personalised Assistance from Our Experts?
Share Your Requirements via Whatsapp!
Chat Now
Why a Well-Made Assignment Is Important?
Imagine yourself as a professor and you give your students assignments to submit. All of them did it, but there were multiple errors. Moreover, they did not follow any guidelines. Do you think you will give them good marks? No right? Now think about your professor. He will also feel the same when you will submit an unorganised paper. So what will be your result, you know already. That is why you need to make your assignment perfect. Now get some tips on how to make a pleasant paper.
How You Can Make an Assignment Presentable?
There are multiple ways to write an assignment which will get you a good score. If you know them, you will never have to worry about losing marks. So here is the list to guide you.
1. Understand the Question
There are many types of assignments, and all of these follow different types of academic writing methods. If your basics are unclear about the question, you will apply the wrong one and lose marks. Therefore, to write something, you need to understand what is asked and what will be its possible answer. This way, you won't deviate from the subject and can apply the exact writing method.
2. A Catchy Title
Here catchy does not mean being extra. Your title must be engaging to the readers and should make them understand the purpose of the study. It is your next step to make your assignment look presentable. Most importantly, there should not be any jargon so it will be clear for the reader to understand the point of your theory.
3. Good Introduction
After your title formation, your next step is to introduce your topic. For your professor, it must be informative and engaging. Otherwise, they will be bored from the first section and lose interest in reading further. Moreover, it should have a unique and strong background point to hook people.
4. Tables and Graphs
These are called design elements. When you write a paper, add tables, graphs, flowcharts etc. These are appealing to the eyes and make your assignment stand out more. These elements are the core aspect to help you make your assignment look presentable and more appealing. This way, you can improve your grade.
5. Use Headings and Subheadings
Headings are important because they give hints about the paragraph, such as the theme of it. Similarly, subheadings are essential because they make sure you have covered all the points and make the paper easy to read. Not only the assignment became easy to read but seem authentic by using these as well. Many students don't know these, so they search for online assignment help and ask them to do it for them.
6. A Good Conclusion
Your paper should have a proper conclusion with a concluding remark. By this, your teacher will understand how your findings answer your research questions. However, it should not include data which are already present in the body. A crisp and well-written conclusion can seal the deal for you. As it is the last part, you should give a call for action and make your assignment look presentable.
So these are some ways about how you can write a good paper. But there are some simple things you did not notice, and those will break the deal for you. But online experts see these small mistakes and correct those so you can get good marks. Do you want to know what are those errors? Don't worry. We covered it for you in the below section.
How Online Experts Make Your Assignment Pleasant?
How do assignments make by online professionals get good scores? What are the things they give extra attention to? These questions are roaming in your mind, right? Well, here are the answers you are searching for. So without further delay, get into this to know the secret.
1. Title of Assignment
It is not about the title name of the project, we are talking about the title page. Yes, we know what you are thinking. You are thinking, what is so important about it, right? Well, this is the exact thing every student thinks and neglects it. Your title page contains the most important information about the data. That is why these experts write it in such a way that it looks attractive and tells the gist of the project.
2. Ideal Font
Most students in a hurry do not pay attention to this small detail. Or some of them don't have any idea about these. So they make mistakes and lose their marks. There are three main types of font commonly used for writing. Those are- Calibri, Times New Roman and Arial. But these online services check the university guideline to know their preferred font style and the type. After that, they work accordingly to make your assignment look presentable.
3. Keeping the Margins
As with the font size and style, students don't pay attention to this matter. They think it is just a trivial matter and neglect this. But online professionals make sure the content is aligned and check that the assignment is presentable.
4. Headers and Footers
By including headers and footers, these professionals improve the presentation of the paper. It has the student's name, roll number, course name and number, assignment and page number. These things positively impact your teacher or reader.
5. Flow of Content
Most people write at the last moment and do not check whether the paragraphs are connected smoothly or not. Imagine you are reading a paper, and the information is unorganised. Will you consider buying that paper again? Obviously not. The same goes for the assignment. If your information flow is not smooth, it will not make your assignment look presentable. That is why these experts check whether the paragraphs are connected, and if the tables and graphs are placed accordingly. If not, they make changes and make it smooth to read.
5. No Duplication
They make sure that the data or information is not repeated. Because it will make your paper unnecessarily lengthy and send an impression as you did not conduct enough research and do not have enough data to support your theory.
6. Reference List
Every university has their guideline for preferred reference and citation format. If the list is not in the correct manner, you will lose your score. So these services write the reference list alphabetically and add citations as per the guideline.
So these are some simple steps online experts follow to make a flawless paper for you to submit. There are many academic writing services but ours is the best. Because it will help you to form a flawless project. Apart from that, some students search for cheap assignment help services when they don't have enough budget. Some of them go for expensive ones. If you are searching for a good one, then Assignment Desk can aid you in submitting a quality paper. Read below to know why we are the best for your paper.
Explore Our Free Academic Tools
Want to Write an Attractive Paper? Reach Out to Us!
Writing a good assignment when you have so many tasks piled up for you seems difficult right? Similarly, in a hurry, students often make errors while writing the introduction and conclusion for an assignment. Furthermore, if there are silly mistakes in the submitted project, you will get fewer marks and lose your impression. Many students do not pay attention to details and lose their marks. That is why it is best to ask for help from online assignment writing services. They will help you make a high-scoring assignment. To make that possible, you can select our service.
For your assignment, our service is the best among all of them. The things which make us better are we have expert writers with years of experience. And they know what causes you to lose marks, so they avoid those and make you a well-written paper. Moreover, they make your assignment look presentable by focusing on every detail and working on it. You can ask them to revise more than once till you are not satisfied and can stay in touch with them throughout the process. Our exceptional writers will start your work from scratch, deliver it on time, and you will get a plagiarism-free report for the assignment. What's more, you can ask for? So hurry up! Reach out to Assignment Desk and get your desired score.
Let Us Help With Assignment
FREE Tools
To Make Your Work Original
FREE Features
Topic Creation

Outline

Unlimited Revisions

Editing/Proofreading

Formatting

Bibliography
Get all these features for
USD 84.3FREE