Writing a Dissertation in a Day: The Ultimate Challenge
24 Feb 2023
1311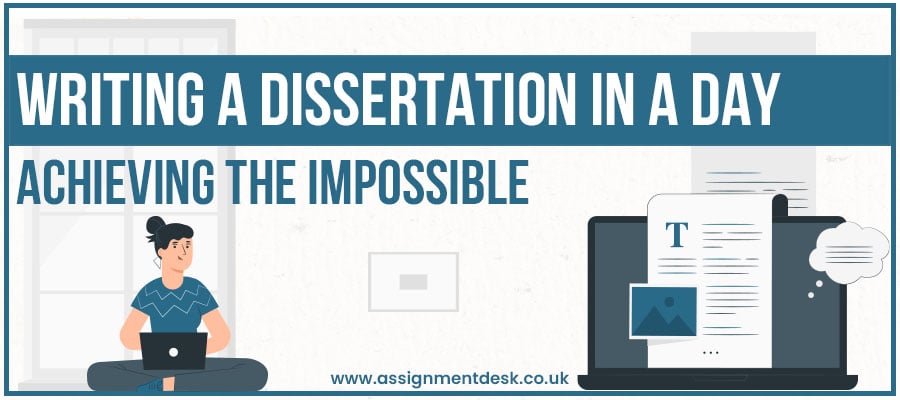 There are no shortcuts when writing a university masters or PhD dissertation. But there are several strategies and formulas that you can use to make the writing process more accessible in terms of organisation of data, research and much more.
Dissertation writing is one of the most challenging tasks for university students. When it comes to working on the dissertation, then it requires enthusiasm and writing skills. For some students, dissertation writing seems like a long race. So for that race, scholars must plan and manage their whole time wisely to complete the academic task within the submission date. This will give students everything they need to go the distance. Sometimes, pupils have to complete the dissertation writing task in a day. Is it sound awkward to complete task in a day? Yes, but this is the truth that students do not work on the task in beginning and try to complete it in a day. Because there are some times when students run short on time and try to writing dissertation in a day, so this blog will help to complete your academic task within the short time limit. Let's continue reading to learn further information dissertation writing in a day.
Need Personalised Assistance from Our Experts?
Share Your Requirements via Whatsapp!
Chat Now
A Brief About Dissertation & Its Challenges
A dissertation is a lengthy academic writing piece based on keen research. It is submitted as the final step during the completion of the PhD program. Dissertation writing is an academic task requiring vital research, writing and analysing abilities. There are some times when it becomes stimulating to know where to begin. Due to which many students struggle to start their dissertations when the professor assigns them.
Students who are asked to write their dissertations find it challenging and impossible. But on the other hand, students cannot resist writing a dissertation, and to avoid failure, they procrastinate the dissertation. So you have some questions about whether writing a dissertation in a day is possible? This blog contains some steps and tips to help students complete the writing task in a day.
Students Must Know the Steps to Write a Dissertation in a Day
Could you do a dissertation in one day? Most students who believe they can complete more than 100 pages of dissertation in one day would answer "yes."
Below mentioned are the few factors are influenced by how much time you dedicate to yourself. These are some steps to take if you have one day to complete your dissertation:
The preliminary draught and research both take six hours to complete. Avoid plagiarism at all costs since it may get you into big trouble.
You have 12 hours to complete your last minute dissertation, utilising all secondary sources. At this point, add facts and numbers to your issue, not in the earlier sources, to fill in more information about it. These facts can be found in books or websites linked to your dissertation's subject.
Make sure everything is perfect within 4 hours. You will undoubtedly find it challenging since you will only have four hours to editing and proofreading after you have verified that there are no blunders or inaccuracies.
Tips for Successfully Completing Your Dissertation
Below mentioned are some tips to write a perfect dissertation in a day:
Choose Your Topic Wisely
Choosing an interesting topic is one of the most critical steps in writing your paper. So one of the easiest ways to choose the correct topic is, to begin with, what interests you the most. It helps you to collect relevant information to write my dissertation, and you can get ideas quickly.
Decide the Length
Students must decide the length of the dissertation. The primary research paper should have at least 10000 words and up to 100000. But as you need more time, you can choose the one that is less than 20k in length.
Divide Your Time
You have only one day to complete your dissertation write-up so divide the time accordingly. Make sure you can write 10000 words in those hours. This is one of the best ways to complete the task within the period.
Prepare a Rough Outline
This is considered the worst thing a student can do while working on a dissertation. However, it helps to plan and outline the document. You must take a few hours to plan your thoughts before entering them onto paper.
Don't Get Distracted
You must start writing a dissertation in a day, so don't get distracted. One of the best ways to avoid all distractions is to break from all social networks. Try to sit somewhere where no one will bother you for a while. This formula works best to concentrate on the writing task, also you can ask experts to buy dissertation.
Editing and Proofreading
Once you are done with writing your dissertation, then it is time when you need to conduct dissertation proofreading to check the grammar and spelling before submitting the final document to the professor. Also, make sure that the dissertation is 100% original. You can also ask expert writers to provide editing and proofreading services.
The above-stated are excellent tips that a student should follow while writing a dissertation in one day. But there is a 15-minute each-day rule. Have you heard that if a student follows this rule to complete a dissertation, it works as a miracle? If no. Then get an insight into it in the next section.
Need Help with Dissertation?
Get a 100% Original Dissertation Written by EXPERTS
Get Help
Writing Your Dissertation in 15 Minutes a Day? Is It Worth It?
Dissertation writing is one of the daunting tasks for students. They have to struggle with the motivation to work daily on a challenging task. It may be tough for the students to produce the best task in a rush. It is mandatory to try best to create a decent write-up that helps you to create the best piece of writing. As per the dissertation writers, students should follow the 15-minute rule while writing the paper. But most students think that writing a dissertation fifteen minutes a day is worth it or not. So let us tell you it is worth it because it will inspire you to finish the task. First of all, know what the 15-minute rule says.
According to this requirement, students should commit writing dissertation in 15 minutes a day. It implies that you must write it regardless of your state of mind, how you feel, or any other issues you are now dealing with. Sticking to the schedule and using that time for reading, researching, or evaluating data may become challenging. Nevertheless, it would be best if you still gave it a go.
Also Read: How Long Should a Dissertation Be?
Get Dissertation Writing Help from Experts to Complete Your Task
If you are a master's or Doctorate student, you must know all the difficulties and trouble while researching about dissertation. This difficulty is due to multiple reasons, like a need for more knowledge about the research skills that should be applied to the given particular topic. And that time students seek for someone for writing my dissertation in a day. But no worries! If you are also facing any dissertation issues, you can ask Assignment Desk experts.
We provide excellent dissertation help to students. Also, our professionals are highly experienced and well-versed in the university's guidelines. So what are you waiting for? If you, too, are running short of time and need to know how to go about a pending dissertation, contact our expert writers. Our professionals not only help you submit the academic task on time, but you will also secure higher grades. So do not hesitate to consult our expert writers for writing dissertation in a day; they are just a click away!
Let Us Help With Dissertation
FREE Tools
To Make Your Work Original
FREE Features
Topic Creation

Outline

Unlimited Revisions

Editing/Proofreading

Formatting

Bibliography
Get all these features for
USD 84.3FREE