Most Interesting Topics for Students for a 5-Minute Presentation
05 Nov 2022
2656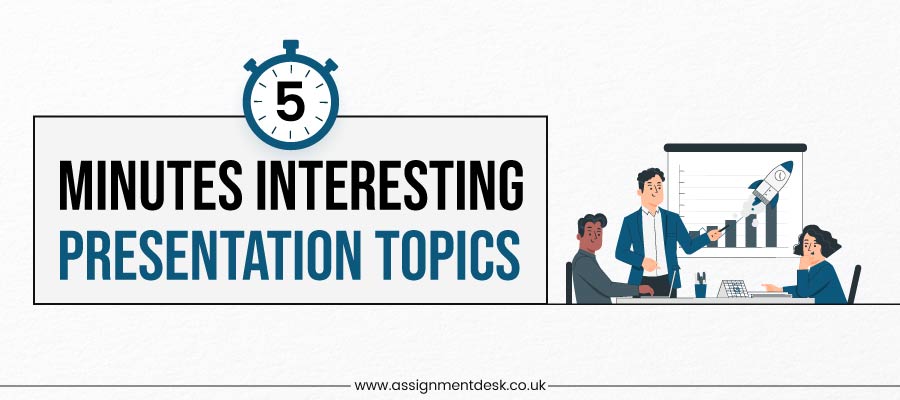 Table Of Contents
Have you ever found yourself snoring in any presentation? Or have you ever come across a person who has excellent presentation skills that is so good that you are compelled to stay focused? Maybe yes, maybe no. Some of you might have had the experience of presenting your work in front of several people. It is a different feeling that gives you a rush and a sense of excitement.
This blog is written for you if you are still a student and have yet to give presentations. When you read further, you will find some interesting presentation topics for students. These are sure to end your search for something that can make you feel confident and present impressively.
Remember, to impress your audience, you'll have to incorporate several skills. These qualities are required to make you feel confident and have faith in your preparations. So, before being curious about what topic to pick for your presentation, learn how to present it.
5 Tips for Creating an Engaging Presentation
The biggest challenge during a presentation is keeping your audience's attention. Especially if you are a student with no experience to refer to for your performance, engaging the people sitting in front of you with dull faces can be a task. Read further to learn the skills to present and select exciting topics.
Break the Ice
The ideal place to start is a simple question that will warm the audience up. It is easy to transform your audience from passive listeners into engaged participants immediately. Additionally, it will aid in your relaxation before you begin the presentation's main body and make your key points. You can easily find interesting presentation topics that will help you engage with your listeners.
Eye Contact
One should never underestimate the importance of making eye contact. It gives you a commanding presence on stage and might help clarify your argument. Remember that you should try to engage each segment of the audience. You don't want to fixate on one individual the entire time because that would make you feel weird and uneasy. Interesting topics for presentation will help you create and sustain eye contact with the other person.
Add Visuals and Audio Effects
Music is an excellent way to connect with an audience. Simply put, they contribute to making your life monotonous. Utilising sound effects or music will inevitably enliven the crowd because it arouses emotion and aids in memory. Images, movies, and even GIFs may provide a visual component to your slides that will help bring focus to them and offer viewers something else to look at. If you want to shift directly to presentation topic ideas, scroll to the next stage.
Allow the Audience to Ask
The audience can speak up and feel respected when they are allowed to ask questions whenever needed. In the past, people were reluctant to speak out or express a question in front of a large group. Your skills can enable and promote participation by allowing users to share anonymously, which enhances learning. It can be challenging to find presentation topics for students concerning this idea, but this blog will further help you with it.
Follow the 10-20-30 Rule
If you want to feel confident about your presentation topic ideas, then stick to this. The best slide presentations, according to well-known venture capitalist and former Apple marketing expert Kawasaki, It has no more than ten slides, last no more than 20 minutes, and uses a font size of 30. This tactic aids in condensing your information and keeping the audience's attention.
Also Read:- How Can Students Overcome Their Fear of Failure?
What Is the Structure of a Presentation?
All different types of presentations have their own structural demands. As a student, before selecting from the interesting topics for presentation, learn its structure. Here is the format that you should follow to get booming applause from the audience:
Introduction (15%)
When you are starting your PPT, there are certain rituals that you should convey to
the audience, such as:
Your Intro: It is best to introduce yourself briefly at the beginning of your presentation to establish a connection with your audience immediately.
Topic Intro: After that, introduce the subject, state your presentation's goal, and give a quick rundown of the key points you'll be covering.
Ice Breaking: Studies show that audiences only have a 10-minute attention span on average, so it's critical to grab their interest immediately and maintain it throughout the presentation.
Main Body (70%)
Present Your Topic: The main body of a presentation should thoroughly explain the subject, state the facts, support them, and provide examples. Observe all the commitments you made in the introduction.
Length and Structure: About 70% of the presentation should be taken up by the central section, which should have a clear structure. Clearly state your points and then logically support them.
Please focus on the Essentials: Concentrate on the most crucial points and briefly restate them. Because your audience will only remember some of what you say about a subject, you can say some things. Avoid using complex sentence structures because the audience can only reread something if they understand it.
Make Your Presentation Interactive: Make your presentation interactive to keep the audience's interest. Include polls using a smartphone so your audience can respond and discuss the results as soon as you've gathered all the votes.
Conclusion (15%)
Repeat the Main Points: The most crucial vital points should be summarised in the conclusion. Reiterate your main points, state what the audience should have learned, and describe how the new knowledge will be helpful in the future.
Include a Q&A: To guarantee that no questions are left unanswered, include a Q&A section at the conclusion. If there isn't enough time, your audience can submit anonymous questions, and you can respond to them later.
Get Feedback: Receiving feedback after your presentation is crucial if you want to keep getting better. After your presentation, you can use this flow to solicit anonymous feedback from your audience via star ratings, number ratings, or open texts.
Also Read:- 5 Effective Time Management Tips for College Students
Stuck with your Assignment?
Hire our PROFESSIONAL ASSIGNMENT WRITERS and
Get 100% Original Document on any Topic to Secure A+ Grade
Get Assignment Help
5-Minute Presentation Topics
This category is most famous for interesting presentation topics for students. It will allow you to present in a short and sweet format.
Press freedom
The post-Corona virus world
The value of discipline
The importance of lifelong health
The fight against AIDS
Effects of forest loss
Discrimination and racism
A perfect mother
The soldier's life
Electricity is a wonder.
Academic Presentation Topics
As a college student, preparing for presentations is easiest when an academic presentation topic idea is chosen. It will help you state and understand your own points.
Higher education does not effectively eliminate ignorance
The significant changes in education that technology has brought about
The role technology has played in society's moral decline
Education's future
The significance of choosing zoology as a field of study
Effective time management is crucial in daily life
Social services
How do you encourage creative thinking in students at school?
Education right now
Check the morality of allowing kids to use phones
English Presentation Topics
English is the most common language used in the UK. So, pick exciting topics in English to make your presentation most liked.
The value of education
Discourse on education
Talk about books
India's education system
Talk about girls' education
Romantic influences can be found in well-known English literature
Music affects mental health
The most well-known and tense plays, books, and novels
The procedure for approving conventional herbs
Successful medical treatment during the pandemic
Easy Presentation Topics
College life is demanding and can take a lot of time. If this is your worry too, look for easy and interesting topics for the presentation. And make your work shine effortlessly.
GMOs' adverse effects on life and health
Effective ways to improve the health system for older people
A most famous form of social media censorship
Most notable historical female political figures
How to beat the rush?
Effects of globalization on the world population
Positive impacts of smiling therapy on mental health
3D printing's development and advantages
How does music aid in language learning?
Approaching child prodigies
Business Presentation Topics
Presentation is the biggest KRA in business studies. You are trained to present and interact in this stream. Below is a list of interesting topics for presentation in the business field.
Applications for computers and phones in the workplace
The year's top business products
Every business needs computers
Making a profitable product
Analysing the performance of a product
Determining the need for a product among customers
How does slumber affect performance?
Breakfast habits of successful people
Successful people's evening routines
How do you keep tabs on your output?
Also Read:- 4 Tips to Help You Overcome Examination Stress
Unsure About Your Presentation Topic? Take an Expert Advice
A presentation in front of several people can be scary. But once you overcome this fear, everything will be easy. It is because if you are not prepared for your content, how will you qualify for a live PowerPoint presentation? Similarly, to help you get through all your academic issues, the Assignment Desk is all set to support you with its assignment writing service.
Students who have opted to take business as their primary subject should know that their core task will be developing good interaction skills. And we have your back with the Business assignment help that is expertly written to assist you to fly over this challenge.
Our team of customer support professionals is available 24x7 for your assistance in getting your academic grades higher. And not just that, we have covered you even for your other academic tasks, such as English or finance assignment help.
From the list of ideas above, you can choose your situation and reflect on your performance while presenting. It would help if you concentrated on creativity and preparation. It's said that for an impressive result, you need interesting presentation topics. Sometimes students find it hard to choose the right one, but they can trust our team of experts from different fields to help them conquer every milestone.
Let Us Help With Assignment
FREE Tools
To Make Your Work Original
FREE Features
Topic Creation

Outline

Unlimited Revisions

Editing/Proofreading

Formatting

Bibliography
Get all these features for
USD 84.3FREE