5 Reasons Why Your Architecture Assignment Missed the Top Grade
07 Jan 2019
2912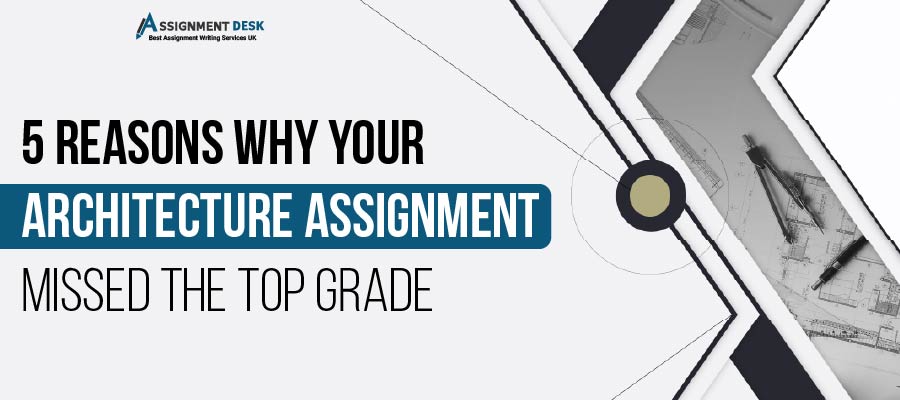 There are a lot of articles and documents out there on the web that tell us how to frame a perfect architecture assignment, but they have a loophole that we would be discussing later. Let us consider the points by architecture assignment help experts for an ideal assignment first.
How to Draft Perfect Architecture Assignment?
While preparing your architecture assignment, it is important that you consider these points to ensure that your professor is impressed with your architecture assignment at once.
1. Include images with the texts
2. Keep the language of the content simple and comprehensive
3. Pay attention to the readability of your assignment
4. Frame assignment that allures and intrigues the target audience (Your professor probably)
5. Be ready for the questionnaire
The Loopholes...
Considered these points and still failed to score better than your friend?
Wondering what went wrong?
Well, our architecture assignment help providers have the answer to your problems.
Although you drafted an assignment considering all the mentioned points, you still overlooked these easy and important aspects of your architecture assignment that just spoiled the whole game for you.
To make sure you do not lose points to silly mistakes the architecture assignment help providers from Assignment Desk have listed some major mistakes that are mostly overlooked.
5 Reasons Your Architecture Assignment Missed the Top Grade
1.Weak Designs
You did include images and diagrams to support your texts, and that's a great move. But they were supposed to be well measured and reflect strong designs.
You Missed: Since the architecture designs need to be very precise, it is essential that instead of coming up with free hand structures, you come up with calculated diagrams.
Note: The assignment writers associated with us include calculated designs and mention scales as and where required.
2.Restarting the Work
Assignment plays an integral part in your evaluation and to ensure that you submit a document that would surely fetch you the best marks, you worked on it entirely again. But while writing the assignment, you made it too informative.
You Missed: While drafting a high scoring document, it is important that the information is precise. Researching is essential but checking what to mention is art too.
Note: The documents that are given to you are not too informative. It is written with complete precision.
3.Too Much Time in Annotation
You reached to some of the best resources and documents to study before starting your assignment. Great. But you invested more time than required, and the deadline is almost here.
You Missed: Although, with excellent references and resources, you have come up with a great assignment, there are a lot of points that you missed to study, and the questionnaire session took up some points.
Note: The documents that you avail from us are written precisely, and our experts make sure it is self-explanatory. Still, if you have any doubts, you can always reach to us and get the solutions.
4.Copying Someone's Work
You thought the reference was great and the similar assignment can help you score better. But, ended up with poor grades that could not even help you maintain a good average.
You Missed: You can always take reference for better and innovative ideas, but it is important that you work on these from zero level.
Note: Our experts make sure that the document that is given to you is well structured and is worked from scratch to assure unique and original content.
5.Unsatisfactory Presentation
The language in the assignment was crisp and comprehensive. It was well in accordance with the target audience, but the spacing and format ruined your game.
You Missed: You did put in the best information in the most understandable manner, but since the text was not correctly formatted you lost your points.
Note: With proper formatting and spacing, our assignment experts deliver documents that are not only informative but eye pleasing too.
Still Struggling?
Now you know where things went wrong in your last assignment. If working on these points seems tough for you, just reach to us for the assignment help, and we will get your assignment done perfectly.
FREE Tools
To Make Your Work Original
FREE Features
Topic Creation

Outline

Unlimited Revisions

Editing/Proofreading

Formatting

Bibliography
Get all these features for
USD 84.3FREE