Things to Remember While Writing the Case Study of Your Marketing Assignment
28 Dec 2018
3066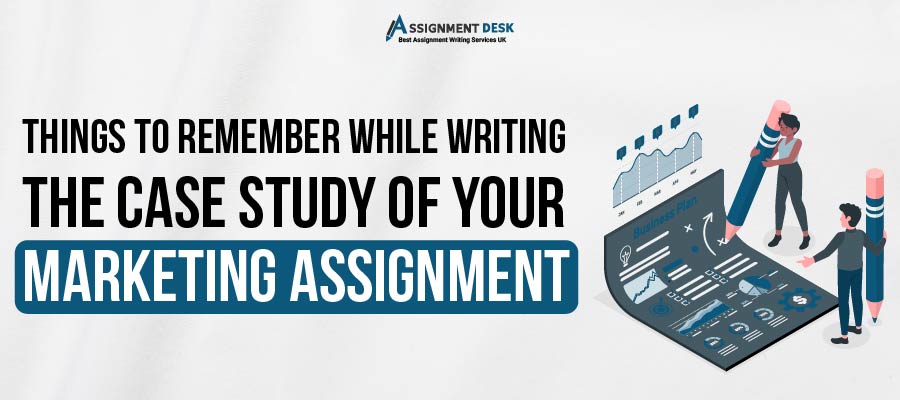 Table of Contents
Marketing is an exciting subject that lets one explore the creative vision along with technical knowledge. You might be excited about the subject and the future it has to offer. But, it is important that you understand that the primary motive of marketing is not selling the goods but sustaining and creating the identity of the brand.
To make sure that you are able to understand the purpose of pursuing the course, your professors would assign you several tasks. It would include practicals, theories, assignment writing, researching, etc. Assignment writing is an essential task as it is an easy way to evaluate your understanding of the subject.
When it comes to writing documents for marketing, the marketing assignment help providers at Assignment Desk, suggest including a case study that puts forward your argument with more clarity and authenticity.
Why Include Case Study in Your Marketing Assignment?
A case study would also justify the practical approach that you had when you were working on the document. But when writing a case study, there should be a few points that you must consider so that your document does not lose the purpose for which it has been framed.
Our experts have listed a few things to remember while writing the case study of your marketing assignment
1. Goal
Know the goal of your case study. Before you start writing the assignment, make sure you know the goal of the assignment and the purpose it has to serve. Make sure you do not confuse yourself while working on your document. Our experts have often observed that students lose track if the case study takes a little longer.
According to our experts, it is crucial that you mention when and where the data was collected from. You need to clearly specify the process and time that you decided while collecting the data from your subjects. The time duration and location play an important role while choosing to work on the field.
2. Language
The language of the document must be easily understood. Our marketing assignment writers suggest that the language of the case study should be clear and precise. Although there would be some technical terms that are to be used, make sure the majority of terminology and vocabulary must reflect the situation that was studied.
3. Prepare Questions
Before you start working on the case study, frame a set of questions that can help you decide which details you need, and what data will be considered for your research. Our experts suggest students sometimes come up with a weird question and their questions sometimes are out of context.
4. Analyzing Efficiently
Our experts advise being prepared with the methods of analyzing your data once you have collected it. While writing the observations and investigation, you need to make sure that the subjects, as well as the audience, understand the aim, procedure, and outcome. It is essential that you assemble all the records and study material before you start writing your case study.
5. Take Assistance
It is important that you take assistance from someone who can proofread your paper. We have a team of proofreaders who check the documents that are delivered to you several times to make sure you get a document with utmost precision and no errors.
These steps sound easy right?
Yeah, they are. It is important that you work systematically when you draft your marketing assignment. Include case studies as and when required to add authenticity to your subject. Try these for your next case study and if it does not work that well, then just reach to us.
You Are Just a Click Away!!
Reach to us either through the website or install our app. Avail an exciting discount of 5% while placing your order via the mobile application. Fill in the queries, get a quote, select a plan, make payment and you are done.
Our experts would deliver your assignment on time and ensure that you get top grades too!!
You can find these interesting:
Zara Brand Analysis using SWOT

FREE Tools
To Make Your Work Original
FREE Features
Topic Creation

Outline

Unlimited Revisions

Editing/Proofreading

Formatting

Bibliography
Get all these features for
USD 84.3FREE