Top Trending Topics for Telecommunication Assignment
09 Sep 2020
10547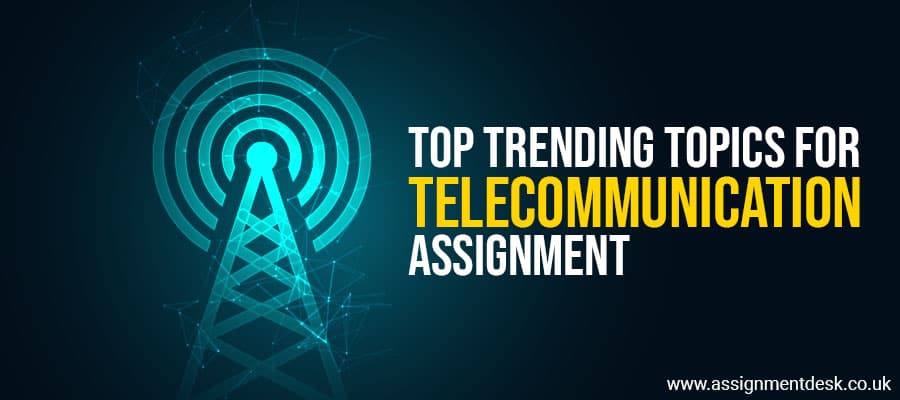 5 Best Topics for Telecommunication Assignment
Humans have communicated in various ways since they were in the early stages of evolution. Earlier, they developed sign languages, rock paintings, peculiar sounds, and gestures to communicate with each other. Loss of communication has resulted in many tragedies for us, like wars were lost because instructions were not delivered on time. Warnings of natural disasters that could have saved many lives couldn't be issued on time because of the lack of technology. Ever since Graham Bell invented the telephone, the world has come together in real sense. Delivery of information has become a task of a few seconds. Messages that couldn't be delivered for days can now be delivered in the blink of an eye. But, as a student, you will agree to the fact that the simpler it is now to exchange information via electronic media, the harder it is to choose the best research topic for writing the telecommunication assignment. Knowing that the professors must have come across many common topics found in the top searches of Google, therefore, it is required that you present a trending topic to him for fetching good grades.
The topics listed in this blog are assembled by telecommunications engineering assignment help providers after hours of extensive research, and thus, they are worth your read.
5 Best Topics for Telecommunication Assignment
Topic 1: How Artificial Intelligence Has Transformed Telecom Industry?
AI has infiltrated every industry on this planet. It is transforming the world just like Assembly Line did with the automobile industry. We are trying to replicate a human brain inside a machine using circuits and machine learning programs. It is used by industries to provide real-time solutions to consumers. It increases the efficiency and accuracy of service delivery. AI has revolutionized the Telecom industry in many ways and has also created many problems that have still not been addressed. Below are listed some topics from both sides of the fence:
Virtual Assistants: In order to cut the business expense, the telecom giants have started developing chatbots for providing a one-on-one solution to the customers.
Robotic Process Automation: RPA is an AI-enabled software bot having extensive use in the telecommunication department. These bots automate the tasks which are labor extensive. How about making a Telecommunication Assignment on RPA?
AI Fueled Unemployment: By automating a large section of the industry that employed a huge workforce earlier to cut costs, AI has been criticized for the unemployment generation. You can address this issue as it is directly linked to society.
Can Machines Communicate With Each Other Without Human Interference?
How Can AI Transmit Instructions More Precisely to Satellites in Orbit?
Can AI-Enabled Tower Placement Ensure Maximum Coverage Area?
How Can AI Be Used to Create Faster and More Compact Communication Chips?
AI requires instructions to be accessed and processed in real-time, which needs data to be transferred in real-time. Advances in the data speed improvements because of 5G can also be studied for an assignment topic.
Topic 2: Everything You Need to Know About 5G
The next generation of mobile network-5G is currently one of the hot topics among the common crowd. Moreover, there is a lot of false information being circulated on the internet about future technology. What you can do is, write a well-researched telecommunication assignment on the 5G technology containing all the authentic features that the users can expect in the future. To be more precise, you can choose the below topics as well:
How 5G Will Change the Smartphone Experience?
What to Expect More from the Telecom Industry after 5G?
Is The Fixed Line Becoming Irrelevant Because of 5g?
Is Speed of Telecommunication Getting Beyond Human Response Time?
How Can't Even 5G Keep Pace With the Speed of the Latest Mobile Processors?
How Faster Is 5G From the Last Generation?
Cloud-based Storage Is the Future With New 5G Technology
How Can 5G Enable Telemedicine to Reach Remote Rural Areas?
5G Powered Virtual Classrooms Are the Future of Schools?
As 5G has increased the speed of sending and receiving information, technology is being developed for a seamless transition of platforms by connecting every device you use to one network. Here, we are giving topics that are related to this interesting and emerging field.
Topic 3: How the Internet of Things (IoT) Holds Huge Promises for Telecommunication Engineering?
Gone are the days when humans were the only proud owner of the word "Smart," but with the advancement in the field of Internet of Things (IoT), your smartphone or any other electronic device is equally (or even more) smart as you are. The future holds huge promises for the IoT, with telecommunication being no exception. As per the progress, the day is near when you can easily have a conversation with your car (just like Siri). It has penetrated so deep in our day to day functioning that even a task as simple as turning lights on/off can be controlled by IoT. It can change temperature, lighting, play music, suggest food, etc. around you according to your mood. It can be personal assistance, which is omnipresent. Though there are many benefits of it, its presence everywhere can sometimes be threatening. Here are some topics related to IoT and telecommunication engineering which can excite you or make you ponder:
Privacy Is a Thing of Past With Internet Following You Everywhere!
Surveillance Is Real, How States Are Keeping an Eye on You With IoT?
Can Mic and Camera Be Remotely Controlled to Listen and See Your Activities? Can a Human Function Without the Internet Around It?
With Electronic Devices Talking Now, How Far Are We from Giving Feelings to Them?
How Can Psychologists Use IoT to Help Manage Depression?
The advent of telecommunication has enabled effective mass communication, to help understand the connection better read - 5 Principles of Mass Communication That Every Student Should Know!
Every technology has its positives and negatives. We have already covered topics covering the innovation brought by it, but we need to learn about making it environment friendly.
Topic 4: Green Communication: The Next Big Thing to Watch Out For!
With the increasing requirement of network and supporting infrastructure, the carbon footprint of the sector is growing rapidly. Towers are creeping up everywhere. Communication lines are crisscrossing the ocean floor. Mining has been increased for semiconductors and other precious metals used in telecom equipment. The energy requirement has gone up to keep services running round the clock. You can pick a telecommunication engineering assignment topic that addresses the impact on the environment due to network infrastructure. You can surprise your mentor by your research on environmental degradation caused due to the growing requirements of humans to stay connected. You can suggest alternative ways in which a particular goal can be achieved with less toll on the environment.
How Can Organic Semiconductors Replace Silicon Chips?
From Vacuum Tubes to Nanochips - Is Our Carbon Footprint Reducing?
Are Mobile Towers Causing Health Issues?
Can Floating Cell Towers Provide a Greener Solution to Telecommunication?
How Are Undersea Network Cables Affecting the Marine Ecosystem?
How Has E-mail and File Transfer Reduced the Use of Paper and Disks?
Are Big Data Centers Contributing to Global Warming?
Can Mining for Network Equipment Manufacturing Reduced By Recycling?
How Can Deserts Be Turned Into Networking Hubs Using Solar Power?
Are Space Debris Due to Failed Network Satellites a Threat to Future Missions?
Can Superconductors Facilitate the Loss-free Transmission of Information?
Green technology is needed to be discussed more because our environment has already suffered for long. New innovations are needed to address the problems created by us; one such technology is photonics, where light is used as the carrier of information, which is fast and efficient. You may also find interesting, Back to Basics: 9 Technical Writing Tips for Nuclear Engineering Assignment.
Topic 5: The Future of Photonics
Light can be considered both wave and particle, depending on your purpose. It is the fastest traveling thing in the universe. With the advent of technology, it is possible to assign information to each photon of light and transmitted through glass fiber cables around the world multiple times in a matter of minutes. Lasers are used to convert these photons into a steady beam of light, which is received and decoded by devices to extract information. The requirement of energy to transmit data is reduced to a fraction of what it was before. The subject has a broad range of applications in optical fiber telecommunications, laser printing, medical treatments, etc. According to scientists, the 21st century is expected to be the era of photonics. Start your research on the below topics for an impeccable piece of writing.
Can Scatter Cause Loss of Information in Fiberglass Cable?
How Fast Can Data Travel in the Form of Photons?
Can Matter Be Transmitted in the Form of Information?
How Is Amplification Used to Make Information Travel Longer?
Other Miscellaneous Topics for Telecommunication Assignment
Eye & Facial Recognition System for ATMs.
Nanoelectronics
Fibre Optic Communications
Very Large Scale Integration (VLSI)
OLED (Organic Light Emitting Diode)
How Can Quantum Dots Help Create Accurate Color Displays?
Is Facial Recognition Helping in Law Enforcement?
Is Our Warning System Getting Better With Advanced Telecommunication?
These are some of the miscellaneous topics which are recently in the news. Thus, you can choose a topic of interest and start researching. Scrolling so far, you must have known some of the trending topics related to telecommunication engineering, which you might use for writing the assignment.
Why Assignment Desk is the best choice for assignment writing help?
However, in case you fail to gather information about the topic or want to create an assignment on the topic other than the ones mentioned above, then you may take the help from our assignment writing providers who are capable of providing the best assignments for you. Our writers also have expertise in providing communication assignment help to students across the globe. So, Hurry Up! And avail the best academic writing services. If you ever find yourself stuck at any point in your journey of writing your research paper, you can seek professional help and guidance with your research paper from our experts.
Hire our expert
FREE Tools
To Make Your Work Original
FREE Features
Topic Creation

Outline

Unlimited Revisions

Editing/Proofreading

Formatting

Bibliography
Get all these features for
USD 84.3FREE