Answer :
PART A
Case study: Residential Mortgage
Client's interview
On the basis of cited case situation, Frederick John and Margaret Anne wishes to purchase their own home. From assessment, it has found that client has $184 plus FHOG available. Purchase price of land and construction cost accounts for $240 K and 350-360K. Along with this, from interview it has assessed that client will further spend $60k on furbishing and garden. Through interview, it has also found that such couple will undertake insurance policies for safeguarding then in against to illness and accidents. In interview, couple presented that there is no such requirement in relation to making changes in the lifestyle.
Proposed loan strategies
Diversification: by using capped interest rate
Taking loan from banks using safety net
Targeting low-cost flexible loans.
From assessment, it has identified that Frederick John and Margaret Anne are eligible to get grants from state commission office (Apply for the First Home Owner Grant, 2018).
NOTES TO LENDER TEMPLATE \
Loan application for XXXXXX & XXXXXXXX
Loan amount $466000
Latest date for approval ………/………/…………
Date: 28th April 2018
Please find loan attached application for the above clients.
Reasons behind taking loan
The reason behind taking loan by Frederick John and Margaret Anne is that they want to purchase their own house and settle into one area.
Employment
Frederick working with BHP Billiton on their mining projects.
Margaret (qualified nurse): Working in child care centre on a permanent/part time basis
Joshua: Full time employed
Current income level
Frederick (annual income): $115,000
Margaret Anne: Earns $29,000 annually
Joshua: $75.00
Recommendations
Good financial position (couple and their one child is earning, only one child is dependent)
High employment stability
High security in new investment
Sincerely
Borrower
EVIDENCE ENCLOSED
Y

N

N/ A

1. A fully completed AAMC Training Assessment Cover Sheet

Yes

2. A fully completed AAMC Training Document Checklist (this page) Case Study - Loan Application Preparation (Task 1)

Yes

3. File notes from first contact through to settlement in chronological order

Yes

4. Authorised Credit Representative Credit Guide and Licensee Credit Guide

Yes

5. Client Needs Review or Fact Find

Yes

6. Privacy Statement and Consent form

Yes

7. Combined Credit Quote and Proposal

Yes

8. Product Comparison Report (at least three options)

Yes

9. Preliminary Assessment

Yes

10. Costing sheet for Fees and Charges

Yes

11. Fully completed Lender Loan Application or Copy of Online lodgement

Yes

12. Lender's loan Document Check List (Normally forms part of loan application) ☐ ☐ ☐ Process Applications for Credit (Task 2)

Yes

13. A completed serviceability calculator (refer to useful resources)

Yes

14. Loan Comments/Lender Comments

Yes

15. Evidence of Income (Pay slips, Employers Letter, PAYG Summaries)

16. Evidence of an Offer & Acceptance or a Contract of Sale or a Purchase contract

Yes

17. Evidence of Council approved plans (House and Land , Off the Plan packages) Plus a Fixed Price Building Contract

Yes

18. Evidence of savings/ equity and other loan commitments

Yes

19. First Home Owners' Grant application (These can be downloaded from your Office of State Revenue)

Yes

20. Anti Money Laundering/Counter Terrorism Financing ID requirements Note: 2 forms of identification is required for each applicant to the loan and a separate AML ID form is required for each applicant.

Yes

21. Evidence of Valuation successfully completed

Yes

22. A Compliance file checklist Completing Customer File (Task 3)

Yes

23. Fully completed Settlement document pack (Refer to the Settlement

Yes

24. Create a customer/referrer database (Task 4 A) You are required to prepare and submit your data-base on contacts made from this transaction by using your internal CRM or a suitable program i.e. Excel.

Yes
PART B
On the basis of Lender Mortgage Insurers guidelines following aspects need to be met for the purpose of loan approval. Below mentioned image shows that loan volume ratio varies as per investment type. In the case of mortgage case scenario, pertaining to vacant land, under the category of 90.1% to 95% loan ratio, maximum amount implies for $600000 respectively. On the other side, in the case of 0-90% loan volume ratio, maximum loan amount implies for $700000, $400000 & $200000 respectively from category 1 to 3. Hence, as per the guidelines provided by lender mortgage insurer, depicted below, loan application will be verified and then approved. Further, lenders analyst need to ensure that firm is following the aspects of responsible lending conduct obligations as per National Consumer Credit Protection Act 2009 in checking, verifying and maintaining records (Responsible lending, 2018).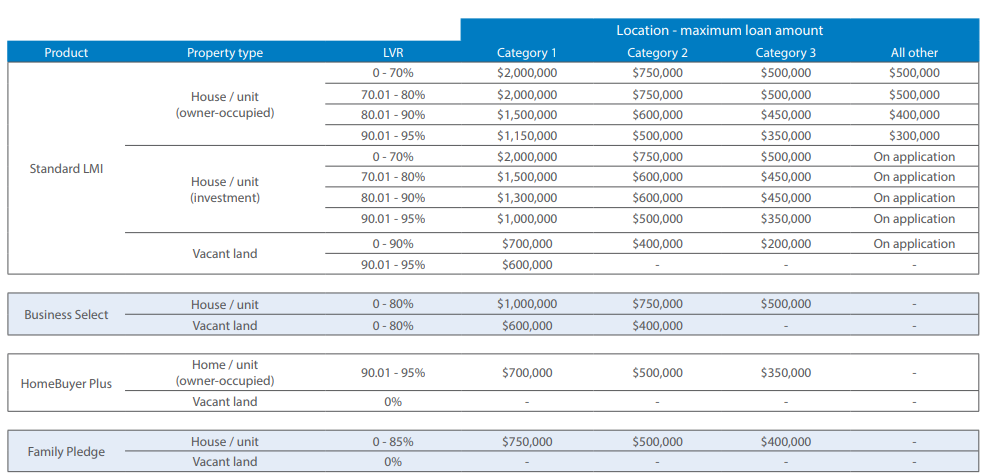 (Source: Maximum LVR and Loan Amount Matrix. 2018)
PART C
Completion of a customer file
Customer contact sheet record
Customer: Frederick John and Margaret Anne
Banks: Commonwealth bank (Big four bank home loan rate comparison, 2018)
Government bodies: State commission office is offering $10000 to the couple as they are meeting eligibility criteria.
Advice of loan approval: Being a finance broker, it is accountability to record and maintain the evidence of effectual communication done with customers, real estate and settlement agents.
Document Sign-Up/Settlement Preparation: In this, there is a need to ensure that document is properly signed pertaining to checklist and mortgage. Along with this, information regarding insurance and settlement checklist needs to be fulfilled by finance broker.
4. Advice of Transaction Completed/Finalised: At this step, communication in relation to the successful settlement is done. Further, for finalising deal prominently there is a need to conduct client satisfaction survey and thereby make necessary changes for improvement.
PART D
A
| | |
| --- | --- |
| Date | Database |
| 28/4 | Approaching to the customer |
| 29/4 | Information Collection from customer |
| 30/4 | Taking referrals from the client |
B
1. Database furnishes information about the extent to which client is capable in relation to meeting obligations.
2. Professional relationship development is highly required for achieving success and enhancing brand image.
3. Individuals or customers with the history of credit defaults should not be contacted.
4. Interpersonal style or skills are highly required in the context of finance broker. Moreover, without having effectual communication skills broker would not become able to convince or deal with the customers. Further, customer's requirement in relation to the loan policies and process also differ as per demographical aspects. Thus, broker should keep in mind all such aspects while dealing with the clients.
5. Being a finance broker, it is highly required to take follow-up from the business referrers as it helps in checking or evaluating the credential of the concerned customer.
6.For the development of new business focus will be placed on undertaking traditional and modern promotional aspects. In other words, by placing advertisements on social sites awareness among the customers can be developed regarding the services and thereby customer base as well as sales revenue.
REFERENCES
Apply for the First Home Owner Grant. 2018. [Online]. Available through: <https://www.sro.vic.gov.au/fhogapply>.
Big four bank home loan rate comparison. 2018. [Online]. Available through: < https://www.finder.com.au/home-loans-with-the-big-four-banks>.
Maximum LVR and Loan Amount Matrix. 2018. [Online]. Available through: <https://www.genworth.com.au/media/1116/maximum-loan-amount-matrix-australia-mlama0217-v10.pdf >.
Responsible lending. 2018. [Online]. Available through: <http://asic.gov.au/regulatory-resources/credit/responsible-lending/>.