Introduction
Marketing refers to the art of effectively persuading customers to buy offerings of an organisation. It is very essential for modern organisations to use effective marketing tools and techniques to improve their sales figure. The modern marketers must possess or adapt necessary skills in order to enhance the acceptance and improve sustainability of their products and services (Pike, 2015). Without marketing, companies will not be able to sell their commodities to customers who are aware and have dynamic demands. The report below is based on Beauty Giant, a cosmetics firm with around 50 branches all over in the UK. The report shows an essay on the role of marketing in modern organisations, along with different use of marketing mix in various companies to achieve their business goals. It also covers creation and evaluation of a marketing plan for Beauty Giant's new product to attract and retain its customers in the UK market.
Task 1
Definition of Marketing
Marketing is a function undertaken by almost every organisation to promote its offerings and sell them after effective market research. This function also includes presenting the products and the services to the target audience by advertisements.
Marketing Concept
It is crucial for modern day organisations to develop effective strategies to achieve profit maximisation and eliminate competition. Marketing concept is one such strategy through which firms evaluate customer needs and take effective decision for their satisfaction. The agenda of the firm applying marketing concept is to satisfy customers better than its rival firms. There are five marketing concepts that firms take into consideration. These are as follows:
Production Concept: One of the oldest marketing concepts, it focuses on commodities that could most efficiently be produced by the company. The idea was to develop products at very low cost that could itself create a demand in the market. This concept was a success at the time when firms created offerings of basic necessities (Baker and Magnini, 2016). However, in the current scenario, firms adopting this concept are risking their operations by emphasizing on its own activities rather than the actual objectives.
Product Concept: The idea that is supported by this concept is that only those offerings that would possess utmost innovative features, high quality and maximum performance would be preferred by the customers. Marketing strategies of companies adopting these concepts emphasize on continuous improvement in their products (Griffitts, 2016).
Selling Concept: This concept takes the selling part into consideration and supports the idea of aggressive promotion and large-scale selling to sell the products offered by the company. More emphasis is given upon creation of sales transactions rather than customer relationships. The aim is to sell the offerings regardless of market needs.
Marketing Concept: The most widely used concept in modern marketing methods is marketing concept. This concept emphasize on dynamic market needs rather than hard selling. With rise in customer awareness and discrete income, the buyers have become selective in whatever they purchase. Thus, this concept encourages the companies to develop offerings that satisfy the market needs.
Societal Marketing Concept: The adoption of this concept has risen with rise in corporate social responsibilities. It supports the agenda of developing those strategies that help the customers to get the products at the most adequate value that raises the well being of customers as well as of society (Walliman, 2015).
Beauty Giant uses marketing as well as societal marketing concept to effectively market their offerings in the UK market.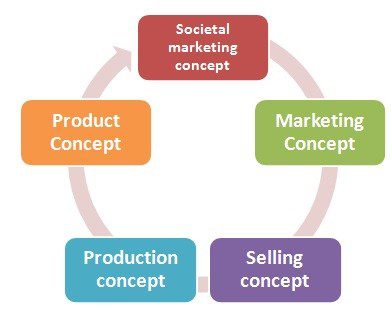 Illustration1:5 Marketing Concepts
Source:5 Marketing Concepts, 2017
Roles and Responsibilities of the Marketing Function
Customer awareness is enhancing towards the products and services offered by modern organisations which has an impact on their ever-changing demands. Almost every product or service has a substitute in the market, which is an important reason for organisations to market their positions well in the market (Gillespie and Riddle, 2015). The roles and responsibilities of marketing function in the modern-day organisation is mentioned below:
Managing Customer Needs:
The most important role of marketing is to satisfy customer needs. Product-based marketing cannot be applied in the current scenario where customers are considered as an integral part of a company's business environment. Marketing the products and services would help the modern organisations to satisfy these needs by establishing effective communication system which allows the customers to give spontaneous feedbacks. Beauty Giant is planning to create online website and mobile app which would help the communicate better with the customers.
Tracking of Trends and Competition Monitoring:
No customer wants to purchase outdated offerings as it is crucial for firms to develop commodities and services that are in trend. Modern day customers are attracted aggressively towards latest offerings and which to possess major trendy services or products that companies have to offer. Marketing Department helps to track these trends and help the company develop products according to these trends. It also helps them to monitor competition and stay ahead of the competitive firms in every aspect (Soboleva and et. al., 2016).
Transmission of Brand Values:
It is very important that brand values be effectively communicated to people. Marketing function creates messages, images and ideas that effectively communicate these values to its customers all over the world. Beauty Giant is required to work effectively and enhance its brand value by creation of products according to market needs.
Coordination:
One of the most effective responsibility of marketing is to ensure coordination in internal as well as external departments of an organisation. To ensure better management companies look out for ways in which this coordination could be established. Externally, there are many departments that contribute in strengthening the marketing function of a firm. These departments are designers, publishers, consultants, journalists and so forth. Marketing function is responsible for establishing coordination among these external departments with the organisation.
Innovation:
Unless the company is operating on a big scale and have extraordinary customer loyalty, it is very difficult to sell standard products and services for long term. Marketing departments in companies helps to identify the needs and methods required to innovate the existing products and services so that the firm could innovate its offerings and add value to its commodities (Kladou and et. al., 2016). Beauty Giant is working towards new product ideas to specify this need of innovation to sustain and enhance its business performance in the marketplace.
Interrelationships of marketing department with other functional units
Marketing is a very crucial and necessary activity that enhances the sustainability and profitability of the firm in changing business environment. With such bottleneck competition and dynamism in needs of the market, the most important task for any business firm is to develop its internal strength and coordinate its departments so that stronger strategies could be created to satisfy more customers and stay ahead of the competitive companies.
Marketing department of companies is bound to collaborate effectively with other functional departments to ensure growth in the business operations. These interrelationships are explai