Answer :
INTRODUCTION
Innovation refers to the process where something new is created or value addition is done to existing products or processes so as to suit the needs and demands of consumers and market. It is essential for every enterprise to come up with innovative products and processes at regular intervals so as to sustain in market for a long duration of time (Grandori, 2012). This report is based upon Greggs Plc. which is the largest bakery chain of United Kingdom. This entity specialises in savoury products like sausage rolls, bakes, sandwich as well as sweet products such as vanilla slices and doughnuts. This report gains an insight into the overview of organisational innovation history. Also, this report explores the existing performance of company in relation to engaging innovative practices in daily operations. Along with this, the capabilities of company to bring about innovative products by engaging in practices that foster the growth of innovation in company are ascertained.
The Organisation & its innovation History
Greggs is a well renowned and established brand within UK with a very strong bakery heritage. Over years, the major belief of company has been to take advantage of their experience in relation to fresh bakery. This assists organisation in operating feasibly in the food-on-the-go market while taking into consideration the competitors within the industry. With inflexion of time, the biggest strategy of Greggs has been that it prepares all the food, beverages and bakery products freshly within their shops. This is done to comply with the "Always Fresh. Always Tasty" tag-line of company. This strives to assist the entity in ensuring that a high quality experience is provided for customers to retain them for a long duration of time.
Greggs has been running successfully in the highly innovative and competitive food-on-the-go market. With time, this company is holding a strong name and position in marketplace due to its great tasting food and beverages, excellent shopping experience and simple as well as efficient operations (Food on the go: Greggs bakes in digital transformation, 2017). This entity is ranked at first position breakfast segment and savoury as well as sweet snacks. Greggs has been continuously coming up with innovations and technological advancements due to which it is at second position in marketplace for sandwiches. This bakery appeals to a large audience with their improved services and products so as to maintain customer loyalty and retain them for a long time.
PESTLE Analysis
There are a number of factors present within the business environment of Greggs that act as drivers for innovation. These are discussed in detail below:
Political: The Research & Development department of Greggs is located within UK. With passage of time, the UK government has realised the importance of encouraging those companies which bring up regular innovations in terms of products and services. Thus, government of UK support innovation in companies like Greggs by way of schemes such as Patent Box and R&D Tax Credit (Acharya, Schaefer and Zhang, 2015). This fostered Greggs to overhaul as well as relaunch their range of sandwiches by way of introducing better recipes and improved packaging patterns.
Economic: With increasing and rapid growth of developing markets for Greggs, this organisation has a chance to tap the market opportunities by ascertaining the gap and taking steps to fill the same. Also, the economy of UK is developed and support the growth of companies such as Greggs which come up with rapid innovations so as to sustain in food-on-the-go market.
Social: Across the globe, every person possess a certain liking towards sweets and beverages which creates opportunities for Greggs to gain a high stake in UK market by way of introducing innovations in products and processes. Thus, looking upon the increasing health consciousness among people in the country, entity a new and unique sub-brand of 'Balanced Choice' goods which offer healthy products with lesser than 400 calories to customers.
Technological: With rapid and increasing advancements in technology, the retail sector is evolving at a fast pace. Looking upon this, Greggs transformed its operations and functioning to convert the entity from bakery to a food-on-the-go brand which can successfully cater to the breakfast, lunch and snacking needs of consumers (Greggs marketing boss on transforming to a leading 'food-on-the-go' brand, 2019).
Legal: With time, laws and government have become stringent towards the operations of entities within retail sector. In this regard, Greggs consider a number of laws and regulations while entering a new market. These are Anti-trust law prevailing in Retail industry, employment law, copyright, consumer protection, health and safety, e-commerce etc.
Environmental: It is often noticed that companies which indulge in sustainable practices as well as recycling of waste often get support and recognition from UK government and retail industry. This tends to create opportunities for Greggs to make use of innovative processes and practices to sustain in market for a longer duration (El-Refaie, 2013). Thus, analysing this, Greggs keep a positive attitude towards preservation of renewable sources of energy.
The Organisations existing Innovation Performance and Capabilities
Greggs Plc is one of the top companies within retail sector. With the passage of time, this company has been continuously working upon evolving the retail industry within UK so as to give a boost to the economy. This organisation is listed at London Stock Exchange (LSE) and carry a market cap of approx. $1435.4 million (USD).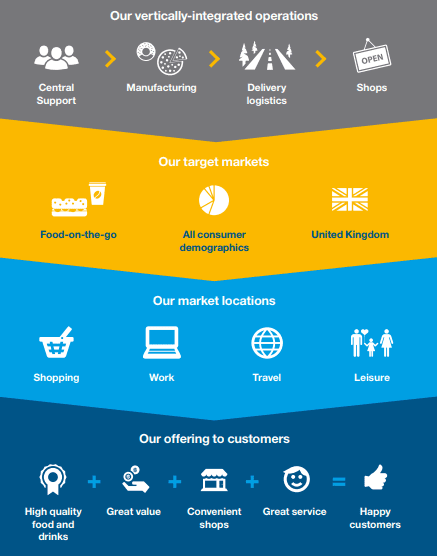 (Source: Business Model of Greggs Plc, 2019)
Existing innovation performance
Over years, Greggs Plc has significantly transformed the manner of conducting business in marketplace. Company's business model has been their vertically-integrated operations. They possess a vertically-integrated supply chain throughout all the processes from production to distribution to point-of-sale. With the use of this business model, they make food of great taste, provide bakery items of high quality at high prices and offer an excellent value to consumers. They have been targetting food-on-the-go market by transforming the experience of bakery into a whole new genre. In last some years, this entity brought variations in their existing coffee blend so as to suit the needs of customers. Also, company refitted 13 shops to meet the needs of customers in terms of seating. Also, organisations has opened up new outlets across various places out of which 85% shops are away from high street (Greggs Growth Strategy - The Key Ingredients, 2018). Also, the availability of products have been enhanced by company by opening up of a large number of shops across UK.
Capabilities
Greggs Plc has continued to be the largest bakery within UK due to its new and innovative concept of transforming the experience of bakery into food-on-the-go. This organisation is capable of enhancing the customer experience by bringing continuous improvements in their shop offerings, tastes, outlet environment, locations and re-establishing the business by reaching new and convenient catchment areas. This enterprise is making use of its franchise business to reach a wide range of audience and possess the capability to further enter new markets in near future (Jurkovic and et. al., 2015. Also, there is a large scope that enterprise can bring further product developments and upgrades so as to tap the opportunities present in market and enhance their stake and position within food-on-the-go market.
SWOT Analysis
It is a tool which assists company in gaining knowledge about internal environment of business so as to determine probable negatives and positives in relation to organisation.
Strengths:
Greggs has been feasibly entering into new markets by making use of franchising and vertically-integrated operations. This has been possible more because of the constant innovations that organisation keeps on bringing within marketplace such as bringing variations in coffee and introducing range of products for health conscious people. This fosters company to bring about innovation in products and processes that can render a strategic edge to enterprise over rivals.
Greggs uses SAP as their core ERP software supplier and is continuously making plans to implement such modules which can enhance the existing processes and improve the overall performance. Company is capable of utilising more such innovative processes or software to improve the existing outcomes so as to fulfil the demand of consumers in an effective manner (Dodgson, 2018).
Weakness:
Greggs Plc lack proper and adequate investment in new and advanced technologies. It is largely seen that company is planning to enter into new geographical locations and the scale of operations will be increased as a result of it. For this, it is required that organisation puts more funds in technology so as to formulate integration of processes. In present scenario, the investment of entity in Research and Development is far below the average investment by key players within this sector. Company is capable of investing more money in R&D so as to come up with rapid innovations.
Opportunities:
Company can decrease its transportation cost owing to the low shipping prices, this will bring down the overall cost of products of Greggs. Also, it will provide an opportunity to the enterprise to invest funds in formulating innovation across organisational premises. This strives to provide an edge to enterprise while entering new markets and gaining loyalty of customers to retain them for a long duration of time (Goolsbee and Krueger, 2015).
By analysing the new trends prevailing within retail industry and determining the needs and demands of consumers, Greggs Plc can tap the advantage of introducing such bakery products that can provide high satisfaction to people. This will open opportunities for company to gain a high stake in market and ensure its sustainability.
Threats:
Greggs can face massive threat from competitors who come up with new technologies and processes to shift the loyalty of customers towards substitute brands. Company is capable of bringing such innovations which are aligned with the demographic as well as economic needs of consumers as has been done by organisation while introducing food products with lower than 400 calories.
The Industry
The retail industry is rapidly transforming with passage of time. Particularly in the bakery industry, introduction of gluten free products, innovative frying technology to reduce acrylamide, photo cakes and designer cakes have gained increasing attention from people. Also, the new face of this industry is going to be customisation within bakery products so as to provide products and services which strive to fulfil the needs and demands of consumers (Customisation essential to innovation in bakery, 2019).
Porters Five Force Model
Threat of new entrants: New brands can easily enter the retail (particularly bakery) industry because of the relatively lesser investment needed as capital to enter in this sector. Economies of scale are beneficial for entrants. Also, organisations can easily acquire a high stake within this market by analysing the needs and demands of consumers and acquiring adequate distribution channels so as to deal with high operational cost (Noble, 2017).
Bargaining power of suppliers: Suppliers enjoy low bargaining power due to the already established products of companies within this sector. Although, bakeries get influenced by price fluctuations of raw materials, yet the negotiation power of suppliers is relatively lesser (Helper and Henderson, 2014).
Bargaining power of buyers: Customers like grocery stores, hotels, supermarkets, convenience stores etc. enjoy high bargaining power within this industry. Buyers, here, are able to demand low prices from companies along with volume discounts. Only, large organisations such as Kraft, Kellogg, Greggs possess the power to influence customers according to them. Customers prefer those brands which come up with rapid innovations.
Threat of substitute products: There are a number of alternative products available which can be used by customers, however, none of them provides the taste and delight provided by bakery products.
Competitive rivalry among existing players: There is low rivalry within this sector . However, companies such as Greggs, Food Genius, Pret A Manger, Grupo Bimbo which act as strong rivals for companies operating within this industry.
Conclusion
From the above mentioned report, it has been concluded that innovation is the best tool through which an organisation can gain a strategic edge in marketplace. Also, it has been analysed that it is essential for every organisation to continuously bring improvements in products as well as processes to sustain in marketplace for a long duration of time. Besides this, PESTLE analysis has been conducted by enterprise to gain knowledge of macro environmental factor that act as drivers of innovation. SWOT analysis is carried out to get an overview of internal environment of enterprise in relation to innovation. Furthermore, the overview of industry has been given with the help of Porters Five Force Model.
Get online operations management assignment help from the experts associated with us. We provide assignment writing services to students from all across the world.
Leave your worries behind and order now!
References
Helper, S. and Henderson, R., 2014. Management practices, relational contracts, and the decline of General Motors. Journal of Economic Perspectives. 28(1). pp.49-72.
Noble, D., 2017. Forces of production: A social history of industrial automation. Routledge.
Goolsbee, A. D. and Krueger, A. B., 2015. A retrospective look at rescuing and restructuring general motors and chrysler. Journal of Economic Perspectives. 29(2). pp.3-24.
Dodgson, M., 2018. Technological collaboration in industry: strategy, policy and internationalization in innovation. Routledge.
Jurkovic, S. and et. al., 2015. Induction machine design and analysis for general motors e-assist electrification technology. IEEE Transactions on Industry Applications. 51(1). pp.631-639.
El-Refaie, A. M., 2013. Motors/generators for traction/propulsion applications: A review. IEEE Vehicular Technology Magazine. 8(1). pp.90-99.
Acharya, V. V., Schaefer, S. and Zhang, Y., 2015. Liquidity risk and correlation risk: A clinical study of the General Motors and Ford Downgrade of May 2005. The Quarterly Journal of Finance. 5(02). p.1550006.
Grandori, A. ed., 2012. Interfirm networks: organization and industrial competitiveness. Routledge.
Greggs Growth Strategy - The Key Ingredients. 2018. [Online}. Available Through:<https://www.tutor2u.net/business/blog/greggs-growth-strategy-the-key-ingredients>.
Food on the go: Greggs bakes in digital transformation. 2017. [Online]. Available Through:<https://www.tutor2u.net/business/blog/greggs-growth-strategy-the-key-ingredients>.
Customisation essential to innovation in bakery. 2019. [Online]. Available Through:<https://www.bakeryandsnacks.com/Article/2015/10/26/Customization-essential-to-innovation-in-bakery>.