Student's Handbook on How to Write a Bibliography
29 Apr 2020
970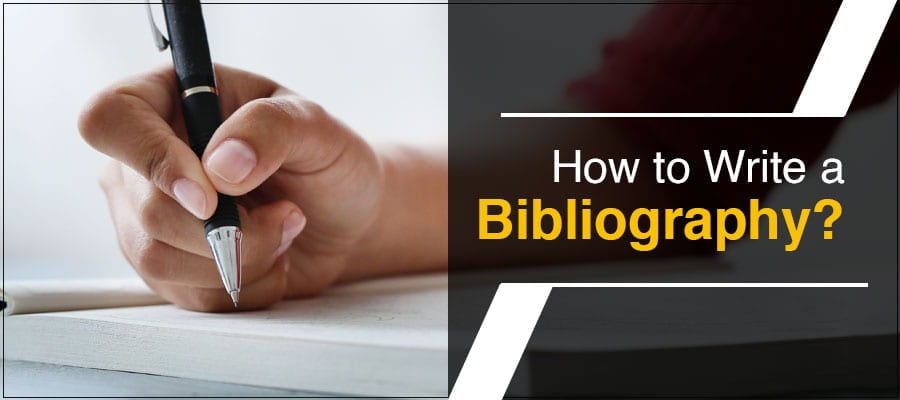 Table of Contents
"It was around 2 a.m. Emma woke up in all sweat. She had a nightmare that she lost the bibliography page of her dissertation. She immediately ran to her desk and checked whether she had the bibliography on place or not."
The above situation may sound silly for some, but students who know the importance of bibliography for their work can realize how tough the situation is. If you can relate to this, then don't worry; you are in the right place. Assignment desk helpers can guide you through the process of drafting a flawless bibliography for your writing. Now, let us begin with what it is…
What Is a Bibliography?
When you are a student pursuing any course, it is quite common that you may be assigned with a number of tasks to complete within a time period. It includes assignments, essays, coursework, dissertation, etc.
Now, when you are asked to write upon these, for collecting information on the same, you need to refer to various sources. When you do this, there is a risk of plagiarism in your work, to avoid which, you make use of bibliography.
This is a list of all the resources that you have relied upon for gathering information to write your document. It includes both online and offline sources which are websites, blogs and books, journals, etc. respectively. Now, the next question that arises is how to write a bibliography, so here it is…
How to Write a Bibliography?
Before you know how to write a bibliography, there is one more thing you need to consider. There are the following types of bibliography that you need to know for writing an apt one for your document:
1. Enumerative Bibliography
These are the unifying values that include details of the creator, subject, date, topic, and such.
2. Descriptive Bibliography
These are the scholarly products which include format, pagination, binding, title page transcription, contents, paper, illustration, presswork, etc.
3. Analytical Bibliography
This is used to examine the material features of a text such as ink, type, paper, format, impressions, states, imposition and other such details of the book.
From the above three, choose one that is purposeful for your document. Then you need to follow the below-mentioned points:
Start every text from a new line.
Author, year of publication, title of book, edition, publisher and place of publication is the format.
For author's name, write the surname first followed by the initial after a comma.
The title of the book should be in italics and underlined.
Regarding the edition, include it only if more than one is released.
What Are the Types in Bibliography?
There are mainly two types of sources ion a bibliography that is used for this citation purpose: primary and secondary.
Primary Sources: These are the ones that are used for the purpose of gathering information directly. In simple words, if you directly us the work of an author or writer in your writing, then this source is known as the primary source.
Secondary Sources: These are the ones that are used for the purpose of gathering information indirectly. In other words, when you refer to a book, journal or article that is formed from the primary source, then it is known as a secondary source.
Both the sources are very important for your bibliography. And since both may seem similar, do not get confused between the two. Now we shall look into the styles of bibliography.
What Are the Styles of Bibliography?
There are some famous styles of bibliography that you can make the best of and add to your work. Here is a brief on them:
1. APA
APA, the acronym for the American Psychological association of writing, has the following description:
Name of the author
Year of publication in parenthesis
Name of the book/article
Name of the journal, if any
Publisher name
2. MLA
MLA, which is an acronym for Modern Language Association, is described below:
Author
Title of source
Title of container
Other contributors (if any)
Version
Number
Publisher
Publication date
Location
So, these are the two main types and commonly used styles of bibliography. If coronavirus is stressing you about your tasks and scores, then here's how to break the bad grades with experts at this time of COVID-19 outbreak . Now, let us take a look at who can help you with your bibliography.
Who Can Help in Writing a Flawless Bibliography?
Since now you know everything about bibliography, you might already understand how crucial this is. Thus, this is a very tough and tedious task for many students. If you are also one of them, then here is where you can find some reliable assistance with your bibliography. All you need to do is just turn to Assignment Desk, and our expert writers will take care of everything for you. Just place an order with us following the below-mentioned steps:
Go to the Assignment Desk website.
Turn to orders section.
Click on order now.
Fill the necessary details.
Make the payment.
This is it! Your work is done, and within no time, your document is delivered directly to your mail. So, what is stopping you now? Contact us now!
FREE Tools
To Make Your Work Original
FREE Features
Topic Creation

Outline

Unlimited Revisions

Editing/Proofreading

Formatting

Bibliography
Get all these features for
USD 84.3FREE