How to Write a Memorandum? | Step-by-Step Process
22 Dec 2020
1486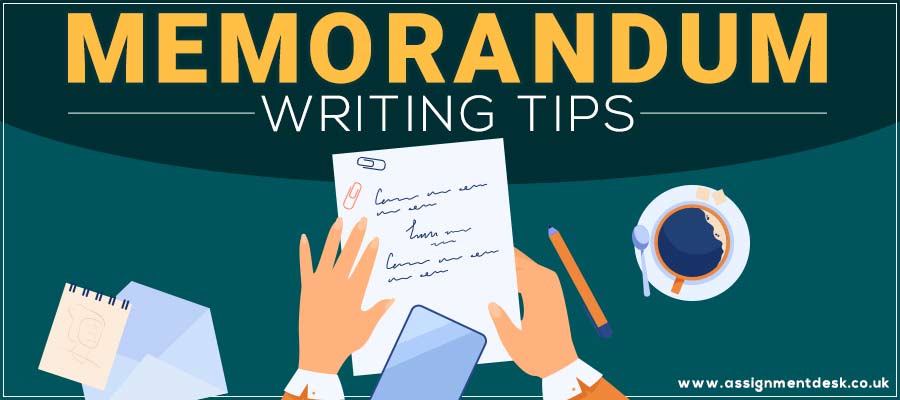 Have an announcement to make? Is there any update on the existing policy? Need to gather some attention to put on an idea? Then you need a short and sweet memorandum to save you the struggle. Wondering what a memorandum is and how to write a memorandum? Do not anymore, Assignment Desk experts are here to assist you through your journey of writing a perfect memorandum. So, let's get started!
What Is a Memorandum? An Insight into It
Memorandum is a short piece of information that is provided to employees by a business organization regarding any news, announcement, improvement, or such. These are also known as memos and are used for informally announcing something to the business employees. This is very popular among the corporate and business world, but the students who are pursuing any course related to this field are also required to know this. The main aim of putting this into the student's academics is to prepare them for the upcoming times in their work-life. Now, let us look into the actual format of a memorandum in the below section in detail.
What Is the Format of a Memorandum? (In Detail)
Any memorandum has 3 main parts in it, which are as listed below:
Heading
Subject
Message
And, this can be further divided when we look into it in-detail as explained ahead:
The header
This is where you type "Memo" in the center at the top to let all know what it is and to pay attention for this is something important.
The recipient's address
The next thing a memorandum should include is the recipient's address. This is where you specify to who this is addressed and who should consider this.
The sender
This is where you specify who you are and your other details. This helps the receiver know who has sent this memorandum, and in case he wishes to reach out, he can track you back easily.
The date
This is again a mandatory element for this helps the receives know when this was sent and, in case of urgency, by when should he respond back to this.
The title
The first and foremost thing to note in a memo is a proper title. It should convey your concern, the main theme, and the reason behind putting up this memorandum.
The body
This is the most important part of a memorandum, for it includes the most crucial data, the actual information regarding which this memo has been created.
This is the ideal format of a memorandum that the student should follow to ensure that his memo is just like a business memorandum. Now, let us take a look at the different steps he should follow for writing a memorandum.
How to Write a Memorandum? Step-by-Step Process
Here is a simple step-by-step process for writing a memorandum without any hassle:
Begin with the heading "Memorandum" on the top.
Now add the receiver's address.
Include CC here, if required.
Now add the sender's details.
This is where you put the date.
Make an interesting subject line.
Categorize the body into 3 parts.
Introduce the problem in the first paragraph.
Support your information with evidence.
Suggest some solutions for the problem at hand.
Add a positive summary before ending this.
Now, check and format the memo.
Edit and proofread it to ensure it's error-free.
Now, write your initials or sign on it.
Use a template if needed and deliver it.
These are the 15 simple and easy steps you should follow for writing an impressive business memorandum.
Some Common Queries Regarding the Memorandum
Here we listed below a few common queries students have regarding memorandum:
What is the use of a memorandum?
Memorandum or memo is used to communicate business-related information such as policies, announcements, and other professional data.
What are the different types of the memorandum?
There are 5 main types of memos that are used on a regular basis. They are:
a) Policies
b) Instructions
c) Procedures
d) Announcements
e) Reports
What are the different headings to be included in a memo?
Here you mainly have to use 5 headings as mentioned below:
a) Main heading
b) Purpose
c) Summary
d) Background/discussion
e) Conclusion/action
Do I need to send the memorandum?
You can put your name, initials, and date, or hand-written signature, or use a seal instead of in the last portion of the memo.
What is the length of a memorandum?
Usually, a memo is of one-two pages with a left-sided margin and single spaces in it. The purpose of this should be to deliver the information in a clear and concise manner.
These are some frequently asked questions by students when they are asked to write a memorandum. If you are still stuck with it or need professional assistance to clear this barrier, then read the below section.
You might also want to know:5 Common Errors That Students Make While Writing.
Who Can Help in Writing a Memorandum? We Can!
Though memorandums are used a ta business level, yet students are expected to master this so that they do not have to face any further issues. But, this stresses them in the present, and some fail in delivering their assignments and other academic tasks in a hurry to complete this. Though whatever be the reason, if you are facing any issues in your academic field, then you can turn to our experts.
Assignment Desk has a team of professionals with years of experience and expertise in the subject that helps them deliver top-notch quality work every time. So, without any further delay, reach out to us and seek our services for the best grades.
FREE Tools
To Make Your Work Original
FREE Features
Topic Creation

Outline

Unlimited Revisions

Editing/Proofreading

Formatting

Bibliography
Get all these features for
USD 84.3FREE