Dissertation Introduction Writing Isn't Hard Anymore! Read These 5 Tips
12 Apr 2019
3226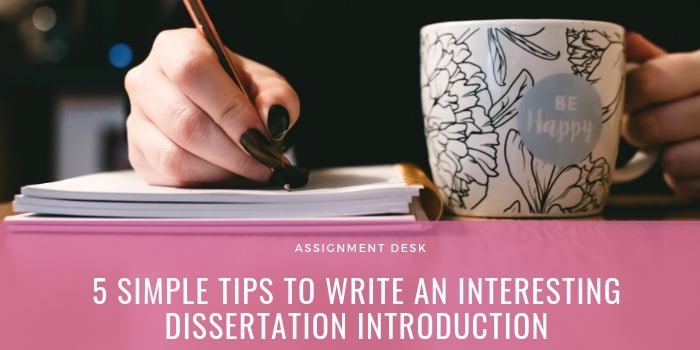 Table Of Contents
The days of writing are here again. Research, scribble, arrange, structure, proofread and what not. Working on a dissertation is never an easy thing. A lot of students spend days and weeks on the task only to end up messed and frustrated. Many of these frustrated students often reach to us for online dissertation help that can not only help them get through the academic career with panache.
Well, what makes a dissertation interesting is the way it is put to the reader. The most influencing factor of the wordy document is the "Introduction."
Writing an introduction that gives an insight into your document to the reader is a significant task that would decide how far the reader would go with your document.
There is no hard and fast rule for writing a phenomenal introduction. But still, a few tips can always help to get the desired results. Here are some very basic tips that can act as an aid for the task.
Write an Interesting Dissertation Introduction in Easy Steps
1. Plan Writing Task According to the Deadline
Timely submission of the dissertation is really important. So make it a point that before you begin everything there is a time slot for all sections and important aspects of the dissertation. Also after the brief divisions divide the time you have allotted for introduction writing into further steps. These slots need not be very accurate just a rough time to ensure things fall in place. The different task to include in the slots
Reading
Researching
Arranging
Writing
Once, you have timed yourself for the work, just move forward and start working on your task easily.
2. Do Your Homework Properly
When we ask you to do your homework properly, it just means do the research well. Before beginning to write your work, read a lot about the topic. Find different researches form a perception, decide how you want to present your idea on paper. It is important that you research the topic that is assigned to you in a very smart way. When reading and researching orient your work to
Finding stats and details
Finding little known facts
Finding loopholes in researches
Deciding your idea of the document
Now that you have planned the work you want to do just move ahead with the next step of framing an outline.
3. Frame the Outline of the Work
It is important that before you start the writing task, you have a structure ready. Just be ready with the heads and put in the facts that are related to each of these. A perfect framework ensures that you are halfway through the work. When preparing the framework there are a few points that are to be considered as
Connectivity of the points
Words used in each head
Engaging terms
After you have the complete structure ready all you need to do is fill it up with words and come up with an interesting dissertation introduction.
4. Start Writing the Introduction
Now that you are all set with the structure, information and the details all you need to do is take the final step. Arrange all the elements in the document in a tone that keeps the reader involved with your work. Maintain the connectivity of the points and also ensure that your introduction gives an insight into your document easily. For this, always ensure
Points are well written
Introduction does not leave unanswered questions
Document is comprehensive
When you start writing the work, keep yourself engaged and always have a reverse engineering approach. Just think with the readers' hat on and write all the things you would want to know when reading the introduction.
5. Read the Complete Part Again
It is important that the introduction does not leave the reader in any suspense. It is important that you move forward with a very simple language with all the important technical terms covered in the work. While reading the work all you need to do is take care of a few points like,
Language is simple
Technical terms are explained well
Introduction is not very wordy
Proofreading the complete document may seem difficult, it is better you complete each section read it again and make required changes. It would not only keep you involved with the work but also reflect what sections you need to work on to make it a little engaging.
JUST 5 SIMPLE TIPS!!!
Yeah, these were five very simple yet useful tips that would help you write an interesting dissertation introduction. All you need to do is be organized, be patient and keep going. It is difficult to keep your reader engaged in such lengthy documents, and we understand that. To help you in keeping your audience engaged in your work, the experts would be coming up with different blogs that may help.
Till the next step is updated, stay tuned and keep reading!!!
FREE Tools
To Make Your Work Original
FREE Features
Topic Creation

Outline

Unlimited Revisions

Editing/Proofreading

Formatting

Bibliography
Get all these features for
USD 84.3FREE