Answer :
Introduction
The current report would be based on economics principles like that of unemployment, or financial crisis telling us how would the policy of government would be responding to financial crisis. It would also be including type of externality and this would also be including what would be the effect of government intervention or what would be the subsidy per unit that government would be paying.
Question 1
(a) Types of externalities.
Marginal external benefits would be those which are arising due to extra efforts of some third party and then this would be causing some benefits to other one in form of increased in production. This could be also called to as externalities which is benefiting some other due to some extra efforts that is been included form the other person. Like in the above case farmers are getting this benefits due to nearby firm which is producing organic waste and thus affecting fertility of farmland (Binder and Tilman, 2018). Thus, this would be effecting the cost of farmer than they would now not purchasing any fertiliser or pesticides and this is done automatically only with the help of firm which is producing organic waste. So this could be the externalities which is appearing within this case above.
(b) How much firm would be producing with no government intervention?
If there is no intervention of government within the policy making of private firm especially if there is monopoly of one particular firm in market. Then at this time there are certain ways in which firm would be able to produce maximum level of output thus maximising their profits of firm.
Low price strategies- this could be the most effective strategy that too would not be requiring any government intervention in production of goods and that of service (Market Failure, 2018). Lowing down the price of the product would be causing an increase in amount of total profit or rather maximising it.
So in order to earn the maximum profits the firm would be producing at that level where both MC and MR are equal. Which is firm is producing 7 units of output to maximise its profits where both price and marginal cost would be equal to 20.
(c) Socially optimum level of output
The socially optimum level of output would be 8 on which price and marginal social cost I equal to 20.
(d) Welfare lost without government intervention.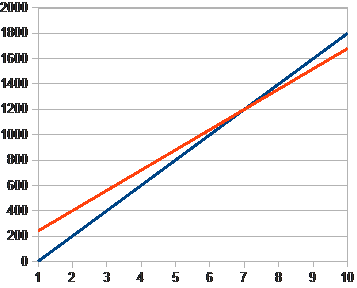 (e) Subsidy per units
The government would be paying £2 as the marginal external benefit at this stage would be equal to 2 and also the marginal social cost is increasing at this stage of production.
(f) Farming technology.
Socially optimum level of firms output would be 9 units where P = MSC = £20
QUESTION 2
(a) Filling the value.
(b) Equilibrium level of national income.
Where the aggregate demand and supply curve would be equal. So in the above case this equilibrium would be at £1200 as both are equal to £1200.
(c) Expenditure multiplier.
This would be measure of aggregate production which is changed due to change in expenditure this would be inversely related to the aggregate expenditure (Leibowicz, 2018). Whereas marginal propensity to consume domestic output would be (MPCd) would be the change in consumption of domestic output to change in income.
(d) Government expenditure
Full employment = £1400
so national income would 1400
Y=C+I+G
C=1160
I=80
G=x
1400=1160+80+x
x=1400-1240
x=160
So the government expenditure would be changed to £160 in order to attain full employment level of £1400.
(e) Equilibrium.
The initial equilibrium situations would be representing the inflationary gap as the government spending is been increased from £120 to £160 so the gap is about £40.
(f) Changing taxes.
In order the government is wishing to close this gap by changing tax government would have to tax so that they could be easily filling up this gap as spending is increasing to £40. So they need to sort out this gap by increasing their gap of £40.
QUESTION 3
Discussing whether it is possible in reducing unemployment without increasing inflation using diagram.
Unemployment is that state of economy where educated or uneducated youth of any country is been looking for right type of job but he is not being currently employed in any form whether part-time or full-time (What happens when inflation and unemployment are positively correlated?, 2018). This rate of unemployment is measured as total number of people unemployed divided by all the individuals who are working as labour force. This state within any economy is largely noticed at the time of recession period where there are no jobs for the individuals who are eligible or educated both.
On the other hand inflation is that situation in an economy where prices of goods and service in market are increased to their maximum level over a time period. With this the purchasing power of currency tends to be decreasing gradually and loss in the real value of exchange. Practically both these phenomena which is unemployment and inflation is having inverse relationship which means that if one is increasing other would be decreasing and vice versa. Whereas both these terms are having negative effects on the economy of any nation if they are been prolonged in long run. This relationship of both could be trade-off between them which is called to as Phillips curve which is depicting both these on one graph.
It could also argued that whether it is possible to reduce unemployment that too without increasing inflation. This would be depending upon the fiscal policy within that country stating positive relationship between both this would be boosting up economic output and the reducing the unemployment (Koeniger and Prat, 2018). But according to Phillips curve it was stated that lower level of unemployment would be depicting higher level of inflation rate within the country and the vice versa. However, the positive relationship between both would only be possible in case where government is making stronger fiscal policy in regard to both inflation and unemployment. This was seen in 1970 in USA where both were positively correlated called to as stagflation but there must be greater efforts of the fiscal policy makers of government. Otherwise, this is not really possible that unemployment could be reduced without making any changes in inflation rate of economy especially in long run.
QUESTION 4
Explaining the policy that is responding to financial crisis in UK and critically evaluating it with use of theory and evidence.
During the financial crisis of 2007-09 which was hitting the whole economy of UK and the rest of the world liquidity in country was losing up, credit flow was slowing down and problem within financial system was spilling over to the real economy. At this time various governments of countries were trying to get over this crisis by introducing many fiscal and monetary policy. These policies tend to respond to all financial crisis within the economy of UK in which European Central Bank played the most remarkable role.
Monetary policy-
At the time of recession of 2007 ECU cut down their policy rate by about 325 points since October 2008 when the financial crisis were leading to decline in inflationary pressure. As liquidity was urgently needed so ECU lowered down the interest policy rate so that they could resort to highly non standard liquidity operations (The economic crisis and the response of fiscal and monetary policy, 2018). A wide range of measures were being employed just in order to lower down effects of financial and economies crisis.
Fiscal policy-
At this time it was important that government was supporting the banking sector so that financial stability could be maintained. Which included that government was guaranteeing the interbank lending, recapitalisation, increasing coverage of retail deposit insurance and asset relief schemes. These all impacted only small direct effect on government deficit and on debt it was seen which increased the GDP to 3% and liabilities increasing GDP to 8% but all these did not included government guarantee on retail deposit in banks.
References
Binder, S., and Tilman, D., 2018. Grassland biodiversity can pay. Proceedings of the National Academy of Sciences. 115(15). pp.3876-3881.
Koeniger, W. and Prat, J., 2018. Human capital and optimal redistribution. Review of Economic Dynamics. 27. pp.1-26.
Leibowicz, B.D., 2018. Welfare improvement windows for innovation policy. Research Policy. 47(2). pp.390-398.