Answer :
Introduction
Innovation can be defined as process of a introducing something new which satisfies high need of people. Organizations use this concept for improving efficiency of business operations and offer more innovative products at marketplace. It will help in attracting more customers and enhancing sales volume. This would also aid them to gain high position at marketplace and win competency as well. Therefore, being innovative is foremost approach of every business which engage them in developing a better relationship with customers.
The present report entails the process by which a company can manage innovation process in business. For this purpose, McDonald is taken, which deals in fast food sector of UK. It serve products like burger, french fries, beverages and more in worldwide. This company wants to bring innovation in business for modernizing customer experience. An innovation road map is outlined in report which entails stages of creating innovation at business. It includes future of industry in food sector and requirements of innovation in organization in 2020. Moreover, this road map also highlight how to build the Future innovation capabilities for McDonald and other companies in same sector.
Future of Industry in 2020 and beyond
In UK and other countries, it has seen that nine out of 10 manufactures, are expected to get high revenues and increase at least 5% growth in business every year. For this purpose, they are making more investment in latest technology, equipment and system. In context with food industries, as food is considered as integral part of life so, it indicates a high scope for their business in future. From the last century, it has evaluated that food culture spreads over entire globe. Therefore, as much as other products, food items has shaped the global economy and give employment to 12 million people. So, with rapid expansion in business of these industries, it has evaluated that they will provide more jobs to people which helps in reducing unemployment related issue. Along with this, government also support these industries in opening business in food market so that financial condition of nation can be improved. As giving employment to large section of people help in uplifting living standard of them as well.
Overall, global food industries is found in better shape as compared to last past performances. Today, people are more attracted to those fast food products which maintain nutrition level and will not affect their health. As in fast developing world, people gets less time to prepare own food so, it shows dependency of them towards such industries which satisfy needs. Shifting culture of people from rural to urban life will increase high demand for food products which are ready for them to eat. As running with competition will shows their dependency on fast food. Today more than 60% of population are highly dependent on food industries for satisfying their needs.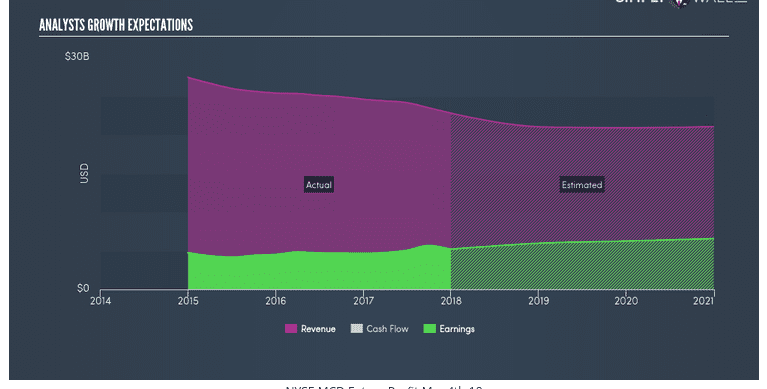 (Source: Sales Performance of Food Industries, 2018)
As illustrated from this figure that growth of business of food industries is much increasing in rapid manner as per expectation. In 2020 and beyond, companies under this sector will generate a high revenues. Moreover, this graph also depicts that from current net income level of US$5.19B which will increase to US$56.58B in upcoming years.
Therefore, it can be said that there is much scope for industries in conducting business operations in food sector. But for this purpose, organizations are required to concern on quality of food products. People in developed countries, demand high quality of products, which are safe and healthy for them. Along with this, eatables much consists natural flavour and colour, any type of ingredients which may affect health of living beings should be avoided. But preservation of processes and raw foods is much critical for any firm. It is most difficult task for keeping global food supply in safe manner to customers. Therefore, companies are required to adopt such technologies by which quality and richness of food items can be maintained. It includes Ultraviolet irradiation (UV-C), active packaging and volatiles, active packaging and more. These kind of technologies also aid food industries to keep eatables fresh and healthy for long hours. This would help in enhancing profitability of business and achieve high growth in upcoming years.
Conclusion
From this report it has concluded that today innovation become necessity for every company in order to win competency. This process helps organizations in adding more features in products and make them more beneficial. Therefore, for introducing innovation, enterprises adopt latest technologies and equipments. It will aid in developing products as per demand of customers and fulfilling needs accordingly. But it is also necessary for such companies to formulate strategies and policies by which process of innovation can be maintained. These strategies is considered as the basis of success of every business. In this regard, an innovation road map has given in present report which entails stages to manage innovation in business. As per depending on purpose, road map of innovation include trends, markets, measurement of marketing techniques and more. Thus, concerning on these phases, a company can not only bring innovation in business but also can manage the same as well.
Apart from this, present assignment also entails the future of industries in 2020 and beyond. It includes scope of a business in particular sector and how it performs in future. Moreover, requirement of innovation in business also discussed by which a firm can attain its future growth. It includes introduction of high technology in business so that quality of products can be maintained. Along with this, the major purpose of making present report is to build the future innovation capabilities for organisations. It will help them in running business more smoothly and gain opportunity to expand operational activities in future. Therefore, it is necessary for every firm to create innovation in products so that customers can satisfy their needs in better manner.