Answer :
Introduction
Planning for growth is considered as a strategic activity of a company that enables employers to plan and track progress of business. This will give opportunity to organizations to allocate limited resources towards a centred effort for adaption of changes. Under this process, strategies and tactics are included in growth plan and mostly concerned on key driver of revenue generation (Wu, 2015). This report is based on Thomas Developer which is small IT firm that develop software. "Electoral Management System for The City of London" is a government contract under which company has made bid of£160k. In this assignment, key considerations of business such as porter's generic, Ansoff's matrix and PEST for examining growth opportunities is described. This company has shortage of resources for which its managers are searching potential sources of funding. Furthermore, exit or succession options for small business are also described in the last section of report.
TASK 1
P1
Analyse key considerations for evaluating growth opportunities and justify these considerations within an organisational context
With emergence of new technologies, small organisations gain various opportunities to expand their business in international market. To utilise opportunities by which a company can grab attention of customers and win competitive advantage, it is essential to executives to conduct proper market research. For this process, the two main concept helps in analysing situation of marketplace and develop strategies accordingly i.e.: Porter's generic strategies and PEST analysis (Keough, 2015).
Competitive advantage: It refers to main component behind growth of any organisation as competition at marketplace assists a firm to conduct business in innovative manner. This would provide benefits to customers to avail products on best price and high quality. In context with IT sectors, innovation refers to central aspect of competitors where people line up to purchase those products which are faster, smaller and give better services. Therefore, it becomes essential for Thomas Developer to offer innovative software to customers which help in exceeding their satisfaction level. In order to examine competitive advantage, managers of this technological company has used porter's generic model in following manner:-
Porter's Generic strategies: It is a sum-up of 4 different strategies which can be adopted business organisation for handling competition at market place. These strategies were given by Michael Porter in 1985. These four Strategies are mainly based on three strategies named as differentiation, cost leadership and focus. Focus strategy is further diversified into two parts that is differentiation focus and cost focus. In relation to IT sector, all of these strategies are described as below: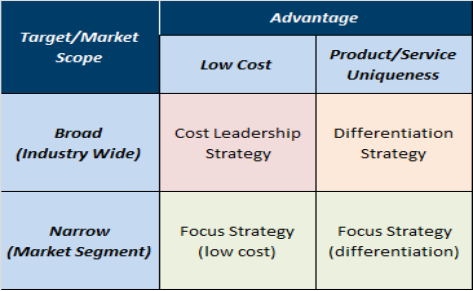 Illustration 1: Porter's Generic Model
(Source:Porter's Generic Model, 2018)
Cost leadership: Under this strategy, a company concern more on the way to become low cost producer in marketplace. For this process, it is essential for such organisations to identify and exploit all sources of cost advantage. In context with Thomas Developer, for developing cost leadership strategy, its employers are required to concern on- increasing profitability by reducing costs of services; enhance market share as average cost will increase sales performance (Grover, Bokalo and Greenway, 2014). Since organisations and individuals always seek to acquire fast IT services, therefore, this will give advantage to Thomas Developer. As if its products of company are unique and available on low price then it will help in enhancing sales and giving a tough competition to rivals.
Differentiation: This strategy entails a firm to make products in different form and more effective as compared to competitors. It includes differentiability on the basis of functionality, features, durability and brand image. To create differentiation in products or services, the success tactic for Thomas Developer is to design skills for efficient production (Beatley, 2014). Along with this, managers are also required to concern on developing strategies for effective sales and marketing. It will help in creating awareness among customers about services which are differentiated from others.
Focus: This tactic includes two narrow segments that are cost advantage or differentiation. Therefore, by implementing a focus strategy, Thomas Developer can enjoy a high degree of consumer loyalty. But, this process involve many risks like imitation, changes in targeted segment and limited opportunities for growth as well.
Thus, in this regard, from above mentioned strategies, managers of Thomas Developer can use differentiation tactics. For this process, they can give employment to high skilled candidates who have capability to develop innovative software. Through this technique, Thomas Developer can create differentiate its bid contract from others company and get opportunity to get the same (Ying, Chaolin and Xiaojiang, 2014).
PEST Analysis: This analysis aid a firm in identifying opportunities by which they can expand their business market. Through this process, executives of Thomas Developer need to consider certain rules and regulations, economic situation of marketplace, demands of public and technology for conducting business operations (Understanding Pest Analysis with Definitions and Examples, 2018).
Political Factor: This component of business environment shows political condition, rules and regulations formulated by government of a country. Therefore, if such factors are stable and flexible then it aid a company to get opportunity to run its business in smooth manner. Hence, in context with UK, its political stability assist Thomas Developer to expand business at global scale (Leigh and Blakely, 2016).
Economic Factor: It includes factors like inflation and deflation period, per capita income and so on. Thus, if economic condition of a country is good then it will give chance to small organisations to get funds on easy rates. As in UK, per capita income is good so it shows high purchasing power to people. Therefore, Thomas Developer has chance to increase sales performance and generate profitability by serving good quality of products.
Social Factor: This element define that organisation provide items and services for fulfilling demands and requirements of people. Market survey helps executive to gain information about needs of public. This aid them to have knowledge about growth chances for expanding firm. Thomas Developer is an IT firm, if people belong to high educational segment than they require to use advanced software. This benefit firm to develop new application and software for increasing business and satisfying buyers.
Technological Factor: It includes those factors which aid firms to utilise resources in proper manner. Electronic equipments, IT processes and other tools which are implemented in system help executive to conduct activities effectively. Businessperson of Thomas Developer provide software and IT application to clients. Their is technological advancement that can help firm to have large opportunities for framing new and unique software (Haaland and van den Bosch, 2015).
P2
Evaluate the Opportunities for growth applying Ansoff's Growth Vector Matrix
Ansoff's Growth Vector Matrix: This model was developed by Igor Ansoff to define expansion strategies for organisation. Potential and current market and product are two focus of firms which support them to increase sales and profitability ratio. Business person of Thomas Developer which is a software company can adopt these tactics for expansion that are defined below: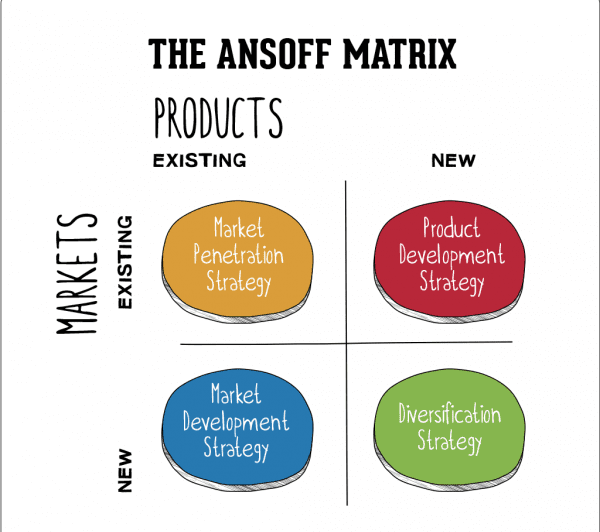 Illustration 2: Ansoff's Matrix
(Source: Ansoff's Matrix, 2018)
Market penetration: In this strategy, market focuses on increasing sales of existing products and services into existing market. It depends on resources available to them and helps business to increase their market share of their products and services (Pothukuchi, 2015). Thomas Developer can achieve this by advertising, sales promotion and competitive price strategies. These strategies may help business to make market unattractive to its customers.
Market development: It focuses on entering into new market with current portfolio of products. This strategy is more risky than penetration strategy because company is expanding its business into a new market. Thomas Developer can approach it by entering into a new geographical area, new packaging, distribution channels for distributing their software to its potential and new customers. Company can adopt new pricing strategies for different consumer and to attract new market.
Product development: In this strategy, business tries to innovate or provide new products to its current market for growth in market share. This requires creating core competencies to attract current customers in order to use new products offered by them. Thomas Developer can use this strategy by research & development and innovation in existing products. Analyzing consumer needs for introducing new things into market for being ahead in competitive environment (Hess and Sorensen, 2015).
Diversification: This strategy emphasises on introducing new products into a new market. Companies use this to increase their market share. It is most riskier strategy among all because business is expanding into new market with new product without having any experience about it. For Thomas Developer, using this strategy needs a lot of market research and they need various financial resources to implement it.
Therefore from the above strategies, business person of Thomas Developer require to adopt market development for increasing market reach and customer base.
TASK 2
P3. Assess the Potential Sources of Funding available to Businesses and Discuss Benefits and Drawbacks of each Source
Organisation require money for execution of business operations effectively. Small firms are started by people who require to generate revenue. Entrepreneur didn't have sufficient funds for making growth to enhance market reach (Zheng and et. al., 2014). Thomas Developer is small IT firm which is expanding firm so executive require to increase capital. For this, they find out different sources of funding which are mentioned below:
Crowdfunding: The type of funding in which small wealth in form of money or assets are used to finance fresh businesses by large number of investors. It protects the non-wealthy investors for putting their money at risk. This type of funding can be done through social media platform also.
Benefits: It can assist to reach to thousand of investors who are looking for investment in small amount which can easily be promoted through social media platform, e-mail marketing etc. This is an efficient way of funding as it does not need large amount of resources to work.
Drawback: Crowdfunding is time-consuming tool as executive require to inform people about business prospect. After this, group members find out whether it will be profitable for them (Janssen and et. al., 2014).
Venture capital: It is a kind of financing which define that investors provide money to start-ups and small businesses that are committed and have potential of long-term growth. It comes from well-off investors, investment banks and any other financial institution. These fund-rising is done by circulating a prospectus to potential investor who agree to commit money to the fund
Benefits: Venture capitalist includes investor who provides financial assistance to start-ups and small businesses in belief of favourable ROI.
Drawback: Executive lose their business control and require to involve investor in decision-making processes. This result in conflict and disputes which affect on functioning of firm.
Bank loan: Itis most common source of capital for a business which provides short, medium or long term finance. Their is fixed period over which loan is provided at fixed interest rate. Types of bank loan are personal, education, home and car loans. Banks has added now business venture loans to their curriculum (Allmendinger and Haughton, 2014).
Benefits: Bank and financial institution provides loan and financial assistance to start-up and small business. This help executive to relive themselves from taxation as stated by government.
Drawback: Business person require to make documentation in respect to bank guidelines which is time consuming and tiring. Besides this, they even need to pay money on time, otherwise bank seize assets in against of failure of repayment.
Henceforth, "Electoral Management System for The City of London" is a government contract under which Thomas Developer has made bid of £160k. Under this amount, company has only £20,000 therefore, for remaining £140,000, it will arrange funds by taking loan from bank and crowdfunding source.
TASK 3
P4. Design a business plan for growth that includes financial information and strategic objectives for scaling up a business
Business plan is a written documentation of the formal structure and ways sthrough which the growth of business will take place. Background of company, vision and mission statement, objectives, SWOT analysis, financial information are elements stated in this plan. Thus, this is business plan of Thomas Developer which is described below (Sager, 2017):
Company Overview: Thomas Developer which is an IT firm that develop software and application to other company. "Electoral Management System for The City of London" is a government contract in which firm has made bid of 160k Pound.
Vision and Mission Statement: Vision of Thomas Developer is to make world automated by building technology and effective software. Mission of Thomas Developer is to provide quality IT services and solutions to become well known and respected firm.
Strategic Objectives: Executive frame goals for directing and guiding team members to carry out activities through which objectives are accomplished. It is necessary that SMART tactic is followed so that objectives are specific, measurable, achievable, realistic and time bound. Thomas Developer objective is to increase sales and revenue by 15% each year.
Product and Services: Thomas Developer develops IT application and software which aid other organisation in managing operational activities.
Situational Analysis: Business person require to have knowledge about market conditions and system capabilities. SWOT analysis is a technique by which strengths are used by the executive of Thomas Developer for utilising opportunities. Besides this, weaknesses and threats are analysed by them to prevent them from affecting business (Abolhasani and et. al., 2016).
SWOT Analysis of Thomas Developer:
Strengths:
Thomas Developer have strategic alliance with famous brand which are Dell and Infotech. This help company to create strong image and market position.
Expert team of software engineers having sharp skills and knowledge in technical field.
Weaknesses:
Thomas Developer is IT firm which involves high initial investment which affect on business.
Company expenses are large that is maintenance of hardware and software.
Opportunities:
Thomas Developer has chance of market development and penetration for increasing market reach and customer base.
Technological development are conducting at fast rate so company have possibility to frame new and advanced application and software (Bunker, 2015).
Threats:
There are well known and popular IT firms which influence on profit of firm.
Government of UK keep framing laws for regulating IT companies so that harmful application and software are not designed.
Financial information for scaling up business: Cash flow statement helps executive of Thomas Developer to have information about circulation of money. Operational, investing and financing are three tactics in which funds are divided. Thus, net increase/ decrease in cash are estimated by business person (Wu, 2015).
Thomas Developer

Cash Flow Statement

For the Year Ending

31/12/18

Cash at Beginning of Year

22,500

Operations

Cash receipts from customers

4,25,875

Cash paid for

Inventory purchases

(1,58,252)

General operating and administrative expenses

(10,658)

Wage expenses

(1,05,852)

Interest

8,502

Income taxes

18,780

Net Cash Flow from Operations

1,78,395

Investing Activities

Cash receipts from

Sale of property and equipment

35,564

Collection of principal on loans

Sale of investment securities

Cash paid for

Purchase of property and equipment

(45,821)

Making loans to other entities

Purchase of investment securities

Net Cash Flow from Investing Activities

(10,257)

[42]

Financing Activities

Cash receipts from

Issuance of stock

Borrowing

Cash paid for

Repurchase of stock (treasury stock)

Repayment of loans

(42,585)

Dividends

(45,850)

Net Cash Flow from Financing Activities

(88,435)

Net Increase in Cash

79,703

Cash at End of Year

1,02,203
TASK 4
P5. Assess exit or succession options for a small business explaining the benefits and drawbacks of each option
Small business require to sustain firm's position and image in market. It is essential that executive have knowledge about succession and exit options for adopting them in according to performance. Thomas Developer is SME so business person consider succession alternatives for expanding business. Thus, these are options which they can use for increasing profit and sales are described below:
Succession options for small business: There are ways by which SME's can become successful and expand their business at global marketplace that are discussed as follows:
Acquisition and Merger: Acquisition is process in which one company purchases another firm's share to take their control. It is different from merger as one company which acquires another firm. Besides this, merger is an activity by which two or more enterprise join each other to make a larger company for increasing their overall value (Keough, 2015).
Benefits:This is an effective tool which help executive to utilise market opportunities for enlarging business. Small firm have shortage of funds for which merger and acquisition aid business person to combine with well known firm. This advantage them to increase their sales and profitability.
Drawback: This tool have certain demerit which is price ascertained by firm is not uniform and varies with time. There are chances that calculation of rate is not appropriate which result in devalue of company.
Joint venture: It can be defined as process of collaboration of two or more ventures where entrepreneurs made a contract to join their business for some period of time. This help executive to increase production and profitability by expanding company to new market or use different distribution channel.
Benefits: Joint venture helps small firms to enhance business and resources that is specialised employees and technology. This also aid executive to share risk and expenses with other party (Grover, Bokalo and Greenway, 2014).
Drawback: This tool causes problem if business person is not able to find right business partner whose resources and abilities match with firm.
Thus, from above succession options, joint venture is best for Thomas Developers. This tactic benefits firm to take advantage of well-known companies in their profitability. This can help executive to join hands with another IT firm. This aid them to have expertise and talented staff which formulate effective software and applications for clients.
Conclusion
From this mentioned report it has analysed that planning is strategic approach to gain objectives in business, whether it is small or a large firm. In order to adopt the best opportunity, firm can use Porter's generic strategies. It will also help in giving a tough competition to rival companies by acquiring a good position at marketplace. Further, by using PEST analysis, organisations can determine factors which may affect business activities in both negative and positive manner. Similarly, by using Ansoff's matrix, entrepreneurs can generate ideas to raise market share and enhance customer base. This report also entails procedures by which small companies can fulfil demand of finance in business like Crowdfunding, venture capital and bank loan etc. These sources aid organisations in introducing adequate amount of finance.