Introduction
Marketing refers to overall activities that are undertaken by organisations in order to appropriately present and communicate their products and services to the customers. It is an essential activity which is necessary to help companies enhance familiarity of their products in the marketplace (Kotler and Armstrong, 2015). The following report is based on Apple watch series 4 and Fitbit 2, which are two of the widest recognised brands in the world. It effectively evaluate the target markets of each brand and 4P's of Marketing which is essential to determine how differently these two companies could apply these principles.
TASK 1
Target Market Profile
For any appropriate brand, it is essential to determine the target market profile effectively in order to channelise marketing strategies appropriately. To effectively achieve this, it is essential that the marketing planning of each brand focuses effectively on finding the most appropriate target market for its product. A detailed target market profile for both the chosen brands are described below:
Apple Watch Series 4:
Customers of Apple seek advanced technology, effective design, quality and most importantly performance in its products. Since 2015, Apple Watch has been one of the most prime choices of customers seeking all these features (Apple Watch release date is April 24th,2018). Since then, the firm effectively has produced the largest selling smartwatches. The company is tactful when it comes to choosing its target market. The STP approach for Apple Watch Series is mentioned below:
Segmentation: Majorly, there are 3 market segments which are used by Apple. For appropriately establish its brand in the market, the company uses Geographical, Demographical and Behavioural Segments. All these segments help the company in gaining appropriate insight to choose the right type of target market.
Targeting: Apple Watch Series 4 is a high-end brand and it is of vital importance for its target market to be composed of individuals with appropriate attributes. For the brand, the firm would be choosing general public of Urban UK, of age between 20-45, who are high earners, favourably professionals and managers who are extremely loyal to the brand and are inclined towards using technology (Apple Segmentation, Targeting and Positioning,2018).
Positioning: Apple uses almost all forms of modern as well as traditional media to effectively make their product and its specification visible to customers.
Fitbit 2:
Fitbit was founded in 2007 and has effectively reached great heights in ways which made it a $4 billion company (The story of Fitbit: How a wooden box became a $4 billion company, 2018). In comparison with Apple, Fitbit applies its market targeting strategies. Its STP approach is analysed below:
Segmentation: The company as compared to Apple, apply tactical approach towards segmenting the market. Majorly, it consists of just demographical and behavioural segments, however, the firm also considers geographical segments too.
Targeting: Firbit 2 would be targeting customers who are aged between 18-45, with moderate-income level, belonging to any profession, favourably in sports. In addition, the target customers must be inclined towards fitness and must be specific to use technology as a support for their products.
Positioning: Fitbit mainly uses social media to attract millennials and use compelling videos that provide information about its specifications.
Thus, both the companies use segmentation, targeting and positioning effectively as per their objectives and nature of their target market (Rowley, 2016). While Apple Watch Series 4 targets customers who are professionally sound and technologically inclined, Fitbit 2 targets customers with more sense of physical fitness. Both companies use an appropriate blend of STP to effectively enhance the scope of targeting customers.
TASK 2
Marketing Mix
Marketing Mix refers to elements of the marketing which is essential for developing an appropriate strategy by companies to market their offerings to their customers (Kotler and et. al., 2015). It includes 4P's, mainly, Product, Price, Place and Promotion. The strategies used by both brands are evaluated below:
Product:
To effectively analyse the product strategy of each brand, Levitt's Model of a Brand is being chosen which would effectively help in distinguish within each brand.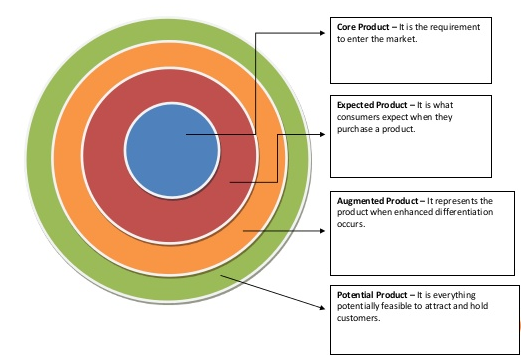 (Source: Levitt's Model of a Brand, 2018)
The model has 4 aspects which are evalua