40+ Unique Commercial Law Dissertation Topics for Your Paper!
28 Oct 2023
375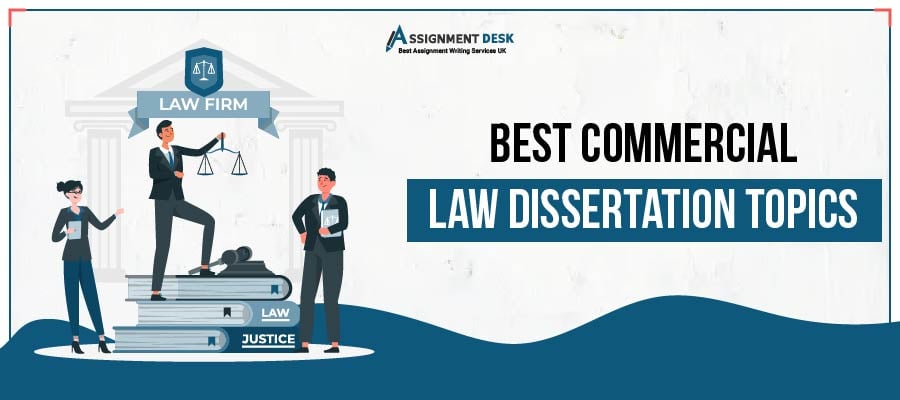 Are you looking for some perfect commercial law dissertation topics to write on? Well, you are definitely at the right place, then. Drafting a paper on business law, or what we call commercial law, can be a very complex and challenging task. Therefore, you should not hesitate to explore and search for the best commercial law dissertation ideas to proceed. It is because this covers a wide scope of relations and conduct of a company or organisation about how to engage or carry themselves in the market.
Furthermore, it has a lot of principles and regulations that come under this law. So, taking online dissertation help will also help you choose a desired field of research and make it engaging. Thus, before seeing those topics, let us learn about what they are, in short, to refresh your mind and give you a basic idea about them. Moreover, it will be like a guide for you in the process of choosing the commercial law dissertation topics for your paper.
Need Personalised Assistance from Our Experts?
Share Your Requirements via Whatsapp!
Chat Now
What Is a Commercial Law? In Brief
Commercial law is the body that governs the engagement between an organisation and a consumer. It is a set of legal rules and services for companies to help earn money by selling their products or services. It is a secure field of legality that keeps expanding with the economy. Therefore, you will get all different and unique commercial law dissertation ideas by observing the latest industry news and economic changes. Therefore, writing a document on this can be a little tough at times because of the need for accurate research, client satisfaction, and on-point delivery.
There are many international commercial law dissertation samples out there that can usually help you form an idea about your journey and give you some motivation. So, now that you know what commercial law is, find out more about some of the main areas and principles of its application.
Essential Applications of Commercial Law
When you wish to choose some remarkable commercial law dissertation topics, then just knowing about them won't be enough; you will need to dive into them more. It has a wide variety of activities that it works on. Commercial law is a widely changing field that keeps growing with the changes happening around it.
Therefore, all companies and organisations must understand their legal rights and duties. There are some examples of dissertation you can use, to make it convenient to craft the dissertation paper. But you should also have a good idea about its areas of application and know where it is used and what for. So let's read them, and you can also buy dissertation from expert services or pick them up as your topics because of their specialties.
It's the branch of commercial law that deals with problems related to, what the consumer faces. It will protect them from misleading and deceptive companies, such as baits, false news, and hidden costs. It is one of the most necessary and interesting commercial law dissertation ideas you can select for your document.
Things related to self-work, such as patents, copyrights, and trademarks, are covered under this. It will safeguard your creative works and innovations using the certifications and ownership marks. However, due to the various complexities in this branch, you can get law dissertation help from experts and your professors.
It helps in the sales of products and issues related to them. You can get the required help from the commercial law about these problems and get the required solutions. This part will govern the delivery, warranty, and other aspects of product sales. It is the perfect theme for the commercial law dissertation topics in an informative paper.
This area of commercial law will cover the things that ensure smooth competition rates in the markets and solve their issues. It helps with recognising the enterprises of mistrust, monopolies, and price-fixing to resolve them all instantly. It is one of the top international commercial law dissertation topics that has a lot to research and find out about in an ever-changing marketplace.
This will see the proper execution and enforcement of all contracts between companies or firms. It will cover all the complexities between them regarding their acceptance and consideration. You can also take a look for dissertation writers in UK to help you out with the depth of this.
This deals with the banking and finance departments of the organization. It will mainly deal with the regulation of the company's financial services, such as borrowing and lending. It can be picked as your perfect commercial law dissertation topics to write an impressive paper on.
As the name suggests, it will cover the part where a company or an individual is unable to pay their bills. Therefore, this application of commercial law will look into their financial positions and help with troubles such as bankruptcy and liquidation. You can get help from dissertation writing services to understand this properly.
It will help with the establishment, dissolution, and management, of the overseeing businesses. Business laws are something that will take care of all the corporate rights and things such as shareholder issues, business incorporation, and the governance of it. It can also be a whole field in itself and holds a lot of depth to be your desired list of commercial law dissertation topics.
So, these were all the main areas of application in commercial law. It is essential to comprehend and understand them as well. Furthermore, it should be enough to give the basic commercial law dissertation ideas for starting with your work. Now, let us find a list of the topics ahead to help you with the research.
Need Help with Dissertation?
Get a 100% Original Dissertation Written by EXPERTS
Get Help
List of Commercial Law Dissertation Topics
Studying commercial law can be overwhelming as it is an extensive field with various subcategories. Your dissertation paper should be engaging, and impressive to leave a mark on the reader. However, deciding on some good commercial law dissertation topics can sometimes be complicated. So, given below is a list of all the topics you can choose to make this journey a little easier.
Top Dissertation Topics in International Commercial Law
Elaborate company act of 2006
Copy-write policies in online advertisements
Importance of social responsibility in corporate firms
Critical Analysis of the American Constitution
Provisions for the Death Penalty
Crime policies and their enforcement
A comprehensive review of lie detectors
Government providence for domestic abuse
Impact of war on trade & employment
Job security provisions in different countries
Ways of addressing terrors across countries
Evaluate the pre-incorporation of worldwide contracts
Best Commercial Law Dissertation Topics
Employment laws for disabled people
Remote job mobility in the UK
Prioritizing the rights of minority shareholders
influence of social governance
Regulations made for digital crimes
Emergence of international laws
Intellectual protection on the internet
Improvisation in the copyright issues
Challenges occur with the banned books in the market
Effect of anti-corruption laws on government officials
Rules on corporate governance in the UK
Gun laws framework in the UK
Emergence of Examples and Models in Business Law
Struggling to Find Best Dissertation Topic?
Get a Unique Title & Dissertation Proposal Outline
for FREE!
Explore
International Commercial Law Dissertation Topics
International cross-border dispute resolution
International law for commercial foreign investments
Competition in the International Digital Economy
Elaborate international commercial law
Analysis of foreign investments in developing economies
Anti-trust Rules & regulations on Border Mergers
Legal complexity in space & satellite communications between borders
Policies and practices in international law
Challenges between international and domestic law
Human rights issues around the globe
Safety laws in International communities
Study legal literature in international trade
Trending Commercial Law Dissertation Topics
In-depth about the various law programs in the UK
International investments in the energy sector
Influence of commercial laws on railway
Effective policies for resolving commercial disputes
Analyze the function of business laws in the UK
Role of banks in making transaction rules
Use of consumer protection laws in online marketplaces
Impact of digitization on various contract laws
Evolution of legal frameworks in e-commerce
Importance of social responsibility in commercial laws
Influence of commercial laws in various industries
Assess the soft & hard laws of corporate governance
Overcoming the corporate barrier to basic human rights
Trouble Choosing Commercial Law Dissertation Topics? Ask Us!
Writing a perfect dissertation paper is not an easy task. Thus, never hesitate to ask for help if you face any issues. You can even contact our experts at the Assignment Desk, who are always ready to provide the required guidance and support you in this long journey. They have years of experience that you can use to decide your commercial law dissertation topics or for anything else you want.
So, do not wait and start moving on the path of writing a mind-blowing document that will help you grow in your career. Contact us now and make this road to success easier while finding your dream commercial law dissertation topics on time and at a very pocket-friendly price.
Let Us Help With Dissertation
FREE Tools
To Make Your Work Original
FREE Features
Topic Creation

Outline

Unlimited Revisions

Editing/Proofreading

Formatting

Bibliography
Get all these features for
USD 84.3FREE