How Do You Write Dissertation Acknowledgements? Examples and Information
01 Nov 2022
846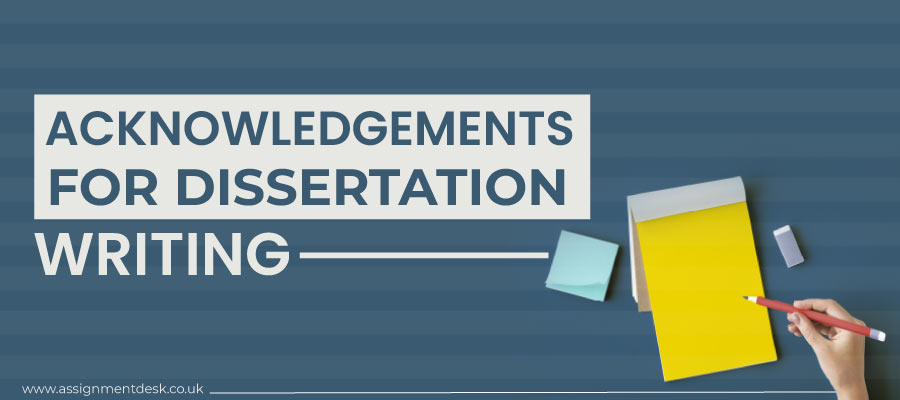 Are you done with writing your dissertation Acknowledgments? If yes, then firstly, Congratulations you completed your dissertation. This is well known that writing a dissertation is an arduous process. When it comes to the one that is nearing the end, for this reason, a dissertation is a lengthy writing process and mainly because students can personalise them to whatever extent they want. If you are also one of those students facing issues in dissertation Acknowledgments, then read this blog. With the help of this blog, we are providing complete information related to dissertation Acknowledgments and all the associated aspects.
What Are Dissertation Acknowledgments?
The dissertation Acknowledgments section of the thesis includes a personal thank you to the person who has helped you along with your writing process. In addition, it helps the individuals to thank and acknowledge all academic departments that helped them during the entire writing process. In this section, thanks to the funders and dissertation supervisors. In addition, other academics, colleagues, family, and friends helped students in the research and writing process. The acknowledge section is placed after the title page of the dissertation, and it is no longer than one page.
The Purpose of Acknowledgments
With the help acknowledgment section of the dissertation, students or writers can recognise and thank those who supported them during their Ph.D. So for a reason, it can be, but it is not limited to individuals, institutions, or organisations.
Therefore, the Acknowledgments will not be used to evaluate the work; it is still an important section of the dissertation writing. Also, it must positively influence the reader's perception before they even reach the main body of the work.
Need Help with Dissertation?
Get a 100% Original Dissertation Written by EXPERTS
Get Help
How to Write Acknowledgement for Dissertation?
The students must work on this section. The writing style should be more informal than the rest of the thesis. It includes writing in the first person and using more than emotive language. In most cases, students have complete freedom to write acknowledgment for dissertation. However, the students should keep it professional. As we have mentioned earlier, it is because this will be one of the first things your assessors will read.
In the structure process, Acknowledgments are expected should be ordered in a manner that helps to first recognise most of the legal support before moving on to the less formal approval. If you find issues, then check dissertation Acknowledgment examples.
While thanking your professionals, try to write their full names and provide the title. With the help of giving the full terms and titles, it will not only help to ensure clarity to the reader. Also, acknowledgment for the dissertation helps to contribute to the credibility of the thesis that the individual you are thanking within your field.
Also Read: How to Write a Dissertation Title? | Tips & Examples Included!
Whom You Can Thank in Your Acknowledgements?
Every individual has a supporting team that may help them in several ways. But some students are not able to include the relevant persons in it. So here we are providing some suggestions for the same.
Supervisors: They are one of the teams that come at the priority and play a vital role in writing the dissertation. However, if your relationship is not altogether positive but you should still acknowledge them in your acknowledgment.
Funding Body: If you have a funding body, you should acknowledge them for helping you complete your write-up.
Academic Staff: On the other hand, a team of academic staff did not help you write your dissertation, but you should also thank them for providing helpful feedback.
Expert Writers: It is pretty standard that you have made some connections while writing the dissertation, so mention them in your dissertation Acknowledgments as they provided you significant support.
Professional Services: During the time of the writing dissertation you have spent hours in the library, so remember to thank the librarians for the same. Whether it is from your institutions or somewhere else. Also, thank the person who helped you with dissertation proofreading and writing.
Friends and Family: Thank your family or friends who have helped or assisted you in writing your dissertation.
Above is the list of the people you can thank in your dissertation Acknowledgments. If you still need to write your dissertation acknowledgment, then let's have the below-mentioned dissertation Acknowledgment examples.
Dissertation Acknowledgments with Examples
If you are also one of those students who cannot write the dissertation Acknowledgments on your own, then here we are providing dissertation acknowledgment examples to help you draft the best one.
Example 1
I express my sincere gratitude to Prof. Asher and Dr. Harry, who served as my Ph.D. advisors, for their wise counsel, unwavering encouragement, and tolerance. Their vast knowledge and wealth of experience have inspired me throughout my academic study and daily life. I also want to thank Dr B and Annie for their technical assistance with my research. My time studying and living in the UK has been excellent, thanks to their kind help and support. Finally, I'd want to thank my family, which includes my wife, kids, and parents. Without their excellent support and understanding throughout the previous few years, I would not have been able to finish my education.
Example 2
I want to thank Dr. Mark and Dr. Andrew, who served as my Ph.D. advisors, for their assistance and counsel. I also want to thank my sisters since this would not have been possible without them. I also value the help I got from the rest of my family. Last but not least, I want to thank Anna for the studentship that allowed me to research my thesis. This is one of the thesis acknowledgment examples.
Example 3
I want to express my gratitude to my excellent supervisor, Dr. Brell, for his tremendous guidance, support, and supervision throughout my Ph.D. Thank the Faculty of Johnson for providing me with the financial means to pursue my studies at the Department of ABC, University of XYZ. Additionally, I want to thank Dr. Paul for her invaluable assistance, which significantly impacted how I conducted my experiment and evaluated the outcomes. I also like to thank Peter and Dr. David for their guidance. Finally, I express my gratitude to ABC, my friends, lab mates, colleagues, and research team members for our valued time spent working in the lab and having fun together. My appreciation also goes to my family and friends for their consistent support throughout my studies.
Also Read: How to Write a Dissertation? Best Tips Right from the Professor's Desk
What to Do & What Not to Do in Acknowledgement?
Let's have a look at the below-mentioned do's and don'ts in dissertation Acknowledgments:
Do:
Always write in the first person and use professional language to thank the people who helped you write the dissertation.
First, thank the professional contacts.
Mention their full names, titles, and profiles of the professional acknowledgment.
Also, mention the personal or intangible supporters. For example, you can include your friends, family, or other people.
Include the funding bodies and what they funded
Don't:
Do not use informal language or slang for the dissertation Acknowledgments.
Stay within one page in length.
Also, do not mention the people who impacted your work a little bit.
Also Read: Top 5 Best Fonts for Dissertation to Make it Look Organized
How Experts Can Help in Dissertation Acknowledgement?
Writing a dissertation is one of the hectic tasks for students. But when it's completed, it's one of the best feelings for the students. However, some students need help writing their dissertation Acknowledgments. At that time, they seek academic assistance to get their problems resolved. Expert writers have vast knowledge in providing the best writing services to students. If you are also one of those students who cannot write your dissertation Acknowledgments and are facing issues in completing it, then you can take assistance from professionals by getting dissertation help online. Also, you can ask for an example of acknowledgment for the dissertation. They have immense knowledge and can solve the students' queries within a short period. So what are you waiting for? Get the consultation and make your dissertation acknowledgment stand out in the class.
Order Now
FREE Tools
To Make Your Work Original
FREE Features
Topic Creation

Outline

Unlimited Revisions

Editing/Proofreading

Formatting

Bibliography
Get all these features for
USD 84.3FREE