Dissertation vs. Thesis: How to Make the Right Choice?
22 Sep 2021
933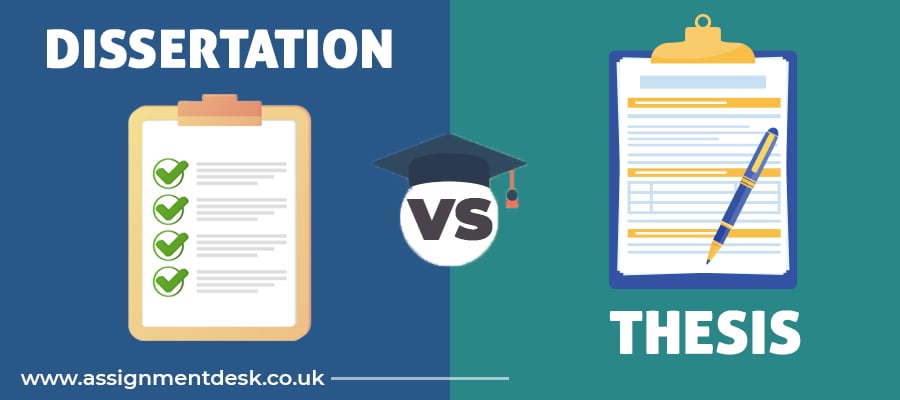 Dissertation vs. Thesis: How to Differentiate Between Them?
One of the most common struggles in a student's life is understanding "Dissertation vs. Thesis" Yes! Unfortunately, many students who have just started their graduation or post-graduation course have no clear idea on this topic.
Some students assume they both are the same and land up scoring poor grades in them. While some replace them and get into trouble and need to rewrite everything, some never know the difference and don't bother to even know about it and get embarrassed when someone points this out.
Do you want to avoid putting yourself in any of these situations? If yes, all you need to do is read this blog drafted by the best writers of Assignment Desk. To begin with, let's have a look at what is what among these two academic documents.
Dissertation vs. Thesis: Know What Is What Here!
As we often observe students coming to us seeking help with their thesis or dissertation, we can understand how confusing these writing types sound to them. But if you understand it well, these are two different writing types. So yes; Read along to know more!
What Is a Dissertation?
A dissertation is a document that the Ph.D. pursuing students draft during or after their doctorate course to get the degree. It is a task where the students research any particular topic, develop new theories, and introduce the latest concepts based on their research. It is the lengthiest document they have worked on to date.
What Is a Thesis?
The thesis is a document written by the students pursuing the graduation or post-graduation course to get their degree. It is a document written as per the student's understanding of any particular topic. The student studies any research conducted on that topic and explains the same through his work. It is a lengthy document but not longer than the dissertation.
This is the basic definition of these two documents- Dissertation and Thesis. Now, in the next section, let's get a closer look at how to write them individually.
How to Write These Academic Documents- Dissertation & Thesis?
From the above section, you might have got a clear idea of 'what is a dissertation and what is a thesis,' right? Now, in this section, you can look into how to draft a dissertation and thesis. So, let's get started!
How to Write a Dissertation?
The dissertation writing process is a tough challenge for students. Many of them struggle with drafting the document, and this section on how our experts write a dissertation can come in handy for them. So, let's get started!
Start with a Research Topic
Our experts get a clear idea of your topic for research. If your professor has already assigned a topic, then it is well and good. But if not, then the focus is on deciding one best topic.
Check All Document Requirements
The second step is to check for all the requirements. A dissertation is a long and tedious document; so, we make sure to check all the requirements to ensure no mistake is made in the document.
Do Some In-Depth Researching
Now, our experts focus on the research part. They make sure to go through various sources like books, journals, articles, blogs, etc., to collect information on any topic which are not accessible for all students.
Get a Clear Outline & Format
The next thing our experts focus on is a proper outline and format. Yes, when your document is structured right and includes a clear format, it helps our writer draft a perfect piece and impresses your professor.
Start with the Writing Part
Now, our writers give their complete attention to the writing part. They make sure to include all the important information they've collected, follow a clear structure, and complete the task on time.
Proofread Before Submission
Our writers' last step of dissertation writing is to proofread the document before submitting it to the professor. It includes grammar check, spelling check, rectifying errors, checking for plagiarism, etc.
These are six simple steps using which our experts easily draft a dissertation. From this section, you can also observe that all these points are important and basic for scoring good grades.
Need Help with Dissertation?
Get a 100% Original Dissertation Written by EXPERTS
Get Help
How to Write a Thesis?
Thesis writing is another challenging task for students, especially the ones in college. Since this is their first long document, they get nervous and stressed while writing it. If you can relate to this situation, then learn how to write a thesis from our experts.
Topic Selection
The first step of writing a thesis is topic selection. Our experts dedicate enough time to brainstorm and find an interesting topic to impress your professor and get you some bonus points.
Requirements Understanding
Once they finalize a topic, they go through all university guidelines to ensure they follow them all and do not miss any as it would lead to rework on the whole document.
Information Gathering
The next thing our experts take care of is information gathering. Our experts spend hours and days collecting information from various sources like books, newspapers, articles, journals, etc.
Outline Preparation
Our experts then prepare an outline for the thesis. They make sure to include every important section of the document in the right order. A clear outline will help in fixing a path for proceeding further.
Initial Drafting
The next step of this process is preparing a draft. Our experts spend their quality time writing the document. They draft this piece as if it is the final document. They consider all requirements and guidelines while drafting a perfect document.
Editing & Proofreading
It is the last step of our experts where they do editing and proofreading. First, they go through the entire document to check if any errors are left, then edit, proofread, and finally submit the flawless document.
These are the six simple steps our experts follow in drafting an impressive thesis every time.
What Is the Difference Between Dissertation and Thesis?
Now that you have got a basic idea of what dissertation and thesis is, so, let's get into what is the difference between dissertation and thesis:
| | |
| --- | --- |
| Thesis | Dissertation |
| It is completed when the course is about to end. | It is completed during the course period. |
| It is the research done to prove your knowledge on the topic. | It is an opportunity to discover new knowledge on the topic. |
| This document is shorter than a dissertation in length. | It is a longer document as compared to the thesis. |
| It includes presenting existing information. | It includes developing new concepts and information. |
| In this, you chose a stand and defend it. | In this, you start with a hypothesis and prove it. |
These are the major differences between the dissertation and thesis. If you want to know more about dissertation vs. thesis, then search online or talk to our experts. If you are stuck with them or need help, then read the below section!
Who Can Help Me Write a Dissertation or Thesis? We Can!
The main concern of students working on their dissertation or thesis is, "who can help them with their academics?" If you are also wondering the same, don't worry, our Dissertation help experts will help you!
Yes, the professional writers of Assignment Desk are the best in this, and if you seek help from them, you can avail these benefits:
Professional work
Experienced writers
In-depth knowledge
Flawless document
Perfect structure
Interesting topic
Free Plagiarism report
Hassle-free refund
Pocket-friendly prices
Unlimited free revisions
These are only a few of all the amazing perks you can get when you seek assistance from our experts. So, what are you waiting for? Reach out to us at the earliest and buy dissertation writing service with amazing benefits!
Order Now
FREE Tools
To Make Your Work Original
FREE Features
Topic Creation

Outline

Unlimited Revisions

Editing/Proofreading

Formatting

Bibliography
Get all these features for
USD 84.3FREE