Latest Social Media Dissertation Topics for 21st Century Students
30 Jul 2022
15572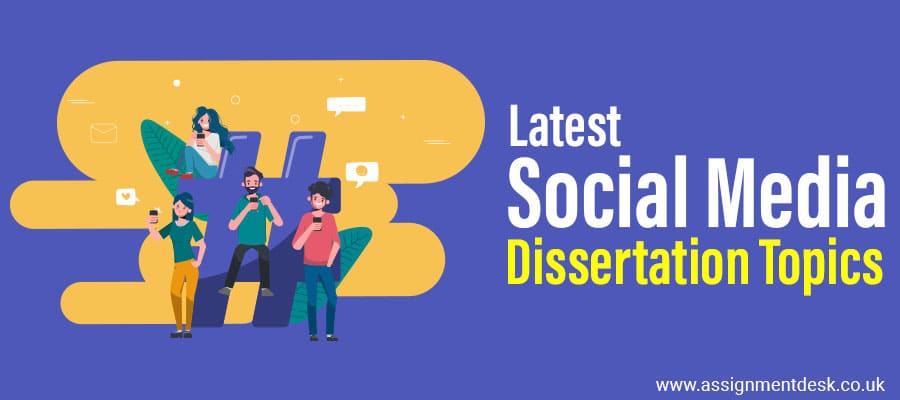 In recent decades, the world has changed very fast, and it is hard to keep up. With changing times, social media dissertation topics are increasingly becoming a popular choice for students. Issues are available in abundance, but to secure top grades, you need the one that is unique, relevant and impacts society. It would be best if you had a topic that makes the long process of dissertation writing an exciting journey.
What Constitutes Social Media?
Social media is a combination of web-based applications or platforms developed, operated, and maintained by social media organizations. People can share information, ideas, and interests and express themselves on these platforms using videos, photos, comments, and texts. In addition, online social networks can be created on social media connected by a social media profile to different people or groups of people.
It is different from traditional media as it offers two-way communication to the user who was absent in the older forms of media. It enables constructive contributions and discussions. With its increasing influence on our life, topics related to social media are increasingly becoming popular in dissertation writing.
But what is a dissertation, and why one is required to write it? Below is some information regarding it.
Dissertation Writing and When Is It Required?
It is a document that a student must submit to prove he is eligible for a particular degree or qualification to pursue a profession. It is a detailed document that consists of a student's knowledge of the topic and the details of the research and findings. The basic structure of a dissertation is:
Title Page
Abstract
Content Table
Introduction
Literature Review
Methodology
Results
Discussion
References
A dissertation can be of varying details, complexity, and research level, which depends on the university and program. The time taken may also vary according to this.
The grades you aim to achieve in a subject depend primarily on the quality of your dissertation. The most important part is the topic selection. As many dissertations are written yearly, topics get exhausted or outdated quickly. Therefore, one has to choose a theme carefully after doing thorough research.
Here is a list of the most exciting and trending social media dissertation topics that have significance in the current social media scenario. You can choose or get an idea about the topic of your interest from the list.
Need Personalised Assistance from Our Experts?
Share Your Requirements via Whatsapp!
Chat Now
50+ Interesting Social Media Dissertation Topic Ideas
1. Social Media and the World
a). How has social media changed the world?
b). How has social media changed the way we communicate?
c). Is social media doing more harm than good?
d). How is social media contributing to the good of society?
e). Can social media impact political leanings?
f). Studying the use of social media in the COVID-19 era? Awareness vs. Misinformation
g). Has social media made the government more accountable towards the citizens?
h). How instrumental was the role of social media in building consensus for Brexit?
i). Role of social media in promoting gender equality
2. Social Media and Mental Health
a). Impact of social media on a young mind
b). How does trending syndrome affect self-esteem?
c). Why is validation on social media so important for the young generation?
d). Does social media create a false sense of fame?
e). Why are social media and suicide being linked increasingly?
f). Social media helped in reducing the stigma attached to depression.
g). How did social media provide mental support to people stuck alone during the lockdown?
h). How does cyberbullying impact the confidence of young people?
i). Social media can induce an inferiority complex among people.
3. Social Media and Marketing
a). How has social media changed branding techniques?
b). Does brand popularity on social media translate into real customers?
c). Developing an effective social media marketing strategy
d). How is a consumer turned into a product by marketers?
e). Social media - A boon for young start-ups
f). Traditional marketing vs. New age marketing
g). How is personal information used to serve targeted ads on social media platforms?
h). Social media makes companies more responsible for customers.
i). How can resources be used to influence trends?
j). How are companies that don't use social media marketing surviving?
4. Social Media and Traditional Media
a). How has news consumption changed because of social media?
b). Is print news becoming irrelevant in the social media age?
c). Radio on the brink of extinction - Age of Podcast
d). Is television news going to survive YouTube storm?
e). How do subscription-based media models get boosted by social media?
f). Social media has reduced the cost of news gathering.
g). How is social media making people less informed and more opinionated?
5. Social Media and Education
a). Can social media act as an alternative to traditional education?
b). Can virtual classrooms provide complete education?
c). Why should fact-checking be made a permanent part of the curriculum?
d). Are historical facts being altered or rewritten using social media?
e). How is social media addiction reducing the attention span of students?
f). Social media is affecting the reading habit of children.
g). Contribution of social media in the dissemination of information.
6. Social Media and Young People
a). How social media users' intertwined social lives smart teenagers?
b). Explain about the Online communities stating about social media and mental illness
c). What are the repercussions of social media addiction and is it a thing?
d). What can we infer about young people's politics from their usage of social media?
e). Young people's development of resilience: The unexpectedly protective function of social media
f). What do you understand by the term connective journalism? Main potential issues with social media, explain.
g). How social media may be constructively embraced in civic education.
h). Youth education and the sharing of genuine tales on social media.
7. Social Media and Society
a). How is social media helping NGOs in raising funds?
b). Role of social media in raising awareness about environmental issues.
c). Social media plays an essential role in reporting crimes.
d). Was Facebook justified in Cambridge Analytica Case?
e). Is fake news on social media disturbing the peace of our society?
f). How does social media become the voice of the oppressed?
g). Social media has forced people to lead a dual life online and offline.
h). How happy are you can not be measured by social media numbers
8. Miscellaneous
a). Post-Truth World - A world full of alternative facts
b). Is social media helping in reviving democratic values?
c). Social media has made us more citizen than before
d). How did Russia hijack US presidential elections using fake news campaigns?
e). Rags to riches - How are social media stars formed?
f). How did social media expose racism in the premier league?
g). Can social media restriction be termed as curbing of human rights?
h). Is blaming social media for fake news? Are we shooting the messenger?
The topics suggested above are a few of many that can be taken up for your following social media dissertation ideas. But it would be best if you kept in mind a few things before going for one. Below we have elaborated on how to and what not to do when choosing a topic.
Struggling to Find Best Dissertation Topic?
Get a Unique Title & Dissertation Proposal Outline
for FREE!
Explore
You May Be Interested In: Top 5 Best Fonts for Dissertation to Make it Look Organized
How to Choose the Best Topic for Your Social Media Dissertation?
Interest: A topic should be selected based on your interest. Dissertation writing is a long process, and significant research is needed. If the social media dissertation idea is not attractive, you can quickly get bored while reading and writing daily about it. It can impact the quality of your work.
Information: Gather enough information about the field and try to find as much data and work on it. It would help if you started with an area with a broad base. Research for as much material as possible and prepare a list of avenues you want to explore. The material that you gather should help you write the entire document.
Concise: When gathering data, look for aspects that interest you the most. Narrow down your search and start focusing on a particular stream related to your field. You can get confused between different choices, so it is essential to make up your mind quickly and firmly fix it on one topic. You will not doubt your choice after work has started.
Resources: Evaluate the resources available to you; don't choose topics that are beyond them. Your skill sets, level of knowledge and research, funding availability, and peer support should also play a part in the process.
Now, you have learned how to choose a topic, but you must also avoid mistakes that students frequently make while doing it. Read below to understand some common mistakes.
Mistakes to Not Make While Choosing a Dissertation Topic
Writing in a Jiffy: Students tend to hurry while selecting topics without doing enough thinking. As a result, they don't go deep into the subject to explore unique ideas.
No Value Addition: They don't evaluate what they will contribute to the field. They go for the topics that have already been done and are not adding anything new to the area. The document produced is just of average quality that has already been repeated many times, resulting in middle grades.
Choosing Without Discussion: Discuss your topic ideas with your peers and teachers. They can help you refine your search and give an outsider's perspective on your thought process. They can tell you what has already been done and how you can bring a fresh twist.
These are the mistakes that one makes while choosing a topic. Many students turn to us when they can't find media dissertation topics or struggle to write the document. You can rely on the experts of the Assignment Desk for unmatched assistance with your dissertation.
How Can Assignment Desk Help You Write a Social Media Dissertation?
Assignment Desk is a popular choice among students seeking assistance with dissertation writing on different subjects. We have a team of experts who have been helping students for years. Some features that you may love about our dissertation help service are:
Unlimited Revisions
Plagiarism-Free Work
Refund Policy
High Customer Satisfaction
On-Time Delivery
You will get the best solutions from us that can get you the highest grade in your dissertation. We work for your success. Order Now!
Need Help with Social Media Dissertation?
Get a 100% Original Dissertation Written by EXPERTS
Get Help
Frequently Asked Questions
1. What Is an Ideal Approach to Writing Social Media Marketing Dissertation?
One of the best ideal approaches for writing a social media marketing dissertation is that students should choose the topic, conduct in-depth research on the same, and identify all relevant information and sources. In addition, the writing should be firm and clear, attracts readers' attention, and last proofread the dissertation to make it error-free.
2. Why Should I Buy a Social Media Marketing Dissertation Topic From You?
Social media marketing is one of the competitive fields. It requires attractive and eyes catchy topics to grab readers' attention. Our expert writers provide the best and most impressive social media marketing dissertation topic based on in-depth research that helps students secure higher academic grades.
Let Us Help With Dissertation
FREE Tools
To Make Your Work Original
FREE Features
Topic Creation

Outline

Unlimited Revisions

Editing/Proofreading

Formatting

Bibliography
Get all these features for
USD 84.3FREE