Guide to Know 6 Types of Essays in Academic Writing
24 Apr 2023
645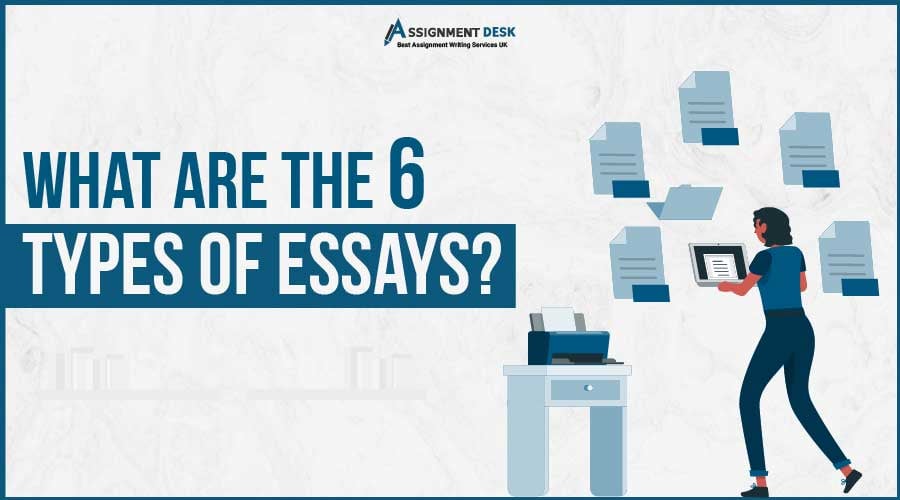 Writing skills are something that is so essential to the academic career that you cannot ignore or bypass them. Some of these skill-set includes drafting an essay flawlessly. But there are several types of essays you need to work on depending on the purpose. Each type of essay has a different purpose and writing style to make it distinct from the others. Moreover, the aim of these write-ups is to present information in a way that makes the reader understand it. So, you must be thinking, what are these essays, and how many different types of essays are there, right? If yes, the following sections can resolve all these queries and make you aware with the common types.
Different Types of Essays That You Need to Know
Essays are the most common writing form that pupils receive in their academic careers. Although there are numerous types of essays that you come across that might confuse you as they look similar, they serve a different purpose and have a different writing style. Learning the differences is crucial for your academics as it can earn you higher grades. So, let us know about the most common essay types that you work on:
Narrative essay
Descriptive essay
Expository essay
Persuasive essay
Argumentative essay
Compare and contrast essay
These essays will be discussed in the following sections to make them easier to understand.
Get Essay Writing Service
1. Narrative Essay: A Complete Guide
A narrative essay is crafted with the purpose of telling a story. It often explains a personal experience of the author and is written in the first person. It includes emotions, feelings, and creativity.
While you write a narrative essay, you have to include some distinctive features that are:
Character: Although the protagonist will tell the story, it may have some supporting characters, which you must include.
Plot: Plot means the events happened in your story and how they were followed by others.
Setting: It means the time of the event and the location or place where it happened.
Conflict: This is the problem or issue the protagonist has to solve in the story.
Theme: This is the moral of the story or what the story made you learn.
After knowing the features, learn how a narrative is divided:
Introduction
It creates a curiosity in the reader's mind to grab their attention. This can be learned in detail by going through the step-by-step guide to write an academic essay, which includes the tactics to handle an introductory part.
Body
In this section, you have to explain your experience in detail, along with all the incidents.
Conclusion
In this part, you will discuss the climax of the story and what you learned from it.
Need Help With Essay Writing?
Get Custom Essay Written by a Professional Writer on any for TOPIC.
Get Help
2. Descriptive Essay: Know-How in Brief
A descriptive essay is one of the crucial types of essays because it describes a particular object or event. It includes all the sensory details like sight, smell, touch, taste, and sound. Similar to a narrative essay, you must draft it with creativity, but unlike a narrative essay, it does not tell the whole story and only defines a specific object. While drafting this essay, you must let your creative juices flow and describe an event in a way that it sticks in the memory of the readers for longer. It might be challenging for several students, which is why they seek custom writing service from experts.
A descriptive essay is classified into three sections:
Introduction
In this section, you have to define the purpose or aim of the essay. In addition, it must set a particular tone for the entire content to make the reader focus on it till the end. For this, you can seek help from essay writing service to make your work smooth and quick.
Body
In this section, you must use facts, feelings, and figurative language to explain your ideas. You can also use transition words to connect your ideas together.
Conclusion
This section wraps up or summarises all the ideas discussed in the entire essay. It does not include any new information. You can use an essay typer tool to make it effective.
3. Expository Essay: A Detailed Description
An expository essay aims to provide all the information about a particular topic without including an opinion. In this, the writer does not discuss their perspective and tries to maintain a balance with the data. In other words, these essay types only provide an idea of the topic without creating an argument. While drafting this, you must explain both ends of the coin and maintain a balance between them.
It has five features that make it distinct from others:
Instructive: It must include all the authentic facts about the topic.
Specific: It must include specific details and information.
Organized: It must follow a proper order of events for this, you can refer to essay examplesavailable online.
Semi-Formal: It does not include the first person or opinions.
Objective: It has the aim to make the reader know all the information.
An expository essay has three sections that make the perfect structure as follows:
Introduction
The introductory paragraph of these types of essay includes background information about the topic.
Body
In this section, you need to explain the information about the topic in a balanced way without forming any opinions.
Conclusion
In this section, you must summarise all the facts and the main ideas about the specific topic.
4. Persuasive Essay: An Insider's Guide
These are the different types of essays that work to persuade the readers. In this, the writer tries to convince the reader to agree with his perspective on a particular topic. To do this, he includes all the arguments and supporting elements that focus on the particular side he is on.
If you know how to follow the structure mentioned below, you can write this essay at halftime only. This essay is divided into three parts, which are:
Introduction
This section uses an emotional hook to attract the reader. To do this, you should persuade the audience to connect and be on your side.
Body
This section includes all the supporting elements in favour of the side you are on. It also incorporates the opinion necessary to make readers agree with your point.
Conclusion
This section is somewhat different from other types of essays as it tells the reader to think, What now?
Order Your Essay
5. Argumentative Essay: What You Must Know
As the name suggests, these essays include arguments about a particular side of the topic. To do this, you must consider the facts, elements, and evidence from that side and give your opinion or perspective. You must construct this essay to convince readers to be on the same side you are discussing. This essay requires a solid thesis statement, which should be able to convince the audience. To make it effective, you can read how to write a good argumentative essay which will guide to you draft an effective argumentative essay from the scratch.
An argumentative essay is divided into three parts:
Introduction
In the introductory paragraph, you have to introduce your topic. In addition, it must include your claim and hook to attract the readers. In addition, it should clearly present the perspective of the writer.
Body
This section should support your claim with appropriate evidence and counterarguments. You must include the main ideas systematically to make them easy to understand. To make it easy, you must choose a creative topic for your essay within your interest area.
Conclusion
In this part, you need to summarize all the arguments and supporting elements you have discussed in the other sections. In addition, you must also include how you have proved your points.
6. Compare and Contrast Essay: A Brief Explanation
As the name suggests, a compare and contrast essay is one of the types of essays in which you must compare and contrast two different subjects. These can be places, objects, themes, or anything else. While drafting this essay, you need to consider those subjects with some or other distinct points to compare. Otherwise, you will struggle to focus on the differences.
Moreover, there are some features that make these essay types differ from others:
Thesis: You must choose topics you can work on easily and comfortably.
Organization: In these, you must follow a proper structure to make it easy to read and understand.
A compare and contrast essay follows a structure that is divided into three parts:
Introduction
In this section, you should introduce all the subjects you will be writing about in the essay. If you struggle with this, you can seek University assignment help from experts.
Body
In this section, you must focus on the differences between these subjects and compare them.
Conclusion
In this part, you have to wrap up the comparison you have made in the essay.
So, these were the different types of essays that you might receive as your next academic task. Moreover, if you are still confused with these or have any doubt, you can seek help from our experts.
Struggling with Essay Writing? Hire Assignment Desk's Expert
If you are still struggling to write types of essays, experts at Assignment Desk are at your service. We will leave no stone unturned to help you overcome all the challenges you are facing. Our professional writers are available 24/7 and can help you even at odd hours. In addition to this, we assure you that we will provide 100 percent original and unique content that is well-researched according to the requirements. Not only do we offer essay help, but we also have different types of academic writing services to help you. So, what are you waiting for? Resolve all your queries with us and open your doors to success.
Avail Essay Help
FREE Tools
To Make Your Work Original
FREE Features
Topic Creation

Outline

Unlimited Revisions

Editing/Proofreading

Formatting

Bibliography
Get all these features for
USD 84.3FREE