Writing an Essay in Half Time: Secrets Revealed by Best Essay Writing Service
13 May 2019
3358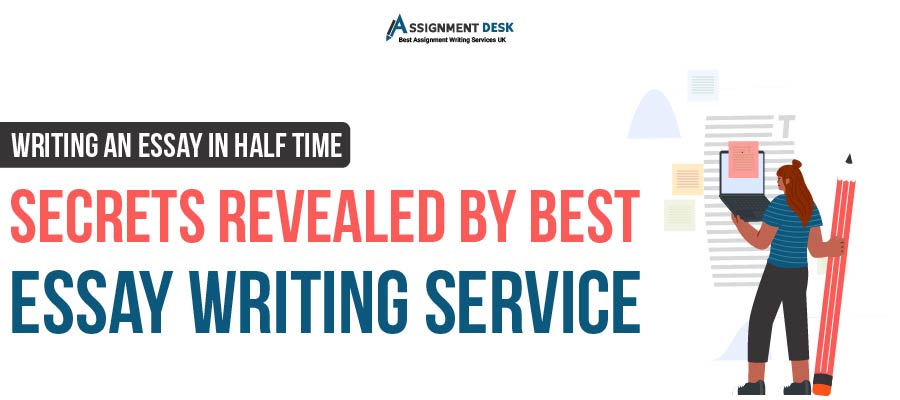 OHH...
The deadline is here and as usual, you forgot to work on your essay. Essay writing seems daunting, but not submitting them on time can land you in troubles. Great troubles actually.! Your document may be rejected or you may end up losing your precious grades. Well, you have already wasted a lot of your time so instead of talking about the repercussion of late submissions let's see the tricks essay writing service suggests to avoid them.
This is a secret that our best essay writing service providers suggest to make sure that the documents are prepared in the most stringent deadlines.
Secrets to Writing Essay Quick Revealed
Secret#1: The Quick Plan (One-Third of the Time)
A lot of students get stuck here. They plan longer than required. Just a third of the time that is left in hand would be more than enough to plan essay. According to the best essay writing service providers in the market, these documents have a limited number of words and thus need no more than a third of the time.
Don't Know How to Plan the Complete Work?
No, worries. Here is what you are expected to do in the time.
Outline Your Work
Creating an essay outline is a necessary step. The essay writing services in UK suggest it is vital to have a rough outline before you start working on the documents as you have a step to move forward. The very basic and standard outline is
Introduction
Body
Conclusion
Understand the Question
When planning your work read the question thoroughly. Understand what is the motive of the question and why is it asked. See if you can build some interesting prompts or find a quote related to it.
(Yeah...Finding Relevant Information Is Important)
Since you are running out of time, do your research all the time.
Thesis Statement
During the planning process itself, you can write the thesis statement. Just think of different ways in which you can do so and scribble them. The one that impresses you the most can be used.
(Decide an interesting topic for your work before moving ahead with the work.)
Secret#2: Executing the Plan (Half of the Time)
Many students may find it difficult to write an essay because they lack writing skills. To write a perfect essay it is not just the information that is to be taken care of, but the tone too should be considered. If you want to know about different types of essays, read here and if you want to start writing, go ahead.
Not Sure How to Write Your Essay?
The essay help experts have mentioned here how to write a perfect and engaging essay.
Paragraph 1: Introduction: A Perfect Start
It is important that you write a perfect document that makes sense. And writing an engaging introduction is always important. To write an introduction that keeps your reader involved you can take care of the listed things,
Use a hook
Write a reflective thesis
Show a clear transition
Paragraph 2: Main Body Paragraph 1: Main Point 1
Make sure you write the body in several paragraphs each talking about just one point explained in the best possible manner. The essay writing service providers suggest, use at least two to three paragraphs in the main body with proper bullets and numbering.
Last Paragraph: Conclusion: The Final Words
Wind up your work in the most precise manner. The final words of the conclusion need to be written in a manner that reflects the complete finding. Write a concise paragraph that reflects the work in the most beautiful way. It should have a brief of the complete document and also state the final argument clear and loud.
Secret #3: Some Reverse Engineering (The Left Time)
Well, this counts for some time and smart skills. Well, not wasting a lot of time with words, here is what you need to do.
Decide a Topic NOW!!!
Yes, frame the entire essay and then decide your topic. It becomes much easier.
Warning: Do not work aimlessly, be prepared with a theme and a tentative title that can help you take your work further.
Turn Your Loved Ones to Your Critics!!!
Ask your family and friends to read your documents and recheck them. It is important that a third person reads the complete document to reflect if the essay meets its purpose or not.
Warning: Proofreading is important. So make sure you save some time for working on the final edits and structuring of the work.
Spilling the Beans...
Do not forget to add references to the document that reflect the perfect work. It is important that the essay has all the sources marked properly to ensure you get the best results.
The Final Takeaway...
Writing an essay in a limited time is not a problem. It is important that you plan to work properly. So next time if you think you are running out of time for your writing task, just see if the magic works for you and get your task accomplished in no time. If you find any difficulty while working on your writing task, just buy cheap essay help services from us and get your work done.
Here are a few tips on blog writing by professional bloggers.
FREE Tools
To Make Your Work Original
FREE Features
Topic Creation

Outline

Unlimited Revisions

Editing/Proofreading

Formatting

Bibliography
Get all these features for
USD 84.3FREE