An Exclusive Guide on How to Write a Detailed Narrative Essay
01 Apr 2023
618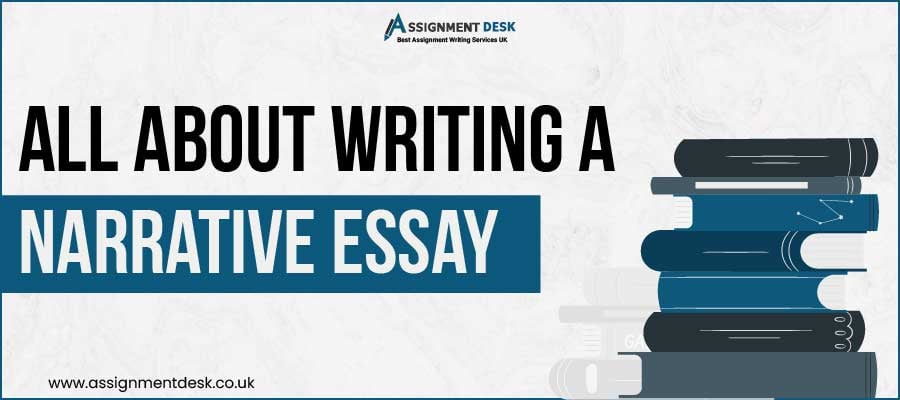 You might think, How do I write the opening paragraph of my essay? Let's understand it with an example: Rohit is studying at a college and is pursuing English as a streamlined subject. He has been given a topic to express his thoughts and imagination about the five best childhood memories he will remember throughout his life. Now, he needs to convey the message to the reader so that he understands and connects with it quickly. To conclude as whole, if you want to express your thoughts through your writing, you can think about narrative essay. Hold on, it often comes when you don't understand how to write so many academic projects. This makes the situation messy and unavoidable. To make it easier, you can take help of an essay typer to make your journey smooth and convenient.
What Is a Narrative Essay? & Its Purpose
If you are creatively telling a story this academic project is the best. It is used to examine your ability to tell a story clearly and compellingly. This tests your thinking aspects of how and where to begin and end your story to make it creative and eye-catching. It is a different type of academic task that gives you freedom to express your emotions. It is an open book that defines someone's life or torn pages from a diary. Therefore, this consists such as personal experience, moments of defeat and victory, and childhood memories with a slight touch of the reader's imagination. It could only happen if you get your hands on narrative essay. Now to understand it better, you must know the purpose of writing it.
Get Essay Writing Service
Purpose of Writing a Narrative Essay
If you are studying in a creative field and pursuing undergraduate or postgraduate courses, you often get these types of academic projects. The purpose of writing it is self-explanatory. Therefore, it is to make the reader understand what you are writing through storytelling. It is written to encourage, entertain, and educate the reader. Thus in the same way when you write the content by including some points of personal experience, it becomes engaging. It will give you clarity if you know the reason why you are writing. Thus, your query of what is a narrative essay will be solved. Before going ahead, you need to look at different types and how to write one.
But before that, you must have an idea about narrative essay topics as it will help you know the various niche you can write in. If your professors have given you leverage to choose topic of your choice, then it will help you. Some of the following informal topics are:
Childhood memories
The toughest decision you ever made
The first time you've won something
The first writing experience
Life changing moments
Thus when you have understood the purpose of narrative essay and its topics then it's time to move to different types of it.
Different Types of Narrative Essay
If you are thinking, how to write a narrative essay?You need to know the essential elements required to make it perfect. Moreover, when you write a classic introduction, informative main body, and relevant conclusion, it becomes easy to frame the information on it. So, now you need to know different types of essays.
Personal Narrative Essay: It includes the information in the context of a person's personal experience. Moreover, it involves storytelling of how to overcome the obstacle or fear of a particular moment in someone's life.
A Memoir: It is similar to the personal narrative essay but focuses on certain periods or occurrences in a person's life. Likewise, its main focus is on a particular relationship with their own identity, addiction, struggle, etc. Hence it can be in the form of an autobiography, too.
Fictional Narrative Essay: It showcases the information by mentioning storytelling elements. Therefore, the topic of this type of narrative essay can be science fiction or historical fiction.
Literacy Narrative Essay: It showcases your experience with literacy and how it has influenced you. It tells a person's story of how different moments have impacted her life.
Thus, if you have understood different types of narrative essays, now you must know how to enhance your essay writing skill. When you begin to write in various forms, it will nourish the project's credibility.
Need Help With Essay Writing?
Get Custom Essay Written by a Professional Writer on any for TOPIC.
Get Help
How to Write a Narrative Essay?
As discussed above, to know how to start a narrative essay, you must know the details of it. When this particular question comes into your head, try to focus on the key elements you will be mentioning in the write-up. Some of them are listed below:
Detailed Introduction: When you begin writing the introduction, it must make reader engaged. Usually, the main hooks come in the form of proactive questions, life stories, retrospections, factual data, and personal experiences. Moreover, it should give reader a message of what you are trying to say.
The Main Body: If you are writing a narrative essay, then you need to talk about the event that changed your life. You must convey the information in a way that covers all the essential details, like the characters, miracles, life-changing points, etc. It covers the majority of the information about the topic.
Conclusion: The correct way to end a story is to maintain relevancy throughout the whole content. However, you can use quotes that create connectivity with the audience so they can better understand your imagination. Write in the form of an introduction like, Have you gone through the same experience or not?
However, these are all essential points when attempting to give the content a proper narrative essay structure. When you think what would happen if you could not give an outline to the content, it makes you even more anxious.
In addition, the above information signifies narrative essay format because you know this is the basic outline you need to write in the document. It will become easier for the reader to understand. Therefore, understand it better by looking at different examples.
Also Read: Nature v/s Nurture Essay - An Answer to All the Unresolved Questions!
Interesting Examples of Narrative Essay
Writing a narrative essay, it might come into your head whether there are any interesting examples of it or not. If you want to make it accountable and understandable to the readers, try to take the references from websites and see how others have cited the examples. It is a shortcut technique that can make storytelling process easy and convenient.
Narrative Poetry: It is a difficult form of essay writing. It conveys the voices of the narrator and the characters. It is a poem in the form of a story. The techniques that you can use in this are rhyme, similes, metaphors, etc. As it is more detailed, it requires more attention.
Folk Stories: They are the oldest form of storytelling. It mainly consists of fictional content based on cultural identity and the values passed on to each generation. It includes jokes, proverbs, common imagination, and songs related to a specific group or subculture.
Scripts and Screenplays: If you want to know how to write a narrative essay step by step, then you need to know the different types of it. It can come in handy if you have to write screenplays and scripts in a way that viewers can understand what you are trying to convey.
Novels: This is a type of narrative essay that most of you are familiar with. It contains informative content to be published in books.
Myths and Fables: It is similar to folk stories. Myths are works of fiction that describe the mysteries of life. Fables is a metaphor you can use in your content with human reference.
On the other hand, if you have understood the different examples and to write on them and deliver the best quality. The best way to start a narrative essay is to know the positive and negative points and analyse whether it is the right thing to do or not.
Order Your Essay
Pros and Cons of Writing a Narrative Essay
Writing a narrative essay is a main tool to express your imagination and how to creatively tell a story. It comes with its own set of positive and negative points. Moreover, now you can decide whether it is the correct style to write. Thus if you are one of those people who don't know how to analyse and examine the impacts of writing, then you can avail the help of custom writing service to make it easier.
Pros of Writing a Narrative essay
The best tool to convey personal thoughts and experiences
It makes the reader engaged through vivid and creative details
This offers vast growth opportunities
Used to teach a lesson or to convey a message to the reader.
Cons of Writing a Narrative Essay
It can be a challenging project because maintaining balance between storytelling and the viewer's needs is not easy.
As a result it is not effective when you convey factual information or arguments.
It becomes subjective sometimes, as the reader's implications of the narrative essay may cause a difference and become problematic for you.
It may include inappropriate information that a reader finds abrupt.
Moreover, this situation can be resolved if you know how many paragraphs in a narrative essay, especially when you are confused about how many words you need to write. To your rescue, you can look at the expert's section below.
Need Help? Get the Instant Help from Our Experts
Still, if you are figuring out how to write a narrative essay, then write from the audience's point of view, which is how they will perceive the information. If you feel you cannot complete the academic projects, refer to this page and resolve all your queries. We have the best team of experts who can help you write, edit, and proofread the document perfectly. Therefore, Assignment Desk will give the best results and top-notch quality projects. Since you will get the best support with 24*7 availability.
Imagine if you are writing on complex topics and get confused about how to increase your writing speed if a deadline is near?. If you need help with this, you can take assistance from essay writing service and resolve your queries.
Avail Essay Help
FREE Tools
To Make Your Work Original
FREE Features
Topic Creation

Outline

Unlimited Revisions

Editing/Proofreading

Formatting

Bibliography
Get all these features for
USD 84.3FREE