INTRODUCTION
Project management refers to the method of organising, managing and controlling all the activities or task related to the project. This includes application of techniques, tools, skills and knowledge to project related activities for meeting up its set objectives. Project report is about QA Higher Education(QAHE) which work in partnership with colleges and universities in UK for recruiting, marketing and delivering the range of programmes from foundation level to post graduate degrees (Alias, 2014). This report contains Project Initiation document along with Shareholder analysis, risk register, Gnatt chart along with core elements and critical path which support in execution of project. In addition to this it also includes the significance of risk management plan in project and effectiveness of PRINCE
TASK 1
Project Initiation Document (PID)
Before starting a project it is very essential for a project manager to document all the activities in an effective manner. This can be done using Project Initiation Document (PID) which form up the foundation of project which act as a reference point for clients as well as project team (Burke and Barron, 2014). It includes information about objective, estimated budget, timescale, risk involved and approaches used under project. Following is the table of Project Initiation Document:
Title of project

Estimated budget

QAHE required around 200000£ for purchasing computer, laptop with latest processor. In addition to this QAHE need 100000£ for the improvement of infrastructure of campus.

Start date

30/05/19

Finish date

30/11/19

Project sponsor

Project manager

Main objective

· To renovate classrooms and computer labs

· Refurbish the campus for developing an environment of learning

· To ensure that classroom must fit for teaching in 21st century with required equipments.

Overall suggested approach

PRINCE 2 approach used in this project.

Major risks involved in project

Cost risk, schedule risk, Performance risk, strategic risk, technological risk, operational risk, risk associated with external hazards, legal risk, resource risk and scope risk.
Stakeholder analysis:- This provide an detail information about the stakeholders that are involved in current project, reason behind their interest and things that a project manager perform for managing the interest of their stakeholders (Eskerod and Jepsen, 2016).
Stakeholder

Reason behind their interest in project

Things to be done for look out the stakeholders

Investors(Internal and external)

Internal Stakeholder:- It includes members of university like director, owner, trustees etc. who invest in refurbishment project with an aim to develop campus that provide a positive learning environment.

External Stakeholder:- It includes government, educational agencies etc. who are willing to invest in refurbishment project of QAHE. Their aim behind investment is to promote an advanced educational and learning facilities to students in order to prepare them for a successful career ahead.

The project manager must ensure about the expectation of internal stakeholders regarding the development of proper infrastructure of campus must be fulfilled effectively throughout the project. In addition to this it is also essential for project manager to perform its operations ethically so that the goal of government toward promoting education must be accomplished.

Suppliers

It includes the dealers that provide infrastructure material related to furniture, computers, laptops etc. These suppliers are interested in this refurbishment project as they get an order of providing large number of stuff which provide higher benefit to them.

In order to make all the stuff related to refurbishment available without any delays it is very essential for project manager to look after the suppliers. This can be done by providing them fund in advance so that they can arrange the required material. In addition to this list of required material should be delivered to suppliers in advance for ensuring timely delivery.

Teachers

The lecturers and other staff members are interested in this project as they get more technical instruments that support them in performing their operations effectively. As they can explain the course work to students much more easily using projector or related technical gadgets.

The project manager is not only responsible for the accomplishment of project rather it is also required to ensure that the objective behind the project can be accomplished. So, the project manager must communicate with teachers and provide them proper guidance regarding the procedure of using new technical instrument for performing their operations.

Interior designer

As this is a big project which provide an opportunity to interior designer for earning high capital over their project.

For accomplishing the project effectively and in planned manner, project manager must ensure that the proper fund as well as tools are available to designers so that they can perform operations properly. Apart from this a proper plan must be prepare in order to provide a detail information regarding the changed or advancements that are required by QAHE in their campus. So that designers will not get difficulty in performing their work as they known the direction of their operations.

Technical staff

These are the individuals who are responsible of arranging and setting the computer systems in lab and other areas of campus. The main reason behind the interest of technical staff in refurbishment project is that they get a chance to be a part of such as big project. This provide them a chance to earn more money and since the project is of university so they get a chance to again earn money if there is any issue arises in computers.

Technical staff plays an essential role in refurbishment project as they are responsible for properly setting up the computer and other technical system in campus. So it is essential to maintain their interest for which project manager can discuss their future plan with these technical staffs. They can also provide advance payment to technical staff so that they remain interested and dedicated toward their project tasks.
TASK 2
Risk register
Each business project involves certain types of risk that may leads to failure of project, therefore it is very essential for a manager to analyse the risk involve in project. This information is used to manage the risk that support in getting the chance of achieving better result (Heldman, 2018). So for this a document is prepared known as risk register which is prepared by project manager for presenting the detail about the risk that are involve in current project. By preparing the Risk register, QAHR will be able to determine the risk involve in its refurbishment project so that they can formulate an strategic plan in order to deal with such risks. This refurbishment project include following risks:
| | |
| --- | --- |
| Type of risk | Impact |
| Cost risk | It is defined as the risk that may result in escalation of project cost because of poor estimating accuracy or damage that may occur during project execution. In order to mitigate from such risk owner must ensure that the tools or material used for refurbishment must be of high quality and doesn't lead to damage (Heldman, 2018). Apart from this owner must also keep some cash reserve so that it can be used to pay off expenses which may increased during execution of project. |
| Schedule risk | It refers to the risk associate with activities that they will take longer time then expected which may increase the cost of project. In order to mitigate from such schedule risk the project manager must require to inspect the activities and compare them with planned schedule for determining the early signs of risk. |
| Performance risk | It refers to the risk related to the failure of project in producing the result which are set during project specification. So in order to mitigate from such risk the project manager must ensure that the activities are performed in planned direction toward the accomplishment of objective. |
| Strategic risk | It refers to the risk that are generated from errors in strategy for instance selection of wrong computers (Kaiser, El Arbi and Ahlemann, 2015). In order to avoid such risk the project manager must ensure that the computer systems must be arranged with advanced features for fulfilling the objective of QAHE. |
| Technological risk | It refers to the risk related to technological failure or some technical issues that may be faced by teachers which teaching students. So in order to avoid such risk the owner can provide training to its staff member for providing knowledge regarding the method of operating such technical instruments. Apart from this owner can place some technical staff who are expert in solving such technical issues. |
| Operational risk | This risk arises from the poor implementation and problems that may arises during execution of process such as manufacturing, storing, transporting etc. In order to avoid such risk the project manager can use such transport vehicle which doesn't lead to breakage of furniture and computer. |
| Risk associated with external hazards | It refers to the risk associated with uncertainty which includes natural disasters like flood, earthquakes, terrorism, storms etc. These issues are harder to mitigate but the project manager must use such stuff in infrastructure that make less harm in situation of earthquake. |
| Legal risk | It refers to the risk that are associated with laws and regulatory obligations which may include contract risk or litigation bought against institutions (Lientz and Rea, 2016). So for avoiding legal issues owner must ensure that each activities and action must be taken after getting approval from government. |
| Resource risk | It refers to the improper use of resources that include more wastage and in turn may cause extra cost in project. For mitigating such risk project manager is required to formulate a proper resource allocation plan so that the resources are assigned as per the requirement of particular task this will ensure proper utilisation of resources. |
| Governmental risk | It refers to the risk associated with the management of various project related activities under the legislation of government. In order to avoid such risk the owner of QAHE must ensure that each standard and policies that are fixed by government regarding the education services and framework must be involved in project. |
TASK 3
Gnatt chart along with core elements and critical path
For conducting project successfully it is very essential for a project manager to schedule the activities that are required to be performed for accomplishing the project objective (Lock, 2016). For this QAHE is required to develop a project plan which provide information regarding the activities performed during project.
Project plan:- It refers to a written document which contains the information regarding the time as well as activities that will be performed for completing the project. For executing the refurbishment project of QAHE, Gnatt chart and critical path method is used by project manager. This will support in scheduling the activities as per their priorities in project and it also support manager to control the activities performed during execution of project.
Gnatt chart:-It refers to a tool used for the management of project which graphically illustrate the activities as per their schedule. By using this tool QAHE will be able to plan, coordinate and track the specific tasks that are required to be perform in a project (Marcelino-Sádaba and et. al., 2014). This further support in processing the project activities effectively which ensure proper utilisation of all the resources.
Critical path:-It refers to the project management tool which allow manager to arrange the activities in a way so that they consume minimum time in execution of operation. By using this method QAHE will be able to sequence its activities and managers will be able to determine the shortest and longest for completion of project which saves time as well as cost.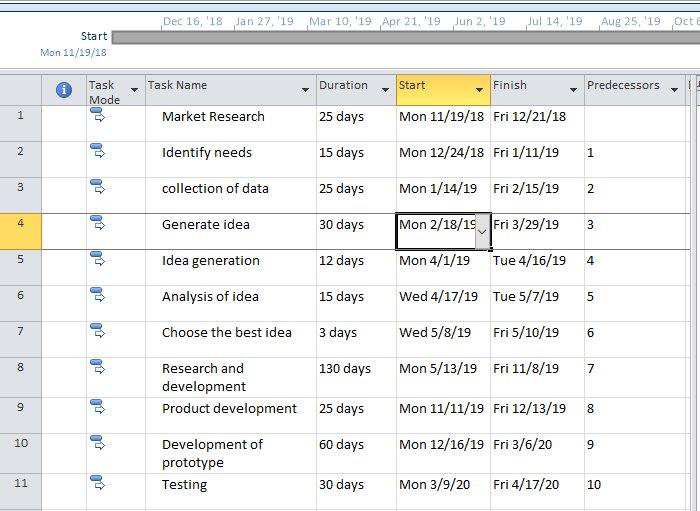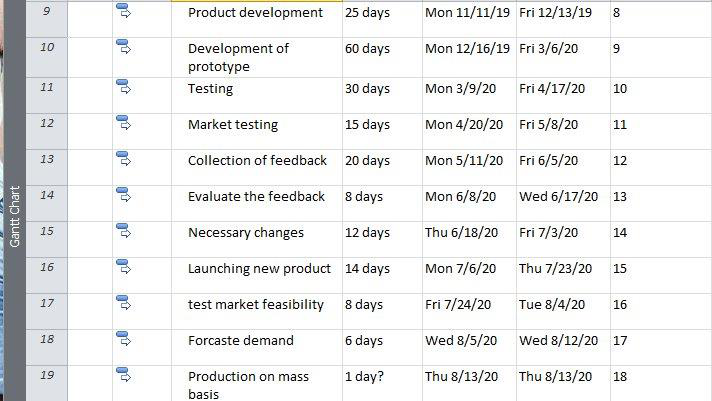 TASK 4
Significance of quality risk management plans
Risk management plan refers to the document which is prepared by a project manager to forecast the risk involve in project, estimating its impact and identifying the responses to issues (Pinto, 2014). This help project manager in keeping all the activities on track and also support in determining the consequences of not rectifying issues. Following are the importance of risk management plan:
Identifying the solution of risk involved:-Risk management plan help in determining the solution of risks that are involved in project. It help project manager in determining the risk involved in project and measures that can be opt for getting rid of such issues. By determining the measures to solve issues, project manager of QAHE will be able to deliver the positive outcome of efforts that are made for the success of project.
Ensure good quality work:-Risk management plan also support in ensuring the good quality of work as issues arises during execution of project hamper the work which limit the availability of time of its completion (Silvius and Schipper, 2014). Hence in the limited availability of time the quality of work get affected. Therefore, by using risk management plan the project manager of QAHE will be able to rectify the error and restrict them to bring negative consequences in project work. This will support in achieving the objectives behind the execution of project.
These are the significance of risk management plan, but in addition to this there are certain negative consequences that may be faced by QAHE if the risk management plans are not followed effectively:
When the risks are not rectified effectively then it will increase the cost and may also result in failure of project.
Another major consequence can be fail to achieve the expected outcome of project which may also affect the goodwill of the university among students and in society at large.
The relevance of PRINCE 2 as a methodology for project
PRINCE2 is a framework which is applied by a project manager at the time of execution of project in order to manage project effectively. This approach state that a project must have an organised and controlled start, middle or end (PRINCE2 Methodology, 2018). It also focuses on highlights the questions like what is the objective behind project, when its must be start or end etc. which allow project manager to give attention to most essential elements of project. Following are the strength and weakness of using this approach in project management:
Strength:-
Predictable:- This framework mainly focuses on controlling the activities performed in project from beginning of project (Teller, Kock and Gemünden, 2014). So, it support the project manager in refurbishment to predict the consequences as well as risk that are involved in project early which help them in planned the method of eliminating those risk.
Cost and time effective:- PRINCE2 approach emphasis over identifying the risk in earlier stage of project which help project manager in saving cost and time involved in refurbishment project. Further it also support them in formulating effective strategies to achieve set objectives.
Weaknesses:-
Non realistic:- This approach emphasised over determining the types of risk present in initial stage of project but it is unrealistic as it is not possible to make changes in middle of project (Turner, 2017).
Complex:- This framework is not easier in its application as it required high skilled and competent individual to work over it.
CONCLUSION
From the above given report it can be concluded that project management practices consists of various activities that support a project manager to schedule and control the activities that are performed to achieve objectives behind it. But the management of activities is not solely support the project manager to achieve success as it also have to determine the risk involved in project and contingent plan to avoid such risk. This can be done using PRINCE2 model that focuses on analysing the activities from starting to identify the risk involve which support in achieving the objective behind project.
Achieve the grades you were wishing for this time with some help from experts at Assignment Desk. We provide help with project management assignment writing tasks to students from various universities in UK. Get your assignment written and proofread from subject experts associated with us at nominal costs and shine through your semester.
REFERENCES
Alias, Z. and et. al., 2014. Determining critical success factors of project management practice: A conceptual framework. Procedia-Social and Behavioral Sciences. 153. pp.61-69.
Burke, R. and Barron, S., 2014. Project management leadership: building creative teams. John Wiley & Sons.
Eskerod, P. and Jepsen, A. L., 2016. Project stakeholder management. Routledge.
Heldman, K., 2018. Project management jumpstart. John Wiley & Sons.
Heldman, K., 2018.PMP: project management professional exam study guide. John Wiley & Sons.
Kaiser, M. G., El Arbi, F. and Ahlemann, F., 2015. Successful project portfolio management beyond project selection techniques: Understanding the role of structural alignment. International Journal of Project Management. 33(1). pp.126-139.
Lientz, B. and Rea, K., 2016. Breakthrough technology project management. Routledge.
Lock, D., 2016. Project management in construction. Routledge.
Marcelino-Sádaba, S. and et. al., 2014. Project risk management methodology for small firms. International journal of project management. 32(2). pp.327-340.
Pinto, J. K., 2014. Project management, governance, and the normalization of deviance. International Journal of Project Management. 32(3). pp.376-387.
Silvius, A. J. and Schipper, R. P., 2014. Sustainability in project management: A literature review and impact analysis. Social Business. 4(1). pp.63-96.
Teller, J., Kock, A. and Gemünden, H. G., 2014. Risk management in project portfolios is more than managing project risks: A contingency perspective on risk management. Project Management Journal. 45(4). pp.67-80.
Turner, J. R., 2017. Contracting for project management. Routledge.
You May Like-