Answer :
Reflection Report
Introduction and Rational
At present, I work at EMERSON, Process Systems and Solutions which is situated at Moscow. The company is a leading supplier of process management products and solutions including control valves, regulators, analysers, transmitters, and automation systems. The Process Systems business of entity makes automation systems which build the proven PlantWeb digital plant architecture. This architecture is bringing transformation in the economics of plants around the globe. Currently, I am working at the position of Project Manager. I am responsible for delivery portfolio of complex implementation and consulting projects with total budget up to $5M in Chemical, Refining and M&M Industries during entire life cycle and within given constraints.
I believe that I am able to enhance and achieve further career growth. I view myself as a Project manager in the company and I'm sure that my current skills, knowledge and expertise will give a boost to future career growth (Hall, 2012). Along with it, I am of the view that the new job position requires continuous self-learning and development. Thus, an in-depth self-development program has to be planned and constructed so as to improve my personality traits and skills which according to me are to be regularly polished and developed.
Also, I understand that the current position of the company can be improved with the passage of time. Being aware of the degree of responsibility associated with the senior position of Program Manager that I'm going to reach in the nearest future, I realize that it is imperative that I deliver all the required skills and competencies to manage the functioning of events and issues that I will face during the operations. Also, new job position will require me to successfully manage the new and more difficult tasks during the life cycle of program, to be able to be multitasking, to manage the funds and expenses in relation to the execution of program. Furthermore, the new position will call for the effective utilisation of resources and funds, to be passionate, persuasive, creative, innovative and hard-working. Also, the management of program will need a person who is adaptable to the changes that take place in the internal and external environment of business entity. Therefore, as per my opinion, I shall be able to apply creative approach so as to develop effective and innovative solutions to the problems arising during the course of management of program. Also, this approach will aid in looking at the problem from a different perspective and thus, being able to deliver solutions after exploring the various alternatives available. The component of creativity and innovation is a pre-requisite for the job position that I will soon be placed at. The task-related to development of creative thinking that I have set to myself can be clearly expressed with the help of SMART model as follows:
Specific: Creative thinking development required for developing myself as a Program Manager at EMERSON, Process Systems and Solutions and improving my adaptability and response to the various situations that may arise during course of operations.
Measurable: Regular assessment of individual creative thinking capability by tools like TestMyCreativity (CREAX) and other necessary tests. Along with that, obtaining regular feedback and opinions from my friends, family, MBA classmates, colleagues can also be used.
Achievable: I believe that I possess the qualities of both task and people-oriented approach, possess observation skills, hardworking attitude, knowledge base and expertise and thus, I will be able to ascertain the shortcomings and errors along with the strengths and probable opportunities that can be tapped to set new goals (Kerzner and Kerzner, 2017).
Realistic: I am of the opinion that creative approach for ascertaining and setting goals and accomplishing them relate with the requirements of my job role. Also, it is necessary to develop an understanding of the market scenario and is directed towards the fulfillment of company's expectations and long term plans.
Timely: I think that the changes in my thinking and performance will be evident in the first 3 months, yet there is always a need for continuous development and learning during the life cycle of a person.
Self-Assessment Report
Every organization operating in an economy is made up of three components which are task, team, and individual. All these need to be properly handled by the top authorities of the entity so as to ensure that the organization achieve its objectives in a timely manner.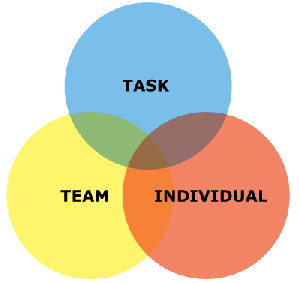 Figure 1: Three Circle Model Of Leadership
(Source: Three Circle Model Of Leadership, 2018)
I have also conducted my self-assessment based upon three circle model of leadership. First of all, I have ascertained my personal characteristics, skills and potential in relation to execution of my job role. It has resulted in ascertaining the probable strengths and weaknesses of my personality.
Secondly, I have performed certain tasks and tests that helped in analysing my attitude towards the team (Levin, 2012). It reflects my ability to cooperate and coordinate with the various project teams, understanding their problems empathetically and developing solutions for the same.
Also, I have ascertained certain strengths, weaknesses and threats of mine with the help of self assessment test which is explained below:-
Strengths: According to the tests, I have analysed certain attributes of my personality that complement the nature of my job profile. I am curious and a keen observer of life, thus, any opportunity that I find in my way has high probability of being availed so as to grow in my career. Also, I possess logical thinking ability and have the ability to work well with both the perspectives of job, namely, people and task. I am focussed and determined and excel at performing routine jobs but at the same time, highly opportunistic and adaptive to inculcate any change that may take place during the course of operations. I am resilient, sensible and work with a practical frame of mind while developing solutions to any issue or problem. Being highly organised, I effectively perform all the tasks where consistent performance is required in the due course of time. I may possess abilities, skills and attributes in other areas of work but the above mentioned strengths are the key features that truly reflect my character and personality.
Weaknesses: On the basis of self assessment, I have also analysed that there are certain attributes of my personality that I need to work upon in order to excel at my job role. It includes difficulty in controlling my aggression at times and not responding well to uncertainties. Also, I have a rigid pattern of working which means that I possess least flexibility in relation to work and ethics. Furthermore, at times, I may hold a grudge against a person who doesn't share the same thinking as mine.
Threats: The major threat that I have analyzed in relation to my personality and characteristic traits is ineffective communication (Näsholm and Blomquist, 2015). I have observed that I often lose control over my patience while dealing with the issues faced by team members or in times of their ineffective and inefficient performance against the set standard. Also, there may be conflicts between the team members due to variations in educational and family background as well as life experiences. While tackling these situations, I often become aggressive and behave unethically which is not suitable for the position that I hold in the company and hampers the atmosphere of team at times resulting in adverse effects on the project undertaken.
I have carried out temperament test which ascertains my behavioral characteristics out of the four components of the test, namely choleric, melancholic, sanguine, and phlegmatic character types. I belong to the group of persons who are Choleric. They are naturally result-oriented and have active and positive attitude towards the dynamic environment. They influence their surroundings by tackling with opposition to get the desired results.I am quick-thinker, active, practical, strong-willed and easily annoyed. I possess confidence in my abilities, self-sufficient and very independent-minded. Also, I am precise, cautious, disciplined, painstaking and conscientious while at work yet prepared to try anything new that comes my way. I am very careful that rules and precedents are honoured and followed. Having a domineering, decisive and opinionated personality, I find it easy to make decisions for myself as well as for others.
At the same time, the test has shown that I'm prone to be sanguine to some extent. Like Sanguine, I can ignite passion, motivate, and make people enthusiastic towards the realization of goals. Also, I possess effective leadership skill which is one of the dominant characteristics of this group.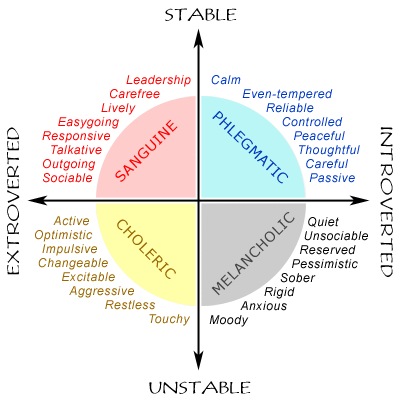 Figure 2: Components of Temperament Test
(Source: Components of Temperament Test, 2018)
Also, CREAX Test (TestMyCreativity) has been conducted by me that examined the extent of creativity that I exhibit in my personality. My score is 87.95 against average score of 62.43. This reflects that I am highly creative in nature and largely consider innovation and creativity while carrying out the tasks. Also, I am confident to push the boundaries beyond accepted conventions and excel in terms of creating my own new ways of doing things (boldness). Besides that, it also indicates that I am highly adaptable to changes in the environment and can handle them well without any difficulty (complexity). Also, I am persistent enough to achieve goals set by the company (persistence). However, I have an obvious problem with connection which means the ability to easily socialize with people as at times, I lose my patience while dealing with them in the case of divergence in methods and techniques. Therefore, I realize that I need to learn how to deal with the diversity in opinions and thoughts in relation to execution of any task at the workplace.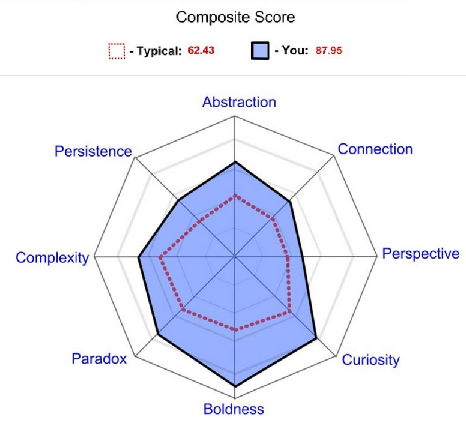 Figure 3: CREAX Test
(CREAX Test, 2018)
On the basis of self-assessment and leadership assessment tests, I have prepared a summary table with clearly outlines personal advantages to be addressed and shortages to be eliminated in the course of self-development in order to be able to lead the company to success. I firmly believe that the strengths will help me in enlightening my career at the company while the revealed shortcomings will aid me in constructing a self-development plan so as to inculcate the improvements that are required by me for the position of Program Manager and also gradually enhance the personality traits and skills in accordance (Pinto, 2014).
| | |
| --- | --- |
| Personal Advantages | Personal Shortages |
| Creative | Unable to accept non adherence to set working patterns |
| Persistent | Delegate less freedom to others |
| Responsible | Time Management |
| Enthusiastic | Strive for control |
| Diligent | Excessively task oriented |
| Hardworking | Strict and harsh at times of inefficiency |
| Passionate | Less adaptable to failure of team |
| Leader | Less social |
| Practical and logical | |
| Able to manage complex tasks | |
| Able to motivate and ignite people | |
| Rely solely on facts and evidence | |

Although, I have enough advantages to be promoted to the senior position of Program Manager yet I believe that I have to work towards the elimination of my weaknesses by aid of continuous learning and development. This will aid in transforming my shortages into opportunistic facilities and gaining an advantage in my career growth and promotion.
Strategic Approaches
In order to reduce weaknesses and overcome from threats, I have made a plan to take some learning classes. By attending such sessions, I can improve my skills and develop capabilities as well. According to opinion of Larson and et. al. (2014), it has analysed that to become a good project manager, it is essential to evaluate effectiveness of own skills and abilities on regular manner (Ramasesh and Browning, 2014). This would help in determining in which areas an individual can do best and where development is necessary. The more a person know about itself going into the project management process, the better position they can gain within an organisation. They can give their efforts and high contribution in giving better service to customers and business clients. There are various opportunities available within a workplace where an individual can develop own skills and improve weaknesses. It includes working with high-skilled colleagues, observing seniors how they handle a project and develop strategies to complete the same on time. Along with this, they can take professional development classes also to upgrade own skills and knowledge.
According to the above mention plan, I have examined that in order to gain a high position within a company, I need to develop own abilities related to project management. As per skill auditing, I have evaluated that in terms of time management and planning the activities, I have proved myself as an effective manner (Shao, Müller and Turner, 2012). But rise in management styles, unexpected or unrealistic expectation of business clients etc. indicates that in such areas I need to develop own managerial skills. Along with this, I need to be strategic also by focusing on particular goals of the project and give the right direction to workers so that it will be completed on time.
Professional Development Plan
In order to eliminate my weaknesses and overcome threats, I have made a professional development plan. By constructing this plan, the weaknesses in my personality and character traits can be ascertained and developed so as to incorporate the required changes for the position of Program Manager. Also, shortages identified can be obviated in the course of self-development in order to be able to lead the company to success. Thus, the professional development plan is below:-
| | | | | | |
| --- | --- | --- | --- | --- | --- |
| Serial no. | Learning Objective | Current Proficiency | Targeted Proficiency | Development Opportunities | Time Scale |
| 1 | Employee Handling | 2.8 | 5 | Employee handling is imperative for the efficient resolution of conflicts arising between employees and to understand the problem being faced by personnel at workplace along with development of solutions for them. I am currently facing a number of issues because of not following an effective employee handling style. To overcome this, I will apply collaboration strategy in future which will develop a feeling of cohesion among the members. | 3 to 4 months |
| 2 | Time Management | 4.1 | 5 | This refers to proper organisation and planning of tasks and processes in accordance with the desired goals and time available. Efficient time management skill enables mutitasking and smart work so that organisational targets can be accomplished in lesser time. I focus less upon this area which lead to creation of barriers and conflicts within the team as well as the organisation. To overcome this, I have decided to take some professional development classes so as to inculcate the time management skills. | 2 to 4 months |
| 3 | Adaptability | 3.5 | 5 | Adaptability to changes or failures that take place regularly is necessary so as to develop team building. While working, I have often faced issues in accepting the failure of team and often lose my patience in that condition. To overcome this, I have decided to take some classes and also work with some professional delegates and personnel so as to learn the way of working from them. | 1 to 2 months |
Opportunities: There are various opportunities available in front of me through which I can improve my program-management skills. For this, I will have to work with delegated and professional leaders to gain an understanding of how they influence the working pattern of team members and align it towards the accomplishment of organizational goals. Also, this will assist me in determining the style of leadership that needs to be adopted by me while working with my team members and will create a sense of cohesion and collaboration among them. Along with this, by taking some professional classes like personality and skill development, I can gain an understanding of how to interact with fellow members without taking out my frustration or anger upon them (Ward and Levin, 2016). Also, this will help me in improving my social skills and adaptability to an environment where organization works only in the form of various divisions, functions, units, etc. By these classes, I will gain knowledge as to how to politely communicate the shortcomings of my team members without making them feel offended or insulted and how to encourage them to unhesitatingly come to them in case of any problem.
Conclusion
From the above report, it can be concluded that various individuals possess diverse characteristic and personality traits to work in a certain scenario. Also, it has been analysed that professionals require certain skills for the effective functioning of the company. Along with that, a professional development plan is constructed to analyse the weaknesses and overcome them with an aim to gain organisational success. By attending skill development classes and engaging in collaborative working, personal shortages of individuals can be eliminated.
References
Books and Journals
Hall, N. G., 2012. Project management: Recent developments and research opportunities. Journal of Systems Science and Systems Engineering. 21(2). pp.129-143.
Kerzner, H. and Kerzner, H. R., 2017. Project management: a systems approach to planning, scheduling, and controlling. John Wiley & Sons.
Levin, G. ed., 2012. Program management: A life cycle approach. CRC Press.
Näsholm, M. H. and Blomquist, T., 2015. Co-creation as a strategy for program management. International Journal of Managing Projects in Business. 8(1). pp.58-73.
Pinto, J. K., 2014. Project management, governance, and the normalization of deviance. International Journal of Project Management. 32(3). pp.376-387.
Ramasesh, R. V. and Browning, T. R., 2014. A conceptual framework for tackling knowable unknown unknowns in project management. Journal of Operations Management. 32(4). pp.190-204.
Shao, J., Müller, R. and Turner, J. R., 2012. Measuring program success. Project Management Journal. 43(1). pp.37-49.
Ward, J. L. and Levin, G., 2016. Program management complexity: A competency model. Auerbach Publications.
Wells, H., 2012. How effective are project management methodologies? An explorative evaluation of their benefits in practice. Project Management Journal. 43(6). pp.43-58.
Turner, R., Ledwith, A. and Kelly, J., 2012. Project management in small to medium-sized enterprises: Tailoring the practices to the size of company. Management Decision. 50(5). pp.942-957.