Answer :
INTRODUCTION
Business activities which is used to create plan, promote, price and also expand company to more than one country for providing goods and services to consumers for some profit come under International marketing. It is a company's approach with global outlook, pursuing its profit properly in the world, with a systematic and planned basis.
King Su Technologies (KST) is an electronic manufacturer company in Hong Kong which is famous for inexpensive mobile phones. Cited organization designs their products in Hong Kong and they have manufacturing plants in Malaysia and China. The mobiles of KST have some limited capabilities, but they have features like WiFi and 4G. This company is 1 or 2 generation behind from other leading companies of mobile like Samsung and Apple. KST's mobile phones come under an average price range i.e. from HK$ 500 to HK$ 1000. Their target customers are poor and middle class people. They do not target-rich people as their customers. Now, company wants to launch their mobile phones in India since India is a developing country with a large population and 80% - 90% of population is middle class or below than that. Therefore, India is the most suitable nation for the cited firm to enter into international market.
MAIN BODY
ENVIRONMENTAL ANALYSIS
Environmental Analysis is the method of identifying all internal as well as external factors which affect the performance of an organization (Pike and et.al., 2010). Basically, environmental analysis is divided into two parts which are as follows:
SWOT Analysis.
PESTLE Analysis
SWOT ANALYSIS
The systematic planning procedure to analyse Strengths, Weaknesses, Opportunities and Threats is known as SWOT analysis.
Underneath is the SWOT analysis to launch new mobile brand in India:
STRENGTHS:
These mobiles supports various regional languages of India and thus, it is easy to use for customers who are not able to understand English properly.
KST provides many functions in their mobile phones at comparatively lower price than other companies. For example, 12 MP camera, latest version of Android, AMOLDED screen, etc.
The handsets are user friendly, therefore, they are easy to use or operate and so, anyone can access them easily.
The cabinets of phone are made of fibre for easy replacement if there is any damage at a low cost (Turnbull and Valla, 2013).
Most of the mobiles of cited company are dual or triple SIM which is helpful for the customers who used to carry more than one mobile.
As the handset works on Android operating system, therefore, customers can get a wide range of applications from play store.
WEAKNESSES:
Services provided by company after the sale of a product is not good as compared to other leading companies like Nokia, Samsung, etc.
They do not have big brand name and reputation, therefore, customers would not trust the new brand easily.
They are not able to target rich people as do not manufacture premium handsets.
Companies like Samsung, Nokia and Apple are already leading in India. Therefore, it is hard to enter in the Indian market.
OPPORTUNITIES:
India has large population and around 80% - 90% of people are of middle class or below. Therefore, it is easy to attract them with lower prices of mobile phones (Fetscherin, 2010).
Company mainly focuses on Dual SIM phones and nowadays, customers prefer to buy Dual SIM mobiles rather than single SIM.
It is easy to attract Indian customers with the help of effective advertisement.
As per the new government policies made by new PM Mr. Narendra Modi, it is easy to establish the business in India.
Now the criteria to enter in Indian market is simple and not so complexed, since the government also helps the companies to expand their business.
THREATS:
All the other companies like HTC, Samsung, LG, Nokia, etc. also offer handsets at lower prices for middle class customers.
There are also new low range price competitors like Micromax, Lava, Karbonn, Lemon, etc.
Most of the Indian customers have started avoiding Chinese brands (Turnbull, 2013).
Government of India encourages their citizens to purchase the products of Indian companies to increase the economic growth of nation.
PESTLE ANALYSIS
Strategic tool which is used to understand the business position, operation's direction, market decline or growth and potential is known as PESTLE analysis.
Underneath is the PESTLE analysis of India for entrance of new mobile brand:
POLITICAL FACTORS:
Government resources like Science and Technological policies, Economic policies, etc. are very important for an organization. KST requires the support from public sectors to operate efficiently, fast structural change, economy based on latest knowledge and technology, etc. In broader sense, S&T and industrial policy include all the components through which public welfare and operating business environment are shaped by the public sector. For the national information society and growth of economy both the policies are important which are used by parliament as well as government.
ECONOMICAL FACTORS:
Global and national economic factors affect all businesses of different categories (Hultman, Katsikeas and Robson, 2011). Economic environment of market is dictated by the behaviour of suppliers, stakeholders, customers, etc. The current economy of India is not so high because of demonetisation, but this is only a short term impact on Indian economy in the near future the long term economy of country will improve. Therefore, this will give a better support to company in the coming years.
SOCIAL FACTORS:
Social factors depend upon the components within the society like friends, neighbour, family and media. This factors affects our interests, attitudes and opinion about a particular products. In India, attitude of people towards mobile phones is changing. They take mobiles as the sign of standard. Also, the government is focusing on digitization of India , therefore large numbers of people are purchasing new smartphones. There is a massive growth in the demand of smart phones which is very much beneficial for KST.
TECHNOLOGICAL FACTORS:
The cost cutting process and development of the product is influences by by technology. India have 3G as well as 4G technology which is used to facilitates many of technical projects (Chandler and Graham, 2010). The country also promotes the IT sectors, upgrades their software and various innovative technologies, since India is one of the strongest competitor in the IT sector around the globe.
LEGAL FACTORS:
India is focusing on more Eco friendly products which do not harm the environment and also focuses on the economic development of the country. Therefore in recent some years, there are many legal changes occurs in the country. Some of the legal changes are increase in minimum wages, discrimination of disability and recycling, which affects many of the businesses directly.
ENVIRONMENTAL FACTORS:
Urbanization and industrialization is highly affecting the environment of India. Since the wastage to industries produces air pollution, water pollution, etc. which highly affects the health of the human beings as well as animals (Riefler, Diamantopoulos and Siguaw, 2012). As a result, new rules and regulations are introduced for noise control, disposal control and wastage control.
COMPETITIVE ANALYSIS
Determining the weaknesses and the strengths related to our product by identifying and evaluating the strategies of the competitors is known as Competitive Analysis. In porter's five model there are total 5 forces, out of which two are vertical competition and three are horizontal competition.
PORTER'S FIVE FORCES:
The framework which analyses the strategies of business development and the level of competition inside the company is known as poster's five forces.
Underneath are the poster's five forces analysis of India:
INTERNAL RIVALRY - high:
Number of organizations which are competing for same product in the same market is refers to Internal Rivalry (Dinnie and et.al., 2010). Businesses are encouraged to the competitive reduction of prices and to spend lot of money on advertisement or promotion. Also, new innovative products are introduced if there is high rivalry in an industry. This activities reduces the profits and increases the costs of the products.
There are various types of retailers present in India such as domestic organized, domestic unorganized, foreign retailers, etc. which creates more diversity in the competition. In organized sector foreign and domestic retailers are competing on large scale. Profit can be increased through differentiation of products by generating minimum rivalry in market. By adding branded products in their offers, many small retailer are trying to comes under organized format.
THREAT OF NEW ENTRANTS – low :
India is a developing country with very large population, therefore more and more foreign companies are trying to enter in the Indian mobile market (Cadogan, 2010). But the threat is low because it requires very high capital costs, R&D costs and manufacturing costs to compete in the Indian market. There are many barrier or hurdles for new competitors like patent. Customers trusts the already existing brands in the market like Nokia, Samsung, Apple, etc. If a new competitor comes in Indian market, then it will be very difficult to build the trust towards their brand.
Technology is becoming more and more advance day by day, therefore it is hard to develop this new technologies for the new competitors. In mobile industry, the already existing companies are fighting for more and more market share. In phone industry there are always threats of new competitors as well as from new products by existing company.
THREATS OF SUBSTITUTE – moderate:
Threats of Substitute is a moderate threat for the survival of of successful companies (Kotabe and Helsen, 2010). Basically there are two main functions of smart phone i.e. to distribute and access the information instantly and second is to connected with peoples through communication. In present, there are many substitutes of mobile phones are present in the market like e-mail, social, networking, internet, etc.
During the low economic conditions, dumb phones are treated as the substitute of the smart phones as they are cheap and only used for calling purpose. Smart phones are only used for the calling purpose but also they are used for all options for various purposes. Therefore, the real substitute of a smart phone is the smart phone with more features who belongs to same or different brand.
BARGAINING POWER OF CUSTOMERS – high :
In India, bargaining power of customers are very high. This power of customers is increased due to the very small differences in products and increase in choices (Parsons, Takahashi and Hargrave, 2013). Customers can do bargaining more effectively as they all the information which is required. People can easily switch their brand as there are lots of choices or options in front of them. Indian customers waits for the launching of newer model because after it's launch the price of older model will reduce and then they buy that product at lower cost. India is a highly price sensitive market, so the customers will always wait for the best deals in the market.
Buyer have great power of bargaining, as they have lots of choices and alternatives present in the market. An generally, Indians are investigate each and every thing about the product before purchasing it. Therefore, the companies should make mobiles with all decent features at best price to sell their mobile phone in market.
BARGAINING POWER OF SUPPLIERS – moderate:
The market of inputs are also known as bargaining power of suppliers (Diamantopoulos, Schlegelmilch and Palihawadana, 2011). Their are various potential factors which affects the bargaining power of suppliers which are as follows:
Presence of alternate inputs
Ratio of concentration of supplier to the concentration of firm
Switching costs of suppliers as compared to the switching cost of firm
Degree of input differentiation
Employee Union
Impact on differentiation and cost by inputs.
Competition of suppliers
The existence of very low supplier as well as the number of customers influence the power of bargaining of suppliers. For retailers, the suppliers are those companies who provides them the finished product which is ready to sell (Douglas and Craig, 2011). Some of the bigger brands open their own outlets or showrooms which act as a threat for the local retailers.
COMPETITION
According to the latest report of the IDC- a market research firm, Samsung shares 25.1% of the market of Indian smartphone. On second position, Micromax stands with the share of 12.9% of total market. Lenovo is one third position with 7.7% of market share, where Intex and Reliance Jio stands on fourth and fifth position with 7.1% and 6.8% of market share respectively (Indian Smart phone market, 2016).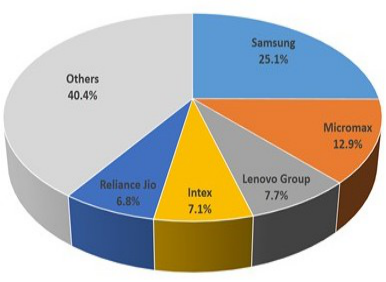 MARKET ENTRY STRATEGIES
The systematic procedure of providing services or goods to a specific market and distributes them in that market is known as Market entry strategy (Samiee and Leonidou, 2011). There are various types of marketing strategies, some of the strategies are as follows:
Licensing
Franchising
Joint Venture
Exporting
Manufacturing Contract
Mergers
Counter Trade
The best strategy option for KST mobile company to enter in the Indian market is Exporting. The marketing of products or goods in a country which are produced in some other country is called Exporting. It can further be divided into two parts i.e. Direct Exporting and Indirect Exporting. In the foreign market, it is one of the most well established and traditional method (Magnusson, Westjohn and Zdravkovic, 2011). Only marketing investments are required, since manufacturing is not required in overseas.
Their are many advantages of Exporting type market entry strategy, which are as follows:
It is less risky as compared to other strategies, since it has home based manufacturing process.
Before making investments in mortar and bricks, it provide an opportunity to learn the market of overseas.
Reduction in the potential risks which are produced by overseas operation.
It reduces lots of expenses such as purchasing of land, building of manufacturing plants, extra labour costs, etc.
CONCLUSION AND RECCOMENDATION:
Above report concludes that the KST can enter into international market through India as their first country. Since India a developing country with a large population and 80% - 90% of population is middle class or below than that. This major part of population can become the target audience of the company. There are some weaknesses that the company is not able to provide the great after sale service of the mobile. It is one of the major factor that a customer keeps in mind while purchasing any product. To increase there sells in India they have to spend a lot of money for the advertisement and brand promotion. The modified government policies to establish new business in India are more easier as compared to previous policies. Nowadays, Indians are avoiding the Chinese products and focuses on buying Indian manufactured products to increase the economic condition of the country. Indian is among the top IT sectors in the world, which is one of the reason that why foreign countries are attracting towards this country. India supports 3G and 4G technologies which are beneficial for smart phone industry. Also, BSNL and Nokia are together working for the more advanced technology i.e. 5G in India. There are various new rules and regulations which are introduced for noise control, disposal control and wastage control in India. There is already very high competition in Indian in the smart phone market. Companies like Samsung, Micromax, Lenovo, Apple, Sony, Lemon, Reliance Jio, etc. are also facing problems due to large number of competitors. If KST wants to launch their mobile phones in India then they will require very high capital costs, R&D costs and manufacturing costs to compete in the market. The bargaining power of Indian customers is very high, so it can affect the newer business entities who are willing to come in India.
In my recommendation, To achieve a decent position in the Indian market, they have to make some surveys to understand the needs of the customers and then launch a new product or mobile as per the requirement of the people. This will helps the company to attract more and more customers towards them. The company should analyses all the market entry strategies carefully to enter in international market. n my opinion, Exporting is the best strategy for KST to make entry in the smart phone market of India. If they adopt the Exporting strategy then it will be less risky for them, it will provide opportunity to learn the overseas market. In this strategy, the cited firm can minimise the costs of land requirement, building of manufacturing plants, extra labour costs, etc. as the Indian government is focusing on the eco friendly products, therefore cited firm should use the material which is more environment friendly and does not harm any of the surroundings. They should provide exciting offers or discounts on their mobile phones to attract more and more customers. They should promote their brand on social networking websites as they can found many of the youth audience easily over there. They can simply target the particular category of customers with the help of online marketing. Cited firm should establish service centres for their mobile phones as many as possible across the India. They should also manufacture some premium handsets to make their brand popular among the rich category of customers. They have to build trust among the customers which will indirectly increase the mouth publicity of the brands and attracts more people towards them.
Some more International Marketing samples-
REFERENCES
Cadogan, J. (2010). Comparative, cross-cultural, and cross-national research: A comment on good and bad practice. International Marketing Review. 27(6). 601-605.
Chandler, J. D., & Graham, J. L. (2010). Relationship-oriented cultures, corruption, and international marketing success. Journal of Business Ethics. 92(2). 251-267.
Diamantopoulos, A., Schlegelmilch, B., & Palihawadana, D. (2011). The relationship between country-of-origin image and brand image as drivers of purchase intentions: a test of alternative perspectives. International Marketing Review. 28(5). 508-524.
Dinnie, K., & et.al., (2010). Nation branding and integrated marketing communications: an ASEAN perspective. International Marketing Review. 27(4). 388-403.
Douglas, S. P., & Craig, C. S. (2011). Convergence and divergence: Developing a semiglobal marketing strategy. Journal of International Marketing. 19(1). 82-101.