A 7-Step Guide to Plan Your Dissertation!
12 Jan 2021
1693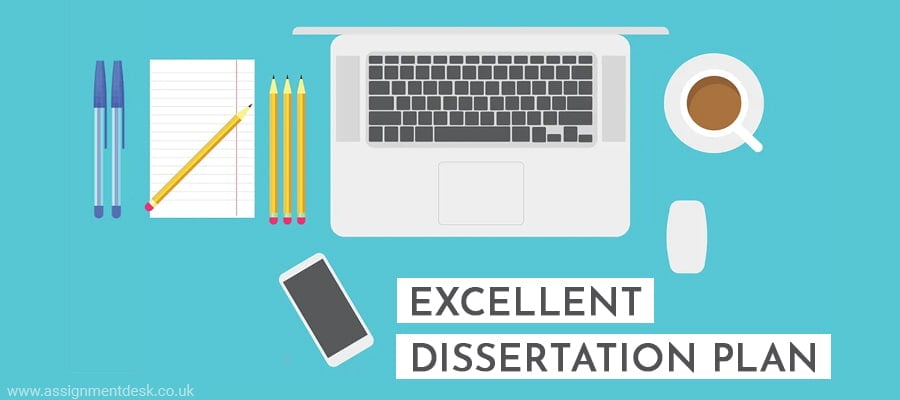 A dissertation is a vital part of your course program and one of the papers to get you the top rank in your masters. You can move to a bright career or get admission to the best university for further studies if you manage to achieve excellent marks in the dissertation. To produce an amazing paper, you need to plan it. If you skip the dissertation plan, then it will be like you have planned for poor paper writing. A professor expects you to submit a well-structured document, so that he can analyze and understand your work and give the deserving marks.
But, do you know what exactly a professor wants to see in the dissertation paper? If not then read further.
What Type of Dissertation a Professor Wants?
Proper research methodologies are used
A well-structured dissertation from start to end
The paragraphs and sentences should follow proper structures
Authenticated facts and information
No use of vague information
The dissertation should be free of plagiarized content; it should be an original paper
The dissertation should not have any types of errors
Students should format and structure the dissertation keeping university guidelines in mind.
These are the main things that every professor wants to see in the dissertation. Apart from it, you can also include what exactly the university or educational institutes want.
How you can write so that to fulfill the professor's expectation regarding the dissertation can become easy? You can plan your dissertation- Planning poses great importance in every type of writing. So, let's know why it is important for the dissertation.
Why Planning Is Important for a Dissertation?
If you plan your dissertation, then it can help you in many ways. Let's know how it helps.
You can escape writing unnecessary information in the dissertation, if you plan it.
You can stick to the word count by planning the dissertation.
A proper structure of the dissertation can impress the professor and you can create it through excellent planning.
You can write around the main theme of the dissertation if you plan it.
The research can be conducted properly for each task by planning them.
A planning will keep you on track and can save you diverting from the main theme.
If you are afraid of timely completion of the paper, then by planning you can complete the paper on time.
Also Read: How Do You Write Dissertation Acknowledgements? Examples and Information
When your dissertation is well-planned, then getting excellent marks can be easy for you. So always create a plan before you start to write an academic paper. But do you know how to plan a dissertation?
If not, then don't worry and read the 7 steps guide below to plan your dissertation
How to Plan a Dissertation Impressively?
You can plan the dissertation following the 7 steps mentioned below.
Conduct Extensive Research: The first and the most important thing to start the dissertation is research. Although a research strategy dissertation is required throughout the paper, the initial need falls when you are given the topic. You have to analyze the topic, then do research about some authenticated resources. There are two types of research methodologies-qualitative and quantitative.
Have a look at the below table and know what are these.
| | |
| --- | --- |
| Qualitative | Quantitative |
| Phenomenology | Surveys |
| Case Study | Co-relational Surveys |
| Interviews | Longitudinal studies |
| Questionnaire | Websites |
You will also need to mention the research methodologies in the dissertation proposal also, so select them wisely.
After doing the research, now you need to create a structure or outline. Know the main points of the outlines for a dissertation.
Create Outline: If you create outlines for your dissertation, then this can help you in many ways. You can understand what you need to do or should do throughout the paper and how you can present the information following an excellent structure. You can also create amazing paragraphs if you have created outlines for the dissertation. And not only this,you can complete the paper on time. You can better understand if you know its main points while creating them.
Acknowledgment
Abstract
Introduction
Research Methods
Headings and subheadings
Literature Review
Summary
Appendices
Once you created outlines for the dissertation, then you can write the entire dissertation in an organized way. To make the dissertation's main parts impressive, you can also use hooks.
Let's move to the 3rd step and know how to add impressive elements to the paper.
Collect Famous Quotes: You can collect some 10-15 famous quotes and use them while writing the dissertation. You can write a quote in the introduction and conclusion.Apart from it, you can use them in the dissertation body also, but be aware of irrelevant uses. If you think that question or phrase can make your dissertation more catchy rather than quotes, then you can use it also and make your dissertation impressive.
Plan Every Task:After research and creating outlines, you can understand how many tasks the dissertation includes. Now plan when to write which task; to decide if you may have to consider some important things like
Which is the big task or time taking one?
Which tasks need more research?
What are the most valuable tasks?
Which are the smallest tasks?
You can start writing about any type of task mentioned above. After completing one type, you can move to another one. It totally depends on you to go with the toughest task or the simplest one.
If you go by this to create a plan for every task, then you can complete every task effortlessly and also have the track whose tasks are remaining to complete.
Now let's move to the 5th step, what it says!
Create a Checklist: Create two checklists- one for tasks of the dissertation and another for proofreading. From the first checklist, you can get to know which tasks you have completed and how many are left to write.
Another checklist is useful to check mistakes while proofreading. You can mention the types of mistakes like grammar, spellings, wrong words, connectivity, vague sentences, capitalization, word count, format, and more; and then mark as you check them in the dissertation. By doing so, you can eliminate all the mistakes from the paper and produce a quality dissertation.
Watch or Read Motivational Stories: Yes, it should be included in your dissertation plan. You don't know that how long a dissertation writing can go and you can get bored or feel demotivated while writing it;thus, watching or reading motivational stories can help you to hold the same pace of writing by getting motivated.
You can also fix your time to take breaks because unplanned breaks can break your flow of writing and distract you.
Adhere to Plan: Many students can't remain as enthusiastic as they were while making the dissertation plan. Some students only make plans but can't adhere to them. So the key to complete the dissertation impressively is adhering to the plan you make for it.
Apart from making plans for the dissertation, you have to write like a professional to get the highest marks, but due to a lack of writing skills, you may not produce a quality paper. If you lack good writing skills, then it can get you poor marks in the dissertation.
If you want to secure the highest marks, but bad writing doesn't let this happen, then you can seek dissertation writing help.
Also Read: How to Write the Ideal Dissertation Table of Contents?
How to Find Quality Dissertation Help?
This can be your question too, if you desire to buy dissertation, Assignment Desk can fulfill your desire for amazing marks with its quality documents. It has experts in every subject who can write an exceptional paper for you. This website has 4500+ professional writers who are ready to do extensive research for imposition dissertations. When a writer writes for you, he sometimes uses a dissertation plan template for customized writing and produces an imposing paper.
Besides, this website provides 5 free dissertation topics suggestions also to students.
So get ready to fetch more marks in your dissertation!
Dissertation planning plays a crucial role to produce an impressive paper, if you don't plan your dissertation, then it can cost you in many ways. You can follow the 7 steps mentioned in the blog to come up with an amazing dissertation plan.
Order Now
FREE Tools
To Make Your Work Original
FREE Features
Topic Creation

Outline

Unlimited Revisions

Editing/Proofreading

Formatting

Bibliography
Get all these features for
USD 84.3FREE