41 Most Popular Physiotherapy Dissertation Ideas You Need to Know
03 Jan 2023
1525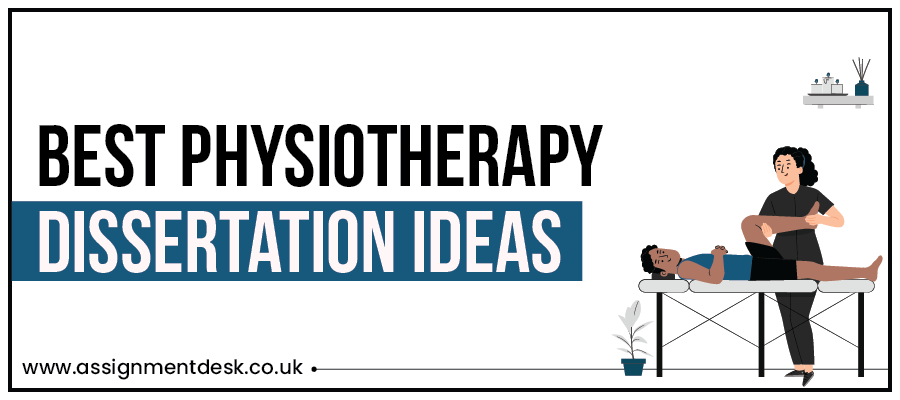 Table Of Contents
Writing a dissertation that stands out is never too easy. And a complex subject like Physiotherapy makes it even more challenging. Have you ever written a dissertation? Or are you here because you are asked to write it for the first time? Well, in that case, don't be scared and fear this task because of the first few lines in this blog. Dissertation writing is definitely worth all the hard work.
Either it is hustling between different Physiotherapy dissertation ideas or drafting it all by yourself. All these are on both sides of the road, good and bad. Yet, sometimes it can be a bit overwhelming to work on an entire piece of a research paper by yourself. In this scenario, you can rely on this blog for help. It is designed to assist you in learning the process of crafting a grade-worthy dissertation.
So if you are either stuck with dissertation topic selection or want free ideas, this is the right place to begin. So let's start with the step-by-step guide to choosing a good idea or topic for the dissertation.
How to Choose a Physiotherapy Dissertation Idea?
Students often have issues selecting the perfect dissertation ideas physiotherapy can offer. To solve this problem, continue reading:
Select an Interesting Topic
Completing a dissertation or a project can take months if the picked topic is boring. Therefore, a student needs to consider their interest before making a decision. Any this that excites you can also help you motivated to plan your dissertation on time. So, choose a subject that interests you and makes you feel positive towards the task.
Choose Something Different
Some students feel that choosing a common idea is safe, but that can only bore the readers. So, to avoid that, pick something very different and uncommon. Having new ideas and thoughts in the dissertation can help you get those extra points from the professor and impress them immensely. Also, it has many benefits to the unique choose dissertation topic.
Don't be Too Baseless
A dissertation, a vital part of your curriculum, should be clear and perfect. Ensure you are properly able to put forward your ideas in front of the readers. Prepare it with a sensible structure flow and work rationally. You can not afford any rejection on this task because it holds a great place in the grading system for your finals.
Don't be Too Conservative
Being conservative is just another word for being safe in the content. Remember, this task has a lot of calibre to get those grades missing from your report card. You can dive in as deep as possible and be as creative as you like in this task. So, instead of being narrow and safe, try to be more out-of-the-box with your Physiotherapy dissertation ideas.
Research Well
Even if you do not do it properly, you will have to research your topic to some level. It is better to do it perfectly, then. Make sure to follow the correct steps to gather data on your idea and note it down in proper order. If you are not sure about the right process to research, then you can also follow the typical guide to research that your professor must have given you someday. Remember to do this step wisely, as you will have to write a separate research methodology section.
Ask for Advice
Being a student, you can use help from a professional. If you cannot get assistance from a mentor, senior, or professor, then there are many online website platforms to help you. For example, at assignmentdesk.co.uk, experts help you choose the perfect idea for a task. These dissertation help experts are well known for their title selection support. So, ask them for help.
Now that you are well-versed in the topic selection process let us move to the suggestions professionals have hand-picked for you. While reading further, you will come across many free and helpful Physiotherapy dissertation ideas. These are mentioned in different sections and also selected considering the need of Physiotherapy students. If you are one of them, then trusting these ideas can also benefit your grades.
Also Read: How to Write a Dissertation Conclusion to Make a Perfect Ending?
Need Personalised Assistance from Our Experts?
Share Your Requirements via Whatsapp!
Chat Now
10 Best Physiotherapy Dissertations Ideas
In this category, you will encounter topics rated best among students. Therefore, picking one of the below-mentioned Physiotherapy dissertation ideas can guarantee better grades. So let us have a look at them:
1. Therapeutic ultrasound's effectiveness in treating De Quervain's tenosynovitis
2. Knee osteoarthritis treatment with Kinesio taping and quadriceps exercises
3. Knee osteoarthritis can be treated with ultrasound therapy and knee joint mobilisation
4. effectiveness of resistance training and therapeutic ultrasound in rheumatoid arthritis
5. Effect of nerve mobilisation and gliding techniques in carpal tunnel syndrome
6. Techniques for mobilisation and hold-relaxation for limited knee range of motion
7. Exercises to increase strength and use an alternating current to treat knee osteoarthritis
8. Exercises to build muscle are used to treat shoulder pain in diabetics
9. Effect of Kinesio taping and therapeutic ultrasound on knee injury
10. Exercises for strengthening and cervical traction for chronic neck pain
These Physiotherapy dissertation topics can get you the desired grades that you deserve. So pick one of them and pass the dissertation with flying colours.
List of Free Physiotherapy Dissertations Ideas
On this subject, there are a lot of topics available. Some of the most demanding and free ideas are listed below in this section of the blog:
1. A randomised control trial on the effectiveness of cervical mobilisation in migraine.
2. A randomised control trial on the effectiveness of stretching exercises for treating low back pain.
3. In an ankle injury, therapeutic ultrasound and Kinesio taping are used.
4. Trigger point release helps female patients with lumbar back pain.
5. An RCT looked at the impact of lumbar traction on calf muscle pain.
6. Impact of a trigger point release on students' thoracic back pain.
7. Trigger point release's effects on reducing biceps pain.
8. Scapular mobilisation for shoulder pain relief.
9. Trigger point release and therapeutic ultrasound's effects on calf muscle pain.
10. Effects of therapeutic ultrasound and trigger point release on golfer's elbow pain.
11. Randomised controlled trial contrasting the effects of therapeutic ultrasound and shock wave on heel spur pain.
These dissertation ideas Physiotherapy are personally taken by many experts for their dissertation writing. Also, being free, they offer great pride in the physiology theme and title suggestions.
Need Help with Dissertation?
Get a 100% Original Dissertation Written by EXPERTS
Get Help
10 Latest Physiotherapy Dissertations Topics
When it comes to Physiotherapy, trends are very necessary to follow. That is why experts have put a lot of thought into the below-mentioned ideas for the dissertation. So, if you want to write a perfect dissertation, pick one from the list below:
1. Real estate price fluctuations research based on one city
2. Real estate market trends and their underlying causes
3. Environmentally responsible real estate initiatives
4. The 2008 financial crisis was a failure of leadership
5. Models of modern business leadership
6. How globalisation affects business leadership?
7. Business challenges facing global businesses
8. How does gender equality affect management in business?
9. Principal methods for attracting foreign investment
10. Sustainability in business and ethical management
Ensure your Physiotherapy dissertation topics are strong enough to leave a mark on the reader. It should excite them to read more and understand the gist of the theme. It is said that a topic for an academic dissertation should always speak for itself. So, pick the one which you find in this box of worthy.
10 Best Dissertation Topics on Physiotherapy
In Physiotherapy, it is essential to be double-sure about the theme of the dissertation. Writing the wrong Physiotherapy dissertation ideas can even get you rejected, which you can not afford. Below are some ideas for your best interest:
1. Participation of public administration in homeless people's rights
2. How youth affects political system development?
3. Impact of immigration policies on the economy and population
4. The use of social media to engage citizens in public administration
5. Governmental resolutions and human rights violations
6. Megacorporations' impact on public administration
7. The value of equal representation of race and gender in public administration
8. Corruption trends, their impact, and public administration's preventive measures
9. Can a social movement bring about change in the public sector? The march for our lives case
10. The importance of public relations and contemporary approaches to realising it
The collection of Physiotherapy dissertation topics mentioned above is all suggested by professional writers of online help. Any student who wishes to get good grades in their dissertation should pick from the above list. Despite all these suggestions and ideas, anyone finding difficulties in dissertation writing can address an expert for help.
Also Read: How to Write a Dissertation Title? | Tips & Examples Included!
Need Physiotherapy Dissertation Ideas? Turn to Experts!
Writing a physiotherapy paper is a tough job for students. Not even professionals are experts at this task. But, when it comes to academic grades, there is no excuse for delay. Physiotherapy is a popular subject among nurses also. Unfortunately, they are often trained in this medical field which is too much of a burden on them. So to cure this issue, they sometimes need help with nursing dissertationfrom expert writers.
Whether nursing or any other subject related to medicine, We at assignmentdesk.co.uk have a team of writers to help you, they can assist you will Nursing assignment help and also make your title selection easy. Whether it is about proofreading or any other aspect of academic writing, they are 24X7 available to help you get good grades.
Our writers are PHD professionals with years of experience and knowledge to craft your paper well. So, if you are unsure about your Physiotherapy dissertation ideas or can not decide how to start the writing part, look for expert helpers and get desired grades.
Let Us Help With Dissertation
FREE Tools
To Make Your Work Original
FREE Features
Topic Creation

Outline

Unlimited Revisions

Editing/Proofreading

Formatting

Bibliography
Get all these features for
USD 84.3FREE