Answer :
Introduction
The present report is based upon the strategic organisational performance of the businesses. Every business organisation needs strategic planning in order to manages its activities and operations for achieving growth and success. The report is based upon the strategic approaches Peugeot Citroen it is the group of PSA, that is the French manufacturing company of motorcycles and auto-maker seller.
It is the second largest auto maker after Volkswagen. PSA is traded as the Euro-next Paris stock exchange, in 2016 PSA starts a framework of strategy that is entailed the rapid enlargement of the company. Along with this, the report also involves background and past analysis of the company that In 1978, PSA acquires 38.25 share of Citroen.
Free Revisions
Free Topic Selection
Free Formatting
Free Reference Page
It also pertains the challenges and issues faced by the organisation by accomplishing its missions, visions and approaches (López-Nicolás and Meroño-Cerdán, 2011). There are so many factors that impact on organisational performance so as managers of PSA group should have to develop their strategies for the evaluation of internal and external analysis of these elements. There are three techniques of external environment analysis such as PESTAL analysis, porter's 5 modules and value chain analysis. Therefore. it helps into stakeholder analysis in order to manages the all activities of employees of PSA group.
TASK 1
Background analysis of the company
Peugoet Citroen was established in 1976, it was merger of Citroen and Peugeot. Peugeot Citroen is the one of the largest Europe car makers and its headquarters are in Paris. As a joint venture with the government of china and it was defunct by 1997, and it has groups of French auto-mobiles, motorcycles and cars. Along with this, the organisation comes from a second chance at market and realizing it lacked a consumer product line and state vehicle market. In 1978 PSA purchase the Chrysler Europe form the troubled US.
The organisation also made its strategic approaches in order to enhances the performance of their employees. When PSA buys Chrysler Europe, it faced so many financial challenges and issues, and the market growth of the organisation also went down (Kohtamäki and et. al., 2012). For that, PSA required another investment so as company decided to develop a new and fresh brand for the entity for the different French and British models, these models was based on the Talbot sports car that was last seen in the 1950s. Apart from this, while many further options of cars was available in market, few vehicles have been trim that suit better to the local demand of customers such as diversifying hatchbacks to three-box designs.
Along with this, on 29th February 2012 PSA declared that the creation of major alliance with General motors, after that GM becomes the second largest shareholder of Peugoet Citroen. Therefore, there are mentioned below the challenges and issues that were faced by the company, in its past years, such are as follow: -
Uncertainty:- It was the major issue for PSA group, because the market growth of the organisation wentdown at the time of merger with Citroen. Along with this, it also impacted on the financial growth of the Peugoet and its productivity as well. The main reason behind risk and uncertainties is that business organisations are not able to plan a long term profit strategies, they favour short term results and outcomes (Bisbe and Malagueño, 2012). Therefore, risk and uncertainties can seek with global economy, credit markets, it also involves that how how new implications will impact on organisation and how new tools and techniques affected on the company.
Innovations:- Creativities and innovations also impact on Peugoet Citroen growth and success. There are so many new techniques and tools are available in market, so that it is a a big challenge for cited group that it has to be upgraded it techniques and software in order to achieve market growth and success. It is most applicable agenda for CEO' of PSA group to gain a better innovation process but the idea of more innovative and creative cultures appears too frightening with many.
Diversity and government regulations:- The nature of business organisations is diversify and challenging. If PSA group is not able to create effective strategies and policies so as it is also not able to compete with its competitors and external market forces. Along with this, government rules and regulations are too impact on productivity and efficiency of the organisation (Truss and et. al., 2013).
TASK 2
What are the core competencies and capabilities of the organisations
Core Competencies and Capabilities
Core competencies relates with unique technologies and skills that helps in to develop customer values. It concern with enhancing the performance of employees in order to increases their productivity and efficiency. The unique capabilities of Peugoet Citroen are mainly personified in the corporate knowledge of employees as well as the business organisations, it influences the employees interactions with their managers.
Capabilities also helps in to increases the strategic approaches and product innovation by that managers can easily increases their profitability. Along with this, core competencies are flexible and easy to develop in business organisations, they do not remain fixed and rigid. It involves the maximum utilization of available resources and improve productivity of employees (Singh and et. al., 2012). For PSA group, these core competencies are concern with new opportunities and threats that are thrown by the external environment. As business develop, grown and adjust with the external environment so as its capabilities and core competencies are also change and adjust accordingly.
Therefore, PAS group also have to develop its strategies and policies so as it is able to compete with external forces and achieve its goals and objectives. Core competencies are responsible for product innovations, quality, customer service and flexibility, so as managers can easily accomplish their target market. There are some factors that helps in to achieve organisational core competencies, such are as follow: -
Vision
A vision statement seeks with future oriented declaration of the organisational aim and purpose. In Peugoet Citroen, visions are helpful in to clearly communicate the organisational goals and objectives, and it is also a useful tool for decision making across the company. Along with this, vision statements are serve as clear guide in order to choose future course of action and it is a road map for cited organisation that helps in to create an outline for it. Vision statement are also helpful for the commercial enterprises in to where they are and where they wants to go in future.
Mission
Missions are those which describe organisational functions and its activities towards achieving goals and objectives of the company. In Peugoet Citroen, mission statement explains about what an organisation is, what is the reason for being and why it is exist in capital market. If the cited organisation don't have its mission statements so as it is not able to decides its primary goals such as identifying products and attracting customers (Grigoroudis, Orfanoudaki and Zopounidis, 2012.). Therefore, it is very important for every business organisation to communicate their missions among all over employees than to customers. It helps employees to know that what managers are expecting form them.
Objectives
Goals and objectives both are different form each other. Objectives helps in describe where the business wants to go in future. For Peugoet Citroen, it helps in to describe its future growth and success in capital market. Organisational objectives are stated for measurable targets and goals of how to accomplish business aims (Estampe and et. al., 2013). The effective objectives are follows SMART criteria that involves- specific, measurable, attainable, realistic and time focused. It helps in developing sales growth, profit satisfying, survival and profit maximisation.
TASK 3
3.1 External environmental analysis through PESTLE analysis
External environment analysis- External environmental analysis is the evaluation of all external factors that helps in reducing all elements that impacts on employees performance and their productivity. It is strategic tool that entails in assessing the level of opportunities and threat for the factors that might present. Along with this, Peugeot Citroen faces so many challenges and issues everyday with that its market growth also goes down. So as their managers have to develop their strategies and polices that helps in to accomplish market growth and success. There are many strategic tools that ate used buy business organisation, such as PESTLE analysis, Value chain analysis and porter's 5 models, so as managers can easily identifies the external factors that impact on organisation's performance and productivity (Muijs, 2011).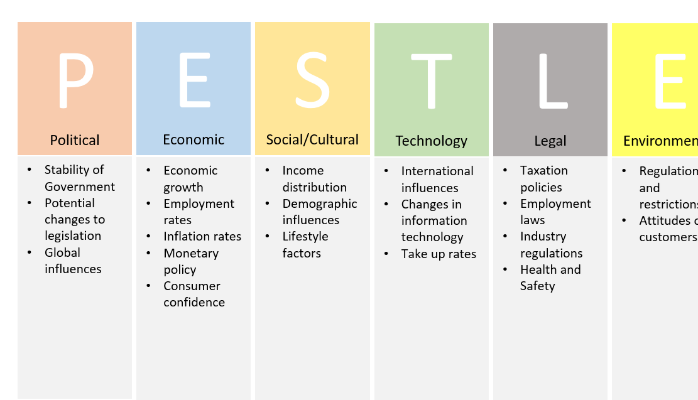 PESTLE Analysis of Peugeot Citroen:- PESTLE analysis of the company involves these factors that are as follow:-
Political environment– In that, factors are related with political situation of any country. For Peugeot Citroen, managers have to develop their policies that fulfils all taxes laws, every tariff of country. Along with this, government policy of PSA groups is able to political overseas markets, labour & environmental laws, foreign trade policies and trade restrictions.
Economic factors – Economic factors have significant impact on how Peugoet Citroen does business and how much profitable it is for the economic conditions of the country. There are many economic factors that impact on organisational performance, such as- inflation, disposable income of businesses & customers, interest rates, exchange rates and economic growth of the country (Parisi, 2013).
Social factors– Social factors also refers with the issue analysis of the Peugoet Citroen. Along with this, its is useful for the organisation in order to know the customer needs and determines what efforts can be make to reduce them. Social factors involves- demographics, age distribution, job market trends, lifestyle changes and population growth rates.
Technological factors – In that factors are consider with how technology impact on organisational products and services. In today's scenario, techniques are developing day by day (Rašula, Vukšić and Štemberger, 2012). So as Peugoet Citroen has to improves its technical skills and knowledge in order to gain competitive advantage.
Legal factors- These factors involves- equal opportunities, customers rights & laws, product safety, product labelling, advertising standards and health and safety. Therefore, Peugoet Citroen also has to develop its policies that are unable to compete with legal factors of the external environment.
3.2 Porter's 5 models of the external environment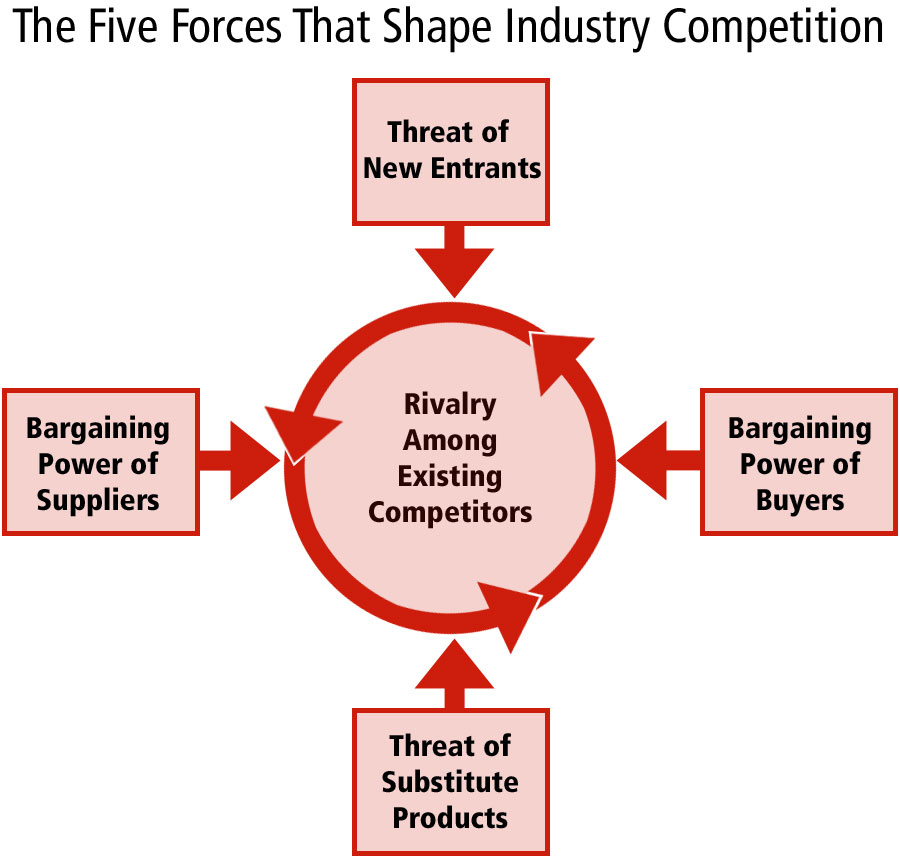 There are some elements that are involved in Porter's 5 model, such are as follow:-
Bargaining power of suppliers- with porter's 5 model, managers of PSA group can easily assess the bargaining power of suppliers so as they can exercise their power by selling products and services at higher prices. If supplier forces up for the paid prices for inputs so as profits of the organisation will be reduces (Shields and et. al., 2015). Suppliers of Peugoet Citroen, are find themselves in a powerful position if the cost of switching to an alternative supplier is high. Along with this, product is very easy to separate and loyal customers are loath to switch.
Bargaining power of customers – powerful customers are enable to exert pressure in order to drive down the prices and maximising the required quality of the same product, so profits can be reduces for the industrious.
Threats of substitute products – Company havinmg many competitors and in the market they are having so many substitutes which creates threats for PSA groups. (Steptoe-Warren, Howat and Hume, 2011.). For example- if customers of Peugoet Citroen are rely on company to provide a another tool of service for their existing products and services.
Threat of new entrants – in capital market there are various kind of new entrants and if they move on market, it impact on organisational growth of the existing company. Along with this, if barriers to entry are low then the threat of new entrants are always high and vice versa.
Industry rivalry – industry rivalry involves these factors, such are as follow: - degree of transparency, level of advertising expenses, competition between online and offline organisations and powerful competitive strategy.
TASK 4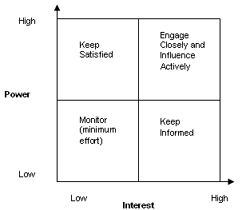 4.1 Stakeholder analysis of the organisation
Stakeholders Mapping - Stakeholder analysis is the tool of project management that helps in conflict resolution and business administration. It involves how to attract stakeholders for participate in project plans, policies and and another programmes. For every business organisation, stakeholder analysis is the key part of stakeholder management. In Peugoet Citroen, it is concern with the issue consists of balancing and weighing all of the competing demands of the organisations. Along with this, the analysis does not prevent the involvement of the stakeholders overriding the curiosity of the another stakeholders struck, but it assure that all affected can be reasoned. For PSA groups, stakeholder analysis is a important tool for designing a new activities and programs for the employees so as they can enhance the level of performance (Gunday and et. al., 2011). If employees can improves their performance and productivity so as it is beneficial for the organisation in order to increases its market growth and success.
4.2 Satisfying Key Stakeholders Expectation
The main objective of stakeholder analysis is to understand the expectations of stakeholders and tries to fulfils them. In PSA groups, managers have to know the needs and desires of their employees and another stakeholders and after that they have to create their policies accordingly. Along with this, there employees expects increasing their remuneration, voluntary funds, provide them another facilities so as they can be motivated towards. It helps in to improving the performance level of employees and organisational success & market growth (Speckbacher and Wentges, 2012. ).
Stakeholder are divided in different groups and they have different expectations, such as- suppliers wants regular order & timely payments, customers wants quality products and services at competitive prices, employees wants promotions and high remuneration and local communities wants goods neighbouring. Therefore, Peugoet Citroen, should have to tried to fulfil all these expectations of their stakeholders.
TASK 5
5.1 BCG matrix
BCG matrix refers to growth share matrix, it is a planning tool that shows the graphical presentation of the organisation's products and services. It is a matrix that helps for Peugoet Citroen, in order to decide what should organisation have to sell, keep and invest more in. it is as useful for long term business planning in order to achieving growth and success by reviewing the portfolio of the products and services. The BCG matrix model can be applied in to different marketing strategies and it also provide outline for allocation of resources among various business units and allows one to analyse another business units at a glance.
BCG matrix is a link between profitability and share because it is very expensive to increase the market share of the company. It is beneficial to assess products on two dimensions, such as- the first one is achieving the general level of the product growth in the market. And another dimension is to evaluate the product's market share that seeks with largest competitor of the PSA group industrie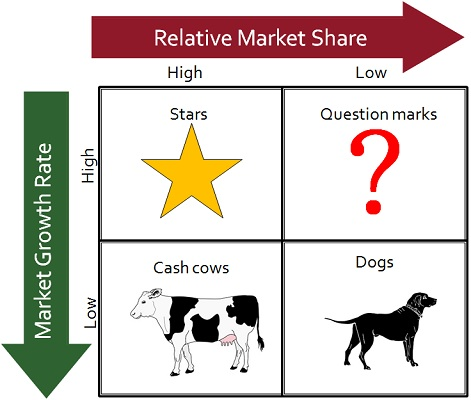 Therefore BCG matrix has been evaluated in 4 categories that are as follow: -
Stars- It use large amounts of cash and monopolies products are first to market that are frequently termed as stars. The business unit have high market share and high growth. Starts can eventually become cash cows if they continue with their success until a time when the market growth rate declines (Singh and et. al., 2012). PSA groups also suggest to invest in stars.
Cash cows– Cash cows are the leaders of market and generate more cash than they consumes. These kind of business units have low growth prospects but high market share. Along with this, cash cows are enable to provide the required cash to the companies.
Dogs- these kind of business units have low market share and low growth rate. Along with this,. Dogs are eventually considered with with cash traps because organisation shave money that they can tied up in them.
Question Marks- These types of business parts have high growth prospects and low market share. They consume a lot of cash but bring so little in return. Therefore, question marks seeks with problem children lose money.
5.2 Ansoff's Matrix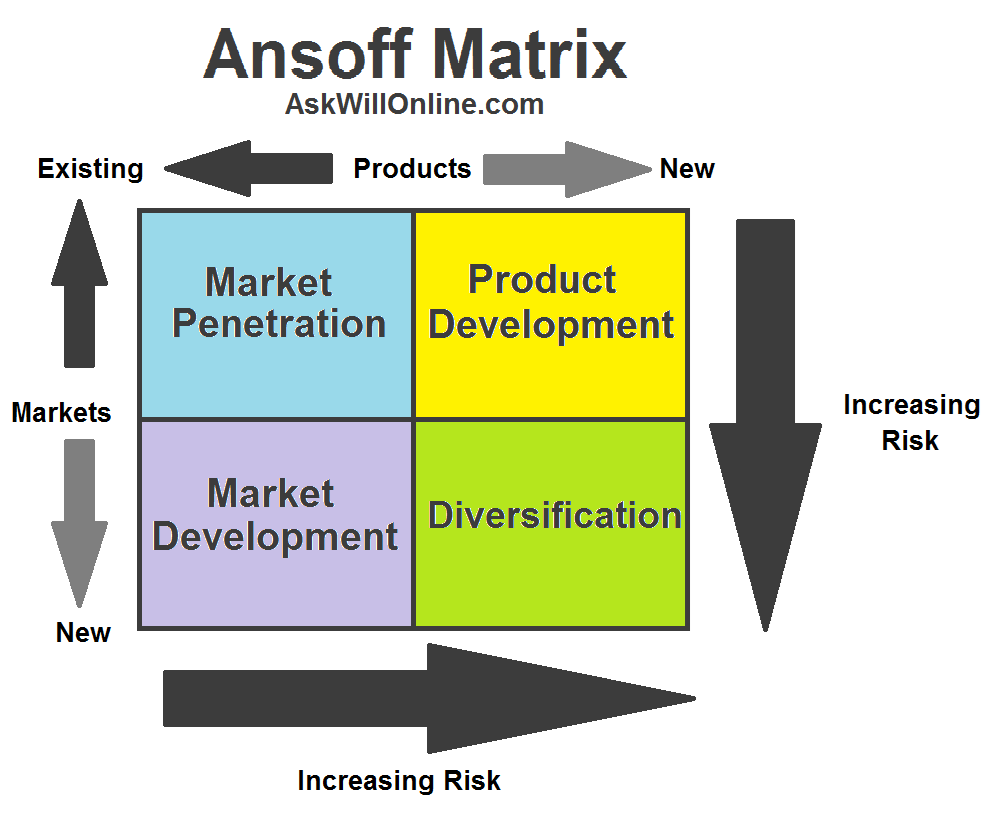 Ans off's Matrix- Ans-off matrix is strategic planning tool that provides a framework to help senior managers, executives and markets devise strategies for future growth. The matrix is able to provide four growth alternatives; such are as- market penetration. Market development, product development and diversification. Along with this, in Peugoet Citroen managers uses Ansoff's matrix in order to analyse the marketing strategies and polices.
It also beneficial for manager for their new product development and increasing risk towards diversification (Aldehayyat, Al Khattab and Anchor, 2011). It includes increasing the market share within present market segments and they can be achieved by selling more products and services. Therefore, Ansoff matrix helps in to identifies new markets for the existing products of the company.
Conclusion
Form the above mentioned report it has been concluded about the strategic organisation performance. Every organisation should have to develop its strategies and polices in order to accomplish target market. Peugeot Citroen is the one of the largest Europe car makers and its headquarters are in Paris. The report evaluated the background data of the company and its challenges. There are some challenges that are faced by the PSA groups, such as- Innovations, uncertainty, diversity and government regulations. Along with this, the core competencies and capabilities also have been concluded in that report. It refers with visions, missions and objectives of Peugeot Citroen and the capabilities of their employees so as they can easily achieve market growth and heights of success. On the other hand, mangers also have to do external analysis of the environment with the help of PESTLE and porter's 5 models, with that leaders can easily identifies those impact on organisational performance and its productivity. It also includes stakeholder analysis, BCG matrix and Ansoff matrix. They all the strategic planning tool of the organisation.
References
Aldehayyat, J.S., Al Khattab, A.A. and Anchor, J.R., 2011. The use of strategic planning tools and techniques by hotels in Jordan. Management Research Review.
Bisbe, J. and Malagueño, R., 2012. Using strategic performance measurement systems for strategy formulation: Does it work in dynamic environments?. Management Accounting Research.
Estampe, D., and et. al., 2013. A framework for analysing supply chain performance evaluation models. International Journal of Production Economics.
Grigoroudis, E., Orfanoudaki, E. and Zopounidis, C., 2012. Strategic performance measurement in a healthcare organisation: A multiple criteria approach based on balanced scorecard.
Gunday, G., and et. al., 2011. Effects of innovation types on firm performance. International Journal of production economics.
Related Samples you may like: