Answer :
INTRODUCTION
Interview is considered as a formal in-depth conversation among two or more persons where exchange of data and information takes place, with a view of analysing an individual's acceptability for the job. It is a widely used method which is applied by each small as well as large business enterprises as to selection of a suitable candidate for the vacant profile (Peeters, Serres & Gundrum, 2013). Verbal and non-verbal communication plays effective role in the process of interview as these considered as the primary aspect which is analysed by interviewer in the process of interview. This report contents the study about the importance of verbal and non-verbal communication in the section of interview, model of selection methods, the effectiveness of STAR techniques will discussed in effective manner.
MAIN BODY
Interview is an essential aspect which helps in selecting a most suitable candidate for a job profile in this people got selected through following an effective procedure in which the ability of an individual are analysed. In the process of interview verbal as well as non-verbal communication plays effective role as the success of an individual is based on ability of effectively communicate both verbally and non verbally. As per the views expressed by Amy Lucas, 2017, Verbal and non-verbal communication provides an effective shape to the interaction of an individual with other in business and interpersonal relationships, financial and personal success and the physical and psychological well being. It is essential for each business organisation to organise a well structure interview process in order to select most suitable and deserving candidate for the job profile. The major selection steps are:
Preliminary Interview: It consist to be the primary stage in interview session, in this totally unsuitable candidates are eliminated. This step helps the firm in saving the extra expenses of processing the applicant by the remaining stages if selection (Kelsch & Friesner, 2012).
Receiving Applications: This comes after passing the stage on preliminary interview , in this applicant is asked to fill a standard application form which consist the information about the name, age, experience and qualification etc. of the individual. As per the opinion of Shma, 2013, This helps the interviewer in getting the idea about the candidate and appropriate information helps in formulating question for interview.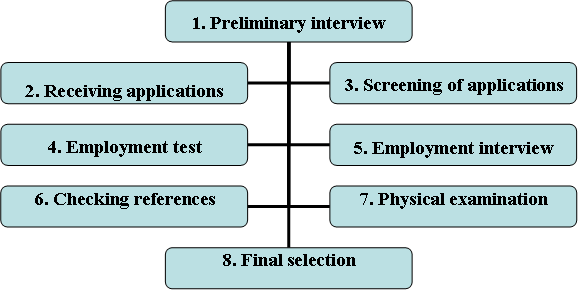 (Source: Steps Involved in Selection process, 2013)
Screening of applications: This is another an essential aspect in which screening committee analyse the applications and the candidates who are passing the criteria of screening are called for interview.
Employment Test: This test is effective in checking the ability of an individual , this test vary from organisation to organisation and change as per the requirement of the particular job profile. In this test various kind of elements are involved such as intelligence test, aptitude test, trade test, interest test, personality test etc.
Employment Interview: The applicant who are qualify the employment test are called for the employment interview. This section is effective in getting more information about the candidate as in this personality and communication skills are analysed (Pawlikowska & et. al., 2012).
Checking References: This stage takes place while selecting a candidate for the job profile, in this stage past record, reputation and police record are analysed as to taking appropriate information about the background of candidate.
Physical Examination: In this stage firms are generally prefer medical test to be incurred of the person to avoid time and expenditure that are spend on the medical unfit people.
Final Selection: This is the final stage as in this people go selected through passing the selected criteria for a particular job profile.
STAR TECHNIQUE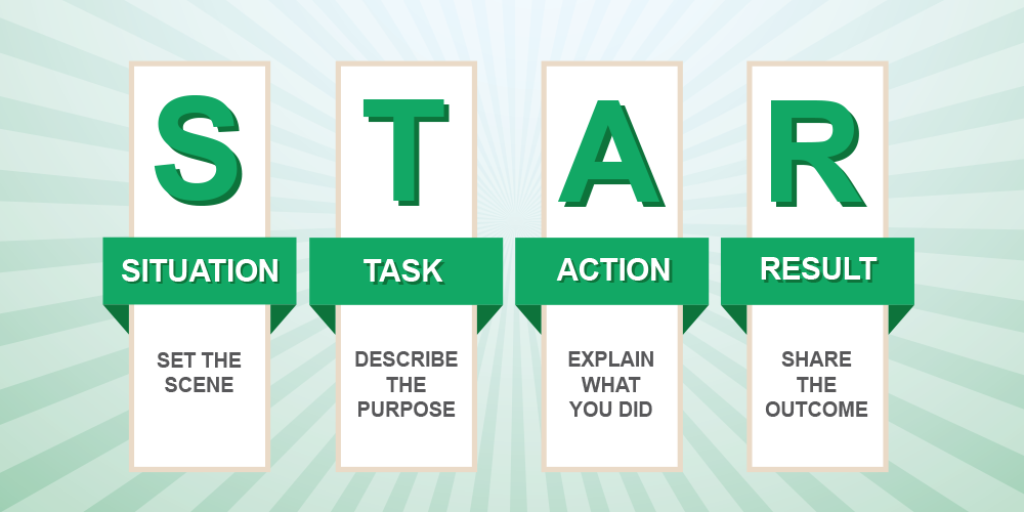 (Source: STAR Techniques for Interview, 2018)
STAR Technique plays effective role in answering the tricky situations which are created by an organisation for a particular job profile. This techniques helps the interviewer to compare the skills and knowledge of candidates who are applying for a job profile. With the help of STAR techniques candidate are able to answer each questions in effective manner. The elements of STAR Techniques are descried as under:
Situation: This is based on setting up a scene, providing a background and context to the situation. In this questions are asked as per the setting situation (Jacob & Furgerson, 2012).
Task: This is more specific for an individual to determine the exact role in a particular situation. In this challenges are needs to be described on which interviewer take appropriate decision for selecting a candidate for the job. Applicant needs to be make sure that the interviewer knowns on which situation an individual were tasked with rather than the rest of the team.
Action: This consist as the most effective part of STAR Technique as it allows an individual to show the response. In this an individual needs to elaborate their specific action and how it is been done through applying appropriate tools and technologies.
Result: This is final step in STAR Technique as in this a candidate needs to ensure about the positive result and ideally one which can be quantified. In this session the employer wants to know that what an applicant learnt from the entire procedure.
The STAR Technique enable an individual to show their talent and experience which make them stand out among the number of people. It is essential for an individual to work on their personal as well as professional skills before facing a interview. A effective preparation helps the people in getting the job in more effective and efficient manner (Burgoon, Guerrero & Floyd 2016).
An individual needs to work on their verbal as well as non-verbal communication as it provides a clear vision about an individuals attitude and personalty. Effective communication skills helps the applicant in getting the job through impressing the interviewer.
CONCLUSION
As per the above given report it has been concluded that interview is an effective process which is widely applied by organisations as to selecting a most suitable candidate for the job profile. It is essential for people to make proper preparation before facing the challenge of interview as interview is consist as a crucial process which involved various steps and required to pass all the criteria for getting the job. People needs to have a proper knowledge and idea about the verbal and non-verbal communication in order to making their self stand out among the number of applicants.
REFERENCES
Burgoon, J. K., Guerrero, L. K., & Floyd, K. (2016). Nonverbal communication. Routledge.
Jacob, S. A., & Furgerson, S. P. (2012). Writing interview protocols and conducting interviews: Tips for students new to the field of qualitative research. The Qualitative Report, 17(42), 1-10.
Kelsch, M. P., & Friesner, D. L. (2012). Evaluation of an interview process for admission into a school of pharmacy. American journal of pharmaceutical education, 76(2), 22.
Pawlikowska, T., & et. al., (2012). Verbal and non-verbal behavior of doctors and patients in primary care consultations–How this relates to patient enablement. Patient education and counseling, 86(1), 70-76.
Peeters, M. J., Serres, M. L., & Gundrum, T. E. (2013). Improving reliability of a residency interview process. American Journal of Pharmaceutical Education, 77(8), 168.