Answer :
Title
Impact of social media marketing on brand image of business: A study on Marks and Spencer UK.
Aim: The main aim behind carrying out the present study will be "To assess the impact of social media marketing on brand image of business: A study on Marks and Spencer UK"
Objectives: On the basis of aim of research following will be the main objectives which are:
To understand the significance of social media marketing in modern era
To identify the positive outcomes after indulging into social media practices in retail sector
To recommend the effective ways through which Marks and Spencer can improve its brand image through social media practices
Research Questions
Following will be the main research questions in case of present research which are:
How important is social media marketing tool in the modern era?
What are the positive aspects after indulging into social media practices within retail sector?
Background
The main aim behind carrying out the present study will be to identify the real impact of social media on brand image of the organization. Further, various challenges are present in the business environment due to which it becomes difficult for businesses to enhance their market performance. Apart from this, social media as a tool is regarded to be quite effective with the help of which business can easily develop awareness in the market regarding its products (Musgrave, 2011). Further, other types of marketing tools are also present which they are not very effective as compared with social media tool. In short, it allows business in gaining competitive advantage where accomplishment of desired goals becomes easy and in turn it brings favorable results for organization. On the other hand, without indulging into social media practices it is not at all possible for business to focus on its long term performance and it may have adverse impact on brand image also
Company Overview
Marks and Spencer is a British multinational retailer headquartered in the city of Westminster London. Organization is listed on stock exchange and is specialized in selling clothing along with home products (About us., 2016). Organization is having worldwide presence and well known in the market for range of products it offers to its target market. Moreover, company strongly depends on social media practices where promotion along with other type of important information is being provided to the customers with the help of this tool. This has supported Marks and Spencer to operate efficiently at global level and in turn grabbing large number of opportunities has become easy for company in every possible manner. Each and every type of product being offered by Marks and Spencer is famous due to presence of effective social media practices and it has supported company in every possible manner. Moreover, business uses sites such as Facebook, twitter etc with the motive to develop stronger relationship with its target market. This has also assisted in knowing need and requirement of customers in best possible manner and in turn company can easily focus on its goals.
Methodology
This part will include various tools and techniques which will be employed for conducting the overall research in proper manner. Further, the entire research is descriptive in nature where main stress is on providing description of the topic being chosen (Saunders and et. al., 2010). Through this research design it will become easy to understand the topic in better manner. Moreover, inductive approach will be employed where results will move from specific to general. The entire study will be carried out from point view of Marks and Spencer and on the basis of results recommendations can be provided to entire retail sector of UK. Positivism as a philosophy will be undertaken which focuses on positive aspects (Silverman, 2010). Sample size of 5 marketing managers of Marks and Spencer will be undertaken through purpose sampling technique. For primary data collection questionnaire will be used and in case of secondary one books, journals etc. For analyzing information qualitative tools will be used where different themes will be formed.
Literature Review
As per view of Zimmerman and Ng (2015) social media as a tool is most commonly used by businesses in the modern era. Further, it supports company in developing awareness in the market and in turn customers can easily know about the range of services offered. Further, by using this tool brand image of business can be enhanced easily and this becomes favorable in near future also (Zimmerman and Ng, 2015). Apart from this, social media marketing has wide coverage where it becomes easy for enterprise to promote its product at global level. However Poole (2011) argued that, without using this tool it becomes difficult for company to sustain in the market and it leads to decline in level of performance. Moreover, implementation of social media practice is not at all costly for business and sites such as Facebook, twitter etc can be easily used for sharing information with target market (Poole, 2011).
Gantt Chart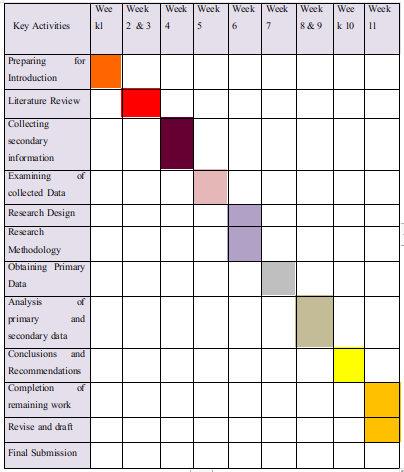 From the entire research it will be expected to obtain findings where social media as a tool has direct and positive impact on brand image of company. Further, it can assist company to survive in the competitive market and has positive impact on long term performance also. Apart from this, it provides platform to business in promoting range of products. No such disadvantage of this tool is being present which can be unfavorable for business. Due to this reason adoption of this tool at global level is quite high and in turn businesses can easily operate efficiently in the market. It becomes easy to boost sales volume along with the profitability of business.