Dissertation Proofreading and Editing Made Easy with This 7 Step Guide
20 May 2019
3122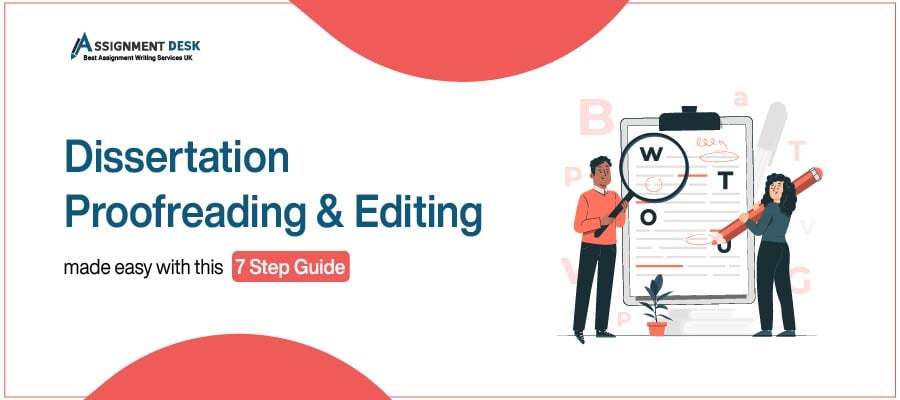 Bonjour Les Amis!!!
So you are done with writing your dissertation the way it should be. If you are still stuck with your dissertation writing task, read this for some real time saving quick ways to prepare your dissertations in the best possible manner. And, if you are done with the writing task, the next step is here, "Dissertation Proofreading and Editing." Definitely, there are a lot of know-this facts stuck in your mind, but how you express it in words, is where the trick lies. It is not just you who's stuck here in the final step, there are a lot of companions in the same boat.
To help you have an easy sail through the difficulty, the expert dissertation proofreading and editing service providers have come up with a 7 step guide.
Need Help with Dissertation?
Get a 100% Original Dissertation Written by EXPERTS
Get Help
7 Steps for Proofreading and Editing Your Dissertation Like a Pro
Step #1. "DO NOT" Start Editing Right Away
Many of you who are bitten by the finish-it-off-now worm, just relax. Your brain just winded up a heavy task that was strenuous and required a lot of efforts. It has maxed its ability for now. Just take a break and let your brain have some rest. It is important to start proofreading and editing dissertation with a relaxed mind as there are a lot of aspects that you need to work on. Some very common things that you need to judge but may miss if you are rushing to accomplish the task are:
Checking if there is any need to reduce information from any of the sections
Checking if you need to add any extra information to any of the sections
Finding simple grammatical mistakes (That's what proofreading and editing is about)
Checking how you can hone the content to add value to the work.
These may sound really simple things, but if the mind is not at rest, these mistakes can be skipped and you may not be able to get the scores that you were expecting.
Step#2. Voice Your Work Clearly
It is important that your dissertation has a voice of its own. It should reflect your individuality clearly. Be sure, when you are reading your work you are focused on. Your dissertation needs to have a clear voice and talk about your research very cogently. When you are busy with your dissertation proofreading and editing task, always read through your professor's lens and see if these questions are answered.
What is the main motive of the dissertation you have written?
Is there a clear transition between each section?
Are the findings clearly mentioned in the work?
Does the work reflect your intentions of researching the topic clearly?
Is the voice of the work unwavering?
If the answers for these questions are positive, then heartiest congratulations!!! You have done a great job. But just don't stop here move to the next step to make your work more crystal clear.
Step#3: Theory of Emission
Yeah, read the work clearly and move forward to ensure that the dissertations that you are about to submit is not stuffed with words that ruin the flow of the information. According to the expert dissertation and proofreading service providers here are a few mistakes that go often unnoticed when students make the final edits.
Majority of students stuff their work with the "That" term. Try avoiding it, instead use commas. It makes the work much readable and adds to the tone of the work.
Adverbs are a big no if not required. It is only when you strictly need to use an adverb give it a space in your document. Else, omit it immediately.
Omitting words from your work may seem difficult, but it is important that you come up with a dissertation that is well-written and not seems wordy.
Step#4: Use Technical Terms
Contradictory to all the advises that are listed above, it is important that instead of using simple words in the complete dissertation try and use the technical terms that would reflect your knowledge of the subject easily. Do not be scared to use jargon that is common for the topic that you have picked. Articulated language is the key to impress your professor and get you the desired grades.
Step#5: Turn It Legible with Contractions
The step is an extended version of the third step from the list. Not many of you may be convinced with using the contractions but they make your work really interesting. It adds to the readability of the document and also reflects your command on the written language. Yes, it would mark an impression on your professor not just for information in the work, but also for the language used.
Step#6: Check the Sections
It is important that you check the headings and subheadings thoroughly. Read the sections clearly and ensure that each of these reflects their motives clearly. Along with a clear reflection of the information mentioned, these sections should be interconnected. Not in any of the sections should the reader feel that the information is overstuffed.
Step#7: Make It Comprehensive
Obviously, you worked really hard on the dissertation that you would start proofreading after finishing reading these steps. Just make sure that you have written it comprehensively. It has to be well written, with no big paragraphs or complex sentences. Easy to read dissertations would keep the reader engaged and also get you the best results.
And Winding Up with the "Quote of the Day"
"While writing is like a joyful release, editing is a prison where the bars are my former intentions and the abusive warden my own neuroticism."
Tiffany Madison
Just accept the bars and edit your work as per the instructions by your university. Read your work and then reread the complete document to ensure that the dissertation is flawless. You are not sending a flawed document forward anyhow. If you need any dissertation writing service, just reach to our experts and get your work done at the most affordable prices.
Now the time has come when you are done with the writing, editing and proofreading of your work, now its time to wind up your whole document . Do not just wind the work, write a dissertation conclusion that is not just the discussion of your work but the final word to your document.
Order Now
FREE Tools
To Make Your Work Original
FREE Features
Topic Creation

Outline

Unlimited Revisions

Editing/Proofreading

Formatting

Bibliography
Get all these features for
USD 84.3FREE