Answer :
Chapter 1 Introduction
1.1 Background
Before going out somewhere, people have the tendency to get into personalized beautification ritual. It makes their appearance beautiful and shining in front of others. By seeing this tendency into consideration, the demand for beauty and care services have increased significantly. The beauty industry has been expanding over decades in dramatic manner. It also offers wide range of opportunities for many new entrepreneurs. The opportunities are open because people are always concerned about their looks within the society. They want their physical appearance to be reflected in good manner. Hence starting a hair and beauty salon in the present scenario can be a feasible option. This business development proposal is about opening a beauty salon named the Shades. It will be a full time service business positioned in London. The mission will be to provide high quality services which enhances the physical appearance and mental relaxation of the people. Hair, nails and skincare will be the main area of services. It has been noticed that beauty industry has been favourable to several entrepreneurs. Consumes are showing their more willingness to shop around in order to avail the best treatment deals. It is expected that the Shades will be able to live up to the beauty expectations of the consumers.
1.2 Scenario chosen
In order to develop a business development proposal, author has the option to selection difference scenarios. These are as follows:
A new company start up as an entrepreneur
Your own company as an existing company owner
Your current employing organization
A commercial or not-for-profit organization
From the above available scenarios, "A New Company Start-Up as an Entrepreneur" has been selected for the development of this project. Selection this scenario is always a difficult process for the researchers because everything is initiated from the zero level. However the process is quite intellectual and informative. It requires collection of information regarding the industry under which the proposed project has been set. It will help in utilizing the knowledge and assist in understanding the market situation of the desired business. The proposed business has the potential to achieve the expected goals and objectives of the new venture.
About the venture
The Shades is a full service hair and beauty salon, offering excellent service, quality products and a great atmosphere for males and females. The salon is positioned in London. The mission of the business is to supply high quality services which enhances the physical appearance and mental relaxation of the people. The Shades will offer its clients a very pleasant and intriguing environment. Focus will be on gaining the customer loyalty so that people can come to the door of the Shades again and again. There will be no compromise with the quality of the cosmetics that will be used. Hair, nails and skincare will be the main area of services. Telephone and online booking facility will be given to the customers for their convenience. It is expected that the Shades will be able to achieve its goals and objectives.
1.3 The Business Opportunity
Rational behind the business idea
Every business concept is backed up with a suitable rationale. Having an MBA degree, it was always the author's dream to have his own venture. However before taking this step, he has worked in the cosmetics industry for 5 years. He is quite familiar with the beauty and salon industry as he was dealing with these kind of products only. At the starting there was no plan to start a new venture like this but gradually the things started developing. He increased his thinking and knowledge in these areas. After performing a high level of research, he came to a conclusion that he will be opening a beauty salon for the customers. It is evident from the fact that number of salons and beauty shops are increasing day by day. The customers are always ready to invest on their physical appearance. The demand for these services is also increasing day by day. The proposed business idea sound a viable opportunity for the entrepreneur. Relevant goals and objectives have been established with regard to the Shades. It is expected that the new venture will be able to establish its remarkable presence in the hair and beauty industry.
Significance of the research
Every research is performed with an appropriate significance. The following is a business development proposal about opening a hair and beauty salon in the Barbican Centre of London. The significance of this study is that it will be an inspirational work for several entrepreneurs. The readers will be able to avail vast amount of strategic knowledge and information. Several critical business areas will be scanned which are crucial from investigation point of view. The hair and beauty industry of UK will be scanned in appropriate manner. Various opportunities available in the market will be identified. Further it can be an inspirational work for other researchers who desires to perform research about the following subject. Various strategic models will be applied to see whether the business idea is feasible or not.
Target market, customer and accessibility
It is important to access the target market. The Shades is positioned in Barbican Centre of London. The target market will be the upper middle class urban people who are really concerned about their physical appearance. Hair, nails and skincare will be the main area of services. It includes students, college goings, urban professionals etc. Services will be available for both males as well as females. The beauty salon will be placed in the middle of the town and will have high level of accessibility. It will serve customers from nearby residential areas. The target market is feasible and it is expected that it will help in achieving the desired goals and objectives.
Business Model
The Shades will be operating on the basis of brick and mortar model. However online and telephone portals are also available for bookings. It will be a high class hair and beauty salon giving excellent services, quality products and a great atmosphere. The clients will be offered a very pleasant and intriguing environment. There will be a use of high quality cosmetics. The salon will open at 9 am in the morning and will closed at 9 pm in the evening.
1.4 Timescale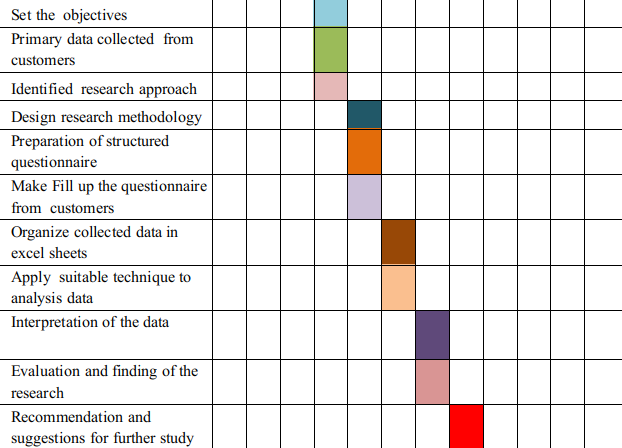 1.5 Structure of Work
There is a need to follow an appropriate structure for the report. The rest of the project is organized in the following manner:
Chapter 2 – Business Opportunity and Concept
This chapter will talk about the opportunity available to the new venture. The whole concept will be described. It will contain the mission, vision and the proposed products & services. The justification behind all the choosing scenarios will be made.
Chapter 3 – Feasibility Analysis
This chapter reviews the feasibility of the proposed business concept. It will include sections such as research methodology, market research, industry analysis, organizational feasibility, financial feasibility etc. The feasibility analysis is very important from success point of view. It will help in realizing whether the proposal is beneficial for the investment or not.
Chapter 4 – Strategic Analysis and Business Model
This chapter will do the strategy analysis of the business idea and also explains the development model. Sources of competitive advantage and sustainability will be find out. The strategies will be framed for the purpose of success. Use of different strategic models will also be reflected with regard to the selected subject.
Chapter – 5 Business Plan
The last chapter indicates the picture of the overall business proposal. It will include sections such as marketing plan, organizational plan, operational plan and financial plan. It is expected that the development proposal will assist in achieving the business goals and objectives.
CHAPTER 2- – Business Opportunity and Concept
Business idea
Business plan is prepared about the hair and beauty salon. It has been observed in the UK that people are paying due attention on their skin colour and face beauty. Along with this, people are caring more about their nails. It is observed that people often like to to take hair and beauty services when they are going ton join specific ceremony like weeding or award distribution etc (Quach and et.al., 2012). Hence, demand for such kind of services is growing rapidly in the UK. Business idea is to open such a salon in the London in order to tap available opportunity in the market. This business idea is selected for opening a business because beauty industry is growing at a rate of 16% in the UK and in time of recession also it manage to grow in UK at same pace. Hence, this industry have good growth potential. This is the reason due to which it is planned to open hair and beauty salon in London.
Mission
To grow business at CAGR or compounded annual growth rate at 16% on year on year basis in 5 years. Business firm wants to expand business in London by opening multiple chain of the Shade in mentioned city.
Vision
Our business main vision is to make available quality service on time to the people by using well known beauty products and professionals.
Analysis of mission and vision statement
Both mission and vision statement always remain correlated to each other. Mission indicate long term objectives of the firm. Whereas, vision indicate short term objective of the firm. Mission of the firm is to grow business at CAGR or compounded annual growth rate of 16%. This growth rate is determined because beauty industry is growing at same pace (Cohen, 2010). Hence, it means that firm can maximum increase its business at a growth rate at which industry is growing currently. Hence, mission of firm is to increase business at 16%. Mission of firm is concise and in first five years it is focusing on growing its business only in London. Strategy behind same is to enhance business in London and to cover its maximum area in upcoming five years. In order to achieve mission it is necessary to determine some objectives. These objectives are determined under vision statement. In this statement it can be seen that firm main objective is to make available quality service to the customers and on time. In this regard firm is planning to employ professionals that are master in providing service that firm wants to provide to its customers. By doing so firm will create its good image among the customers and will capture large market share in London. In this way firm will complete its objective to achieve growth rate of 16% in next five years.
Products and services
Hair- Firm will provide hair related services and under this hair cut services will be provided to the customers. Professionals will be able to provide every type of hair style services to the customers. Along with this hair colour services will also be provided to the customers in the salon (Wu, Yeh and Woodside, 2014). Different type of colour will be available to customers in order to prevent showing whiteness of hair.
Nails- Under nail service services like manicures and pedicures will be provided to the customers at salon. Cleaning and filling of nails will also be done at salon. Along with this nails will also be decorated with coloured varnish etc. By using airbrush designs will also be painted on nails. Hence, varied services related to nails will be provided in firm salon.
Skincare- Various skin care services will be provided at salon. Under this services like removing unwanted hairs, making skin fair, advising customer on proper skin care and service regarding evaluating customer skin health will be provided to the customers.
Hence, these are the products and services that firm will provide to its guests in the salon.
Positioning
It is a marketing technique under which firm create its special image among the customers on the basis of its USP. Full form of USP is unique selling proposition which indicate strong points of the firm (Eckstein and Nguyen, 2011). Shades salon will employ high level of professionals in its premises for providing services to the customers. It will act as USP for the firm because if there will be professionals in salon then surely quality of service relieved will also high. Hence, firm can do institutional advertising and can position its product on the basis of its service quality. Firm can also provide its service at reasonable price instead of premium price. By doing so firm can create its specific image among the customers that if " quality service at reasonable price". This strategy will also create good image of the firm among the customers and firm will in this way position its product among the customers.
Scale and growth anticipation
On the basis of past records and review of various publications it is anticipated that industry will grow at 16% on year on year basis. It is observed that when recession comes in UK in that situation also this industry give good return to the entrepreneurs. Hence, there is lots of growth opportunities in this industry. Firm can at least achieve 8% growth in single year if we look at the industry growth rate.
Business model
In business break and mortar model will be followed and under this services will be provided through salon. However, orders will be received both through online and offline. With increase in revenue in business new branches will be opened in the London. By doing this a chain of Shades salon will be established in London.
REFERENCES
Cohen, R.L., 2010. When it pays to be friendly: employment relationships and emotional labour in hairstyling. The Sociological Review. 58(2). pp.197-218.
Eckstein, S. and Nguyen, T.N., 2011. The making and transnationalization of an ethnic niche: Vietnamese manicurists1. International Migration Review. 45(3). pp.639-674.
Quach, T. and et.al., 2012. Developing a proactive research agenda to advance nail salon worker health, safety, and rights. Progress in community health partnerships: research, education, and action. 6(1). pp.75-82.
Wu, P.L., Yeh, S.S. and Woodside, A.G., 2014. Applying complexity theory to deepen service dominant logic: Configural analysis of customer experience-and-outcome assessments of professional services for personal transformations. Journal of Business Research. 67(8). pp.1647-1670.
Related Samples:
Framework for a Conceptual Business Model