Answer :
Problem Statement
Problem statement for the present research study is "In the relational dimension of the servitization of manufacturing, it is critical to develop strategic partnership with businesses to enhance the competences and to deliver superior value for the customers".
Business context
The present research study has been made on Bidvest which is an international investment holding company that does investment across the food service, broad service and trading & distribution industries. The group has significant holdings in over 300 companies and it also operates across five continents. The Bidvest group has been managing a decentralized business model in which each of the company operating business under Bidvest group manages its own business with own management (Symon and Clegg, 1991). Also, the group has a strong acquisitive strategy which is focused towards enchaining global presence across varied range of industries. The company includes a variety of service and product offerings such as freight management, travel management system, security services, industrial products, electrical products and consumer services.
Bidvest is a public limited company and it has a corporate office in Johannesburg where more than 135,000 people work. The company has been emphasizing on Servitization concept in which Bidvest simply adds a service- product offering to add value for the customer. The business reinvents the solutions so that organization can provide total solution to the customers. Technology led service strategy reflects that businesses are increasingly recognizing that they have the capability to create competitive edge over others. Hence, for such purpose Bidvest emphasizes on adding valuable products for the customers so that satisfaction level can be encouraged (Rosenshine, 1997). The company has been adding variety of frozen food, chilled food, fresh food and bakery products for the end users.
The concept of servitization needs to be adopted at Bidvest because issues related to customer services (customers are demanding for new varieties in bakery products which is yet not available on higher extent) have been increasing; therefore the business has been emphasizing more on developing the products and services (Servitization and operations management : a service-dominant logic approach, 2012). Moreover, changes and improvements are also required so that manufacturer can constantly comprehend customer's needs and expectations. The value that firms needs to focus on is not the effectiveness of their products; but it should be focused on the applicability and inter connectivity of the products that are concerned with customer's systems and processes.
Literature Review
According to Hobday (1994), servitization is a process in which company transformation takes place. In other words it can be said that it is a process in which any company instead of con finding towards product manufacturing start providing relevant services to the customers (What is Servitization, 2013). It does through the suppliers' means that it does not establish its own channels of service providers. It makes a contact with the suppliers who on behalf of company deliver service to the specific firm customers. As per views of Rosenshine (1997), servitization is a very difficult process because here company is depends on other firm for providing its services to the customers. When a business is carried out with external stakeholders then there become greater chances of misunderstanding and bitterness in relationship (Nemet, 2009). Cipla an Indian company loss million of revenue amounts due to bitterness in relationship with the suppliers. Hence, maintenance of relationship with the suppliers is the major problem related to company transformation or servitization.
According to Zahra (2000) some of the suppliers feel that they do not receive adequate cooperation from the firm in order to deliver proper service to the clients. Suppliers due to lack of cooperation from company side find it difficult to treat clients in proper manner. This is the main grievance from suppliers' side towards firms. As per views of Harveston (2000), in servitization the main problem is that many firms sale a complex products and suppliers does not have sufficient know how of the company technology and its machinery. Due to this reason they are not able to fulfill clients' needs in proper manner. When suppliers resort to company for help then they follow a 'Not invented here' approach (Model Transformation Principles for Servitization and Service Systems, 2013). Means that firm does not provide any sort of help to suppliers and asked them to work and solve technical problem at their own level. This is the main issue due to which firms face in servitization of their business. According to Etzkowitz (2007), there are many companies that are actively intends to support their suppliers but due to lack of communication from suppliers side then failed to deliver quality service to the customers on time.
Arora (2004), argue that it is inevitable to resolve issues that companies are facing in their servitization business model and in this they can take many steps. Companies can determine some of the criteria for selecting appropriate supplier for delivery of their service (Mathews and Cho, 2007). These parameters can be determined by using own past experience and taking suggestions from business friends. Apart from this, Davis (2000) claims that it is the communication system due to which lots of issues are faced while supplier intends to deliver a service. If communication system is improved then such kind of issues can be eliminated from the servitization. In this regard time to time meetings can be conducted between firm and suppliers in which these issues can be discussed and consensus can be given by each other on the identified solution. Representative of the firm can also work in supplier office and give guidance to the supplier. Moreover, he can also receive grievance from suppliers' side and can communicate same to the top management. These are the ways that can be adopted in order to boost servitization process in an organization (How tech-led companies are leading change on a global scale, 2014).
Analysis
It has been analyzed that servitization helps Bidvest to give proper responses to customer demand as customer and market demands are getting more and more complex; thus product innovation is required at each level. Servitization delivers financial sustainability and operational measurability because business contracts tend to be made for longer period. It also secures revenue streams and along with that servitization aids the business entity to learn many things constantly (Hobday, 1994). Bidvest seems to have adopted competitive strategy where in services are included that supports the product; on the other hand the theory also covers services that supports customer's actions. In terms of support, direct and indirect products are added in the product list such as raw materials, all materials for finished goods and etc.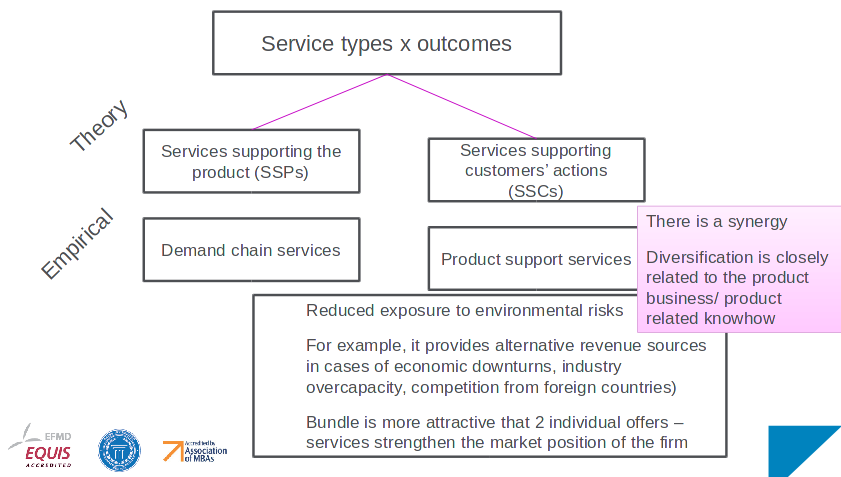 Conclusion
In today's fast paced world, business entities are required to find time and resources for true innovation because unavailability of all such resources can be fatal shortcoming for business survival. Innovation is something that keeps the organization at their forefront of their industries and this is evident from the enduring success of companies like Apple and Google. Over a very short period, the use of technology has been increasing which leads the business entity to emphasize more on innovation and growth aspects. Hence, in such respect the concept of servitization is being adopted where in the business scenario is entirely changed to value added entity for the clients (Davis and Harveston, 2000). On the basis of organizational analysis, Bidvest has categorized the services into three types such as advanced services, intermediate services and base services.
Services that support customers are placed at the top most level because that enhances customer satisfaction level and that also helps the business entity to become more competent as compared to the rivalries. Base services include all those products that are considered as an outcome focused towards the product provision. It gives the base through which diverse products can be used by the customers under the concept of servitization. Intermediate services are on the next level where the business entity spends resources in maintenance and other services so that customers can be retained for longer span (Critical issues during servitization: an in-depth case study., 2012). Further, application of the model has helped Bidvest to get outcome which has enhanced the capability of business performance. Advanced services seems to be effectual for the business entity because that encourages the opportunities of long term sustainability and competitive advantage.
Action plan
Action plan for first option- In order to implement solution some of the steps that were proposed above will be implemented at the ground level. The fist solution that was proposed is to determine criteria for selecting a supplier. In order to do so firm manager will prepare a report in which entire details about some of the suppliers will be given. Bidvest can make a contact with one or two employees of the suppliers and will obtain information about their client portfolio. By meeting with these clients Bidvest managers will identify that supplier is performing good, poor or excellent. By following this step Bidvest can select best supplier for its business (Bajpai and Dokeniya, 1999).
Action plan for second alternative - The second step that was proposed above is that both firms must improve their communication system. In this regard Bidvest will identify any employee that has good relationship with the suppliers. That identified employee will acts as company representative. On other hand, in case of suppliers representative employees will be those who have good liaison with the Bidvest employees. By doing this any sort of constraint between Bidvest and its suppliers can be handle very easily and calmly. In this way Bidvest relations with suppliers will remain good and issues will be resolved without any problem (Arora, Fosfuri and Gambardella, 2004).
Proposed action plan for third option- The third solution that was proposed is that one employee of the Bidvest will work as representative of the firm in the supplier workplace. If second solution that is proposed is not possible to be implementing at the ground level then third proposed solution can be used by Bidvest. In this regard firm will appoint a special employee which have good technical knowhow of product. In case supplier feels it very difficult to provide service company representative will provide guidance to the supplier employees.
Outcomes
In terms of outcomes, Bidvest has many things (variety of food products, effectual logistic services and delivery services) in the business functions as per the concept of servitization and this also helped the business entity to adopt new conditions. Bidvest has also adopted Competitive strategy and Services offering strategy in which chief concern has been given towards demand chain services and product support services (Hobday, 1994). Hence, the overall emphasis has been made on product differentiation so that better relationships can be developed with the clients. It has been analyzed that servitization changes the overall scenario of the organization; hence there should be adequate concern towards all the concepts of innovation so that overall competency ratio can be encouraged. The organization aims to set a clear vision for innovation so that the programme can become successful in terms of internal and external business challenge (Zahra and Bogner, 2000).
Discussion
I have been working at Bidvest from last many years and working with such entity has helped me to get experience on service renovation and innovation. I have also seen varied methods through which the company resolves issues related to product use. Working on the study has enhanced my knowledge level and this is also useful for me especially for future studies. I have seen that Bidvest has appointed different suppliers and service agents and they are entitled to work on behalf of the company so that all the doubts and issues of clients can be resolved. Apart from this, I have also learned the areas where changes and innovation should be made within the time frame for reaching towards the expected outcomes.
I can say that I have acquired finer experience while working on this study because it helped me to grab information about the concept of product development. Concluding the study I can say that I have seen lot of changes in the service provision which helps the customers to acquire valuable services from the business entity. At the same time, I have observed the applicability of competitive strategy in which chief concern has been given towards services supporting the products and service supporting the actions of customers. Application of the theory helps Bidvest to reduce the exposure to environmental risks and it also generates alternative solutions to business problems.
Current offerings of Bidvest Foodservice
Bidvest Foodservice operates as a food service wholesaler supplying fresh, frozen, ambient and non food products to the customers in diversified sectors within food service, catering industry and local authorities. The business entity has been delivering food services to many industries such as in hospitals, in contract based services, hotels & restaurants. It also delivers fresh, chilled and frozen goods to many regional areas. Further, Bidvest Logistics also provides distribution and supply chain services to larger operators in the food service industry; however the company delivers major services to well known restaurants and fast food services.
Current advanced services of Bidvest
Currently, the business is emphasized towards all the food services such as frozen food, chilled food and fresh food. Further, in order to extend the product line, Bidvest Foodservice has also introduced varied bakery products where in new and different cuisines are added in the product list. It especially delivers sweet dishes to the clients as per their taste and preferences. At the same time, it has also been seen that Bidvest Foodservice expands the services more in Chinese countries because people of China tend to have variety of food products.
What advanced services they should focus on. Where new innovations should be made
Product and system innovations are constant in Bidvest Food service as product development and packaging changes are largey attributable that encourages the business to acquire more opportunities for greater market share. In order to facilitate innovation, it is essential for Bidvest to consider all the regulatory aspects. There should be adequate concern towards complementary products and services so that demand of food services can be managed.
In terms of innovation, Bidvest can introduce those products that are made with low fat content. This will assist the business entity to attract large number of clients towards the food services. Innovation can also be made in the area of market entrance where in the business entity should emphasize on new market segments. Hence, the business entity should include food services on the basis of different themes and occasions. The business entity can also take contracts for parties and events so that large number of segments can be attracted towards the business products.
What technology can be used to strengthen their servitization
Technology can be used to underpin the process of servitization and with the use of extensive technology, new and innovative methods can be adopted for producing new products and services. As, the business emphasizes more on modernization; therefore technology can be used in the area of improving the infrastructure aspects so that many retail stores can be opened up for the business practices. Further, new techniques and machinery can be adopted for the purpose of producing the appropriate products as per customer convenience. &nb