Introduction
Operations management is managing the enterprise practices in order to gain higher efficiency within the company. It is concerned with converting labour as well as materials into finished products and services efficiently (What is Operations Management?, 2014). This concept helps in achieving higher level of profits within the company. Management operations have to attempt balance within revenue and costs to meet higher level of operating profit. Marks and Spenser is a retail industry and the founder of this company is Sir Michael Marks and Thomas Spenser. This company is providing job opportunities to approx. 84,939 employees within the organisation. It specialises in selling of home goods, luxury food products and clothing. In this report it involve the definition of manager and leaders and its characteristics as well as roles. Also undertaken the various methods of models and theories along with this it also analyse the value and importance
TASK 1
P1 Define and compare different characteristics and roles of a manager and a leaders
Marks and Spencer is a retail industry and it has;various branches all over the world to have large reach of market and customer base. This firm is founded by Thomas Spencer and Michael Marks in 1884 to give home products, clothing and home appliances to satisfy needs and demands of people.
Leaders
Leaders are one who direct and guide their group members to;work in a collaboration way (Balasubramaniam;and et. al., 2016). These skills of leadership will aid the company to compete with their rivals within the working environment. It is important that a leader must have skills or ability of motivating employees within working environment for achieving its goals and objectives in a proper manner.
Managers
Managers is responsible for administering or controlling a group or companies staff. They have to execute all the activities and functions in order to run enterprise such as planning, organising, staffing, directing and controlling effectively. It should be followed in a systematic and disciplined manner for making a effective utilization of management skills. It will assist in taking proper decisions of enterprise activities.
Leaders Roles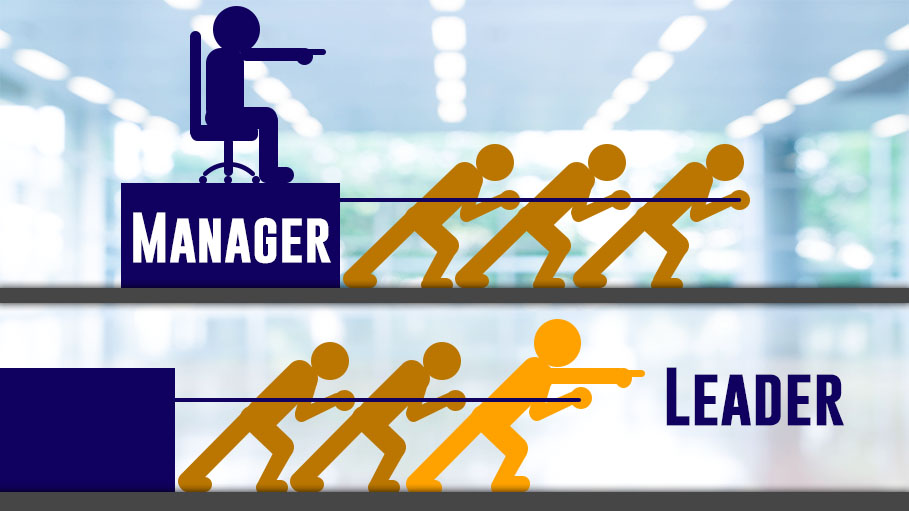 According to the above image, it shows that manager provide duties and targets to employees in according to their skills and knowledge to make them perform tasks effectively. Their aim is to accomplish business goals and objectives. While, leader provide guidance and direction to subordinates to make them work in systematic manner. This help company to have motivated and dedicated staff with retain for longer time.
Main role of leaders in ;Marks and Spenser gave effect on employees working in a right directions. There are some leader's roles which are given below:
Communication: Leaders should have proper skills of interaction while giving directions to their group members. Along with this they also have to communicate about plans, objectives and policies of the firms to all workers (Fayol, 2016).
Guiding employees: In this, it is a responsibility of leaders to maintain relations with their workers. In order to give effective information and acknowledge about the disputes as well as issues which take place within workplace. Hence, giving proper guidance to workers will help in accomplishing of work in an effective way.
Managers Roles
There are several different duties which are performed by managers in an Marks and Spencer firms are as follows:
Informational role: Management of Marks and Spencer have to communicate effective data to their employees which are required to achieve objectives and goals within a given period of time.
Interpersonal role: In this, company organise conferences as well as meeting in order to communicate with employees (Giuliani and et. al., 2015). As managers establish a positive working environment as well as maintain strong relations with them.
Leaders Characteristics
In this, leaders should communicate with managers as well as acknowledge their thoughts and thinking. In order to make a positive working environment they have to maintain honesty among the employees. Leaders should be creative and confident while giving guidance to their team's members.
Managers Characteristics
Marks and Spencer managers must have strong skills of communication as it will aid in ;connecting employees of the firms. It will help in giving essential information about goals and objectives properly (Handschin and Petroianu, 2012). Management of company should have effective knowledge of theories and concepts for taking proper decisions as well as judgement in the context of objectives and market conditions.;
Differentiate within leader; managers
Leaders

Managers

1. Leaders stimulate their employees to meet set targets and objectives.

2. Leaders have to gain employees trust.

3. Its main purpose is to growth as well as development.

1. Managers have to perform activities like planning, staffing, organising, directing and controlling of business activities.

2. They measure workers through their skills of management.

3. The managers main aim is to achieve the set outcomes.
There are difference in role of leaders and manager's functions which can be better understood by applying concepts and theories which are as follows:
Managers execute the business activities of planning, organising, staffing, directing and controlling. On other hand, leaders will stimulate their group members to attain the objectives and targets.
In this leadership traits theory, Leaders should not be autocratic while taking decisions but managers role is to take proper decisions in order to meet targets.
Transactional leadership theory refers to employee's rewards and punishments for motivating them. Transformational theory employs charisma and enthusiasm for stimulating their employees (Jørgensen and Zaccour, 2012).
Action Centered Theory, leaders build their teams as well as motivate them for completing tasks which are set by managers.
Hard concept is a skill of management as they are rigorous with its workers and soft concept is an skills of leadership in which they maintain strong relations with their employees in a polite way.
TASK 2
P2 Role of Leader and Function of Manager Apply in Different Situational
Management give work to their employees and its duties as per their abilities and skills. In this, supervisor are providing responsibilities to leaders for giving guidance and direction to their group members. It will help in completing of task in an proper manner within the span of time (Kerzner and Kerzner, 2017). Leaders and managers are very essential part of Marks and Spencer as they will aid in completing activities effectively in various conditions which gave impact on enterprises. Some situations in which managers and leaders both play their different roles which are as follows:
Decision Making: In this situation, it involve both employees and managers in meeting and conferences in order to take any decisions. Marks and Spencer is an retail industry which require to update their goods as per latest trends as well as market preferences. e.g. company had to take a decision to raise its operations in order to establish a new product.
Managers functions is to make decisions for giving adequate information to their employees about their goals and works. It is essential for organisation to formulate policies and strategies for guiding employees and also stimulate them in order to accomplish the work effectively. Managers is organising a session of training & development in order to improve the skills of workers.
In this situation, role of leader is to involve their employees while taking decisions related to their work systems. Along this, staff members communicate with customers which help them to have knowledge about market to make alterations in system and strategies accordingly.M&S managers connect with its buyers and acknowledge their preferences as well as taste accordingly. Leaders will perform better policies and take effective decisions.
Risk Taking: In this, it defines each company is having various issues and difficulties. M&S company require proper utilisation of resources to sustain its position and reputation in market. It is important for manpower to make a proper use of material and finance properly which aid in operating a business properly (López and et. al., 2015). Manager of M&S frame plan to avoid errors and difficulties from system by conducting business operations and making employees function in respect to defined standards. Along this, market research help superior to asses issues and problems in context of competitors which might affect on company's sales and profitability.
In this, Managers functions is to evaluate the external as well as internal factors effectively. Management theories and concepts are adopt for taking effective solution and managing risk. M&S company is facing issues while applying advanced technology within their working environment as it will not able to operate properly and it will gave affect on business activities. Leader's role is also very important in this situation because they are the one who have to take decisions like whether company should make big investment or not. They are responsible for success or failure the risks which company is taking.
P3 Apply Different Models and Theories of Approach
Managers need to operate system functions in an effective way which support in growth and development of company. It is important for Marks and Spencer firm to manage all the conditions in order to maintain organisation goodwill in the marketplace. Their are certain theories which are as follows:
Situational Leadership Theory: It is refers to existing organisation within marketplace which keep on changing dynamically. Their are various types of persons are working in the firm with different family backgrounds such as religion, gender, language, caste and many more (McPherson and Pincus, 2017). Thus, it is necessary for M&S organisation to use effective tactics as well as styles in order to direct and guide employees for executing functions effectively.
System Leadership Theory: It is management's duty to conduct the businesses activities effectively for achieving targets and objectives. It is important to give effective working environment as well as facilities to employees for accomplishing their work properly. Advanced tools as well as technologies are applied within workplace. So, that Marks and Spencer company can produce a quick products and services for their customers which will aid in improving firms goodwill in the marketplace. System leadership does not have leaders, it has various heads at different part of a process (System). They focus on the work which is given to them and try to improve it for brining changes in organisation.
Contingency Leadership Theory:In this, it specifies its nature of personality, functioning and so on element which determine leaders functions and system. Each sector has different preferences and taste of buyers and it also changes very rapidly (Mendis,Muttaqi and Perera, 2014). Hence, due to this various problems take place in the firm and it makes coordination within group members in order to overcome with the problems.
Management of M&S is adopting a situational leadership theory as it will aid supervisors to take a effective judgement as well as design a system as per its objectives and targets properly.
All the theories of leadership are having its merits and demerits within the workplace which are given below:
System Leadership Theory
| | |
| --- | --- |
| Merits | Demerits |
| This theory reduce the dependency on single person and bring improvements at ground level. | In this theory, it is having a limited flexibility which makes very typical to deal with daily modifications within workplace. |
Situational Leadership Theory
| | |
| --- | --- |
| Merits | Demerits |
| This theory will aid in managing the use of this method as per market situation along with this it makes the system function effectively within working environment (Moghaddam and et. al., 2011). This will help in maintaining stability. | Management should have full information of market situations in order to use advanced technologies within working environment. For this firm require to analysed on daily basis which is costly and time consuming. |
Contingency Leadership Theory
| | |
| --- | --- |
| Merits | Demerits |
| It will aid in giving flexibility in a working environment. This styles of leadership is used as per market conditions and help in removing non favourable circumstances of enterprise. | In this theory, it do not have a particular styles of leadership which are used by leaders. It is very typical within working environment as it posses certain experiences to implement this method. |
TASK 3
P4 Key Approaches to Operations Management and Role of Leaders and Managers
M&S need to organise the enterprise activities properly. So, that effective goods and services are given within workplace as per customers wants and needs. It is important for organisation management to use proper models, theories and concepts in order to make proper use of resources for achieving its objective and goals within a limited period of time. Their are certain methods which are used by management are as follows:
Six Sigma: It defines supervisors to analysed the problems, so that effective objectives and goals are made. Along with this it also measure the workers performance as well as its results by adopting effective techniques which are cost accounting, MBO, 369 degree and many more. It will aid in improving employees performance within working environment. Leader's role is to motivate employees for learning new things so they can adopt new approach in an effective way. Manager's responsibility to find the problems of employees and resolve it so they can work on new and better approach.
Lean Manufacturing: In this method, it is a systematic process by adopting proper resources like as finance, materials and manpower in order to eliminate wastage. Mass manufacturing is an effective tactics which give advantages to Marks and Spencer to provide best quality of products and services (Pinto, 2015). They run the plan effectively and assumes demands in order to make goods available for buyers. Leaders are accountable for finding the macro areas where wastage can be minimised. Managers concentrate analysing technical areas in order to assure continuous optimum utilisation of available resources.
Total Quality Management: It provide advantages to a firms for a long time through giving products as per customers needs and wants. It will help in maintaining reputation of Marks and Spencer in the marketplace (Thaler, Priest and Fuchs, 2016). Therefore, it motivate employees to participate within activities for effective outcomes.
Manager of M&S has various responsibilities for completing work effectively as they have to prepare a plan for making effective programs and techniques for operating a functions of systems properly. They also set goals for employees in order to meet objectives and goals within the given period of time.
Roles of leaders is to manage the task through directing and guiding their group members according to their skills and abilities. Leaders motivate their workers as well as solve conflicts which take place among the the customers. It will also help in maintaining coordinating within each others in order to raise productivity.
P5 Importance and Value of Operations Management
For an organisation, operation management is necessary to maintain efficiency of process of manufacturing. It is an administration related to the business practices for develop high efficiency level with in company (Rani and Moreira, 2010). Operation management plays an important role in company as it handle problems such as operations, maintenance and also design of system that is used for manufacturing of products. It is helpful in improving whole productivity of business. Marks and Spencer is using six sigma, lean manufacturing and total quantity management to enhance profitability and productivity within the workplace. There are some importance and values of operation management mention below:
Quality Improvement- The main focus of M&S is on satisfying needs and demands of consumers by provide the better quality of products and services. This company use the continuous improvement tool to make improvement in product quality. It helps in attract more customers towards company and enhance sales.
Reduce wastage-It is necessary for an employer to make focus on reduce the errors and wastage from manufacturing process. It will help in increasing productivity and also reputation of company. Through quality of products will be better.
Increasing Profit- Quality develop the direct impact on profit level of company. Operation management is helpful in improving the quality of services or products. It will helpful in attract the more number of consumers towards firm and result in increase sales. Marks & Spencer offer its products online but its main focus quality quality goods. It will aids in enhance the profit and productivity of company (Slack, 2015).
Leaders and managers both play a necessary role in prepare an effective plan, policies and also strategies to increasing the operational functions in systematic manner. They have certain traits like concentrate on quality, realistic, better working efficiencies etc. It is helpful in conduct the operations of company in proper manner.
TASK 4
P6 Factors of Business Environment that Impact on Operations Management and Decision Making
In order to operate enterprise activities in an proper way to which extent, Marks and Spencer management will focus on bringing as well as maintaining sustainability at workplace. In this procedure,organisation have to face challenges in several factors which are represented in business surrounding. It involve fluctuations in technology development, economic situations and many more. It gave influence in positive as well as negative manner. Therefore, it is managers responsibilities to understand all the internal and external factors which gave influence on decision making. In Marks and Spencer, there are certain elements which impact on working systems which are as follows:
Corporate Social Responsibilities:These function are related to improve the society in which an organisation surrounds. It is an supervisors duties to contribute certain efforts towards the environment as well as society development which will help in raising image of nation. Through this, management operational of Marks and Spencer will create the feeling of unequalled happiness among the employees.
Business ethics:It is very essential factor for supervisors of the company which require to bring proper ethical culture in its business (Ravindran ed., 2016). Marks and Spencer company have to develop its policies as well as strategies through concerning more on providing advantages to stakeholders. This term of business ethics refers as a set of principles which are used by Marks and Spencer in its strategies, policies and decision-making.
Values: These principles which give guidance to the organisationinternal environment that organise its relations with shareholders, customers and partners. Mainly, it will give sum up of Marks and Spencer statements along with its mission statements of firms core values. Managers take decision in order to communicate their values to the Marks and Spencer
In general business activities of a company is affected by many factors present in internal and external environment. It includes changes in economical conditions, demand of customers, advancement of technology and more. Therefore, it is required by managers of M&S to concern on these factors which impact on profitability and operations of business. It will help in gaining high sustainability of business as well in a particular marketplace.
Conclusion
As per above report it has been concluded from this report that management and operations of a company is a main process through which entire activities can be conducted in a proper manner. This departments helps a firm in organising as well as utilising resources of business also. In addition to this, it also describes procedures through which quality of goods can be manufactured in a proper way. Along with this, managers and leaders also play an effective role for running functions of business by achieving set targets and objectives in a short period of interval. It can be said even if their roles are different in the organisation but their main objective is to avail maximum benefit to the company with effective work performance.They used various approaches like lean production, just-in-time and more to reduce wastage of production.
References
Books & Journals
Balasubramaniam, K. and et. al., 2016. Energy management system for enhanced resiliency of microgrids during islanded operation. Electric Power Systems Research. 137. pp.133-141.
Fayol, H., 2016. General and industrial management. Ravenio Books.
Giuliani, M., and et. al., 2015. Curses, tradeoffs, and scalable management: Advancing evolutionary multiobjective direct policy search to improve water reservoir operations. Journal of Water Resources Planning and Management. 142(2). p.04015050.
Handschin, E. and Petroianu, A., 2012. Energy management systems: operation and control of electric energy transmission systems. Springer Science & Business Media.
Jørgensen, S. and Zaccour, G., 2012. Differential games in marketing (Vol. 15). Springer Science & Business Media.
Kerzner, H. and Kerzner, H. R., 2017. Project management: a systems approach to planning, scheduling, and controlling. John Wiley & Sons.
López, M. A. and et. al., 2015. Demand-side management in smart grid operation considering electric vehicles load shifting and vehicle-to-grid support. International Journal of Electrical Power & Energy Systems. 64. pp.689-698.
McPherson, R. A. and Pincus, M. R., 2017. Henry's Clinical Diagnosis and Management by Laboratory Methods E-Book. Elsevier Health Sciences.
Mendis, N., Muttaqi, K. M. and Perera, S., 2014. Management of battery-supercapacitor hybrid energy storage and synchronous condenser for isolated operation of PMSG based variable-speed wind turbine generating systems. IEEE Transactions on smart grid. 5(2). pp.944-953.
Moghaddam, A.A., and et. al., 2011. Multi-objective operation management of a renewable MG (micro-grid) with back-up micro-turbine/fuel cell/battery hybrid power source. Energy. 36(11). pp.6490-6507.
Pinto, J. K., 2015. Project management: achieving competitive advantage. Prentice Hall.
Rani, D. and Moreira, M. M., 2010. Simulation–optimization modeling: a survey and potential application in reservoir systems operation. Water resources management. 24(6). pp.1107-1138.
Ravindran, A. R. ed., 2016. Operations research and management science handbook. Crc Press.
Slack, N., 2015. Operations strategy. John Wiley & Sons, Ltd.
Thaler, T. A., Priest, S.J. and Fuchs, S., 2016. Evolving inter-regional co-operation in flood risk management: distances and types of partnership approaches in Austria. Regional environmental change. 16(3). pp.841-853.
Related Samples:
Marketing Management at Unilever
Study Report On Oil And Gas Management