Answer :
Introduction
Operations management is managing the enterprise practices in order to gain higher efficiency within the company. It is concerned with converting labour as well as materials into finished products and services efficiently (What is Operations Management?, 2014). This concept helps in achieving higher level of profits within the company. Management operations have to attempt balance within revenue and costs to meet higher level of operating profit. Marks and Spenser is a retail industry and the founder of this company is Sir Michael Marks and Thomas Spenser. This company is providing job opportunities to approx. 84,939 employees within the organisation. It specialises in selling of home goods, luxury food products and clothing. In this report it involve the definition of manager and leaders and its characteristics as well as roles. Also undertaken the various methods of models and theories along with this it also analyse the value and importance of operation management.
TASK 1
P1 Define and compare different characteristics and roles of a manager and a leaders
Marks and Spencer is a retail industry and it has;various branches all over the world to have large reach of market and customer base. This firm is founded by Thomas Spencer and Michael Marks in 1884 to give home products, clothing and home appliances to satisfy needs and demands of people.
Leaders
Leaders are one who direct and guide their group members to;work in a collaboration way (Balasubramaniam;and et. al., 2016). These skills of leadership will aid the company to compete with their rivals within the working environment. It is important that a leader must have skills or ability of motivating employees within working environment for achieving its goals and objectives in a proper manner.
Managers
Managers is responsible for administering or controlling a group or companies staff. They have to execute all the activities and functions in order to run enterprise such as planning, organising, staffing, directing and controlling effectively. It should be followed in a systematic and disciplined manner for making a effective utilization of management skills. It will assist in taking proper decisions of enterprise activities.
Leaders Roles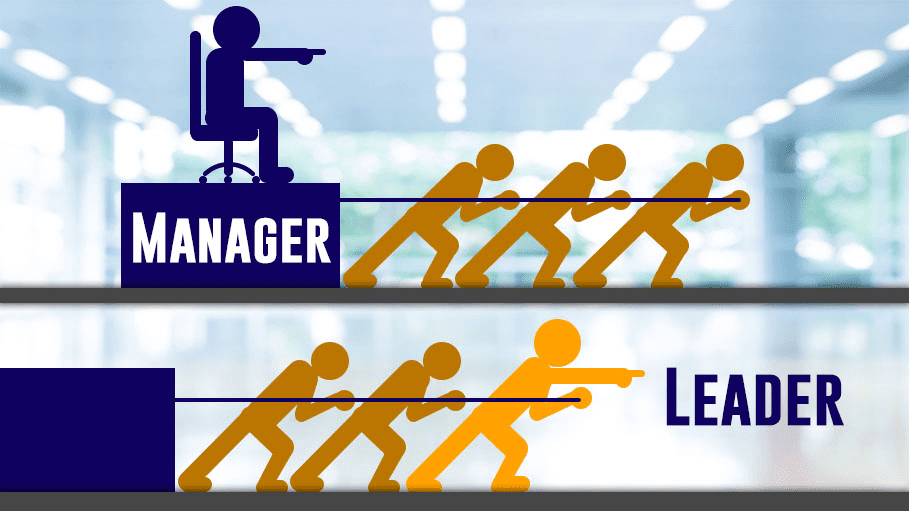 According to the above image, it shows that manager provide duties and targets to employees in according to their skills and knowledge to make them perform tasks effectively. Their aim is to accomplish business goals and objectives. While, leader provide guidance and direction to subordinates to make them work in systematic manner. This help company to have motivated and dedicated staff with retain for longer time.
Main role of leaders in ;Marks and Spenser gave effect on employees working in a right directions. There are some leader's roles which are given below:
Communication: Leaders should have proper skills of interaction while giving directions to their group members. Along with this they also have to communicate about plans, objectives and policies of the firms to all workers (Fayol, 2016).
Guiding employees: In this, it is a responsibility of leaders to maintain relations with their workers. In order to give effective information and acknowledge about the disputes as well as issues which take place within workplace. Hence, giving proper guidance to workers will help in accomplishing of work in an effective way.
Managers Roles
There are several different duties which are performed by managers in an Marks and Spencer firms are as follows:
Informational role: Management of Marks and Spencer have to communicate effective data to their employees which are required to achieve objectives and goals within a given period of time.
Interpersonal role: In this, company organise conferences as well as meeting in order to communicate with employees (Giuliani and et. al., 2015). As managers establish a positive working environment as well as maintain strong relations with them.
Leaders Characteristics
In this, leaders should communicate with managers as well as acknowledge their thoughts and thinking. In order to make a positive working environment they have to maintain honesty among the employees. Leaders should be creative and confident while giving guidance to their team's members.
Managers Characteristics
Marks and Spencer managers must have strong skills of communication as it will aid in ;connecting employees of the firms. It will help in giving essential information about goals and objectives properly (Handschin and Petroianu, 2012). Management of company should have effective knowledge of theories and concepts for taking proper decisions as well as judgement in the context of objectives and market conditions.;
Differentiate within leader; managers
Leaders

Managers

1. Leaders stimulate their employees to meet set targets and objectives.

2. Leaders have to gain employees trust.

3. Its main purpose is to growth as well as development.

1. Managers have to perform activities like planning, staffing, organising, directing and controlling of business activities.

2. They measure workers through their skills of m