Answer :
INTRODUCTION
Travel and tourism industry is one of the largest sectors which is growing at a rapid pace owing to the global economic influences of environment. The major function of this industry is to render assistance to individuals by providing them the facilities associated with accommodation, sight-seeing, travelling etc. Travel and tourism entrepreneur is the key to success and growth of this industry and makes use of their effective and efficient skills and traits in order to ensure excellent customer service and optimum service delivery (Ahmad, 2015). This industry possesses a vast scope to incorporate innovation within products and services so as to meet the demands of people. The following report is divided into three tasks. The first task will take into account the skills required to become successful entrepreneur along with a self appraisal of entrepreneurial traits. The second task explores entrepreneurial development and identifies the factors which lead to success of a venture. Third task comprises of a business plan for gaining entry into travel and tourism industry.
TASK 1
A) Traits and skills to become successful travel and tourism entrepreneur
An entrepreneur has an important role while bringing up a new venture project. The effectiveness and efficiency of an entrepreneur largely depends upon one's skills and traits which they utilise to achieve the organisational short-term as well as long-term goals and objectives (Cassel and Pettersson, 2015). Their major goal is to undertake activities which ensure maximum customer satisfaction. In order to become successful in travel and tourism sector, one must have the following skills and traits:-
TRAITS
Passion: A travel and tourism entrepreneur must possess immense passion towards the venture project and this paves the way for encouraging them to take such efforts which ensure success and growth of business enterprise (Carson, Carson. and Eimermann, 2018).
Innovation: This is the key to success of a business organisation. An entrepreneur should possess an innovative mind and comes up with unique and creative ideas which can ensure development of solutions to economic and social problems being faced by population in relation to travel and tourism sector (7 Essential Skills Required to Succeed as An Entrepreneur, 2019).
Competitive spirit: An entrepreneur who is employed within travel and tourism sector must possess confidence in one's abilities and undertakes such activities and processes which have the capability to bring about a positive change within society. Taking strategic decision and devising effective strategies to gain an edge over competitors is the key trait of a successful entrepreneur.
Goal oriented: In order to become a successful entrepreneur within travel and tourism sector, it is essential that one devises the short term as well as the long term goals. This helps them to measure the variances between actual and desired performance at a later stage and undertake steps which can assist in reduction of these variances in future context.
SKILLS
Leadership: It is essential for an travel and tourism entrepreneur to possess leadership skills as this provides assistance to one while taking important decisions independently (Bredvold and Skålén, 2016). They are the ones who are responsible for assuming all the risks within the project. Thus, effective leadership assists them in building communication with other employees so as to ensure that activities and processes take place within the venture projects in accordance with the set targets.
Constant planning: It is imperative that an entrepreneur does constant evaluation and analysis of travel and tourism market in order to make plans which are aligned with the strategies of competitors and ensure maximum customer satisfaction. It is post the evaluation of market and competitors that entrepreneurs are able to devise effective strategies which can render the upcoming project a strategic edge over rivals and assists it in gaining a higher stake in market.
Risk handling: A successful entrepreneur assumes all the risks that act as hindrances for the upcoming project and takes steps so as to overcome or reduce the damage caused by these risks. By undertaking risks in case of a new travel and tourism company, the scope for growth and success of business enterprise enhances as the implementation of an emerging technology or process may assist the entity in increasing the stake in market as well as the profitability levels.
Effective communication skills: It is significant that an entrepreneur possesses optimum communication skills so as to build healthy relationship with clients, suppliers and other key stakeholders. This skill renders competitive advantage to travel and tourism entrepreneur as they possess the capability to persuade people to buy the products or services delivered by company by way of lucrative tour and holiday packages. Also, communication assists the entrepreneur in building healthy relationship with employees and keeping them motivated at all the times.
B) Self appraisal of entrepreneurial traits against benchmarked development
The traits and skills possessed by an entrepreneur is a key factor which determines the chances of growth and success of an enterprise (Deale, 2016). It ascertains the performance of an entrepreneur in the direction of facilitating business growth and also takes into account the extent to which an organisation succeeds under one's leadership. In this regard, I have conducted self assessment which assists me in gaining an insight into my strengths and weaknesses for becoming a successful entrepreneur within tour and travel industry. For this, I have awarded every trait and skill of mine a score out of 10 on the basis of which I have classified it into strengths and weaknesses. Following are certain traits and skills which act as strength and weakness for me for successfully starting a venture project or carrying out an established business:-
Basis

Description

Score (out of 10)

Evidence

Strengths

Skill

Planning & Organising

Planning is the first step for effectively executing the tasks and achieving the desired objectives in the stipulated time frame (Hingtgen and et. al., 2015). This follows organising which indicates the prioritisation of tasks as per the importance and relevance. I am a person who believes in optimum planning and organisation so as to make sure that activities take place as per the set targets.

9

In past also, I have been praised by my colleagues and seniors for effectively planning and organising the activities in order to ensure that work is carried out in the desirable manner.

Trait

Motivation

I am a highly confident individual and strive to undertake such activities which ensure that I remain motivated at all the times. I make sure that even though I lack certain qualities, I remain focussed towards strengthening my existing strengths and working towards overcoming my weaknesses.

9

I possess high knowledge of new geographical locations and always remain eager to explore new boundaries which have not yet been explored so as to launch a tourism venture there and gaining success.

Innovation

Unique and creative ideas lay the foundation of successful venture projects and ensure the development of solutions for challenges being faced by people in society (Crossley and et. al., 2018). In this regard, I am a person with innovative mindset and often come up with new ways to carry out the same activity every time.

8

My teachers and peers always praised me for my new and unique ideas for completion of projects and assignments at university. Further, I keep on conducting research upon the latest tools and techniques being used in marketplace to come up with innovative ideas.

Weaknesses

Skill

Risk bearing

I have analysed that I am not much capable of assuming the risks and liabilities alone which hinders me from becoming a successful travel and tourism entrepreneur. This may hinder me from becoming a good capitalist in future.

5

It has been pointed out by my colleagues and peers in the past that I remain apprehensive in case of risks and liabilities and remain inefficient in dealing with them adequately.

Trait

Leadership

This determines the ability of an individual to lead other people or groups within an enterprise. It has been found out that I work effectively when carrying out an individual task but I am not much efficient in collaboratively working and leading the team.

6

It has often been pointed out by my colleagues and associates that I lack leadership skills owing to which I am not able to persuade the group for adopting my way of working.
TASK 2
A) Development of entrepreneurial enterprise
One of the most famous personalities who have earned huge name and fame in taking travel and tourism industry to great heights is the owner of Virgin Atlantic, Mr. Richard Branson. This famous personality developed the organisation owing to the traits and skills possessed by him which assisted in meeting the vision of becoming one of the leading firms within the industry (Nikraftar and Hosseini, 2016). The personality traits as well as skills of Richard Branson due to which Virgin Atlantic is at a top position in global market is as follows:-
Leadership: These skills assisted him in building a huge empire under the name of "Virgin Group" and also establish an effective image within tour and travel industry. The biggest merit of his personality was that he acted as a leader but only with the agreement of his staff members which facilitated a feeling of cohesion as well as cooperation among employees (Khan and Krishnamurthy, 2016). Owing to this, Richard Branson always asked for views and opinions of other members of organisation and considered them important for effective decision-making.
Innovative mindset: Richard Branson is known for possessing an innovative mind owing to which he has always come up with unique and creative ideas. It has been observed that he shares his visions and ideologies with the staff members in order to attain a feedback upon the same. This provides assistance in taking fair decisions in context of Virgin Atlantic.
Building healthy relationship: It has often been noticed that Richard Branson is an individual who believes in socialising and building effective relationship with employees so as to develop a collaborative culture with least scope for conflicts. The staff of Virgin Atlantic considers him as a role model and looks upon him as a counsellor as well as motivator.
Obsession for work: It has been observed that Richard Branson has been a highly dedicated, motivated and obsessed employee who emphasizes upon adopting such activities which ensure betterment of company and achievement of organisational goals. He considers every activity as a challenge and strives to make sure that his performance yields effective outcome for Virgin Atlantic.
Evaluation of factors leading to success of organisation
Virgin Atlantic is an airline which was founded by Mr. Branson in 1984. The main factor that takes the Virgin Atlantic, in fact the whole Virgin group at top position is the strategies adopted by its entrepreneur. Branson achieved a number of milestones on the journey towards becoming a leading airline. He also joined hands by way of joint venture with the airline of Malaysia & Singapore.
Owing to the personality traits as well as skills, Virgin Atlantic is at a top position in airline industry in the present context. This owes to the business development strategy which was adopted by Richard Branson with the passage of time which shape the current achievements of company, this is as follows:-
Strategy of new venture: Over years, Virgin Atlantic has entered partnerships or joined hands with other airlines, hotels and tourism companies so that this firm can attract a large number of consumers by providing good quality services associated with accommodation also along with the air tickets. For this, Branson adopted the strategy of joint venture with both the Malaysian and Singapore airlines such as Delta and significantly attained success thereby gaining a high stake in market and enhancing the profitability of airlines. Further, this organisation entered into joint venture with TCS so as to invest effectively in operational efficiencies and technological innovations with the aim to gain market leadership. The partnership of Virgin Atlantic with TCS assisted the organisation in enhancing its infrastructural facilities so as to assist in company's key business objective of becoming a leading airline (Virgin Atlantic Airlines Extends Strategic Partnership with TCS, 2019).
To make this joint venture successful, Branson adopted a number of assisting strategies and ways through which acted as the success factors to help Virgin Atlantic in achieving its vision of becoming a leader within airline industry. Such assistance strategies (success factors) are described below:-
Promotional campaigns- Virgin Atlantic and Delta together launched their first joint marketing programme with an aim to market and promote each other's transatlantic flights with an emphasis upon brand's alignment with provision of excellent customer service delivery. To create awareness about their partnership among the population, they introduced experiential pop-up spaces in the vicinity of New Year Stock Exchange and also in Canary Wharf of London. Here, demonstration of cabin crew, business class cabins, check-in desk staff's use of Google Glass technology was given along with trials for visitors to attend flight simulator besides the pilot of Delta (Virgin Atlantic and Delta launch first joint marketing push, 2019). Further, Virgin Atlantic also uses a number of promotional strategies to create awareness among customers about their business and high class facilities. Promotion is done by company by using different promotional techniques such as TV, Radio, social media and others (Omerzel, 2015).
Discounts and other offers- For increasing sales, Virgin Atlantic use the strategy of offers and discount or one free ticket with two. By providing concession on the tickets for the children, they also use this strategy for increasing the sales.
TASK 3
The travel and tourism entrepreneur is planning to launch a new hotel under the name of "Fantasizing Travels" which will have some unique facilities to offer to assist in gaining the attention of a large quantum of population. Fantasizing Travels is a hotel which will have 24 hours check in and checkout facilities which aims to provide assistance and convenience to population. Further, services such as free internet, television, fun activities, concerts, fitness centres, spa, laundry, boutique etc. will be rendered to public so as to attract people towards the business. Online booking will be available for hotel rooms via the website of company and the feature of electronic ticketing will be provided to the customers to ensure their convenience.
A) Sources of finance and support for proposed project
The travel and tourism entrepreneur have to undergo several difficulties and challenges while procuring funds for starting a new venture project. The entrepreneur has decided to open a new tour and travel enterprise under the name "Fantasizing Travels" for which he would require capital. There are a number of sources of capital required for starting a new business within travel and tourism industry. Some of the available sources for initiating a new travel and tourism company are:-
Personal Investment: This is one of the best sources of capital which is available to the travel and tourism entrepreneur. This source is easy and very quickly accessible for the entrepreneur. Further the added advantage here is that there are no payback terms or equity transfers in this source of finance (Sheldon, Pollock and Daniele, 2017). This is commonly referred to as seed capital.
Family and Friends: This is yet another ease source of procuring finance for starting a new tour and travel business. This source of finance does not require any kind of documentation and here the funds can be easily accessed.
Bank Loan: Banks, also usually referred to as conservative lenders grant loan to travel and tourism entrepreneur against pledge of any external asset. This source of procuring funds requires immense documentation and other formalities and also involved payback conditions together with interest associated with it. This source is generally hard to tap owing to inadequacy of assets (Omerzel, 2015).
Investors: It is most common source for procuring funds for opening a new tour and travel business. Here, funding is dependent upon venture investors who maintain their stake in ownership of funded venture project.
Overdraft facility: This is a facility given by banks to entrepreneurs wherein they allow the account holder to withdraw excess money over the existing balance in their savings account. This is a type of credit agreement which is entered between account holder and financial institution (Bassey, 2015). This provides assistance to tour and travel entrepreneur for raising short-term cash to initiate a business.
Post the evaluation of available sources of funds, entrepreneur has decided to raise capital through a combination of three sources, namely, bank loan (30%), personal investment (10%) and investor's shares (60%).
B) Development of a business plan with market assessment, business analysis and cash-flow analysis along with Justification of potential for success
For starting a new venture, it is essential that firm takes into account the market and industry so as to develop tactics and strategies that can provide an edge to company over existing companies within tour & travel sector (Rodrigues, Rodrigues and Peroff, 2015). In this regard, before starting "Fantasizing Travels", entrepreneur has done market analysis
The market potential for this company is huge and this entity will give tough competition to the existing rivals owing to the high quality accommodation and entertainment facilities that this venture is striving to provide. The target segment of customers for the entrepreneur of Fantasizing Travels will be personnel who travel on a routine basis for business or leisure. Trekking enthusiasts are expected to get attracted to this enterprise as the company will offer affordable packages with lucrative offers for trek. The target market is selected to be London, United Kingdom. London has been strategically selected as the location for this upcoming project as being the capital of UK, this city is equipped with high quality infrastructural, communication, transportation and other services which are necessary for entrepreneur to formulate the setup of the new start-up business project.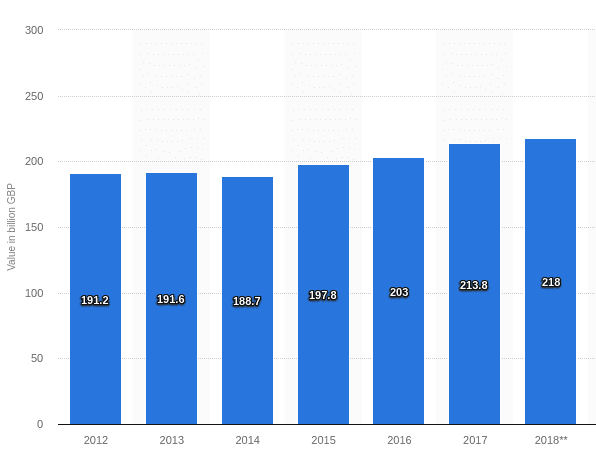 (Source: Contribution of Travel & Tourism to UK GDP, 2019)
Travel and Tourism industry plays a significant role in the growth of UK economy. The total contribution of this sector to GDP of country has been constantly increasing over a period of last some years and reached 218 billion British pounds in 2018. This reflects the potential for Fantasizing Travels to provide high quality services and excel at UK marketplace.
C) Persuasive business plan for Travel and Tourism start-up
The business plan for Fantasizing Travels is as follows:-
Start-up Summary: This entity will be situated at the heart of London in Mayfair area so as to gain the attention of a large number of tourists and local people. The startup expenses inclusive of capital are estimated to be approximately 215000$. The funding will be sourced by owner, investors and bank loan. This entity will operate within hospitality industry to provide high quality accommodation and entertainment facilities.
Business Objective: The objectives of Fantasizing Travels are proposed to be as follows:-
To conduct business affairs as per the code of conduct and practices prescribed for hospitality industry.
To offer high quality accommodation and other related services to customers for ensuring maximum consumer satisfaction.
Vision: To become a leader in Tourism & Travel industry in a time span of 3 years and increase the profits by 35%.
Mission: To provide a relaxing and comfortable stay to guests and provide leisure activities for their entertainment.
Key attractions: Excellent customer service, 24 hours facilities, high quality services and ambience of the hotel.
Marketing Channels: This organisation will make use of social media marketing through Facebook, Instagram, Twitter and also focus upon making use of chat bots to communicate with clients on website.
Financial Projections: To enhance the sales of company by 16% by the end of 2 years.
CONCLUSION
On the basis of above report, it has been concluded that entrepreneurship is a risky and challenging activity which puts across various hurdles in front of an entrepreneur. Thus, entrepreneurs have to adopt strategies that assist in business growth and ensure sustainability of organisation for a long time. Further, it has been analysed that self evaluation is an effective measure to ascertain the strengths and weaknesses of one's characteristics and traits. Besides this, it has been acknowledged that it is essential for an entrepreneur to devise and formulate a business plan so as to effectively start a new business and gain entry into travel and tourism