35+ Computer Science Dissertation Ideas to Ace Academics in 2022
06 Jan 2022
629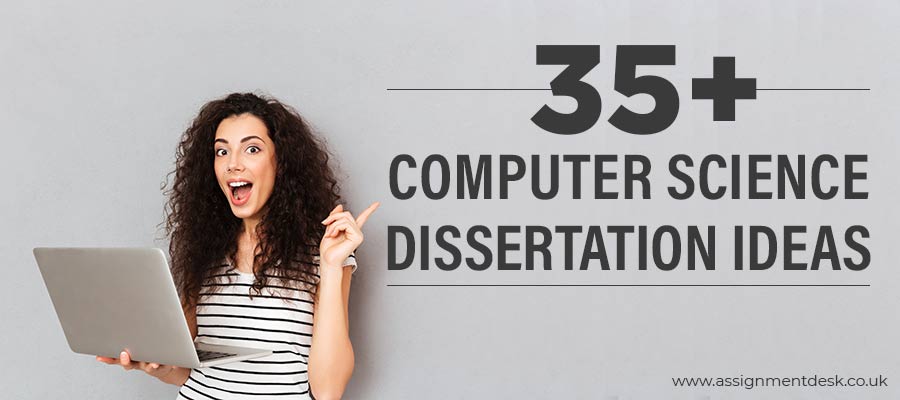 Table Of Contents
Computer Science is one of the most trending courses for students across the globe. With the world becoming technical and digital, every company needs Computer Science engineers, data analysts, programmers, coders, and so on. This is why students are running behind this course.
But sometimes, they miss out on the most crucial element of the course, dissertation writing which acts as an obstacle in many students' lives. This is because they cannot choose Computer Science dissertation ideas that can impress their professor easily and help them score top academic grades.
Wondering why topic selection for a Computer Science dissertation is so hyped up? We understand your concern; read the below section to get a clear idea. So, let's get started!
Importance of Computer Science Dissertation Ideas [Explained]
It is very important to make the right choice at the right time if we want good grades in academics. So, here we listed some top reasons why picking impressive Computer Science dissertation topics is so important:
First, it is the topic that catches a reader's attention first.
Second, the topic decides if the reader will read the content or not.
Third, it helps a professor analyze the research skills of a student.
Fourth, the topic decides the student's interest in it, whether he likes it or not.
Fifth, it helps one look at the same topic from different perspectives.
Finally, professors estimate the student's hard work put in the dissertation through the topic selected.
Now that you know how a topic is so important for students in scoring good grades in their academics, let's look at some topic ideas that can help in drafting an engaging dissertation within no time.
Need Help with Dissertation?
Get a 100% Original Dissertation Written by EXPERTS
Get Help
List of 35+ Impressive Computer Science Dissertation Ideas
Here are some popular Computer Science dissertation ideas that every student should know so that he can get inspired from these or pick one from here to draft their dissertation and impress the professor easily:
1. Hardware
Computer science has a strong connection with the hardware. And if you are a student obsessed with hardware and looking for Computer Science Research Topics for Post graduate writing, then here are some that might interest you:
a) Changing needs of computer hardware with time.
b) Criteria of computer hardware development.
c) Principles in the arena of computer hardware.
d) Development of error-free hardware equipment.
e) Uses of computer hardware development for society.
2. Networking
One major sector of computer science is networking. This is also known as the most complex topic, thus leading students to seek assistance from professionals. So, we listed some ideas here:
a) Prevention of attacks during network transmission.
b) Authentication and privacy of data during networking.
c) Transmission techniques in wireless transmission.
d) Managing network data using database technologies.
e) Router placement in scalable sectors for networking.
3. Security
If you are looking for undergraduate thesis topics in Computer Science, then security can be an important research area. But if you do not have much idea of the same, then here are some suggestions that can come in handy:
a) Programmatic approach to analyze network security.
b) Ways to secure data sharing in Wi-fi networks.
c) Planning to secure 4thgeneration wireless networks.
d) Fault recovery in 4G wireless networking systems.
e) Development of secure run-time environment.
4. Software
Software engineers, the fancy name for computer science students once they get into the software sector. Are you also ambitious about the same? If yes, then make sure your dissertation reflects the same. Confused about which one to pick? Here's a list to help you!
a) Popular software rising high in the last decade.
b) Discrepancies users face during software usage.
c) Software development using computer science.
d) Computer software development is related to business management.
e) Global energy consumption is minimized with computer software.
5. Programming
If you are a programmer looking for Computer Science research topics for a Ph.D. degree, then you are on the right page. Here are some interesting ideas for you:
a) Programming database for SQL and tables.
b) Design and implementation of web services security.
c) Techniques for testing embedded programs.
d) Modern applications of computer science programming.
e) Scheduling resources and allocation in programming.
6. Algorithm
Are you more like a student who loves developing algorithms and cracking logic for computer science? If yes, then you are on the right page. Here are some algorithm-related topic ideas for you!
a) Algorithms for parsing multimedia databases.
b) Know to implement the optimal algorithm for computer association.
c) Algorithms for generating classification trees.
d) An Insight into the Hash algorithm and its implementation.
e) Algorithm for one-way hashing functions.
7. Information Systems
This is the latest topic for computer science students. Nowadays everything is related to information systems. Students who are studying in the graduate and post-graduate have to work on this topic.
a) Design and implementation of the device using Information systems.
b) Information systems in change management of web environment.
c) Implementation of information system in the environment.
d) Improvement in scientific innovation using information systems.
e) Behavior and retrieval implications for information.
8. Cloud Computing
We have got you if you are looking for cloud computing topics since it's the most trending topic. Here are our experts some topics on the most crucial element of cloud computing that can impress your professor:
a) Designing a cloud-based information system.
b) Control and resource allocation through cloud computing.
c) The cost-efficient workload in cloud-assisted computing.
d) Service provider selection for cloud collaboration.
e) Scheduling cost-efficient mobile-edge computing.
These are some trending Computer Science dissertation topics that can help students draft impressive documents and ace in academics. If you are also looking for some, but need more assistance, turn to the below section!
Struggling to Find Best Dissertation Topic?
Get a Unique Title & Dissertation Proposal Outline
for FREE!
Explore
Need Computer Science Dissertation Ideas? Turn to Experts!
Stuck with too many topic ideas? Can't decide which one to pick? Don't worry; leave it to our experts. Assignment Desk has the best programmers, coders, testers, and computer science experts who can help in drafting your dissertations with perfection. We work from scratch and deliver top-notch quality documents to students on time. Here are a few perks of availing our services:
Best Quality Work
Professional Writers
Affordable Prices
Unlimited Revisions
Secure Payment Gateways
Amazing Discounts
Authentic Work
User Identity Privacy
Exciting Freebies
So, what are you waiting for? When you can get so much in so little, why bother more? Reach out to our professional writers right away and avail exciting deals and offers.
Order Now
FREE Tools
To Make Your Work Original
FREE Features
Topic Creation

Outline

Unlimited Revisions

Editing/Proofreading

Formatting

Bibliography
Get all these features for
USD 84.3FREE