25+ Words to Use in an Essay to Sound Smart
07 Apr 2021
3802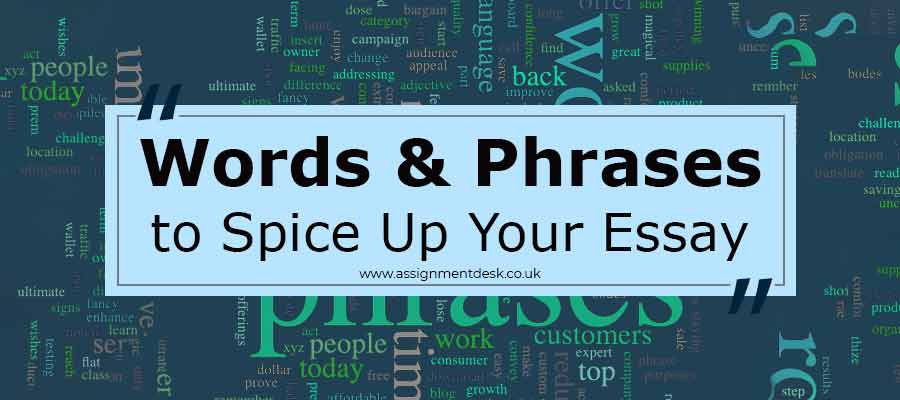 List of Good Words To Use in an Essay
"Words are free. It's how you use them that may cost you."-KushandWizdom
This is a common phenomenon experienced by students all over the world- whenever they are assigned the task of writing an essay, they instantly face a creative block. And even when they get some ideas, they can't seem to find the right words to express them aptly. And since an essay requires you to maintain a particular tone, not all words are equally suited. This confuses students as to what words to use in an essay to make it interesting while keeping the tone formal.
Usually, students are accustomed to using casual language over texts and conversations. So when they are faced with writing a piece using formal language, they go blank. Another reason is that students are not well-versed with essay writing, and therefore, with the vocabulary appropriate for it. Essay writing is developed over a long time, and even though students have been writing essays for a long, they still may not be able to nail it easily.
While the art of generating ideas and arguments for essay writing comes over time, and you cannot borrow the same from another, there are some good words to use in an essay that can help you sound smart.
So, if your vocabulary seems to go in hiding too when you sit down to write an essay, you are at the right place. The blog provides a list of words appropriate for the different parts and needs of an essay. Read on to explore them:
Words to Use in Introduction of an Essay
Considered by many as the hardest hurdle in essay writing, the introduction is the most crucial part of your essay. Starting off your essay at the right foot is very important. You need to be extra careful and creative in this part of the essay to grab the attention of the reader and get them interested in the topic of your essay. This is why students look up words to use in the introduction. To serve both the aforementioned purposes, here are some words to use in introduction:
1. In view of; considering; in light of
If there is a popular happening or saying related to the subject of your essay,you can begin it with the phrase- in view of: in light of; considering. For example, if you are writing an essay about politics in America,you can start it off with, 'In view of the recent elections in America...'
2. Firstly
Firstly, secondly, thirdly is a good way to start an introduction if the subject of your essay requires you to provide factual information. This provides clarity and structure to the way you uncover information to the reader.
3. According to X
Starting your essay with a fact, research, work,or opinion of some prominent person is a good way to introduce a topic that helps in gaining the faith of the reader at the beginning. Instead of using a quote and expecting the reader to understand the context of it,you can present it as,'As X stated....' and then explain it a bit.
4. It is well known/ not many know
You may be talking about a popular or well-known subject in your essay and might be providing newer perspectives on it, or you may like to start it off by introducing a popular related idea. In such cases,you start your essay with 'it is well known that ...but not many know...' On the other hand,you might be writing on a subject that isn't well known so you can introduce it with ' not many know...'
Need Help With Essay Writing?
Get Custom Essay Written by a Professional Writer on any for TOPIC.
Get Help
Words & Phrases to Use While Explaining an Essay
Your essay will require you to explain your topic effectively to the reader. For this, you will have to discuss multiple aspects and facts relating to the topic, and they all need to be well connected using transitive words. Here are some helpful words and phrases that would assist you in the same:
1. In order to
'In order to' is a phrase you can use to introduce and explain. This will help clarify to the reader how the concepts you are going to discuss arerelated or relevant to the topic you are discussing.
For example, 'in order to arrive at X, you need to go through Y,'
'in order to understand X, you need to first know about.'
2. To put it another way
While explaining a concept to the reader,the writer may use various perspectivesto make sure that it is effectively communicated to them. In such cases, you can use this,'to put it another way'to connect to two explanations, to avoid it looking like a repetition of ideas.
3. For a better understanding
When you would like to elaborate on a topic to provide much clearer evidence to the reader, you can use the phrase 'for a better understanding.'
For example, it is implied that X is a consequence of Y. For a better understanding, the research of Z says that...
4. To put it simply
Most of the time,writers give out a detailed explanation first and then provide the gist of it, or they avoid going into the depth of the argument. In both cases, the phrase 'to put it simply'can be used.
Words to Use for Adding Information And Flow in Your Essay
When someone looks for words to use in an essay, they are usually struggling with transitive words or connectives to present pieces of data. When explaining some points in the essay, you might need words to add information. Here are some words that make it clear to the reader:
1. What's more, Furthermore, Moreover
This can be used when you need to give out more information or reason to those mentioned before. 'Furthermore'is used when you need to elaborate the point you had mentioned before, while 'moreover' is used when you need to add a different kind of the point.'What's more' can be used in the same context to add any kind of information- similar or different.
2. Likewise, Similarly
Likewise and similarly are phrases you can use when you are about to talk about an idea that is connected to, agrees with, or similar to the one you have just discussed.
3. Not to mention
'not to mention' or 'to say nothing of' is used to add extra information by putting some emphasis on the information.
4. As well as
'As well as' can be used in the place of 'also' or 'and' to add more points.
5. Not only..but also
This phrase can be used to provide two sets of information together.
For example, Not only was Hitler an avid reader, but he was also a passionate writer.
6. Firstly, secondly
As mentioned before, this set of words can be used to structure arguments in an organized way. It helps to present points and arguments with detail clearly, one after the other.
Words to Use When Comparing or Contrasting an Essay
Most essays will include comparison and contrast between ideas or objects. You might present an idea and would need to present another opposite or contradictory idea right after. There are several good vocabulary words to use in an essay to showcase this. These are some words and phrases you can use for this purpose:
1. On the other hand
"On the other hand" can be used when you are introducing an opposing opinion or a contrasting interpretation of the same evidence. For example, Antony was a faithful friend; on the other hand, Brutus was not.
2. However
When you need to present a limitation or a point that disagrees with what you just mentioned, you can employ 'however.'
For example, you need to get sunlight daily. However, it is not recommended to spend more than 30 minutes in the sun.
3. In comparison; On the contrary
When you are clearly contrasting between two or more things, you can use phrases like, 'by contrast,' 'on the contrary,' or 'in comparison.'
4. Then again, that said
The phrase 'then again' or 'that said' can be used to create a doubt about the point asserted. It can help you present ideas that you aren't 100% clear about.
For example, the politician seems to be a good person as she has been involved in a lot of charity work. Then again, she may have political motives behind her actions.
5. Having said that
'Having said that' can be used in the same way 'but' and 'on the other hand' is used.
For example, using glasses to correct vision is treatment doctors swear by. Having said that, many people vary in their treatment.
6. Yet
'Yet' is another word that is used to introduce a contrasting idea. Its usage is similar to that of 'but.'
For example, X has been proved by science. Yet, there are people who still question it.
Words & Phrases to Use for Giving Examples in Essay
A good essay always backs up every important argument with an example. Here are some words and phrases that will help you when providing examples:
1. For instance
Example: Not all mammals can be said to give birth to live young. Platypus, for instance, is a mammal that lays eggs.
2. To elucidate
Example: Plants are not stationary. To elucidate, consider the touch-me-not plant or the Venus flytrap.
3. As evidence
Example: X is more powerful than Y. As evidence, research shows...
4. To demonstrate
Example: Not all metals are good conductors of electricity, to demonstrate this.....
5. To give an illustration
Example: There are many ways chemicals can change the DNA. To give an illustration...
Explore Our Free Academic Tools
Words & Phrases to Use in Your Conclusion of Essay
Though words to use in an essay for the conclusion are simple, students tend to be less creative with them. The conclusion of your essay needs to be powerful and definitive. You need to use words and phrases that wrap up all your writing. Here are some that can be used:
1. To summarize
The phrase makes it clear to the reader that you are going to provide that summary of everything mentioned before.
For example: To summarize, the evidence provided by A is much stronger than that provided by B.
2. In conclusion
The most typical phrase used to introduce the ending of an essay is 'in conclusion'.
For example: In conclusion, the views of A are more appealing to the youth than that of B.
3. As it can be seen
"As it can be seen" is used to conclude all the pieces of evidence and arguments provided throughout the essay.
For example: As it can be seen that not all mammals can be categorized by the feature of their way of reproduction.
4. At the end
'At the end' clearly indicates that the essay has come to an end and the writer is about to give the final thoughts.
For example: In the end, the issue is not about the left vs. the right, but...
Using the right transition words is very important to give your essay a proper structure. Although there exist many complex words, one can use to make themselves sound smart in an essay, it is suggested not to overdo it, as the primary purpose is effective communication. These are some common words that are suitable to be used for the mentioned purposes in an essay and are easily understandable. If you too are struggling with finding the right words in your essay, try using the above-mentioned ones.
Can't Find the Right Words? Let the Experts Help You
Students are constantly guessing about good words to use in an essay whenever they need to write a creative piece. But even after studying all the phrases, they may be confused about when and where to use them. If you too are facing the same problem, worry not, as you can get your essays written by the team of expert writers at Assignment Desk, who are well versed with all the right words and techniques that will give your essays a professional touch. When you order an essay through us, you get the following:
Subject-oriented writers
Free plagiarism report
Quality report
Delivery before deadline
100% ownership of documents
Free and unlimited amendments
24x7 student support
Guaranteed discounts
And much more! So why look upwards to use in an essay when you can get professionals to use them right in your essays? Head to the "Order Now" button to get your essay written now!
Order Now
FREE Tools
To Make Your Work Original
FREE Features
Topic Creation

Outline

Unlimited Revisions

Editing/Proofreading

Formatting

Bibliography
Get all these features for
USD 84.3FREE