How to Write an Amazing Hook Essay to Grab Readers Attention?
16 Aug 2023
309
The opening paragraph is an essential segment of an essay, as it signifies whether a reader will read ahead. Right no? It is the right way to opt-out. To write an essay hook, you should be very specific about the lines or sentences. It is a vital part of essay writing because if the content is boring at the beginning. You should write the content in a way that grabs the audience's attention from the start. To help with it, you should create an engaging hook essay that catches the audience's attention. To get an overlook of it, dive deep into its meaning and purpose.
What Do You Understand by Hook Essay: Its Importance and Aim
A hook essay is the opening sentence of a piece of content that readers are attracted to. You can use one line or different lines according to the requirements of the content, but the main idea remains the same. Moreover, an essay hook is a necessary technique to grab the reader's attention. However, you can spark interest by throwing them into something interesting to search for the climax.
To write a hook essay, you should know its purpose. The aim of writing this specific section is to grab the attention. It can be one sentence or several lines, depending on the document. To make a reader read your essay hook, you should write properly. Suppose you are writing the introduction, and must see which section a reader will get the most attention. Now that you have understood what a hook essay is and its purpose.
Need Personalised Assistance from Our Experts?
Share Your Requirements via Whatsapp!
Chat Now
How to Write a Good Hook for College Essay?
By specializing in how to write a hook for a college essay and what is a hook in an essay you get a chance to stand out from different people with the same academic profile. For this, you need a strong hook essay to get it covered. But before that, you need to have a kick-start opening line to amaze the admissions committee to read your college essay. By writing an impressive hook essay, you can grab the reader's interest.
Set the Plot
While wondering how to write a good essay hook, try to set the plot first. Start by mentioning the attention-grabbing line in the middle of the sentence, and specify it with correct details and conversation to keep the flow of the essay good. Make a plot so readers feel they are present at that moment and living every bit of it.
Cite it With an Example
You can start by stating examples to create a good hook essay. Thus, if you are explaining a particular skill or achievement, You can cite it with examples. You can state it in a way that does not seem off-topic and makes sense to the readers.
Start with an Anecdote
Using an anecdotal hook doesn't mean that your essay should be humorous. The joke should be crisp and well-targeted to get the best results. Therefore, the hook in essay plays a significant role. To make the reader visualize the scenario and understand while handling the task or challenge.
Now that you have understood how to write a good hook for a college essay, let's move on to the next section. Thus, it is great for making a hook essay good.
Need Help With Essay Writing?
Get Custom Essay Written by a Professional Writer on any for TOPIC.
Get Help
How to Write a Hook for an Argumentative Essay?
If you are writing a strong hook for an argumentative essay, then you should write the information so that readers get stuck reading your document. So use your creative thinking skills to write a hook in essay.
Statistical Data
In an argumentative essay, statistics serve as one of the essential hook in an essay to make the reader get stuck in your document. It involves thorough research. Statistics can make the reader aware of previously discovered details and data. It could increase the urge to read your content from start to finish.
A Common Misconception
Another way to write a hook in an essay is to use a common misconception. It is a better way to develop the audience's interest quickly. It could be anything but true to the topic. When you create a hook for misconceptions, readers' interest will develop an option for a good hook for essay.
How to Write a Hook for a Persuasive Essay?
The finest hook of the persuasive essay is to capture the reader's attention while making them undoubtedly support your position before they know about it and can even look for essay hook examples. You can accomplish it by writing a good essay hook.
Rhetorical Question
By citing a query in your essay, you can make the reader engaged. It directly targets the critical thinking of readers and can be a great hook in an essay. Try to frame a question that is not broad enough that they know the answer but descriptive enough that it does not seem like a generic hook.
Emotional Target
It is a great way to elicit sympathy and get the reader's attention. By targeting the emotions, you can develop a bond that motivates them to read more and get interested in the subject more. If you want a hook in essay, you can get it with this approach.
How to Write a Hook for a Literary Analysis Essay?
Finding a good opening line might become challenging, especially in literary analysis. Writing something extraordinary on your own while writing about someone's work is not an easy job. But as mentioned below, here are some tips on how to write a hook for an essay in this particular type of project.
Literary Quotes
Using literary quotes is the best option when you are not sure how to write a hook for an essay. In a literary analysis of the essay, you can use quotes. You can write literary quotes so that readers understand.
Quotes from Famous People
This is a different style of hook applied in literary analysis. But if you think about how to write a hook for essay without sounding monotonous, select a historically notified person with a degree of accomplishments and keep your readers engaged and motivated to read more.
How to Write a Hook for an Informative Essay?
In an informative essay, your goal is not to educate your audience but also to keep them interested and inspired from the start. For this, consider the following points on how to write a hook for an essay, especially an informative one.
Ask Questions Related to Your Topic
Another solution to 'How to write a hook for essay that is too informative is to start your essay with a relevant question. This hook lets you grab a reader's interest in your essay and keep them reading further.
Definition or Fact
You might start your essay with amazing facts or by giving a definition related to your topic. The same method is applied here for most types: it must be good, surprising, or alarming.
How to Write a Hook for a Narrative Essay?
The word narrative essay itself is a word that means storytelling. Thus, you must write an essay hook that grabs the audience's attention. To get more information, you can look at the pointers below and can also refer to essay examples also.
Stating Quote
Is there any quote that you can relate directly to your story? Use a quote by which a reader can easily connect to your narrative and take an interest in your story. As you know, different types of essays require various hook techniques.
Use an Anecdote as a Main Hook
It does not matter whether it's engaging or moving, writing your essay with an appealing anecdote from your story is a good way to raise questions in the audience's mind that will keep them reading till the end. It can happen when you use the essay typer tool too.
Different Types of Essay Hooks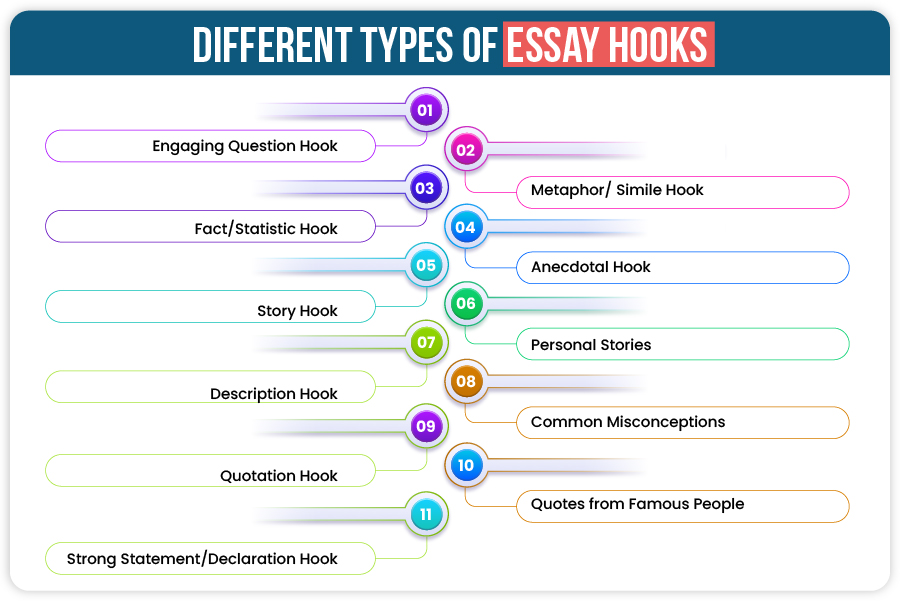 To your rescue, there are different types of essay hooks that you can take references from and start your writing journey. Thus, you can look at the pointers below and even ask for pay for essay option to get guidance.
Engaging Question Hook
Fact/Statistic Hook
Story Hook
Description Hook
Quotation Hook
Strong Statement/Declaration Hook
Metaphor/ Simile Hook
Anecdotal Hook
Personal Stories
Common Misconceptions
Quotes from Famous People
Now understand how your professionals can help you write a hook for an essay.
How Our Professionals Assist in Writing a Hook for an Essay?
Now you know how to write a good hook essay to grab reader's attention. The information mentioned above will give you an overview of everything. If you need assistance, Assignment Desk is here to help you throughout. The experts, with their immense knowledge and experience, will help you in the best way. Therefore, you can also buy essay online to resolve your queries.
To your rescue, some options are available to give the assistance needed. Tap on the right ones that are suitable for you. Therefore, you can also take essay writing service option for immense guidance.
FREE Tools
To Make Your Work Original
FREE Features
Topic Creation

Outline

Unlimited Revisions

Editing/Proofreading

Formatting

Bibliography
Get all these features for
USD 84.3FREE