55 Best Reflective Essay Topics: Ideas to Share a Great Experience from Your Life
12 Jan 2023
944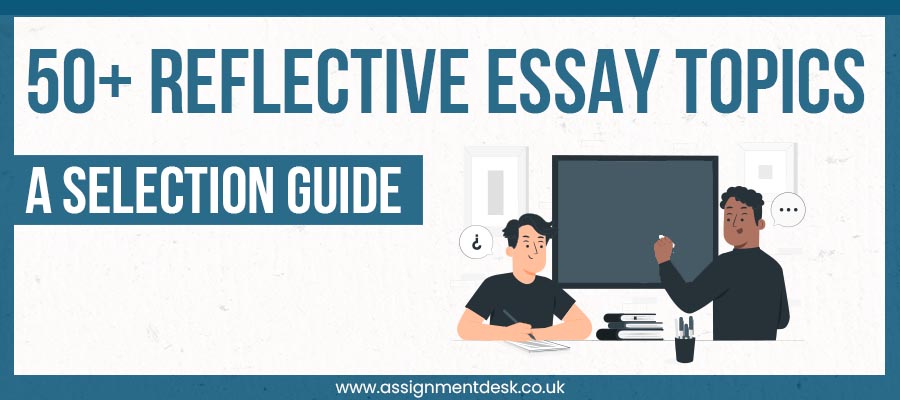 Are you searching for the best reflective essay topics to complete your academic writing task? If yes! Then don't worry! With the help of this blog, you will get the most unique and interesting topic for your reflective essay. A good topic is the first thing a student requires while process essay. The academic task cannot be written without a topic. Therefore, choose a topic first and then begin writing. However, many students still struggle with choosing a topic for their reflection essays. It is never easy for the student to convince the professor. The subject should immediately pique the reader's interest. However, it becomes challenging for the students to pique the professor's interest with the title.
With the help of this blog, you will get reflective essay ideas that how to choose a topic for your next reflection essay. You will also receive more than 50+ topics for your writing essay. Go ahead and seize the chance to earn excellent marks by selecting a fascinating ideas.
So let's get going. But hold on! Learn how to select particular topics for a reflective essay before selecting one from the choices.
Need Help With Essay Writing?
Get Custom Essay Written by a Professional Writer on any for TOPIC.
Get Help
What Is Reflective Essay? [Introduction]
With the help of this type of essay writing concept, a writer can share their experience, thoughts and emotions. For this reason, the focus is something that is not based on the happening events. It is based on the things that are going on internally with themselves. Therefore, it is considered one of the types of essays anyone can do. The format and style of the writing depend on the type of audience, and it is not at all challenging to write. In this, writers get ample space to share their experiences, thoughts and feelings on a particular event and whatever they have learned to write an academic essay.
5 Writing Tips for Reflective Essays
If you are still in doubt about how to write a reflective essay, then these tips will help you. Below mentioned are the five writing tips that students can follow while writing the reflective essay:
First, check out the list of the different ideas and thoughts one can help bring the actual memory to the readers.
Discussing your ideas for a reflective essay, and experience so that someone else feels they were there.
Your essay should describe the meaning of the experience.
Write the body of the reflective essay by explaining the feelings and thoughts during the event.
Summarise the entire content by providing information about the experience and your thoughts.
Know About the Structure of Reflective Essay
A five-paragraph essay with an introduction, a body, and a conclusion constitutes a conventional framework for essay writing skills.
Introduction
Your thesis statement is presented in this section of your essay, where it should catch the reader's attention and pique their interest in what you have to say.
Body Paragraph
Focus on the specifics of your topic sentence. This section often consists of three paragraphs, each providing a different perspective on the incident. As a result, the reader will have a volumetric understanding of what occurred during process essay.
Conclusion
The conclusion section is to neatly put all the puzzle pieces together. Then, finally, summarise your primary ideas and the main takeaway from your contemplation in a few sentences.
Above all are three things that you need to include while structuring reflective essay. Now know how you can choose the reflective essay topic.
Also Read: How to Write a Discussion Essay | A Complete Writing Guide
How to Choose a Topic for a Reflective Essay?
Choosing a right topic for the reflective essay is one of the challenging tasks for students. Working on an excellent reflective essay requires creativity and strong skills to express emotions and feelings simultaneously in the essay. There are several fields from which the students can derive the topics, for example, nature, places, relationships, and events. However, if you are stuck in framing the topic, then the tips below will help you pick the right essay topic.
Choose an Interesting Idea
Select a reflective essay topic on the subject you know perfectly. It is much easier for the students to choose a topic about something of which they have a little bit of knowledge. Do not select a topic that is new to you because it will make your writing task challenging and even more hard.
Study About Your Topic
Do thorough research about your topic. First, collect the minor details about your topic. Then, make sure that you link everything perfectly with your essay. Finally, note down the ideas about your topic.
Approach a Unique Angle
Choose a topic that helps to explain the experience from different angles. It is considered one of the promising techniques that help uniquely showcase the writer's personality. Include your personal experience that can find meaningful with the help of essay typer tool.
50+ Reflective Essay Topics That No One Will Tell You
You are now more informed about the purpose of the reflective essay and the topics that have to be mentioned. You must accurately describe a specific element and end with an example. To make a perfect impression, choosing a topic for a future academic task that you'll like is critical. So, we've put together a list of the most popular topics for reflection essays.
Reflective Essay Topics on Hobbies and Activities
Talking about the things you spend your free time with and the places you visit can tell a lot about it by choosing interesting essay topics. So below mentioned are the topic suggestions on the hobbies and activities:
Explain about the morning in the forest garden
Evening on the beach side and road
Share about your experience
Experience of visiting a zoo
Share experience of historical sightseeing
Watching birds flying in the sky
Picking mushrooms or berries in the forest
Bike tour outside the city
Lying on the grass and watching the sky in the night
Swimming in the sea or lake
Hiking and spending a night in the mountains (forest)
Reflective Essay Topics on Personality and Character
Character traits are the thing that sets you apart from others. However, what's even more intriguing is how you may examine your own ideas and personality. To write a reflection essay of the highest calibre, be sincere with yourself. What good reflective essay topics list should you cover in your essay?
How frequently do you tell lies, and how do you feel about it?
What may make you angry?
When did you last experience embarrassment?
What makes you unique from other people?
What are your areas of strength and weakness?
Do you struggle with fears? If so, how?
What gives you confidence?
Do you consider yourself to be an optimist or a pessimist?
The best method for unwinding
How would you like to see the world changed?
Reflective Essay Topics About Relationship
You can share your relationship experience regarding feelings, thoughts and much more. Below mentioned are examples of those themes you can choose for reflective essay topics for university students:
The time your parents disciplined you
A moment when you felt ashamed
Friendship's significance in my life
Disclosing information to your parents
When you were feeling sorry for your siblings
Describe the nature of your connection to a family member
Your best friend's characteristics
Who serves as your life's role model, and why?
What characteristics does a successful relationship have?
Reflective Essay Topics About Memories and Experiences
If you are stuck with choosing your reflective essay topics ideas, you can choose from your best memories. Below mentioned are examples of some of them:
Trip of first bicycle riding experience
Share your experience with weddings you have been part of
The first-time party experience with your friend
The time you are waiting for since long
Talk about your school times, assembly and much more
Your first date with someone
Experience in securing higher grades in class
Your first-time car driving experience
Getting admission to the desired university
Your first day at the hostel or PG
Reflective Essay Topics on Friendship
Friendship is also one of the best categories on which you can openly express your feelings. Below mentioned are some of the reflective essay topics on it.
When your heart was torn apart
The realisation that you are in love
How important has your family been to you?
Describe the most significant fight you've ever had with an older (younger) sibling.
How friendship has impacted my life
A character who altered my life
The cruellest thing a family member or friend has ever said to you.
List the ten human traits that, in your opinion, are most crucial
The time you took on someone's care
Disclose secrets to others
Reflective Essay Topics on Everyday Life
This is also one of the best categories for choosing your reflective essay topics. Sometimes it seems like boring and nothing in it. But if you look closely at it, you will understand that the routine is full of the interesting things that make life meaningful.
The first thought you get when you wake up in the morning
Share your experience regarding the last film and series you have watched
A book that influenced you more and had a positive impact on your life
Talk about the best picnic in your life
What is the best thought on happiest and worst day of life?
When you made your friends, and now they are your best-est
Your favourite dish that impressed you a lot
A meaningful conversation with family, friends or someone special
Last night's dream and what it was about
Last sent and received mail
Also Read: A Guide on How to Write an Art Essay and Fuel Your Creativity
Who Can Help You to Get the Best Reflective Essay Topic?
Are you still unsure of your reflective essay topics choice? If yes, this blog is an excellent fit for you. You may find out here who can assist you in selecting the ideal topic for your reflection essay. So let's find out. Expert writers at Assignmentdesk.co.uk can undoubtedly assist you in choosing the most important topic. You must request the ideal topic and essay on a reflective field from experienced writers. If you seek professional essay assistance, you can also benefit from various other freebies in addition to the essay topics choice and you can also ask for narrative essay topics. The freebies are:
No cost revision
No-cost formatting
No cost title page
Reference page free
Furthermore, you will also receive several deals and discounts on complete academic task if you approach the essay writing service UK. So what are you waiting for? Seize this chance as quickly as you can.
Order Your Essay
FREE Tools
To Make Your Work Original
FREE Features
Topic Creation

Outline

Unlimited Revisions

Editing/Proofreading

Formatting

Bibliography
Get all these features for
USD 84.3FREE