How to Write a Compare and Contrast Essay? The Ultimate Guide
17 Jun 2022
720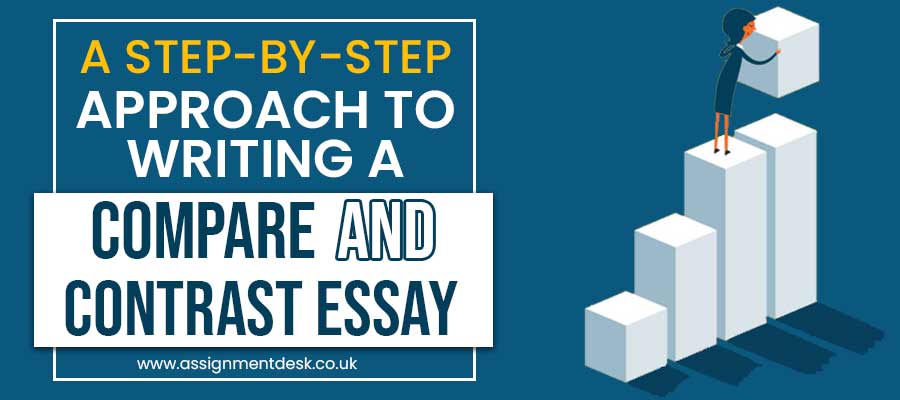 What is the Perfect Way of Writing Compare and Contrast Essay?
Online Learning or Offline Learning; what do you choose?
No Idea!!!
There are very few students who can come up with the correct answer. The main reason behind it is a lack of clarity. When we are talking about two objects or subjects, it is necessary to have complete information to justify every piece, but when it comes to choosing between the two, it should be compared and contrasted. If we provide online and offline learning with similarities and some differences, it becomes easy for students to choose between them. It provides a better way to look at two objects to determine similarities and differences. So, read this blog based on a compare and contrast essay outline for better understanding.
What is Compare and Contrast Essay?
Essay writing has different parts, namely comparing and contrasting. It mainly focuses on the comparison and distinction of objects. When it comes to academic work, the compare and contrast essay discusses two or more subjects. It helps to point out the differences and discuss the things that unify and separate the products. Let's understand with the help of an example. If we have to prepare a compare and contrast essay on a big house and a small house, then it talks about the subtopics that underline them and the similarities between them. In this blog, you will understand the purpose of writing a compare and contrast essay.
Purpose of Compare and Contrast Essay
One of the main purposes of writing a compare and contrast essay is the analysis of two subjects by differentiating them. It helps to illuminate subtle differences or similarities between the two subjects. The subjects to be compared, contrasted or both can be clearly stated in the essay. It should also provide information about what you have learned by doing the analysis. For this reason, if two topics are related to each other, then it is helpful to better showcase their affinity and distinction. Also, in this type of essay, students can focus on multiple reasons instead of explaining a single one.
Structure of Writing Compare and Contrast Essay
Here's what a compare and contrast essay structure looks like. If you are writing an essay, follow the structure mentioned below to make it more clear to your readers.
Introduction
It is the first section, so students can introduce themselves to the two ideas they will compare. So, first of all, give the introduction and brief information about both relating subjects you have chosen to compare.
Main Body
It is the second section of any write-up, so different paragraphs should come under different headings in this section. In each section, students can first compare or contrast the objects. Students must ensure that each paragraph is based on in-depth research.
Conclusion
In the last section of the compare and contrast essay, students must mention all the main points together and how they support the whole topic. Correct information regarding every piece should also be present here to wind up the essay.
It is how students can structure the compare and contrast essay easily. Does that bring us to the process of writing a compare and contrast essay?
Process of Writing Compare and Contrast Essay

If you want to know how to write a compare and contrast essay, follow the below-mentioned steps that assist in completing your writing task effectively, andin a short period.
1. Understand the Topic
Before starting any academic work, it is necessary to understand the instructions and concepts properly. Jot down the ideas that you want to mention under your topic. It will help in remembering the ideas and concepts you need to mention in your essay.
2. Brainstorming
While brainstorming, list down the things or similarities across the topics. Then, do thorough research and include all the necessary required subtopics that would be helpful in the completion of thecompare and contrast essay.
3. Writing
It is the main phrase of any style of document. Here, students should include information regarding the topic in the introduction section. After that, discuss the similarities or contrasts between the objects you are discussing.
4. Revising
While you are done with the writing assignment, start revising your written essay to find errors and mistakes. Look for errors in structure for anything missing the desire to include more ideas or concepts.
5. Proofreading
Once you are done revising your compare and contrast essay, this is the time when you have to make sure that you have correctly written the draft. Spelling and grammatical mistakes in the essay are unacceptable, you must check for the same and also, look for punctuation and formation mistakes.
The above stated are a few tips that will help students write compare and contrast essays writing. However, if you still have any issues and are not able to grasp the concepts, then take the help of the examples below to select a topic.
Examples of Compare and Contrast Essay Topics
One of the most daunting tasks of academic writing is choosing a topic for a paper. When it comes to picking the right compare and contrast essay topics, becomes a difficult but necessary task for students. The most important consideration, when writing a compare and contrast essay is that the two subjects you choose have a relationship. The topic should have some similarities and differences. If you are also a scholar looking for compare and contrast essay examples, then you are at the right place.
Here we have listed below some topics for writing a compare and contrast essay:
1. Windows vs Mac OS
2. Apple Music vs Spotify
3. Classroom Learning vs E-Learning
4. New in School vs College
5. Positive or bad influence of social media
6. Instagram vs Twitter
7. Trade, whether free or certified
8. Communism vs Socialism
9. Jupiter and Saturn have similarities.
10. Anatomy vs physics
11. Nuclear and fossil energy
12. Adulthood vs Childhood
13. Academics vs extracurricular activities
14. TVshows vs comic books
15. Cheeseburger or Pizza?
16. Books or movies
17. Online Shopping or In-Store Shopping
18. Amazon Prime or Netflix
19. There are two types of services: free and paid.
20. Medication vs Vaccination
Do you Need Expert Assistance for Your Essay Write-Up?
Some students can complete their compare and contrast essay writing tasks. On the other hand, some students cannot complete assignments independently and look for essay writing services to get assistance. Writing an essay is not as easy a task as it appears, consistent to that's one things should be kept in mind. It is absolutely alright to ask for help. Expert writers assist students in completing their essay writing tasks and assist in making academic tasks easy for students. If you are also one of those who are not able to complete essay writing work and seek assistance, get an specialist to help you. They have rich knowledge and a wealth of experience in providing academic assistance to students. Without having any second thoughts, get reliable consultation with our expert writers.
The following are some key advantages students can get from hiring the Assignment Desk, professional writers.
100% Plagiarism Free Content
Based on Thorough Research
Team of Expert Writers
Adhere to Deadlines
Guaranteed A+ Results
If you are unable to clear up doubts regarding compare and contrast essays, then get a consultation with experienced writers and get answers to all your questions.
Order Now
FREE Tools
To Make Your Work Original
FREE Features
Topic Creation

Outline

Unlimited Revisions

Editing/Proofreading

Formatting

Bibliography
Get all these features for
USD 84.3FREE